Ranking David Stern's Best Moments from NBA Draft and Swan Song in Spotlight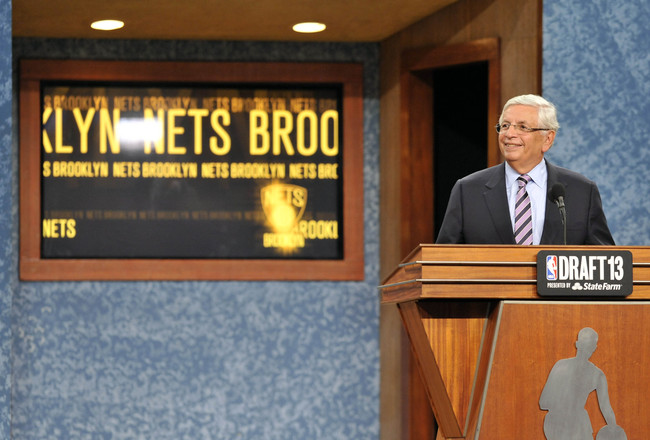 Joe Camporeale-USA TODAY Sports
David Stern is damn good at dropping the mic.
In his last major act as NBA commissioner, the diminutive man with so much power basked in the warm glow of fans who love to hate.
Instead of ignoring boos as he might in previous years, the commissioner decided to demand every last drop of vitriol the fans at Barclays Center had to offer.
In a draft that was supposed to be devoid of stars, a familiar face stole the show. Here are the best moments from his final night at the podium during the 2013 NBA draft.
There is one thing I never thought I would say, but simply can't resist any longer: David Stern is a funny little man, and we are sad to see him go.
4. David Stern Starts off with a Bang
David Stern saved the 2013 NBA draft.
Please, stay with me for just a second.
Heading into the draft, fans and pundits griped about how this particular night was completely bereft of big stars.
In a sense, we were all ready for hours of boredom with a few trades thrown in to keep us all watching. As soon as Stern stepped to the podium, that all changed, because it became clear we were witnessing the end of an era.
In other years, Stern may have just ignored the boos for a second, but on this night, he immediately savored them, as if he were Superman soaking up the sun.
Play on, player.
3. David Stern Can't Hear Your Boos
Stern was already on vacation by the third pick of the night.
Through the entire evening, the commissioner took his time getting to the podium and far longer to actually read the selections.
It's understandable when you consider this man has been doing this for three decades. Rather than get sentimental, Stern decided to troll and LOL his way through the first round.
Before the Wizards pick, he decided to blast the fans with, "I can't hear you."
In an instant, Stern became Hulk Hogan.
2. They Boo Because They Love
As you will see, there is a ton of respect behind those boos...
OK, if we are being honest, there is only a dash of admiration hidden behind the shouts from the peanut gallery.
Still, there was no denying the laughter and cheers that erupted when Stern attempted to explain to the international fans that all the booing was actually an outpouring of respect.
I'll buy it, if only on this special night.
1. Dream Ending
Class.
Of course, there will always be time to debate axed trades and draft controversy, but Thursday night was about sending Stern off in style.
The commissioner truly leaves the league stronger and far more popular than when he found it.
To bookend a successful career, Adam Silver surprised Stern by bringing onto the stage the first player to ever greet him at the podium, Hakeem Olajuwon.
Any poignant moment deserves a beautiful score, and the fans certainly provided the background music to a wonderful scene.
Cheers for Stern immediately turned to boos for the next commish in Silver. It was truly a passing of the boos moment we won't soon forget.
Keep Reading