Even though the Denver Nuggets only have one pick in the 2013 NBA Draft, there are several routes the organization can take.
Denver's new general manager and executive vice president of basketball operations, Tim Connelly, has made that perfectly clear in Aaron J. Lopez's article on the official Denver Nuggets website.
We have a couple options right now. We want to go into tomorrow night with options A, B and C, so whatever happens in a fluid environment, we're not caught unprepared.
That's a wise game plan considering a lot can happen by the 27th pick. The Nuggets were the fourth-youngest franchise in the 2012-13 season and should be looking to move down in the draft, or perhaps not even make a pick Thursday night.
Option A: Trade the Pick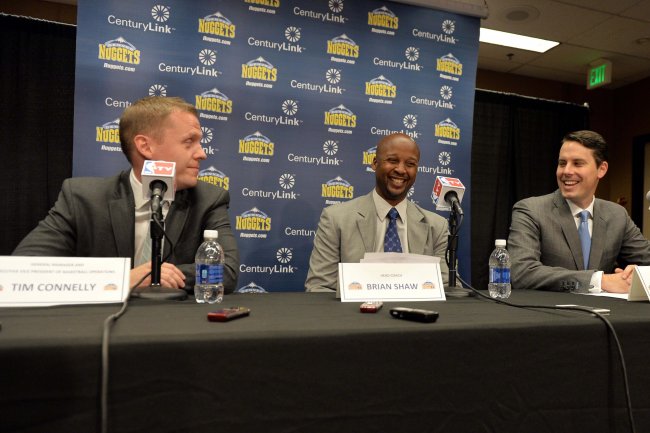 Ron Chenoy-USA TODAY Sports
According to Adrian Wojnarowski of Yahoo! Sports, the Nuggets are interested in trading their 27th-overall selection.
Denver's pick at 27 is available, teams tell Y! Nuggets open to future 1st, or moving back into 30's. Nuggets like their young roster core.

— Adrian Wojnarowski (@WojYahooNBA) June 24, 2013
This is the best move for Denver. It already has a deep roster, and while the 27th pick may not have great value, the Nuggets should move back for a pair of second-round picks to increase their chances at landing a player who could fit in the rotation.
The only way that should change is if there's someone who clearly stands out to the Nuggets above everyone else at this point, like Kenneth Faried as the 22nd-overall pick in 2011.
That doesn't seem to be the case here, so the Nuggets might as well get two cracks at it later in the draft.
There are four teams the Nuggets could make a deal with to do this. Those are the Cleveland Cavaliers, Philadelphia 76ers, Portland Trail Blazers and the Memphis Grizzlies. The Cavs own the No. 31 and No. 33 picks, the 76ers have No. 35 and No. 42 and the Trail Blazers and Grizzlies have three picks each in the second round.
Another option is trading for a future first-round pick and a bench player who could fit into Brian Shaw's rotation. With the potential of Andre Iguodala not returning to Denver along with Corey Brewer being an unrestricted free agent, the Nuggets should be looking for an outside shooter to help out the 25th-ranked three-point shooting team from last season.
Option B: Jamaal Franklin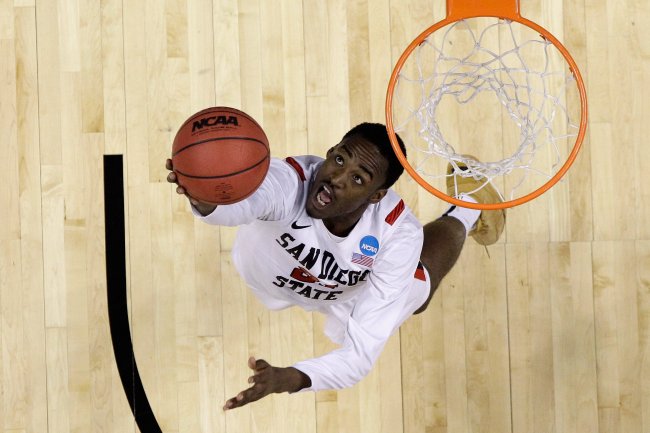 Rob Carr/Getty Images
If the Nuggets lose Iguodala and Brewer, they aren't just losing two scorers, they are missing two of their best defenders. Iggy led the team with 1.74 steals per game while Brewer had 1.44 steals in just 24.4 minutes.
Jamaal Franklin is a Nuggets type of player. The 2012 Mountain West Conference Player of the Year can play on both ends of the floor and contributes in just about every facet of the game.
He loves to attack the basket and got to the free-throw line more than six times per game in his sophomore and junior seasons while shooting 80 and 78.6 percent respectively.
Franklin doesn't just draw contact, though. He can explode through the air and make acrobatic dunks at any given point.
Doesn't Franklin look like he belongs in the Pepsi Center with the rest of the explosive Nuggets players?
With George Karl gone, we may not see the same transition game from the 2012-13 season next year, but it's hard to believe the Nuggets will stop running the floor when it's such a dominant strength.
Jamaal's physical strength and motor also allow him to defend multiple positions. He has the quickness and agility to guard on the perimeter while he can come out of nowhere and swat away shots at the rim. His 9.5 rebounds last year tells us that he plays significantly bigger than a 6'5" shooting guard.
Franklin may not be the next Iguodala, and Iggy could easily still be back in Denver next season, but he looks like a solid option to at least come off the bench as a rookie.
Option C: Erick Green
As reported by Aaron J. Lopez on the Nuggets website, Erick Green was one of six players to work out for the Nuggets on June 19.
Selecting Green with the 27th pick might be a slight stretch, but he is someone who would provide a scoring boost off the bench. Green was one of the ACC's best last year by scoring 25 points per game, the most of anyone in NCAA Division I in 2012-13. Green accomplished this while shooting 47.5 percent and also had four rebounds and 3.8 assists in his senior season.
He can play at the 1 or 2, has tremendous speed and could keep the transition game at a fast pace when Ty Lawson needs a breather. Andre Miller should still be the primary backup for Lawson, but Miller has 14 years under his belt, and Green could work his way into that spot when Miller decides to retire.
What should Denver do with the 27th-overall pick?
Another bonus that Green brings is that he is a diverse scorer and can create his own shot. One of Denver's biggest problems offensively against Golden State in the playoffs was that the bench went on significant scoring droughts. Green can help limit the damage by penetrating the lane and shooting it from long distance.
This should eventually help players like Wilson Chandler get better looks from outside and JaVale McGee's chances at attacking the rim as long as Green keeps developing his passing skills.
In the ideal scenario with Green and a little bit of luck, the Nuggets will be able to trade back with their 27th pick to the early part of the second round and still be able to snag the 2013 ACC Player of the Year. Either way, the Nuggets need that kind of a scoring threat off the bench.