Re-Grading Montreal Canadiens' Last 5 First-Round Draft Picks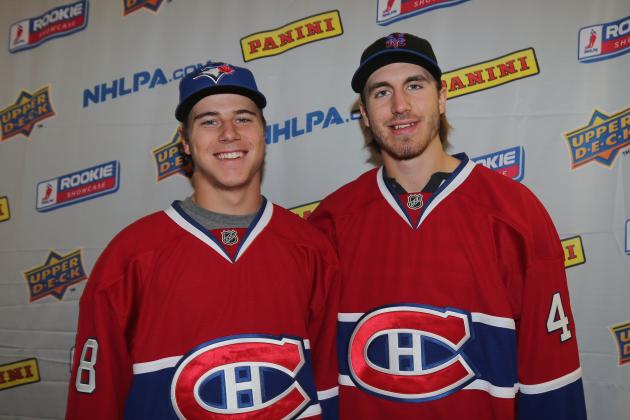 Bruce Bennett/Getty Images
Montreal Canadiens draft picks Nathan Beaulieu (left) and Jarred Tinordi.
It's quite telling that the Montreal Canadiens' last five first-round picks have reached the NHL in one form or another. There have no doubt been hiccups for one or two, but, by and large, each still figures greatly into the team's long-term plans…if they haven't already made their mark, that is.
Here is a look back at the Habs last five first-round picks as well as how they rate in terms of their development up until now:
Begin Slideshow

»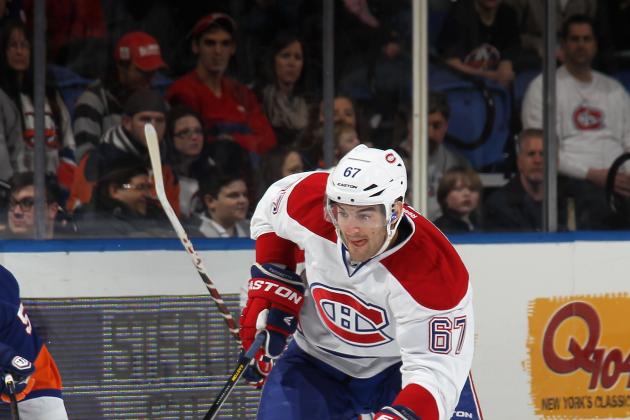 Bruce Bennett/Getty Images
Montreal Canadien Max Pacioretty.
Ideally, this spot would go to Max Pacioretty and current New York Ranger Ryan McDonagh. However, there was nothing ideal about the circumstances surrounding the latter's departure from the organization, which left the Habs with just the one 2007 first-round pick remaining (and Scott Gomez for a couple seasons).
It could be (way) worse, though.
Considering the hype surrounding Montrealer Angelo Esposito entering the draft, the Pittsburgh Penguins may very well have done Habs fans a solid by taking him 20th overall, just two picks before the Habs got to choose again (McDonagh was chosen 12th overall).
Also considering just three players chosen after Pacioretty (David Perron, Wayne Simmonds and Jamie Benn) and four before (Patrick Kane, Sam Gagner, Jakub Voracek and Logan Couture) have scored more points, the pick has turned out to be an incredible one.
In fact, it isn't just the pick, but the player as well, one who has become arguably Montreal's most reliable scoring forward.
For years prior to Pacioretty's coming-out party in 2010-11, when he scored 24 points in 37 games, the Habs yearned for a top-line power forward. After filling out some and putting together two consecutive team-leading 65-point seasons—his 39 points this past season are equivalent to 67 over 82 games—Pacioretty (now 6'2", 219 lbs) is clearly it.
As for Esposito, things didn't exactly turn out as well for him. He has yet to play an NHL game at 24 years of age and is currently playing in Finland, making it increasingly likely he never will.
Don't cry too much for Pittsburgh, though. Aside from the obvious, usual reasons (Sidney Crosby, Evgeni Malkin), they did end up shipping Esposito off to the Atlanta Thrashers with a first-round pick, Colby Armstrong and Erik Christensen for Marian Hossa and Pascal Dupuis.
Dupuis alone has made that deal worthwhile, while Atlanta's loss (and generally bad management) has become Winnipeg's gain. Everyone's a winner—except the handful of hockey fans in Atlanta, of course—especially Montreal.
Grade: A+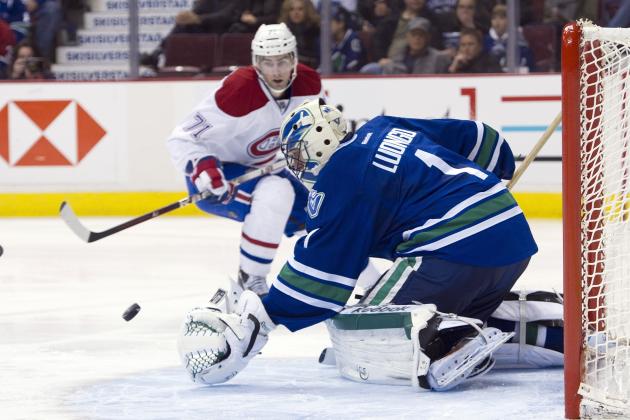 Rich Lam/Getty Images
Montreal Canadien Louis Leblanc and Vancouver Canuck Roberto Luongo.
With Montreal's 2008 pick going to the Calgary Flames for Alex Tanguay, the Habs' next first-round selection came in 2009, and they used it on another local boy. Unfortunately, like Esposito probably wouldn't have, Louis Leblanc hasn't worked out either, at least not yet.
Many expected the Kirkland native to make the Habs this season as he had the inside track, having played 42 games with the Habs last season. During those games he showed flashes of offensive brilliance coupled with decent defensive play.
However, it obviously didn't work out that way, or at all from Leblanc's perspective, as he spent all season with the Hamilton Bulldogs. It gets worse.
He missed 11 games with a high ankle sprain, once went 19 games without scoring and, if falling behind center Alex Galchenyuk on the team's depth chart wasn't bad enough, he got switched to the wing, pitting him directly against eventual Calder Memorial Trophy runner-up Brendan Gallagher.
Leblanc ended the season with just 10 goals and eight assists in 62 games, which is a disappointment to say the least. With Leblanc being just 22 years old, though, there is still hope he can turn it around.
Grade: C-
Claus Andersen/Getty Images
Montreal Canadien Jarred Tinordi hits Toronto Maple Leaf Mikhail Grabovski.
Standing 6'6" and 215 pounds, Jarred Tinordi looks poised to become the next Mike Komisarek, just without the whole being-stuck-in-the-minors-at-age-31 thing.
Obviously, Komisarek's career has had its share of bumps in the road, or lumps, if we want to bring up Milan Lucic, but one must not forget: For some time, Komisarek looked like a true No. 2 defenseman playing with Andrei Markov.
Now, Tinordi will likely never become an All-Star NHL defenseman like Komisarek (unless the game returns to Montreal sometime soon and fans decide to vote him in for a good laugh). Actually, no one will ever truly become an All-Star NHL defenseman like Komisarek.
Komisarek's physical presence was nonetheless a welcome one during his years with the Habs. Montreal similarly needs Tinordi's physical presence right now.
Having made both his regular-season and playoff debuts in 2013, he has clearly instilled a great deal of confidence in the coaching staff. He even appears to be the heir apparent to Alexei Emelin for the first few months of the season while the latter undergoes rehabilitation to his injured knee.
While questions remain as to just how well he will do, one thing is for certain: He will bring a similar level of much-needed toughness to the lineup, as Emelin had 110 hits in 38 games (2.89 hits per game), and Tinordi had 26 in 13.
Tinordi, due to get even bigger, also bodes well for the future of the team as a whole (not so much opposing teams, though).
Grade: B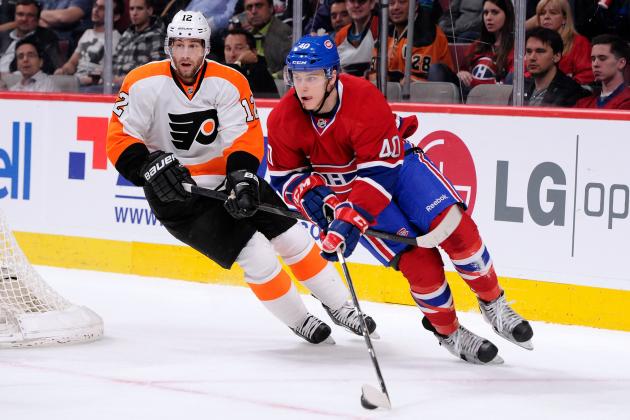 Richard Wolowicz/Getty Images
Montreal Canadien Nathan Beaulieu and Philadelphia Flyer Simon Gagne.
There's little else on which to judge defenseman Nathan Beaulieu's development other than his six-game stint filling in for Alexei Emelin this past spring.
That is, unless one believes the assault charges he faces are worth being brought up in this context, in which case that could arguably play to his favor—with the Habs needing a bit of a mean streak in their players and all.
In all seriousness, putting any and all legal troubles aside, Beaulieu performed decently during his time with the Habs this past season with two assists and a plus-five. In fact, all signs point to him and Norris Trophy-winning defenseman P.K. Subban forming a very potent one-two punch on the power play for years to come.
Looking at Montreal's projected defense corps within just a few years, consisting of names like Subban, Gorges, Tinordi, Emelin and Diaz, defense is clearly one area in which the Habs are not lacking talent. There's no reason to believe Beaulieu won't find his niche alongside those mentioned above in time.
Grade: B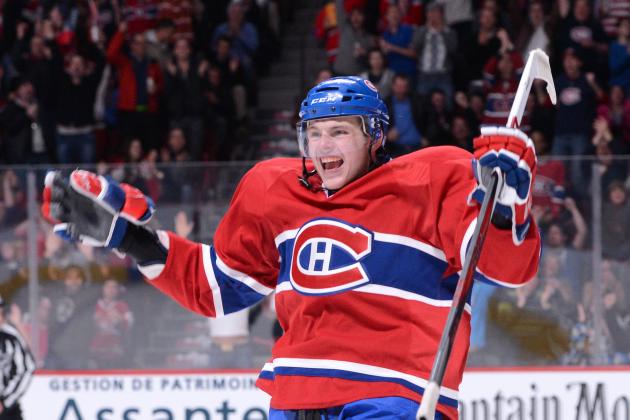 Richard Wolowicz/Getty Images
Montreal Canadien Alex Galchenyuk.
Thanks to the emergence of Alex Galchenyuk and Brendan Gallagher (fifth-round pick in 2010), the offense is another area in which the Habs are filled to the brim with skill and optimism for the future.
While Gallagher was nominated for the Calder Trophy as the league's top rookie, Galchenyuk, picked third overall last summer, actually finished with just one less point (27) during the regular season. He also has the pedigree, skill and projected size to make him the team's No. 1 center of the future in most everyone's minds.
Galchenyuk was undeniably a risky pick because of a knee injury that caused him to miss all but two games of the 2011-12 season. While there are still lingering long-term health issues, facts are facts.
All Galchenyuk did this past season was exceed expectations and nearly match former linemate and first-overall pick Nail Yakupov point for point (31) despite averaging over two minutes less of ice time per game (14:33 vs. 12:19). Galchenyuk also earned a plus-14. Yakupov's was minus-four.
Will Galchenyuk end up being better than Yakupov? Who knows? At the end of the day, though, Yakupov wasn't available at third overall. Galchenyuk was. And it seems as though, at least now, he was the best player available at that point. It also seems like he will eventually be the best player on the Habs.
Revisionist history may very well tell a different story a generation from now. In the here and now though, Galchenyuk is, by all accounts, the player the Habs thought they were getting when they drafted him: "a big center with vision and character" who has everything Montreal was looking for in a player, according to general manager Marc Bergevin.
Grade: A