What started as a precautionary issue for New York Yankees first baseman Mark Teixeira has turned into a season-ending malady for the 33-year-old star.
UPDATE: Thursday, June 27, at 11:35 a.m. ET by Brandon Galvin
Mark Teixeira tweeted the following message for his fans:
Thanks for all of the love and support from #Yankee fans everywhere. Going to be a lot of work, but I know you all are with me!

— Mark Teixeira (@teixeiramark25) June 27, 2013
---End of update---
---Original Text---
New York's official Twitter account broke the news on Wednesday afternoon, claiming that doctors have urged Teixeira to have surgery on his injured right wrist:
Surgery has been recommended to repair the tear on the tendon sheath of @teixeiramark25's right wrist.

— New York Yankees (@Yankees) June 26, 2013
ESPN's Pedro Gomez later confirmed that Teixeira is going to take the advice of his physicians and opt for surgery, ending his season:
NYY 1B Mark Teixeira out for the season. He will have season-ending surgery on the wrist.

— Pedro Gomez (@pedrogomezESPN) June 26, 2013
He spoke out about the decision shortly after the announcement (via MLB.com's Bryan Hoch):
Teixeira on season ending surgery: "It's very tough, especially in a season where the team could really use me."

— Bryan Hoch (@BryanHoch) June 26, 2013
Teixeira said surgery requires 4-5 months of rest/rehab, expected to be 100 percent in 6 months.

— Bryan Hoch (@BryanHoch) June 26, 2013
In 15 games with the Yankees this season, Tex hit just .151 with three home runs and 12 RBI, battling through what would have been categorized any other year as a "slow start" that was only compounded by his ailing wrist, which was injured during the World Baseball Classic in March.
Teixeira was one of the biggest names for Team USA's World Baseball Classic roster, joining David Wright, Giancarlo Stanton, Joe Mauer and others for the Red, White and Blue.
But after he was forced out of WBC action due to the injury on March 5 (via Andrew Marchand's earlier report for ESPN), Teixeira would immediately head to the disabled list prior to the start of the regular season.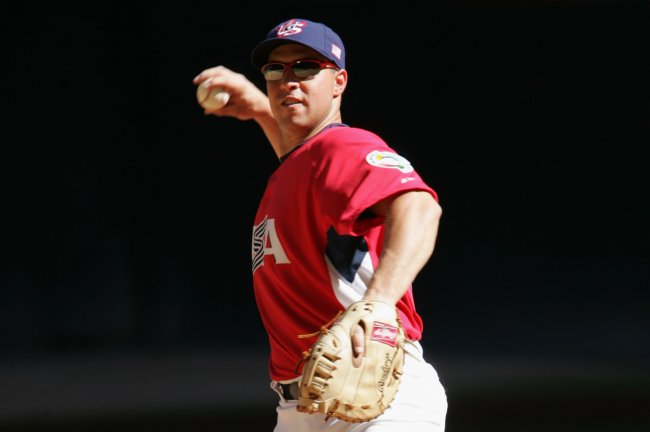 Stephen Dunn/Getty Images
He made his 2013 debut on May 31, but not to the tune of the success that we've seen during an MLB career that has resulted in a .278 batting average, 341 home runs and 1,113 RBI. Hitless in nine of his 15 games on the year, Teixeira was pulled with wrist inflammation during the fourth inning against the Los Angeles Angels on June 15.
He was then moved to the DL again shortly after (via NYY on Twitter):
#Yankees place 1B Mark Teixeira (right wrist) on 15-day DL; recall RHP Adam Warren and OF Zoilo Almonte; DFA RHP Chris Bootcheck.

— New York Yankees (@Yankees) June 18, 2013
The news is not good in the Bronx, and that 0-for-2 effort against the Angels will likely be the last time we will see him in pinstripes this season.
While the status of the injury and his long-term health are bigger concerns, the infusion of the WBC and the risks that come with playing in the tournament are yet again front and center. Teixeira was injured during WBC play, and as Buster Olney noted, the WBC picked up his salary while he was on the disabled list:
About NYY payroll: WBC is responsible for paying Teixeira -- not the NYY -- while he's on the DL, given timing of injury, or about $7m-$8m.

— Buster Olney (@Buster_ESPN) March 24, 2013
However, the Yankees started incurring costs again when he returned to the lineup, even though the wrist is the same one he injured while playing for his country. Marchand notes that the Yanks have some insurance on his salary in case this kind of injury happens, but they have not yet disclosed how much:
WBC insurance picked up around the 1st $7 million of Teixeira's $22.5M. Levine said Yanks have own insurance on rest. Didn't say how much.

— Andrew Marchand (@AndrewMarchand) June 26, 2013
Wednesday's news won't do anything to appease those who feel that the WBC is more trouble than it's worth.
Injuries are never an easy aspect of the game to conquer, and wrist injuries might be the worst of the bunch for baseball players, who use their wrists in nearly every aspect of the game.
This tweet from Mark Feinsand of the New York Daily News would serve to prove that claim:
Teixeira said he reinjured the wrist during the West Coast trip, though he can't pinpoint when, where or how it happened.

— Mark Feinsand (@FeinsandNYDN) June 26, 2013
Daniel Barbarisi of the Wall Street Journal also noted back in early June that Boston Red Sox designated hitter David Ortiz reached out to Tex about a similar injury he suffered in 2009:
David Ortiz reveals he considered retiring in 2009 due to same wrist injury plaguing Teixeira now; has counseled Tex http://t.co/VNMYAZCjyn

— Daniel Barbarisi (@DanBarbarisi) June 5, 2013
Tex will now have to seriously consider shifting his focus to 2014.