Queensland scored a convincing 26-6 victory over New South Wales in Game 2 of this year's State of Origin series. The Maroons will look to stretch their series winning streak to eight next month.
Queensland Maroons defeat New South Wales Blues in State of Origin Game II, 26-6. #StateofOrigin #origin #SOO

— Nine News Brisbane (@9NewsBrisbane) June 26, 2013
The Maroons got off to a perfect start. Sam Thaiday took a pass from Cooper Cronk and bulldozed his way over the line in just the second minute of play. After a conversion by Johnathan Thurston it was 6-0 before New South Wales could blink.
#Origin #QLDER TRY!!! @sam_thaiday is over! pic.twitter.com/pHGmioEUEn

— Queensland Maroons (@Qld_Maroon) June 26, 2013
A quick start for the Maroons was the direct opposite of Game 1. There, Jarryd Hayne scored for the Blues in the fifth minute and they never looked back en route to a 14-6 victory. This time it was Queensland jumping out to the early edge at home.
Thurston added a penalty goal in the ninth minute to make it 8-0 Queensland. James Maloney was called for not squaring up to his marker.
Mark Metcalfe/Getty Images
After the Blues were unable to convert their chances to get back in the game, the Maroons continued to build their lead. Thurston, who was all over the place in the opening half, found an open Darius Boyd for the team's second try of the match.
#QLDER #Origin | 19 min | QLD TRY | Boyd is over! Great pass from Thurston to put him across in the corner. JT converts. QLD 14-0.

— Queensland Maroons (@Qld_Maroon) June 26, 2013
Thurston converted to put Queensland up 14-0 inside the first 20 minutes. It was a nightmare start for New South Wales after such a strong showing across the board in Game 1.
Despite the Blues' best efforts to mount some type of rally before halftime, the score remained unchanged thanks to some very strong defending from the Maroons.
HT here at Suncorp. What do we need to do to get back into it? #origin #uptheblues pic.twitter.com/x5yPXoPP1X

— NSWRL (@NSWRL) June 26, 2013
The first 10 minutes of the second half were going to be key if New South Wales wanted to forge a comeback attempt. Instead, the Maroons maintained a high level of dominance both moving forward and defensively.
Queensland's already commanding lead increased to 18-0 as Thurston delivered a pinpoint pass to the outside and Boyd pushed his way across the line again. The Blues were powerless to stop the well-timed scoring play.
#QLDER #Origin | 48 min | QLD TRY | Boyd grabs his second of the night off a great pass from JT. Thurston doesn't convert. QLD 18-0.

— Queensland Maroons (@Qld_Maroon) June 26, 2013
Who was the top performer for the Maroons?
The tremendous performance immediately brought back memories of the 2008 State of Origin series. Following a New South Wales triumph in Game 1, Queensland stormed back with a 30-0 triumph at Suncorp Stadium to level the series. The Maroons went on to win Game 3.
It was clear they wanted to make a similar statement this year. And with the Blues facing the mental hurdle of ending their extended losing streak in the rivalry, the Maroons did exactly what they needed to do to mount an insurmountable edge.
The frustration boiled over for New South Wales in the 54th minute as a brief scuffle broke out. Once things were back under control, Queensland scored again. This time it was star Greg Inglis with the try, with the Thurston conversion making it 24-0.
Greg Inglis is the NRL's Lebron James #StateOfOrigin

— David_Pandevski (@DavidPandevski) June 26, 2013
Brett Morris made sure the Blues didn't get shutout with a try in the 70th minute, but it was too late to start seriously considering a rally.
Try to Brett Morris. 24-6 now to QLD #origin #uptheblues pic.twitter.com/XM97d4WyVc

— NSWRL (@NSWRL) June 26, 2013
Thurston added a late penalty goal for Queensland to finish the scoring, 26-6.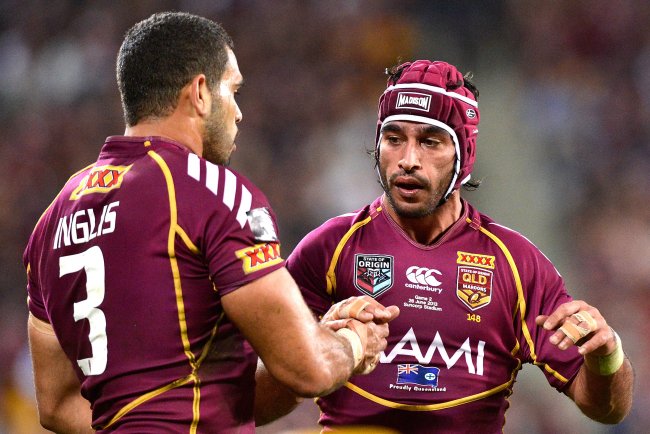 Bradley Kanaris/Getty Images
Now the focus shifts toward Game 3 back at ANZ Stadium in Sydney. Queensland will enter with the momentum after the Game 2 triumph, but New South Wales played much better at home and hopes to replicate its Game 1 showing.
The deciding match in the 2013 State of Origin series is scheduled for July 17.