Last week, I penned a column outlining Notre Dame's most star-studded names, but a handful of players flying beneath the radar are worthy of recognition.
While the Irish don't boast the quality depth apparent within bona fide championship-contending programs, enough talent exists throughout the ranks in South Bend, Indiana, for there to be discussions centered on the rapid emergence of new faces.
Because of the alarming amount of defections on the offensive side of the ball, Notre Dame fans will be required to familiarize themselves with new names in offensive coordinator Chuck Martin's unit, most notably at quarterback.
Malik Zaire, QB
The argument can certainly be made that Zaire isn't "flying under the radar," though the fact remains that he is still a true freshman who has never taken a collegiate snap.
The Kettering, Ohio, native's value within the program skyrocketed following incumbent starting quarterback Everett Golson's dismissal from the university for what he deemed "poor academic judgment," via ESPN.com.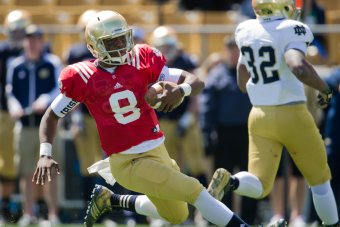 USA TODAY Sports
Along with former quarterback Gunner Kiel's departure to Cincinnati, the Irish were left with just one quarterback with any starting experience—Tommy Rees—who was declared by head coach Brian Kelly as the Irish's starting quarterback for the 2013 season.
Because Rees and Andrew Hendrix (Hendrix will be attending medical school) will no longer be with the Irish following the 2013 season, it is imperative for Zaire to garner as much experience as realistically possible so that Notre Dame can enter the 2014 season with at least a bit of experience at the quarterback position.
Zaire has been praised for his rapid grasping of the playbook, though the level of his mastery of Kelly's offense remains to be seen.
Regardless of any potential mental limitations, fans will see Zaire on the field this season.
Ishaq Williams, LB
Notre Dame's 2011 recruiting class was lauded for its individual defensive players, most notably defensive ends Aaron Lynch, Stephon Tuitt and Williams.
The Brooklyn, New York, product was asked to make the switch from defensive end to linebacker as a freshman, but struggled in that adjustment, even receiving an extra week back home from Kelly to consider his future with the program.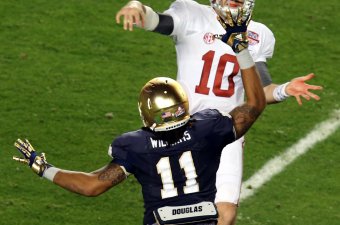 Robert Mayer-USA TODAY Sports
After deciding Notre Dame was the place for him, Williams began making significant strides toward reaching the massive potential many continue to see in the 6'5", 255-pound linebacker.
During the course of the 2012 season, Williams recorded 22 tackles, including 3.5 tackles for loss. While those figures belie his superb talent, they're likely to increase drastically as Notre Dame searches for depth along the defensive line.
Despite being labeled as a linebacker, Williams plays in the hybrid spot that allows him to play as a defensive end in the Irish's four-man front.
Along with Prince Shembo, expect Williams to make quite a bit of noise as the Irish defense wreaks havoc on its opponents.
C.J. Prosise, WR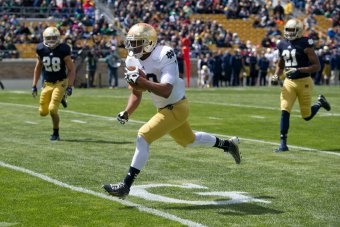 USA TODAY Sports
Recruited to Notre Dame as a safety out of Woodberry Forest, Virginia, Prosise has since been switched to slot receiver to combat depth issues at the position.
However, a move to the offensive side of the ball was already in the works prior to Davonte' Neal's decision to transfer to Arizona, as Prosise was cross-training at safety and slot receiver during practices leading up to January's BCS National Championship Game.
Prosise's high school head coach, Clint Alexander, raved about his former pupil's potential to South Bend Tribune reporter Eric Hansen in April:
What makes him difficult to defend as a receiver is that he's got a great vertical. He can go up in the air, move and twist and turn, and make some catches that he probably shouldn't. He's fast and he runs so effortlessly that sometimes when he hits top speed, it doesn't look like it. He shifts gears quicker than the kids who are trying to cover. And when he catches it in the open field, you can see his return skills take over. He'll make you miss.
The 6'1", 220-pound receiver displayed that breathtaking athleticism during Notre Dame's annual Blue-Gold game, streaking down the field to haul in a touchdown reception on a beautiful throw from Zaire.
That connection may just happen once again this season.
William Mahone, RB
While Notre Dame fans and many who regularly visit this site have spent a significant portion of the offseason ranting and raving about George Atkinson and Amir Carlisle at running back, they've not given Mahone the type of recognition he deserves.
When the Notre Dame offense finds itself in short-yardage situations, Mahone will likely be the back to grind out those few key yards.
While he checks in at just 211 pounds, Mahone possesses the body type and running style that would identify him as a power back of sorts; he's not a shifty, elusive back. Instead, Mahone is a back who lowers his pad level and helmet in a bulldozing fashion.
Now, the amount of carries the Austintown, Ohio, native will receive remains to be seen, but he'll be a part of the rotation at running back, which may go as many as four deep.