In a class devoid of elite talent, the top players in the 2013 NBA draft class are hard to define.
At the top of the board, Kentucky center Nerlens Noel represents tremendous upside as a versatile, athletic defender with Defensive Player of the Year potential. Unfortunately, he's also a raw offensive player who is coming off a devastating ACL tear last season.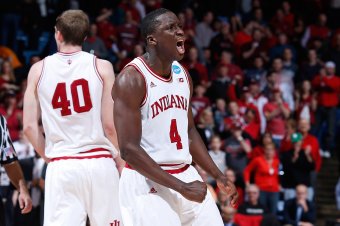 Joe Robbins/Getty Images
Indiana swingman Victor Oladipo is being heralded as a "sure thing," but many also believe he has a limited ceiling at the professional level. Good luck getting two experts to agree on exactly why that is.
Similarly, UNLV forward Anthony Bennett and Georgetown forward Otto Porter seem to carry question marks into this draft, Bennett for his positional ambiguity and Porter for his lack of elite talent in one particular area.
Typically, can't-miss prospects have a blend of both pro-ready talent and upside. It's hard to find a player who fits in both categories.
And then there's Kansas shooting guard Ben McLemore.
McLemore is yet another top prospect who experts can't seem to agree on. At 6'5", he has the ideal frame to play the 2-guard position in the NBA. He's young and athletic enough to develop into a much more well-rounded player. His jump shot is often compared to that of Ray Allen.
But McLemore isn't a great defender and he lacks the ability to create his own scoring opportunities at this point. And according to some reports, he also did perform well in pre-draft workouts.
None of this really tells us anything, though. Just as been the case throughout the pre-draft process, no one really knows how things will shake out on June 27.
With that in mind, let's take a look at the top three potential landing spots for McLemore and break down some rumors that could give us a clearer indication of where he will land in the 2013 NBA draft.
Cleveland Cavaliers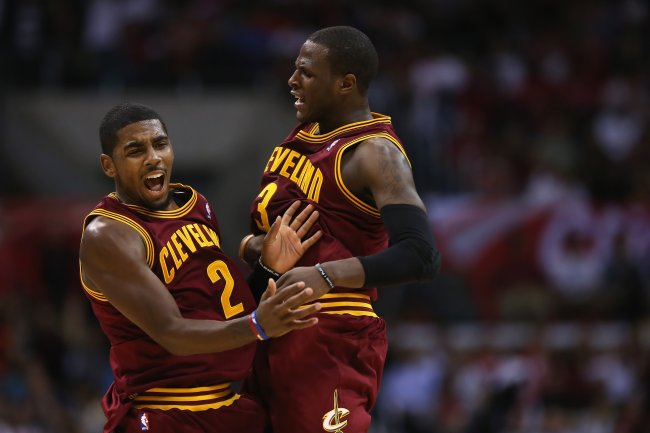 Jeff Gross/Getty Images
No one has any clue what the Cleveland Cavaliers are going to do with the first overall pick. General manager Chris Grant is probably in the same boat.
Grant has plenty of options, but there's no consensus. Whoever Grant selects will be the recipient of a massive burden this season.
According to Brent Sobleski of ESPN, the Cavs wouldn't mind a three-guard rotation of Kyrie Irving, Dion Waiters and either McLemore or Oladipo, however:
@TeddyRobinson17 Think Cavs like the idea of a three-guard rotation if they go with someone like McLemore or even Oladipo.

— Brent Sobleski (@brentsobleski) June 25, 2013
In this particular scenario, the idea is simple: risk missing on a big man like Noel or limit the damage by adding a shooter to an already solid backcourt.
Whether that ends up being the case remains to be seen, but Jason Lloyd of the Akron Beacon Journal seems to think it will be, as tweeted by Aaron Goldhammer of ESPN850:
Jason Lloyd @JasonLloydABJ tells Rizz: "It's going 2 be Len or McLemore." We all don't think Noel will go number 1 in CLE, that might change

— Aaron Goldhammer (@HammerNation19) June 24, 2013
Sam Amico of Fox Sports also believes McLemore is still in play at No. 1:
Sure is as far as I can tell. RT @CanEyeBall: What's the word on McLemore to the Cavs, still in play?

— Sam Amico (@SamAmicoFSO) June 21, 2013
Provided Cleveland doesn't trade away the pick, it's hard to believe Grant selects anyone other than Noel or McLemore. If rumors are accurate, it seems the Kansas product is the more likely candidate.
But again, rumors are rumors.
Orlando Magic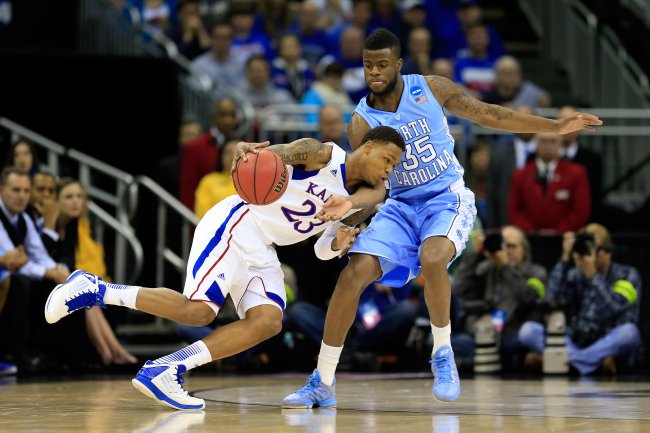 Jamie Squire/Getty Images
If McLemore does make it past Cleveland at No. 1, there's really no reason to believe the Orlando Magic won't pull the trigger at No. 2—unless, of course, if Noel is still somehow on the board.
But as Brian K. Schmitz of the Orlando Sentinel noted on Twitter, several NBA.com experts seem to believe McLemore could be available to Orlando:
For Magic fans, http://t.co/kLn0BeZGKI consensus of 12 mock drafts lists 6 votes for Vic Oladipo, 5 for Ben McLemore and 1 for Trey Burke.

— Brian K. Schmitz (@MagicInsider) June 25, 2013
For all the talk of the shooting guard not being as pro ready as expected, there sure seems to be a lot of interest to see him find a home in the first two picks. After all, pure shooters with his size and athleticism are hard to come by.
Orlando could certainly use another shooter, and frankly, the Magic can't afford to reach in favor of filling a positional need. At the top of the draft, the best-player-available approach is often the best strategy.
Should Cleveland select Noel at No. 1, don't be at all surprised if McLemore is the choice here.
Phoenix Suns
Let's look at this from a different angle and assume reports of McLemore's poor workouts are accurate, like this one from CBS Sports' Eye on Basketball Twitter account:
Report: Ben McLemore slipping down draft boards due to poor workouts http://t.co/qHnL6V0ASU Are teams putting too much on workouts?

— Eye on Basketball (@EyeOnBasketball) June 18, 2013
That tweet poses a valid question. How much stock should teams be putting into workouts?
Our answer isn't going to change what NBA general managers decide on draft day, though. Should reports be accurate, McLemore could slip past Cleveland and Orlando and into interesting territory.
The Phoenix Suns are in desperate need of a shooter after finishing the 2012-13 season ranked 28th in the league in three-point percentage (.330), however, and if McLemore is available at No. 5, the Suns would be foolish not to capitalize on the opportunity.
As Alex Kennedy of HoopsWorld noted, McLemore has already worked out for Phoenix:
Ben McLemore has met with the Phoenix Suns and Orlando Magic. He'll meet with the Cleveland Cavaliers in the coming days.

— Alex Kennedy (@AlexKennedyNBA) June 18, 2013
Realistically, the Kansas sharpshooter won't be available at No. 5, but if the swirling rumors are any indication, we really have no way of knowing at this point.