Toronto Maple Leafs' Complete Guide to the 2013 Offseason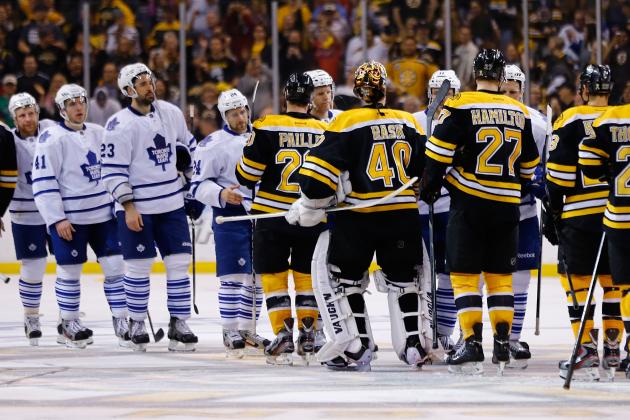 Jared Wickerham/Getty Images
The Maple Leafs will look to improve on their success in 2013.
After a heartbreaking conclusion to the 2013 NHL season for the Toronto Maple Leafs, the offseason figures to be a busy one.
With one major deal already complete, and the 2013 NHL Draft and free agency about to take center stage, the media circus in hockey's most scrutinized market is ready to ramp up once again.
With the Leafs apparently willing to move their best defenseman in Dion Phaneuf, and the fact that they're looking to make more moves ahead of the June 30 entry draft, there has been plenty of news for Leafs fans to mull over:
Some rumblings Phaneuf may be in play. Nonis says he will trade just about anyone, but says no one has called on the captain...yet. #TSN

— Darren Dreger (@DarrenDreger) June 23, 2013

And from Chris Johnston:
Dave Nonis expects the #leafs to make a couple more moves before July 5.

— Chris Johnston (@reporterchris) June 23, 2013
So, with rumors and speculation running rampant, let's get to previewing (and attempting to predict) the Toronto Maple Leafs' 2013 offseason.
Begin Slideshow

»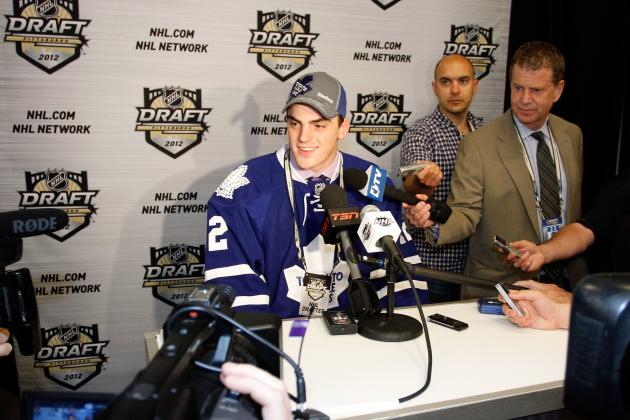 Justin K. Aller/Getty Images
Last year's draft saw the Leafs net two impressive young defensemen in the early rounds.
Heading into the June 30 NHL entry draft, the Maple Leafs should be looking to add some skill up front.
For an explanation on why that is, check out this piece, and head on over to this article for a list of potential targets at No. 21.
Knowing for sure, however, what the Leafs plan to do on or before draft day is an impossibility for anyone other than the front office crew.
Rumors have also been swirling that Toronto is looking to move up in the first round, possibly as high as the No. 7 overall pick:
#Oilers MacTavish #Leafs Nonis had good 10 min talk after GM meeting. Could Tor move up in draft for D man in return? pic.twitter.com/vOk97CIi4L

— Nick Kypreos (@RealKyper) June 19, 2013
Should that come to fruition, the mindset and potential targets could change drastically.
Toronto will then be looking at potentially adding top-tier forward prospects like Elias Lindholm or Sean Monahan, or even continuing to bolster their already deep crop of defensive prospects by adding someone like Darnell Nurse, Rasmus Ristolainen or Nikita Zadorov.
At this point, Toronto's plans remain a mystery.
Whatever they do, though, they should be able to start rebuilding their farm system, seeing as the 2013 draft class is so rich with talent.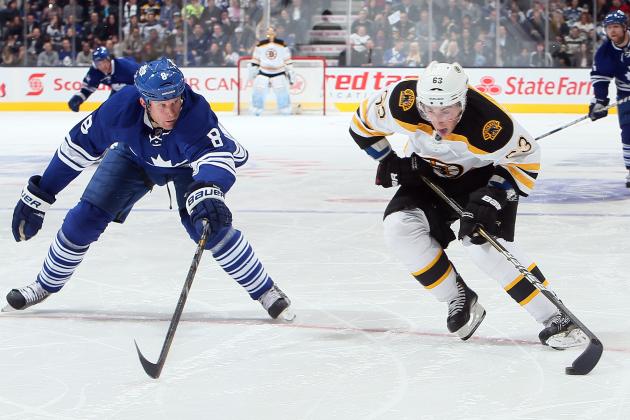 Abelimages/Getty Images
Mike Komisarek is one of the final toxic contracts the Leafs must deal with.
For the first time in recent memory, the Toronto Maple Leafs have some salary-cap flexibility.
According to capgeek.com, the Leafs have nearly $20 million to play with, while their core players (Phil Kessel, Joffrey Lupul, Dion Phaneuf and James van Riemsdyk) are already locked up.
That $20 million, of course, is before you factor in the potential compliance buyouts, which could give Toronto even more wiggle room.
The other plus?
Many of the free agents the Leafs will be looking to lock down are restricted free agents, meaning the Leafs won't have to overpay them nearly as much to keep them around.
It's been a while since the Leafs have had any kind of major cap flexibility.
This offseason should present them with a great opportunity to prepare the team to make an even deeper run in the 2013-14 postseason.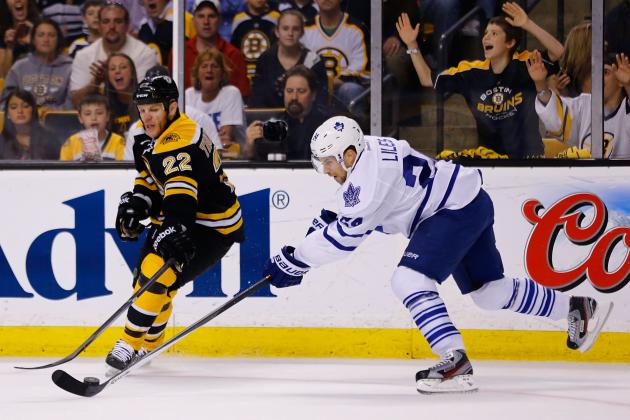 Jared Wickerham/Getty Images
After a lackluster 2013 campaign, John Michael Liles could find himself on the chopping block.
With the burdensome contracts of Tim Connolly and the retained salary of Matthew Lombardi now off the books, the Leafs can use their compliance buyouts on other contracts weighing the team down.
One obvious choice is defenseman Mike Komisarek, who is taking up just over $3.5 million in cap space (per capgeek.com).
While he's entering the final year of his deal anyway, that extra $3.5 million could prove to be very useful for the Leafs in free agency, which is set to begin on July 5.
A second potential buyout could be the contract of veteran defenseman John Michael Liles.
Liles hasn't been the same puck-moving defenseman he was when he first signed with the Leafs ever since he suffered a concussion during the 2011-12 season.
With another three years left on his deal, which takes up nearly $4 million per season in cap space, Liles could very well be on his way out.
The final possibility for the Leafs is to look to take on a toxic contract from a smaller market team that cannot afford to buy out the entire contract and acquire a few assets in the process.
One such player could be Rick DiPietro of the New York Islanders, who is scheduled to eat up over $3.5 million of cap space every year until 2021.
In return, the Leafs could ask for a prospect or draft pick.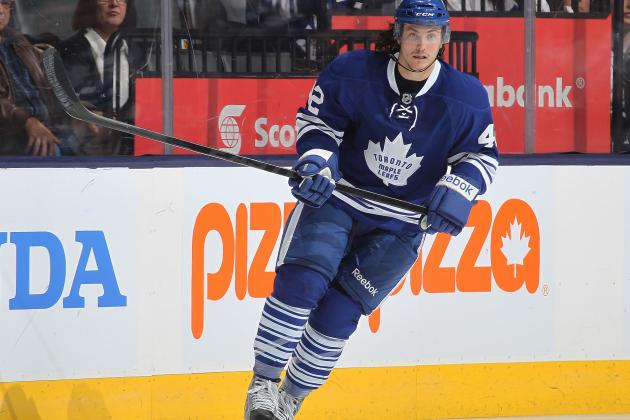 Claus Andersen/Getty Images
The likelihood of Tyler Bozak being with the Maple Leafs next season isn't very good.
With 12 players set to hit free agency this July (including the newly acquired Jonathan Bernier), Toronto has a series of decisions to make.
In terms of players who are probably not returning to Toronto next season, only three names really jump out.
The first is unrestricted free-agent center Tyler Bozak, who will be looking to cash in after manning Toronto's top line for a few years. During that time, he has developed his offensive game and has been a solid defensive forward as well as a reliable faceoff centerman.
It's not very likely that the Maple Leafs will be willing to match his demands.
The other two players most likely heading out the door are defensemen Mike Kostka and Ryan O'Byrne.
As Toronto looks to upgrade on the back end, Kostka and O'Byrne are the most likely players to be shown the exit.
Forward Leo Komarov will also be departing, as he's expected to play in the KHL next season.
As for restricted free-agent defenseman Mark Fraser, put him in the toss-up category.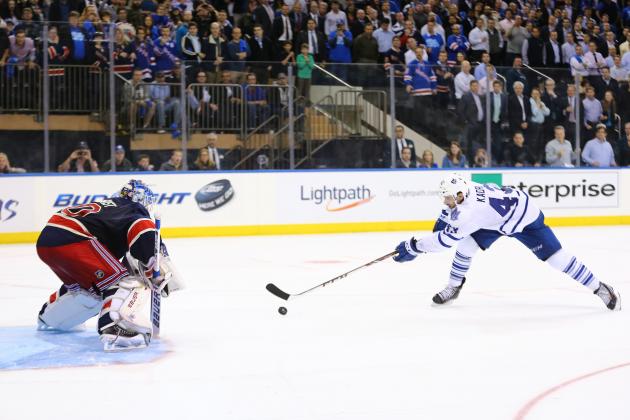 Al Bello/Getty Images
One of Toronto's top priorities this offseason will be to re-sign Nazem Kadri.
When it comes to players who will be staying in Toronto or joining the squad via free agency, the list is quite extensive.
Atop the Maple Leafs' priority list will be inking restricted free agents Nazem Kadri, Cody Franson and Carl Gunnarsson.
All three of those young guns should be considered an integral part of the Leafs' future.
The newly acquired Jonathan Bernier is also expected to sign a new contract, and young center Joe Colborne still figures to have a place in the organization and should earn a new contract with the Leafs this summer.
As for Clarke MacArthur, signs point to him being inked to a new deal as well, after the Leafs dealt winger Matt Frattin to the Los Angeles Kings as part of the Jonathan Bernier trade.
With regards to potential newcomers, the Leafs could be looking at adding a player like David Clarkson who is set to hit the free-agent market this summer.
Clarkson is a hometown boy who can net his fair share of goals and plays with the edge that Randy Carlyle likes in his players.
As far as improving the defense goes, don't be surprised if the Leafs pursue some depth in defensemen like Grant Clitsome or Andrew Ference.
Rob Scuderi is another likely target for the Leafs' front office once free agency begins in about a week-and-a-half.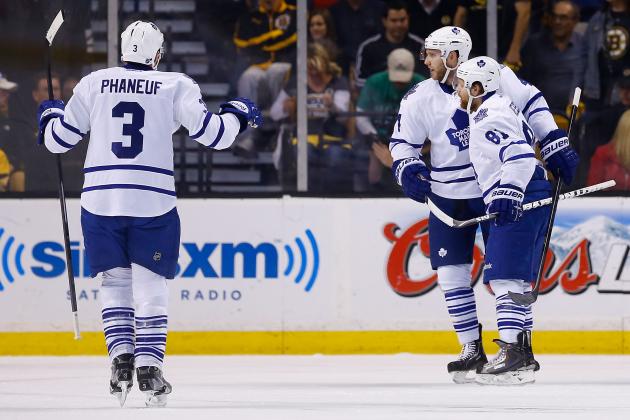 Jared Wickerham/Getty Images
According to Leafs GM Dave Nonis, no one on the current roster is safe this offseason, including captain Dion Phaneuf.
If Leafs GM Dave Nonis can be believed, the trade possibilities this offseason for Toronto are endless.
According to Nonis, no one on the Leafs current roster is safe—including captain Dion Phaneuf:
Some rumblings Phaneuf may be in play. Nonis says he will trade just about anyone, but says no one has called on the captain...yet. #TSN

— Darren Dreger (@DarrenDreger) June 23, 2013

With two very talented goaltenders and an aggressive GM who's already indicated he is looking to make moves, and anyone on the roster is available, who knows what Dave Nonis might do?
Speculation has erupted about the Leafs and a number of trading partners.
Some have reported that the Leafs may be looking at Edmonton Oilers center Sam Gagner.
Others think that Dion may be moved for someone like Paul Stastny.
At this point, who knows what's going through Nonis' mind? All we can do is comment on the speculation.
It should be an entertaining summer in Toronto for hockey fans though.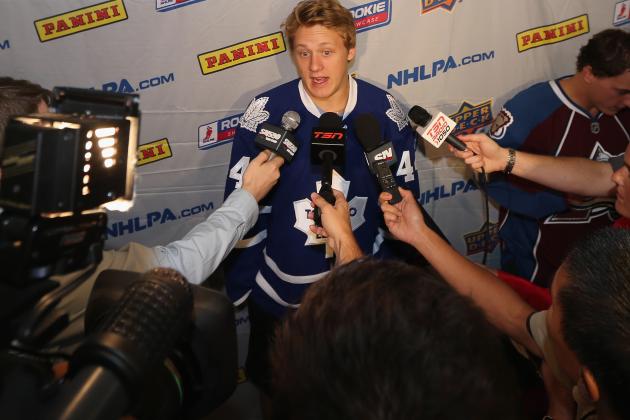 Bruce Bennett/Getty Images
Morgan Rielly may not see much action with the Leafs this season, but he is undoubtedly on the rise.
With a few promising prospects still in the Leafs' farm system, Leafs fans will have to be sure to keep an eye on the progress of their top young guns.
Joe Colborne will be one to watch closely, especially during training camp, as his performance late in the regular season and in the postseason surely turned some heads.
Another prospect to keep close watch on is defenseman Morgan Rielly.
While it's not likely he'll see much time with the big club in 2013-14, he is Toronto's top prospect and should play his first full season of professional hockey with the Toronto Marlies starting this fall.
It'll be interesting to see how he fares.
Finally, Leafs fans should look for defenseman Jesse Blacker to finally get his shot with the Leafs in 2013-14.
Blacker has been developing consistently at the AHL level and should be ready to debut with the Leafs at some point in the upcoming season.
The Leafs have been hoping he can be a homegrown solution to some of Toronto's defensive woes.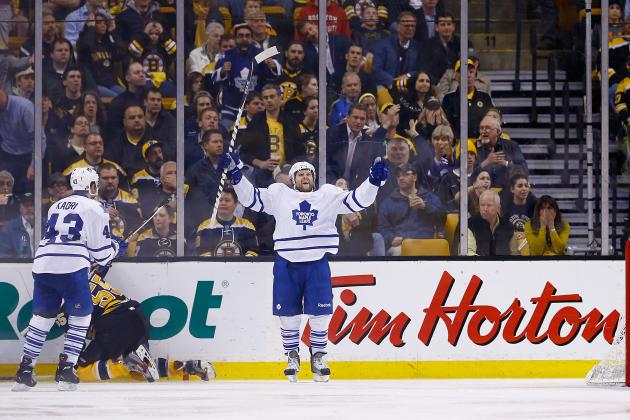 Jared Wickerham/Getty Images

The 2013 season was the breakout campaign the Maple Leafs had been waiting for.
For the first time in nearly a decade, the Buds found themselves playing postseason hockey.
Had it not been for a gut-wrenching Game 7 defeat to the eventual Eastern Conference champion Boston Bruins, there is a good chance the Leafs could have advanced as far as the Eastern Conference Finals.
With the core of the team still intact and so much flexibility financially, there is no doubt that the Leafs will be looking to build on their success from 2013.
Anything short of a playoff berth in 2013-14 will be seen as a major failure, while a first-round playoff victory will be the ultimate goal for Toronto.