Georgia Bulldogs with All-SEC Potential in 2013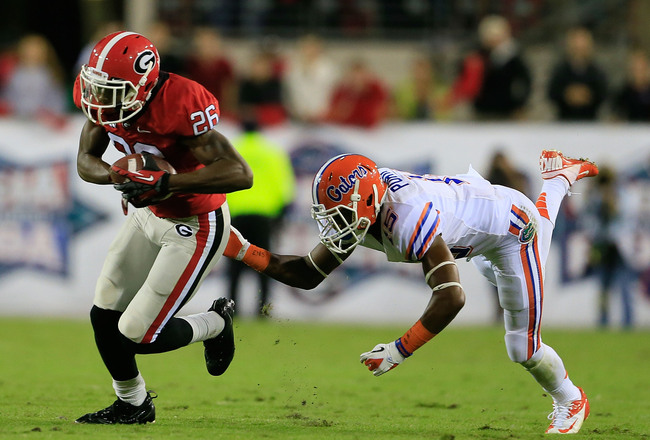 Sam Greenwood/Getty Images
The Georgia Bulldogs managed to score more points in 2012 than any offense in team history.
The offense is completely reloaded again this year. Tavarres King is the only main contributor who's missing from the lineup, as he's taken his talents to the Denver Broncos. Michael Bennett returns from a season-ending knee injury, and the entire offensive line will be back and intact after showcasing major improvement last year.
Georgia must rebuild a defense that lost a slew of All-SEC caliber players, but there's no arguing against the talent that defensive coordinator Todd Grantham will have in his tool box.
[Georgia's defense will be more talented in 2013]
Here's a look at returning players who can crack All-SEC, as well as All-American status in what fans are hoping to be another banner year under head coach Mark Richt.
Mike Foster is a Featured Columnist for B/R. Follow Mike on Twitter!
Aaron Murray, Quarterback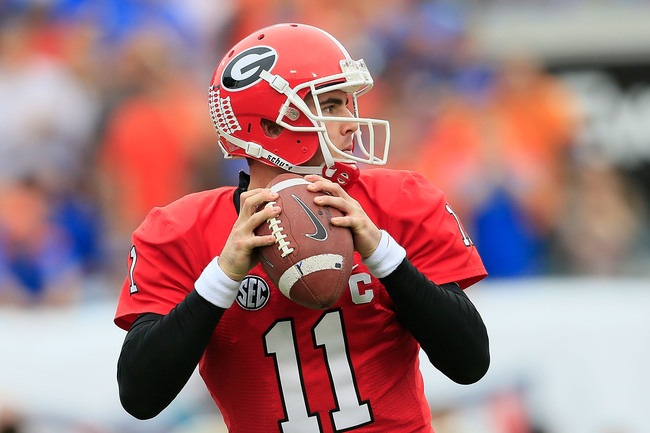 Sam Greenwood/Getty Images
Class: Senior
Measurements: 6'1", 208 lbs.
2012 Stats: 3,893 yards, 64.5% completion rate, 36 touchdowns, 10 interceptions
Competition: Johnny Manziel (Texas A&M), A.J. McCarron (Alabama), Connor Shaw (South Carolina), Bo Wallace (Ole Miss)
Aaron Murray hasn't been as decorated as Matthew Stafford, nor has he been as consistent as David Greene, but he still could go down as the most prolific and highly regarded quarterback in program history.
He's helped make Georgia's offense an unstoppable force, and if it wasn't for a tipped pass (the downfall of Murray's not-so-prototypical height, or lack thereof) he could very well have held up the crystal ball.
The stakes are high in 2013 as Murray, who has always received heavy criticism for not finding ways to win the big games, still needs to hit his ceiling. As a senior, he will have one last chance to grab an SEC title or even a national championship.
Ceiling: First-Team All-American
Todd Gurley, Tailback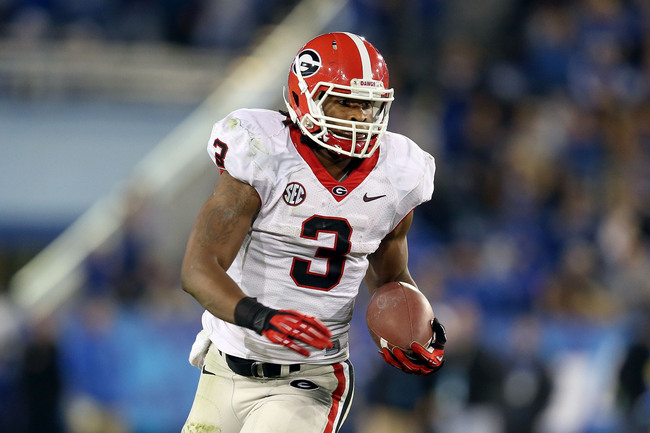 Andy Lyons/Getty Images
Class: Sophomore
Measurements: 6'1", 232 lbs.
2012 Stats: 222 carries, 1,385 yards (6.2 ypc), 17 touchdowns
Competition: T.J. Yeldon (Alabama), Keith Marshall (Georgia), Henry Josey (Missouri), LaDarius Perkins (Mississippi State)
Todd Gurley isn't just an all-conference caliber tailback; he might be the best tailback in the country, as well as one of the top five in Georgia's storied history.
Yes, it's premature to refer to a sophomore in that regard, but when you watch Gurley on tape, you see a guy who looks like he can walk right into a NFL uniform and become an instant game changer.
Many have compared Gurley closely to former Alabama tailback Trent Richardson, who had an outstanding rookie season with the Cleveland Browns. Gurley's frame and thighs are not meant for a teenager, and he couples that with outstanding speed. He's a violent runner who almost never goes down on first contact and falls forward whenever going down.
T.J. Yeldon is the more complete back in the conference in terms of receiving ability, but Gurley is a freak compared to Yeldon in terms of raw ability. He will also have to share the load with Keith Marshall, who's also a stellar tailback.
Ceiling: First-Team All-American
Keith Marshall, Tailback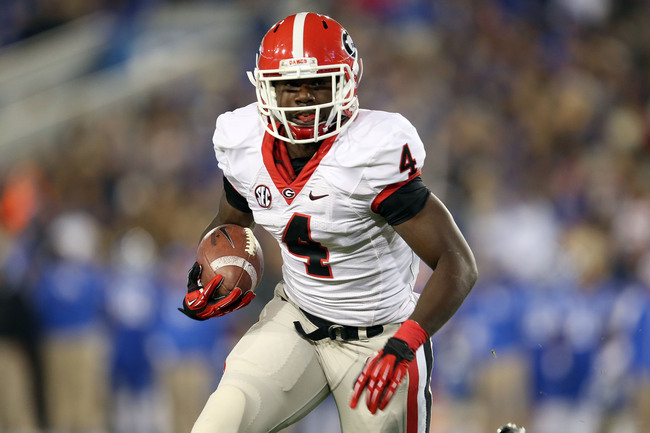 Andy Lyons/Getty Images
Class: Sophomore
Measurements: 5'11", 219 lbs.
2012 Stats: 117 carries, 781 yards (6.5 ypc), eight touchdowns, 11 receptions (91 yards, TD)
Competition: T.J. Yeldon (Alabama), Todd Gurley (Georgia), Henry Josey (Missouri), LaDarius Perkins (Mississippi State)
If Keith Marshall was a feature back on another team, he'd be in the Heisman conversation this offseason. Marshall, who had more recruiting hype than Gurley, didn't disappoint as a freshman with his ability to get Georgia in the endzone in a matter of seconds. His home-run ability is something not often seen in the SEC.
Marshall is a big guy too, but he isn't quite the between-the-tackles runner that Gurley is, which is why he's seen as more of the third-down back in the offense (granted, that's all perception, but perception that pundits won't be able to unsee).
God forbid, if Gurley went down, Marshall would be able to fill in with ease and probably be just as productive. He compares more to Yeldon as a sheer prospect, but doesn't have the lights shining on him as much.
Ceiling: Second-Team All-SEC
Chris Burnette, Guard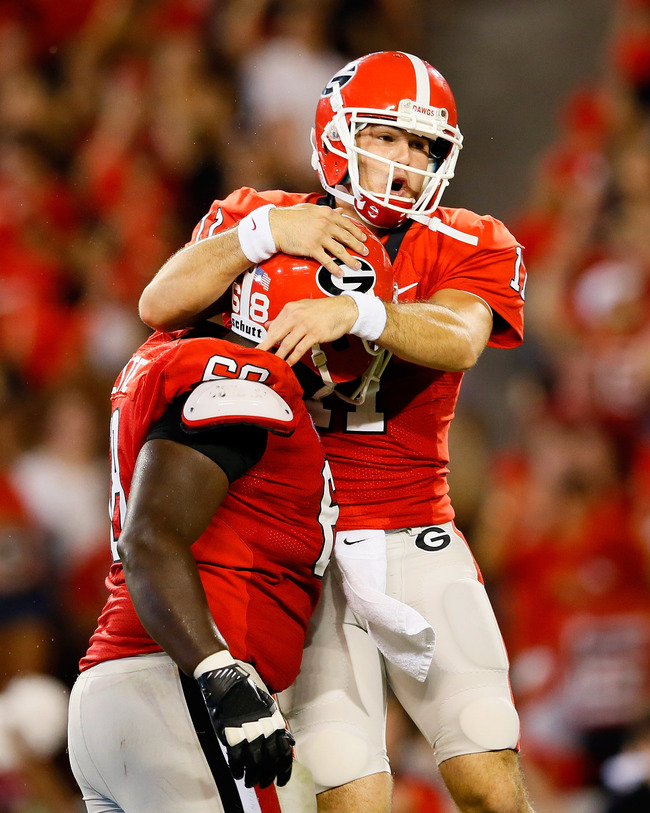 Kevin C. Cox/Getty Images
Class: Senior
Measurements: 6'2", 314 lbs.
2012 Stats: 12 games started (12 played, two missed)
Competition: Gabe Jackson (Mississippi State), Anthony Steen (Alabama), Aaron Morris (Ole Miss)
Chris Burnette will enter his final season 'Tween the Hedges as the most polished member of Georgia's offensive line.
Burnette started 12 games at right guard last season and 12 as a junior.
With the way Georgia's offense produces, as long as Aaron Murray is held off the turf for the majority of his snaps, Georgia's offensive linemen will get plenty of attention from the experts. Burnette should stand out and rub elbows with the other top offensive linemen in the conference.
Ceiling: First-Team All-SEC
Arthur Lynch, Tight End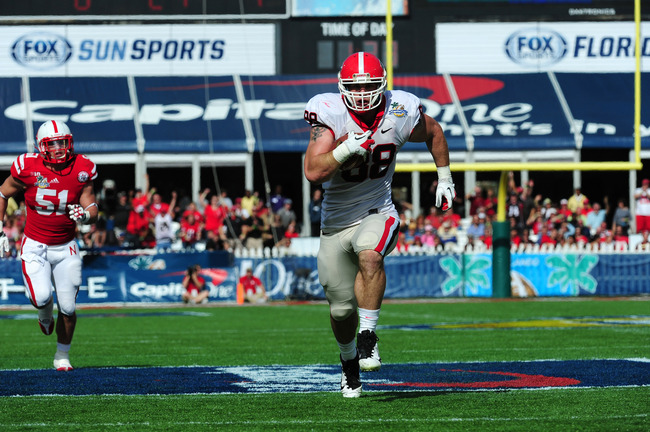 Scott Cunningham/Getty Images
Class: Senior
Measurements: 6'5", 254 lbs.
2012 Stats: 24 receptions, 431 yards, three touchdowns
Competition: Rory Anderson (South Carolina), Jay Rome (Georgia)
The tight end position isn't as premium as it has been in the past, and there aren't many big-name tight ends in the SEC this season, especially after the departure of Philip Lutzenkirchen (Auburn), Chris Gragg (Arkansas) and Jordan Reed (Florida).
Lynch didn't have stellar statistics last year. In fact, he has a former 5-star recruit named Jay Rome nipping at his heels every practice. But Lynch does everything right as a blocker and a pass catcher, and he will likely get the bulk of snaps this season because of his seniority.
South Carolina's Rory Anderson is an athletic pass catcher who could see more highlight time, but there's no denying Lynch's reliability.
Ceiling: First-Team All-SEC
Malcolm Mitchell, Receiver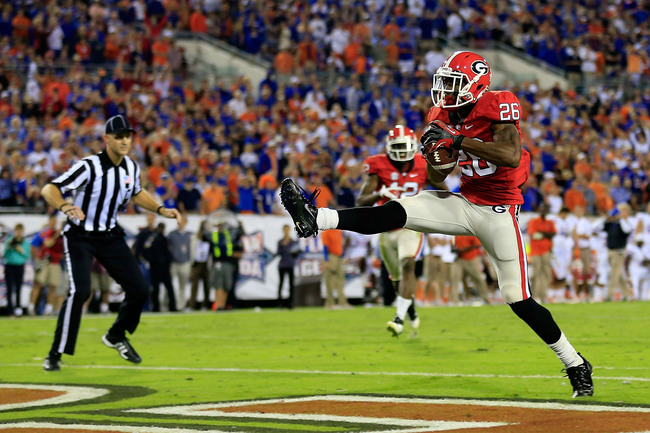 Sam Greenwood/Getty Images
Class: Junior
Measurements: 6'1", 190 lbs.
2012 Stats: 40 receptions, 572 yards, four touchdowns, 12 tackles, three pass-breakups
Competition: Amari Cooper (Alabama), Jordan Matthews (Vanderbilt), Mike Evans (Texas A&M), Donte Moncrief (Ole Miss), Quinton Dunbar (Florida), Dorial Green-Beckham (Missouri), Marcus Lucas (Missouri), Bruce Ellington (South Carolina), Chris Boyd (Vanderbilt), Odell Beckham Jr. (LSU), Chris Conley (Georgia)
There are a lot of really good, experienced receivers in the SEC. Malcolm Mitchell didn't have top-tier statistics last year, but that's mainly because he was relied on to start at cornerback for the first third of the season.
Mitchell might be the most exciting receiver out of the list not named Donte Moncrief, and he might not appear as polished as rising sophomore Amari Cooper. In fact, with the return of Kenny Bell and the arrival of Chris Black, Alabama could boast a trio of star pass catchers in the fall.
Georgia has just as much talent running routes, and Mitchell headlines the group. He's a proven playmaker and his unorthodox, almost unnatural running style really makes him stand out on the tube.
Ceiling: Second-Team All-American
Amarlo Herrera, Interior Linebacker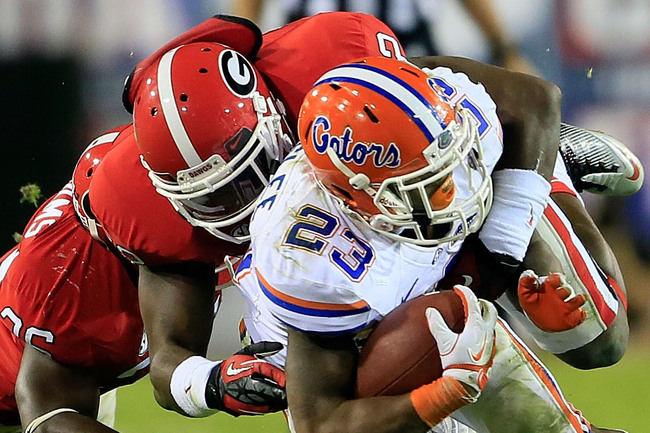 Sam Greenwood/Getty Images
Class: Junior
Measurements: 6'2", 244 lbs.
2012 Stats: 70 tackles, three for a loss, interception (TD)
Competition: A.J. Johnson (Tennessee), C.J. Mosley (Alabama), Lamin Barrow (LSU)
In the wake of injuries in 2011, as well as the suspension of Alec Ogletree last season, Amarlo Herrera had to grow up a lot faster than most linebackers who enter their college tenure with NFL prospects to their left and their right.
Even as a freshman, it was hard to tell that Herrera was new blood. In fact, last season's emotional rant from Shawn Williams included a proclamation that Herrera was the only guy who deserved to be on the field at all times. That's tall talk from a veteran safety who was considered one of the best prospects in the country.
Herrera is a true inside linebacker, and his best highlight from last year was a 35-yard interception return for a touchdown against Florida Atlantic. He might not immediately jump to stardom, or surpass it, but he's already considered a security blanket by Georgia faithful.
Ceiling: Second-Team All-SEC
Jordan Jenkins, Rush Linebacker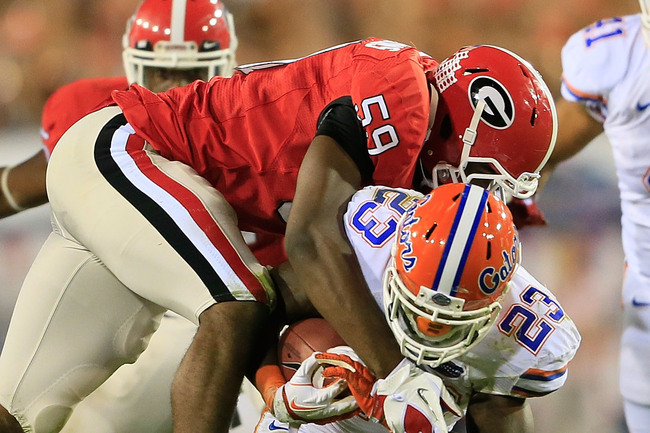 Sam Greenwood/Getty Images
Class: Sophomore
Measurements: 6'3", 246 lbs.
2012 Stats: 31 tackles, eight for a loss, five sacks, two pass breakups
Competition: Adrian Hubbard (Alabama), Denzel Nkemdiche (Ole Miss), Ronald Powell (Florida)
Jordan Jenkins was one of Georgia's top recruits who was thrown into the fire as a freshman, and he did not disappoint.
Now, with Jarvis Jones gone, Jenkins takes over the role as Georgia's top pass rusher. A lot of folks think Jenkins can be just as effective, which is frightening. Even as a rising sophomore, he's already the most heralded pass-rushing linebacker in the conference.
Expect Jenkins to quickly become one of the biggest names in the SEC.
Ceiling: Second-Team All-American
Damian Swann, Cornerback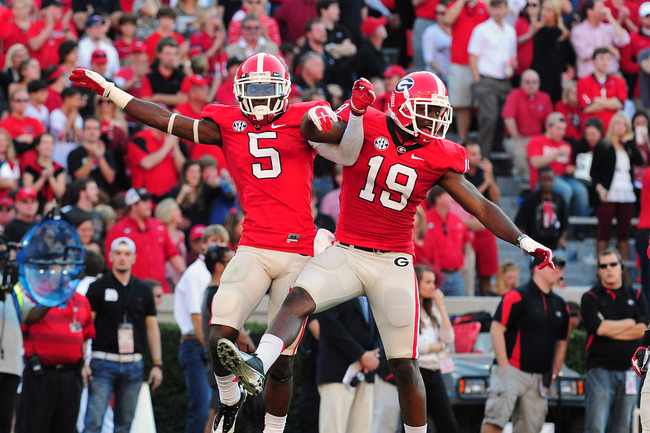 Scott Cunningham/Getty Images
Class: Junior
Measurements: 5'11", 178 lbs.
2012 Stats: 53 tackles, 3.5 for a loss, two sacks, four interceptions, five pass breakups, two forced fumbles, two fumble recoveries
Competition: Andre Hal (Vanderbilt), Loucheiz Purifoy (Florida), Marcus Roberson (Florida), Deshazor Everett (Texas A&M)
Georgia's top defensive back may own the last name Swann, but he's more of a ball hawk than anything else.
Swann played in high company last year with Bacarri Rambo (Georgia's all-time interception leader), Shawn Williams and Sanders Commings, but his stat line was still pretty ridiculous.
Turn the clock forward a year and Swann looks like the tenured veteran of a pretty raw group. Sheldon Dawson, Corey Moore, Tray Matthews and Josh Harvey-Clemons will make up a new-look defensive secondary full of talent.
Ceiling: First-Team All-SEC
Wildcards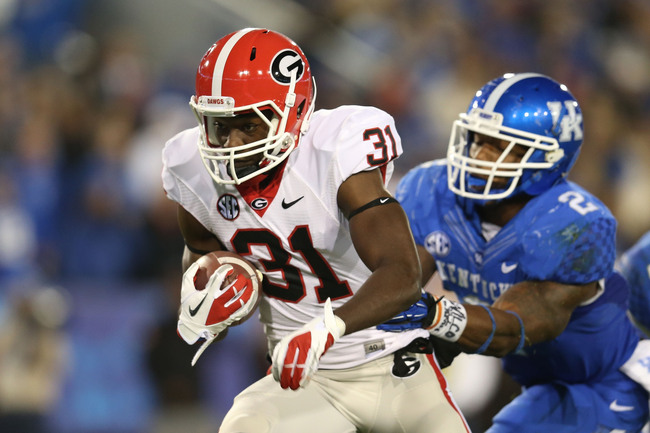 Andy Lyons/Getty Images
Chris Conley (Receiver, Junior): Will likely replace the spot of Tavarres King. Almost has been a big-play guy when on the field. Prototypical size, very good hands and a guy the media loves to talk to. NFL scouts will love him.
Jay Rome (Tight End, Sophomore): Has all of the ability to be the best tight end in the country, but has a hard-working senior who has earned time in front of him.
Ray Drew (Defensive End, Junior): Will have to fight off Sterling Bailey and turn into the top-end defensive end he was billed to be. Drew has not seen much playing time in his first few seasons, but the starting spot is there for the taking this Fall.
Josh Harvey-Clemons (Star, Sophomore): Harvey-Clemons will play Grantham's backer/safety/nickel hybrid position this season. Ogletree-type athlete who could quickly become the biggest name on the defense, but he has to get through a suspension of the season opener.
Keep Reading

Georgia Bulldogs Football: Like this team?