The Chicago Blackhawks and Boston Bruins are engaged in a series that hockey fans won't be forgetting anytime soon, and Game 5 back in Chicago on Saturday figures to be the next exciting chapter.
After four games, the two conference champs have battled to a 2-2 tie. But while some series can appear even while each team trades blowouts, these games have been as compelling on the ice as the results would indicate.
Chicago's 6-5 overtime win on Wednesday night in Game 4 continued the late-night trend of the Bruins and Blackhawks needing extra periods to settle the score in three of their four games. The action has been as intense and dramatic as any Stanley Cup Final in recent memory.
So what can fans expect heading into pivotal Game 5? Following are the burning questions that will impact who comes out on top.
Will Tuukka Rask Rebound?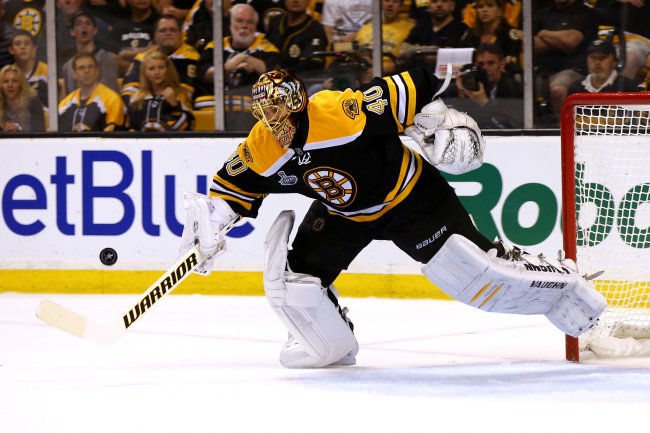 Elsa/Getty Images
Bruins netminder Tuukka Rask has been on fire throughout the postseason. He's sporting a 94.1 save percentage for the postseason and has earned three shutouts—including one against the Blackhawcks in Game 3.
According to ESPN SportsCenter, Rask had not allowed a goal in over 190 minutes of play when Chicago notched its first score of the night en route to beating Rask for six goals.
HAWKS SCORE! Michal Handzus' short-handed goal is 1st Tuukka Rask has allowed at home in over 190 minutes. Blackhawks lead Bruins, 1-0.

— SportsCenter (@SportsCenter) June 20, 2013
The whole Game 4 loss, however, can't be pinned on Rask alone. The Bruins' defense allowed far too many quality looks for them to expect a great performance from their goaltender.
This is the biggest moment of the season for the Bruins and it's important that they get a stellar performance from Rask if they hope to shut down the Blackhawks' attack on Saturday.
Can the Blackhawks Beat The Bruins' Penalty Kill Again?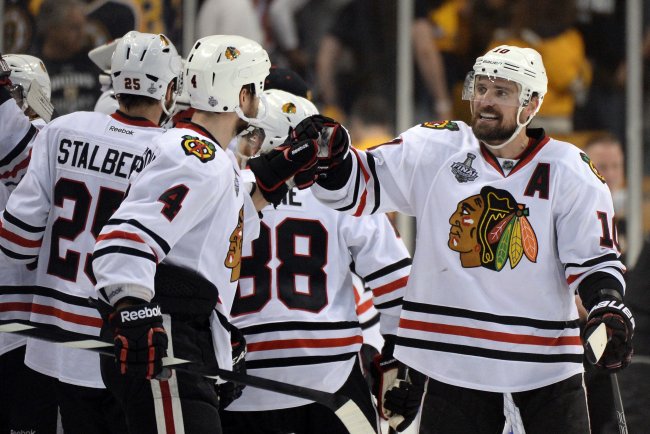 Harry How/Getty Images
The Bruins' penalty kill was having a historically great run throughout the playoffs heading into Game 4. They had kept teams out of the net in penalty kill situations in seven consecutive games, including a perfect five-for-five in Game 3.
But that all changed in Game 4. As Jesse Spector of Sporting News tweeted, Patrick Sharp scored the team's first power play goal of the series with just 8:41 remaining in the final period:
GOAL: Patrick Sharp gets the Blackhawks' first power-play goal of the series, and it's 5-4 Chicago with 8:41 left.

— Jesse Spector (@jessespector) June 20, 2013
The Bruins would go on to tie it in regulation, but it was Sharp's goal that allowed the Blackhawks the opportunity to win in overtime.
Beating the Bruins' penalty kill again would be a huge boost to the Blackhawks' chances of winning another game in the series.
Are We In For Another Shootout?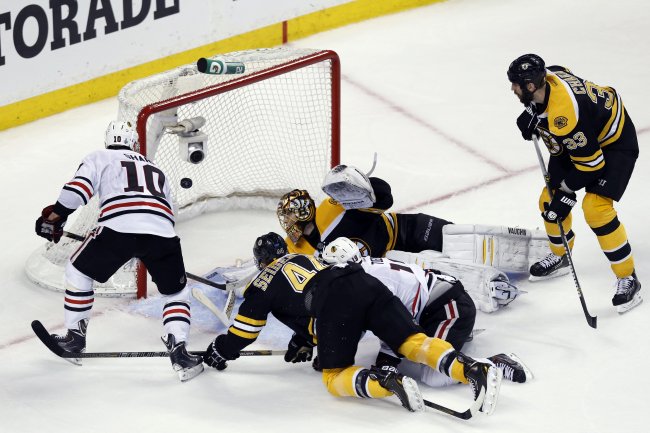 Greg M. Cooper-USA TODAY Sports
Pace has played an incredibly important role in this series.
When the game is slow and defensive in nature, the Bruins have won. When the Blackhawks are able to push the pace, move the puck and score goals, it plays to their advantage.
That being said, the team that is able to enforce its style of hockey is going to win. In the Bruins' two wins so far, they have outshot the Blackhawks, 35-28, in Game 3 and were actually outshot, 28-34, in their Game 2 win.
However, in the games that they Blackhawks have won, they've outshot Boston, 63-54, in Game 1 and again in Game 4, 47-33. That's a sharp untick in shot attempts.
With both teams using clearly contrasting styles throughout the playoffs, the team that establishes a rhythm early will control Game 5 to take the upper hand.