Chicago Cubs: Top 10 Trade Candidates' Odds of Being Dealt by the Deadline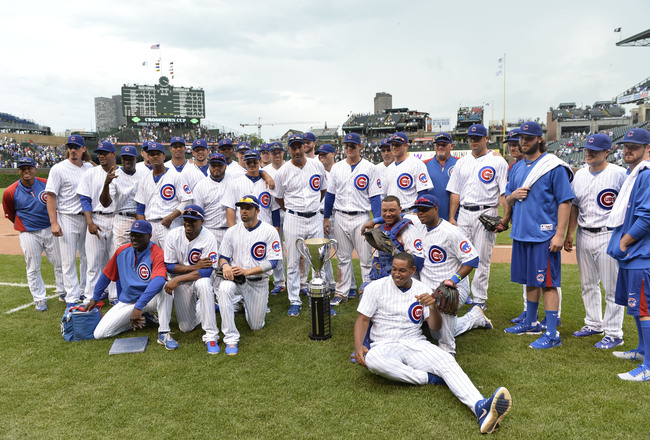 Brian Kersey/Getty Images
By now it is common knowledge the Chicago Cubs will be active at the trade deadline. But which players will be actively shopped and which players the club will simply consider offers for is uncertain.
Depending on how competitive general manager Jed Hoyer and president Theo Epstein want the club to be post-July 31, just about everybody on the roster is available with the exception of the "core" players.
There are some players who are all but certain to be dealt before the deadline, such as Matt Garza.
Then there are some who are speculated to be available or would fall into the category of players the Cubs will not necessarily shop around, but are willing to entertain offers for.
This is a list of those players and the odds the Cubs trade them by the July 31 waiver-trade deadline.
(A short note: You will find four of the six pitchers the Cubs have used in the starter role this season in this list whose odds of being traded could fluctuate in the event one or more are dealt.)
Nate Schierholtz: 8-1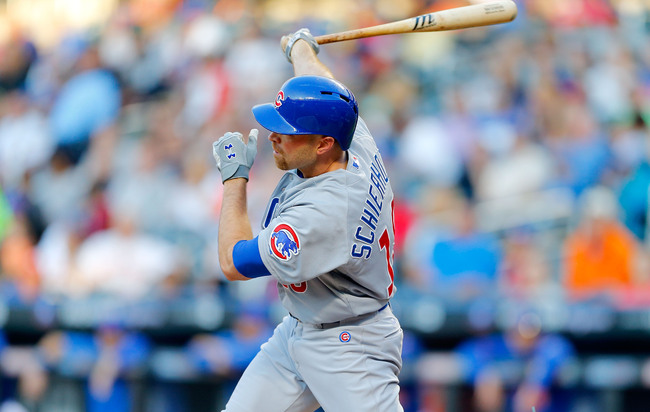 Jim McIsaac/Getty Images
Figuring the odds of Nate Schierholtz being traded was a difficult task.
On one hand, you have one of the team's best offensive producers in an otherwise deficient lineup.
On the other hand, you have one of the team's best offensive producers in an otherwise deplorable lineup on a one-year contract.
If Epstein and Hoyer do not want the Cubs to absolutely tank the rest of the season, then logic would dictate they keep one of the more offensively productive members of their team. This reasoning would then place his odds of being traded at 15-1.
However, this is Theo Epstein and Jed Hoyer we're talking about here. And, if anything, their time with the Cubs would demonstrate that they have no qualms about making moves for the future even if being a detriment to the present.
That reasoning would then place the odds of Nate Schierholtz being traded at even money: 1-1.
So, taking both ideas into consideration, split the difference, and there you have it.
David DeJesus: 6-1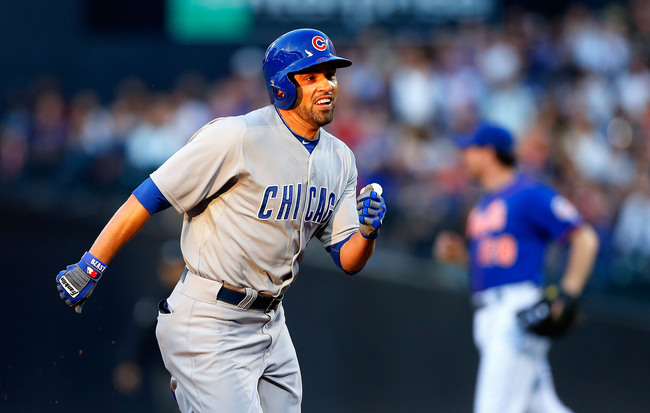 Jim McIsaac/Getty Images
The odds of David DeJesus being dealt by the deadline took a major blow on Friday when he sprained his right shoulder in a game against the New York Mets at Citi Field.
Prior to his injury, DeJesus was one of the Cubs' key trade pieces, and the odds of him being traded were far more favorable.
It is still possible he will be moved prior to July 31, but the quality of prospects the Cubs would receive in return took a dip.
The Cubs could gamble by keeping DeJesus beyond the non-waiver trade deadline, allowing him to remind clubs why they should trade for him and then deal him before the waiver-trade deadline for better prospects.
By doing that, however, they could risk him getting injured again or struggle to come back from the injury and eliminate any trade options.
Carlos Marmol: 25-1
Brian Kersey/Getty Images
The odds of Carlos Marmol being traded at 10-1 is due to a combination of his lousy play and the team's desire to get rid of him. The Cubs would love, love, love to trade Marmol away.
If it was up to the Cubs, the odds of trading Marmol would be even money, depending on what they want in return—because he would just be a rental. But another team's desire to take on Marmol and his struggles for more than a box of Cracker Jacks would put the odds at 50-1.
What the Cubs could hope for is a scenario that can be found in baseball lore.
In 1947, baseball legend has it there was a trade made that would have exchanged Joe DiMaggio for Ted Williams. After a "ti many mar-toonies," as my Grandpa once said, the respective owners of the New York Yankees and Boston Red Sox decided upon a trade sending The Yankee Clipper to Boston for Teddy Ballgame.
It was a folklore-ish trade that was quickly redacted after both owners sobered up the following morning.
That is the only way the Cubs would be able to entice any other club to rescue them from the calamitous Carlos Marmol: Get the other GM liquored up.
They just need to make sure they have the paperwork on hand.
Alfonso Soriano: 7-1, but Odds Could Turn Favorable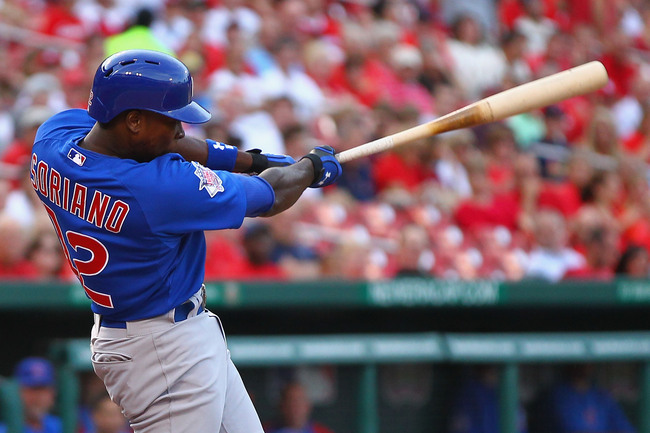 Dilip Vishwanat/Getty Images
Just like Carlos Marmol, the Cubs would love, love, love to unload Alfonso Soriano. Last season the Cubs had a waiver-trade deadline deal in place with the San Francisco Giants for Soriano after he passed through waivers. The trade was reportedly nixed by Fonsi "because San Francisco is not good weather to play," Soriano was quoted saying by Doug Padilla, of ESPNChicago.com.
Jon Heyman of CBSSports.com reported last August that "one source suggested before the deadline the Cubs offered at least one team to pay Soriano's $18-million salary down to $3 million."
If the Cubs make that same financial offer in regards to the left fielder, a deal to ship Alfonso Soriano out of the Friendly Confines should be sealed. But I do stress, should.
Just like last year's deal with the Giants, Soriano could again disallow the trade; which is why the odds of him being traded are higher than they otherwise would be.
But the reason why the odds of Soriano being dealt away could turn favorable is because he witnessed the team he was—by all intents and purposes—traded to before vetoing the move, win the World Series.
If the trade proposal is with a contender, then Soriano might see it as an opportunity to win a World Series that he cannot, again, pass up.
Matt Garza: Even Money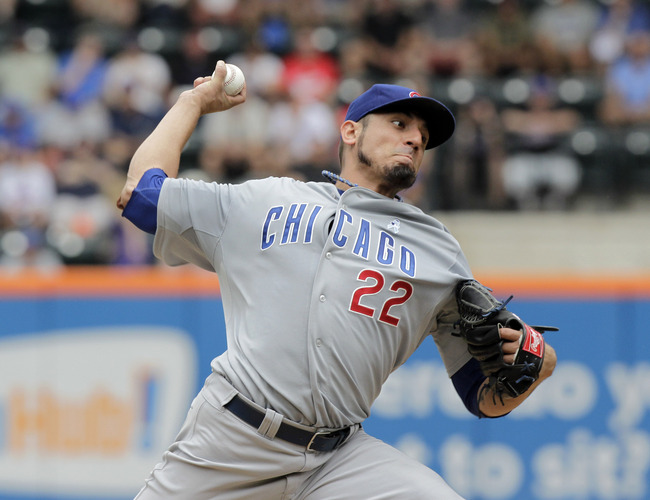 Jason Szenes/Getty Images
Matt Garza is a shoe-in to be dealt by the deadline. It's even money, as they say. The odds might even be 1-2 or lower...higher?...lower.
Everybody and their mother knows the Cubs are going to try to do everything they can to move him this year.
Since coming back from a lat muscle strain, Garza has fared fairly well. The season debut against the Pittsburgh Pirates went just fine for the righty.
Garza threw 82 pitches in five innings of shutout ball that night. His next start against the Cincinnati Reds didn't go as well. But that is to be expected of a pitcher coming off an injury going against one of the best teams in the league.
After a solid outing vs. Arizona and a decent one at Anaheim, he again struggled with the Reds. This time at Wrigley, he was tagged for nine runs and nine hits in five-plus innings before getting the hook.
But the Cubs should feel better about Garza maintaining his trade value up to the deadline after his outing against the New York Mets on Sunday.
James Russell: 15-1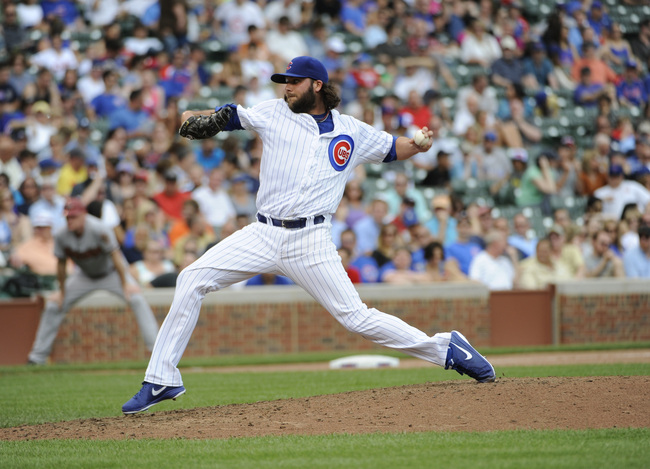 David Banks/Getty Images
Without question, James Russell is the Cubs' best relief pitcher. Now, there have not been any rumors whatsoever about James possibly being dealt this summer.
The only reason he is included in this list is because I would not put it past Epstein and Hoyer to strike while the iron is hot and deal their standout reliever to a contender for top quality prospects. That's why his odds are so low—yes, low.
Kevin Gregg: 3-1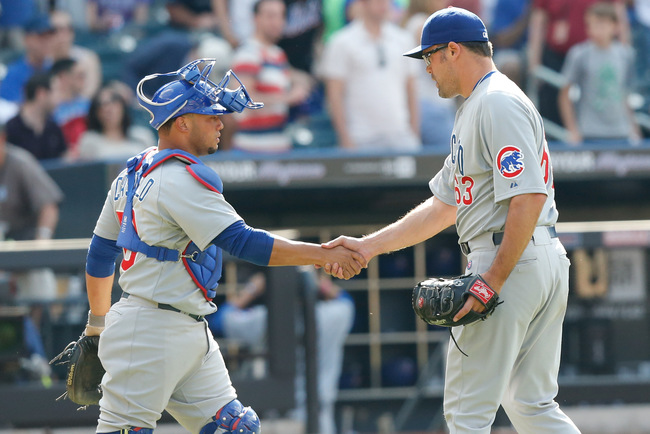 Anthony Gruppuso-USA TODAY Sports
When the Cubs signed Kevin Gregg off waivers from the Los Angeles Dodgers, they had no clue he would pitch as well for them as he has.
Since joining the Cubs in mid-April, Gregg has an impressive sub-1.00 ERA and 10 saves.
You can almost hear Epstein and Hoyer laughing maniacally and rubbing their hands together at the thought of trading him.
Scott Feldman: 4-1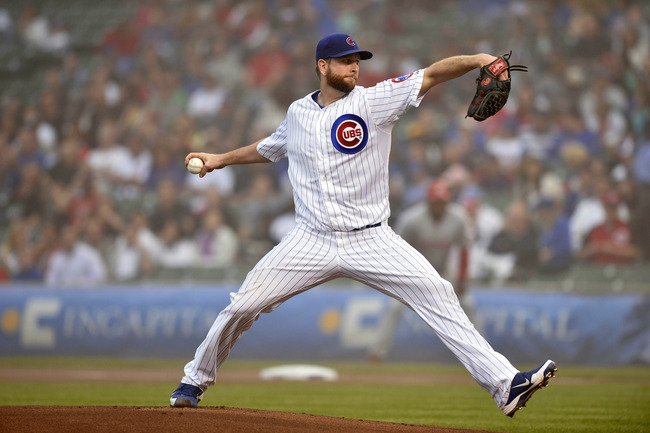 Brian Kersey/Getty Images
When the Cubs signed Feldman to a one-year contract, this is exactly what they had hoped for: eight quality starts with a 3.05 ERA.
Feldman is this year's Paul Maholm. And he will draw the same fate.
Let's face it, Feldman is essentially traded, it just hasn't happened yet. It wouldn't be surprising if the Cubs have told him to pack all of his things for every road trip in the event a trade occurs.
And if the Cubs luck out, they will receive something similar in return. Hopefully, though, there won't be any Tommy John recovery time required.
Carlos Villanueva: 8-1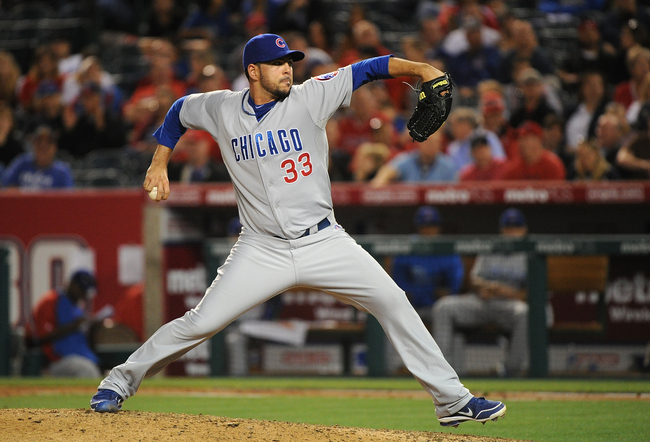 Lisa Blumenfeld/Getty Images
The Cubs may have hurt their return for the 29-year-old righty when they moved him to the bullpen.
Villanueva was a solid starter for the Cubs before Matt Garza's return prompted the club to move him to the bullpen.
He has been almost as good in the 'pen as he was as a starter. Almost, but not quite.
After his first seven starts, the Cubs must have thought they had…expelled…a golden goose. Five quality starts with a 3.02 ERA. Then after his eighth start—by far his worst of the season—he was moved to the bullpen to make room for Matt Garza.
That may not look too good in the eyes of a potential pursuer of Villanueva's, regardless of the situation. He has, then, gone on to be a solid member of the bullpen, but definitely not as impressive when was a starter.
If Garza and/or Feldman is dealt, the Cubs may decide to keep Villanueva and place him back in the starting rotation. Then again, the front office could decide to deal all three.
Edwin Jackson: 17-1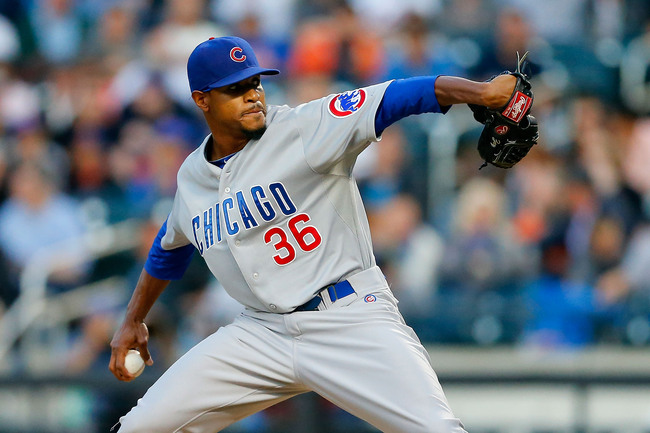 Jim McIsaac/Getty Images
The only reason Edwin Jackson is still in the starting five is the four-year, $52 million contract to which the Cubs signed him. And it is also the reason it will be difficult for the Cubs to find a trade partner for him.
If the Cubs can find some team to take him off their hands, they should jump at the opportunity. But that seems highly unlikely.
Looks like the first big free-agent signing—dollar-wise—of the Epstein-Hoyer era has already come back to bite the organization in the tookus.
Hopefully that isn't a bad omen.
Keep Reading

Chicago Cubs: Like this team?