Texas Football: 5 Longhorns on Offense with the Most to Prove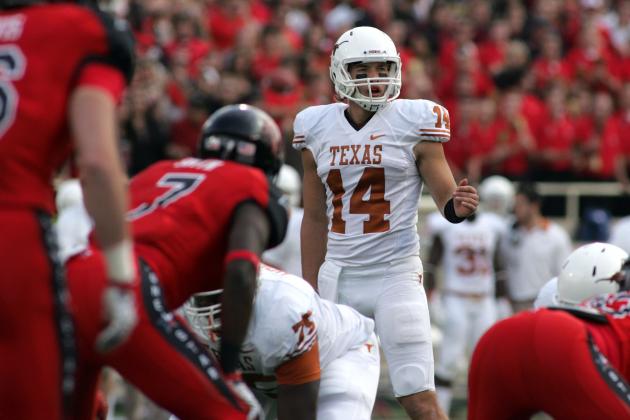 Michael C. Johnson-USA TODAY Sports

The Texas Longhorns appear to be on the up-and-up, but they are not without their flaws, some of which encumbered their efforts a season ago.
Equipped with an up-tempo offense and vast amounts of experience—something Texas lacked in 2012—the Longhorns are a prized pick to win the Big 12.
But winning on paper and winning on the field are two very different scenarios. Despite the veteran presence all over the field on either side of the football, the Texas program has been missing that flavor of success in recent seasons, which is why the 'Horns still have those who doubt their chances of success in 2013.
If the Longhorns can play with a chip on their shoulders, having it out to prove something to the college football public, they will be a force in the conference and potentially crack the BCS in January.
Offensively, Texas appears to be set for a strong campaign, but there are a number of pieces that—if primed correctly—can help transform the offense entirely.
Begin Slideshow

»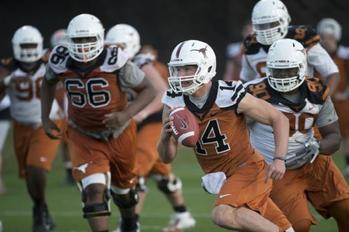 mackbrown-texasfootball.com
Junior quarterback David Ash will be heavily under the microscope this season, although he is firmly in the good graces of the Texas program.
Ash has taken tremendous strides in his first two seasons in Austin, and the 2013 season is the first time he will go into the year as the undisputed leader and go-to option at quarterback.
Now operating in a faster offense that will ease his decision-making, Ash has a chance to improve his passing skills tremendously. And for an already accurate quarterback (67 percent completion rate in 2012), Ash could really be something to watch this year.
Hardly anyone has doubted his physical attributes, but in a critical season that could have the Longhorns climb to the top of the Big 12 and venture into the BCS picture, Ash may be the ultimate catalyst on offense.
Sharp play out of the Belton product may go unheralded, but just like Vince Young and Colt McCoy's junior seasons, Ash is firmly in the driver seat for a wild 2013 season.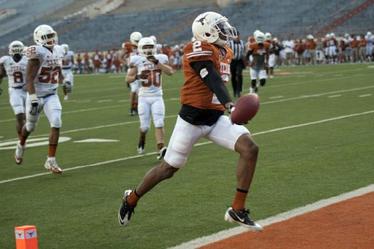 mackbrown-texasfootball.com
The Texas receiver corps has been pretty lackluster in the past few seasons, minus Mike Davis and Jaxon Shipley, both of whom are primed for big years.
Behind the scenes, however, is a throng of low-lighted pass-catchers hoping for a chance to sniff the big time.
Cayleb Jones was thought to be a handy project as a go-to No. 3 receiver, but with his recent mishaps with university policy and with the law, his contributions appear to have been tabled for now.
Enter Kendall Sanders who, like Jones, enters his second year in Austin with an opportunity to get consistent looks in a spread attack. But while Jones seems to have fallen by the wayside, Sanders appears to have taken a more serious approach toward improving his craft.
While there are plenty of receivers on the roster who will vie for playing time in the fall, Sanders has the open-field speed and athleticism to make him a dynamite option with the ball.
The spaces are open, but can Sanders competently and effectively fill them all up?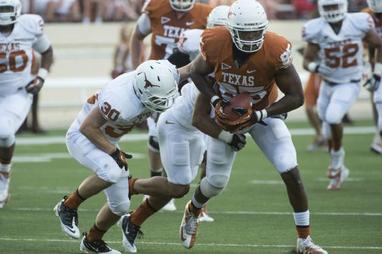 mackbrown-texasfootball.com
It has become a broken record by now, but the Longhorns simply cannot get the tight end tune off of repeat.
M.J. McFarland, Greg Daniels and Geoff Swaim enter the picture as the tight ends to choose from, although receivers Miles Onyegbule and John Harris could very well get some looks as pass-catching options.
Regardless, Texas simply has to get something from its tight end position if it wants to engage its offense fully.
The door is wide open; in fact, there is not even a door. Tight end is a vacant space just aching for someone simply to occupy it.
All signs point to McFarland as the guy who will break away, but no other position claims as much uncertainty as tight end.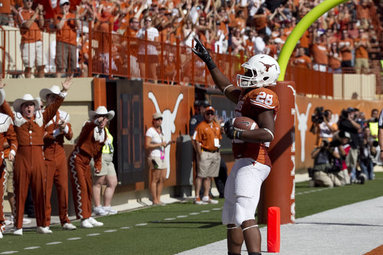 Deborah Cannon / Austin American-Statesman
Junior running back Malcolm Brown arrived in Austin two years ago with about as much praise as anyone currently in the program.
Brown became a bona fide difference-maker from day one, but injuries have seemingly plagued his potential as a consistent playmaker out of the backfield.
Johnathan Gray entered the picture as a true freshman when Brown missed five games last season, and with the carries split between those two and Joe Bergeron, there is not a ton of spotlight to share.
And for Brown, who may very well become supplanted by Gray as the go-to back, his health is of paramount importance if he wants to remain a significant piece in the offense. Brown managed a 5.3 yards-per-carry average, the best of the aforementioned trio, and when healthy, he sometimes appears to be the best pure running back on the roster.
Can he bring it all together this season while staying off the injury report?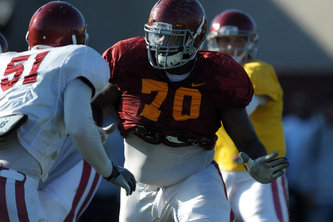 Kirby Lee / US Pressire via pacifictakes.com
Junior college transfer Desmond Harrison has not even played a single snap for the Longhorns, but the hulking offensive tackle has definitely garnered the attention of the Texas faithful.
Harrison's arrival will shift things around quite a bit up front, moving either Dom Espinosa or Josh Cochran—the likely scenarios—into a reserve role while pushing Donald Hawkins either to the opposite tackle position or along the interior.
That is quite a bit of pressure for a guy who has barely acclimated to the Texas program. Nevertheless, Harrison is expected to contribute immediately, and if he can help solidify the depth on the offensive line, he could be the most invaluable piece in the trenches.
And with it being Harrison's first season in Austin, that would be a welcomed influence.