Brad Pickett vs. Michael McDonald Head-to-Toe Breakdown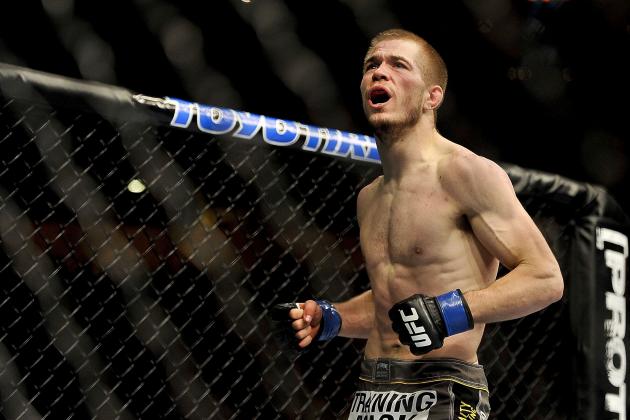 Paul Abell-USA TODAY Sports

The UFC's debut event on the Fox Sports 1 network, set for August 17, now sports a full 13-fight card featuring a number of very intriguing matchups. Among the most interesting of all is a bantamweight clash between a pair of hard hitters, Michael McDonald and Brad Pickett.
McDonald enters the bout just one fight removed from a failed title shot against Renan Barao. The defeat marked the first of the 22-year-old's UFC career, so he'll no doubt be looking to get back on the winning track against Pickett.
For his part, Pickett approaches the fight coming off a split-decision victory over Mike Easton. He will be looking to secure back-to-back wins for just the second time since 2010 when he goes up against McDonald this August.
Here we will take a look at the McDonald vs. Pickett matchup and examine how it is likely to play out. We will assess which fighter has an edge in each of the striking, wrestling, and grappling and submission areas of the game and use those assessments to project the probable outcome.
Begin Slideshow

»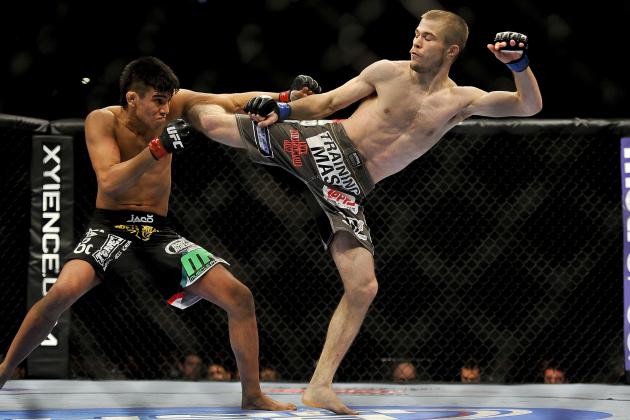 Paul Abell-USA TODAY Sports

Michael McDonald
McDonald wields about as much punching power as can be crammed into the fists of a 135-pound fighter. At any time during any fight, he is capable of putting his opponent out, something he's done nine times in 17 professional bouts.
But "Mayday" isn't someone who picks his spot looking to land that one single knockout strike. He is an active, technically sound striker capable of wearing his foes down as effectively as turning off their lights with one swing.
Brad Pickett
Though Pickett is a good stand-up fighter, his moniker "One Punch" is something of a misnomer. While the Brit has demonstrated knockout power in the past, more often than not it's accumulating damage that earns him victories.
Pickett's aggression on the feet is a double-edged sword for him, as he is able to do a lot of damage, but he also takes a lot in return. He wears an outstanding chin, but has been dropped a few times of late, most recently multiple times at UFC 155 by Eddie Wineland.
Edge: McDonald
Both guys can dish it out, but what McDonald dishes is harder. Also favoring McDonald is the ratio of give and take.
Fightmetric reveals that he lands 2.58 significant strikes per minute, while absorbing 2.54 over that same period. Pickett, on the other hand, lands 3.48 significant strikes per minute, but absorbs 4.68.
It looks like Pickett's chin may really be put to work in this one.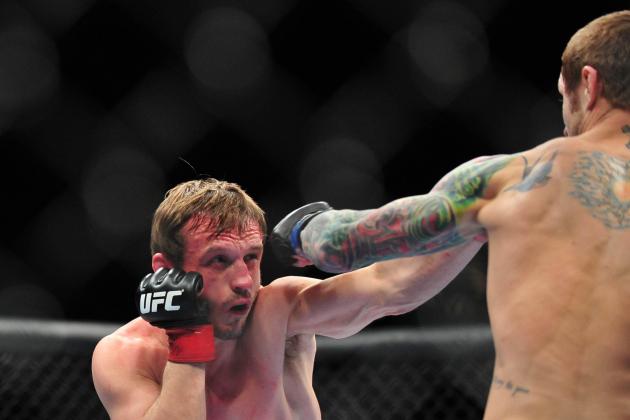 Gary A. Vasquez-USA TODAY Sports

Michael McDonald
McDonald doesn't often hunt the takedown, but he usually finds one when he looks, something evidenced by his stellar 75 percent success rate. That number may be somewhat inflated since he has limited attempts and limited fights against good wrestlers, but it cannot be discounted outright.
Defensively, McDonald is solid. He struggled to stop Renan Barao from taking him down, but has otherwise been very good.
Brad Pickett
Few people think of him as such, but Pickett is an aggressive wrestler. On average, he scores over three takedowns per 15 minutes spent in the Octagon, succeeding on 57 percent of his total attempts.
Defensively, Pickett employs a solid but unspectacular game, similar to that of McDonald.
Edge: Even
I don't love scoring any element of a breakdown as even, but this one sure seems close.
Statistically, McDonald has the superior wrestling offense. But he racked up many of his successes against a takedown-friendly opponent in Edwin Figueroa, whereas Pickett has faced stiffer wrestlers.
Defensively, both guys have stopped incoming takedowns at exactly the same rate.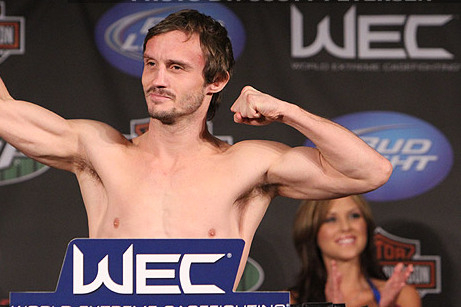 Photo by mmaweekly.com
Michael McDonald
Because he is a stand-up specialist, McDonald is rarely praised for his grappling skills, but they are quite solid. Sure, he was submitted last time he fought, but there is certainly no shame in being finished on the mat by Renan Barao. Just ask Brad Pickett.
Offensively, McDonald can finish. He has done so four times, which may not seem like many, but that comes over the course of just 15 wins. Throw in that he is almost always happy to keep the action vertical, and his ground game is a lot more dangerous than you might believe.
Brad Pickett
Pickett is more well known for throwing his hands than locking up submissions, but he has more career submission wins than knockouts. As with McDonald, Pickett's ability to finish on the mat is underrated.
Defensively, Pickett has shown vulnerability in the past, being forced to cry uncle on three occasions. But he's been better recently, allowing only Barao to submit him since 2007.
Edge: Pickett
Like wrestling, this is a tough one to call. It would be surprising to see this bout end by submission, either way. If it does, there is a slightly better chance that Pickett will be the guy forcing the tapout.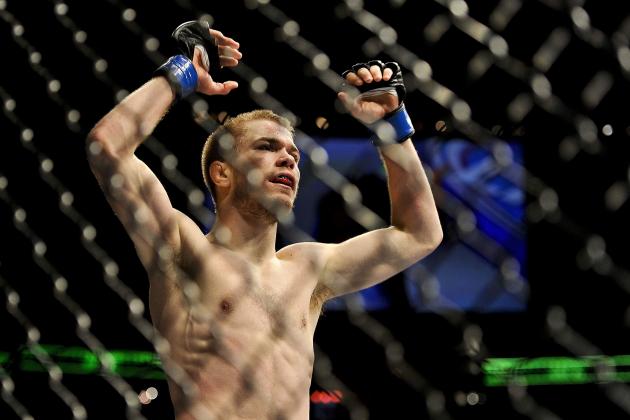 Paul Abell-USA TODAY Sports

Michael McDonald
There are very few fighters at 135 that are as dangerous as McDonald is when he lets his hands fly. Maybe none. If he is able to stay in the pocket and not wilt under the pressure Pickett will undoubtedly launch against him, he may just earn himself another knockout.
He'll have to be careful, though, and let the action come to him. If he tries to load up on that one finishing blow, he may just be picked apart or floored and put into some precarious positions.
Brad Pickett
Pickett is about as durable as they come, and that will be a real asset against a guy who hits like McDonald does. But it would be better for Pickett not to put his chin to work too much at UFC on Fox Sports 1. Instead, he needs to fight smart and pick his shots.
That isn't to say he shouldn't be aggressive, because at 34, it isn't time for him to reinvent himself. However, he will need to keep his attacks quick, direct and varied, or else risk being put to sleep. Or at least risk suffering a beating that would put most fighters to sleep.
Projected result: McDonald def. Pickett via knockout (Round 2)
I've spent much of this article praising Pickett's chin, but I think this fight is going to be McDonald's coming out party. People already know he is a good fighter and future star, but I expect him to close the gap between those accolades in a significant way this August.
Many great competitors—regardless of sport—come back better than ever after a run-in with a superior foe. I think the young McDonald, who is coming off a defeat to Renan Barao, will do just that.
In the end, I expect him to keep the action standing and get the better of the exchanges with Pickett, eventually handing One Punch the second knockout defeat of his career.