8 Early Winners and Losers of the Detroit Lions' Offseason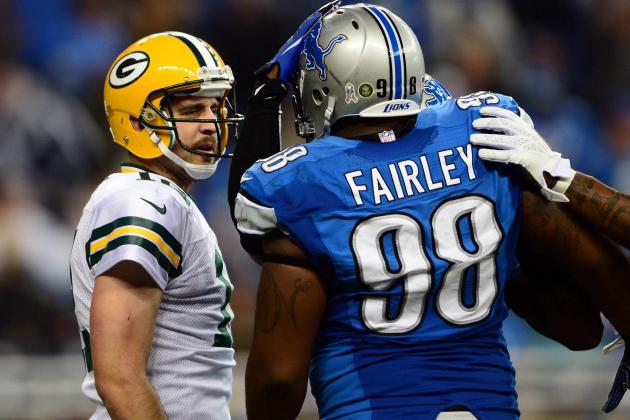 Andrew Weber-USA TODAY Sports
Nick Fairley has been impressive this offseason.
Detroit Lions' fans who have been yearning for answers to their burning questions should fear not. Training camp is right around the corner. It's a time when all will be revealed. Winners will be awarded with roster spots, and losers will be sent home.
Depending on who you're rooting for, that could be good or bad.
At any rate, offseason OTAs rarely reveal much of anything as far as roster spots go. The players haven't even donned pads, yet, so it's understandably difficult to assess their chances.
With that said, early impressions can be made based on a variety of things. For example, last season, Bill Bentley turned heads during OTAs. He was heads and shoulders above his competition and not surprisingly ended up winning the starting job in training camp.
It's not an exact science by any means, but it's possible to form realistic conclusions at this time of year.
Here are some for you to contemplate—the Lions' biggest winners and losers thus far.
Begin Slideshow

»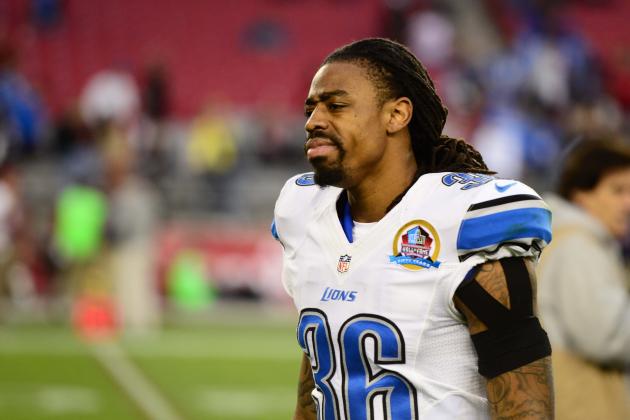 Mark J. Rebilas-USA TODAY Sports
Oh, the horror.
For all accounts and purposes, Jonte Green has performed very well this offseason. Not much has been written about him, but he got better as the year went on last season and looks to be a contributor this year as well.
I'm mentioning Green as a loser for one reason: his wardrobe selection. According to Carlos Monerrez of the Detroit Free Press, Green showed up for OTAs wearing short-shorts.
That's right. Think John Stockton circa-1980—with dreadlocks.
His teammates were horrified, and "rumor" has it, he will be heavily fined for his fashion faux pas.
Said starting cornerback Chris Houston, after he washed his eyes out:
That was a little shaky out there. I didn't know what he was doing, if he was trying to be a male dancer or something like that.

I think we're going to fine him for that, too. Thanks for bringing it to my attention. Probably like $50 for that.
Indeed. How dare he desecrate the classy tradition that is Lions' OTAs. Green will rue the day he donned those things.
(Unfortunately, I could not find a picture of Green in said shorts. Sorry.)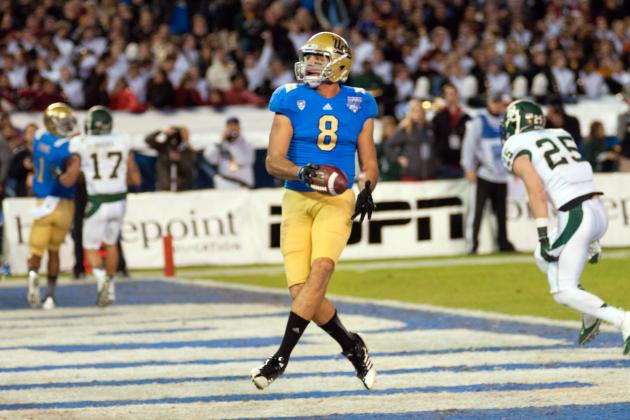 Kent Horner/Getty Images
There's a good chance Fauria will be striking this pose in Honolulu Blue this season.
The hype machine is running full speed ahead on Joseph Fauria, but no one should be surprised. He's 6'7", uber-athletic and he scored double-digit touchdowns as a senior at UCLA last season.
Being high on Fauria is like being high on Diary Queen ice cream cakes. What's not to love?
Then again, eat too much and you'll get a stomachache and a terrible brain freeze. Trust me, I know.
But I digress. Everyone thinks Fauria has a chance to make the roster because his athleticism and pass-catching ability has been on display during OTAs. He's being impressive, and no one is discounting that.
In fact, he's been so impressive that whispers about the Lions cutting Tony Scheffler to make room for him should be taken seriously.
It's not every day that an undrafted free agent makes that kind of impact.
Fauria is a big winner, and his reputation grows each day. Let's see how he does with pads on, though. He's a trendy pick now, but Scheffler's already proven he can play on Sundays.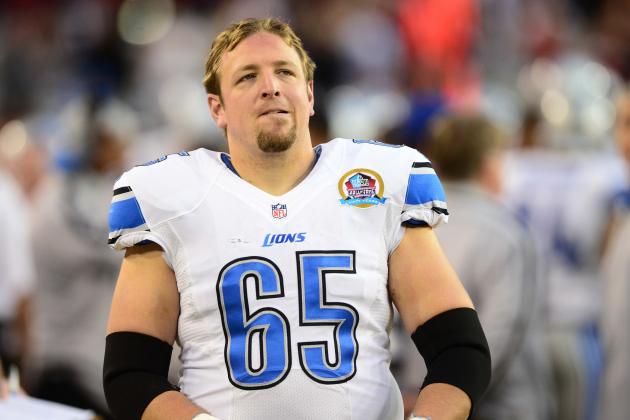 Mark J. Rebilas-USA TODAY Sports
See what I mean.
Dyland Gandy is an eight-year NFL veteran who has been with the Lions for the past four years. During that time, he's been a constant presence on the sidelines.
In fact, he has one of the most recognizable faces on the team.
That's because he never has a helmet on.
Gandy rarely sees any action on Sundays, yet he's stuck with the Lions as a backup mainly because of his versatility. He can play guard and center.
That may be true, but this is a guy who was beat out by Stephen Peterman every year. How valuable can he be?
The Lions apparently answered that question for themselves this offseason. Yes, he's been practicing with the first team, but he's the most tenured Lions' guard on the roster. It's window dressing.
The Lions sent a huge message when they signed Leroy Harris and Jake Scott to compete for the starting right guard position. Ultimately, that spot will go to rookie Larry Warford, but Scott and Harris look to be great backups.
In other words, Gandy's time with the Lions might be coming to an end.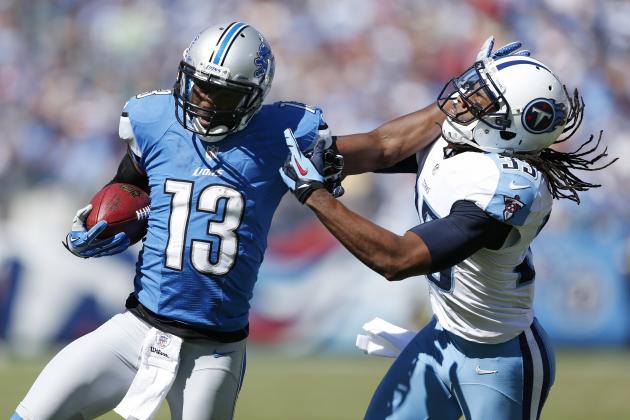 Joe Robbins/Getty Images
Nate Burleson will resume his No. 2 receiver status in Week 1.
The top receivers on the Lions roster not named Calvin Johnson both suffered season-ending injuries last year. Burleson dealt with a broken leg, and Broyles suffered his second knee injury in as many years.
Both faced long offseason rehabilitations, and timetables for their return were unknown. Few expected to see or hear from them until sometime during training camp.
Yet, both of them have made appearances, participated in drills and are ahead of schedule. Burleson appears to be the closest to 100 percent which is good news. If he continues to progress, he'll take over the No. 2 receiver spot and has shown no signs of slowing down despite his elder-statesman status.
Broyles taking the field last week was even more shocking. He's less than six months removed from ACL surgery, but as Tim Twentyman of Detroitlions.com reported, he looked like he was "eight or nine months removed."
Broyles' health is just as important as Louis Delmas' for the Lions, so seeing him run, catch the football and cut up the field was very encouraging.
He will be relied upon to resume his slot receiver role and build upon his great, if not brief, rookie-year performance.
Burleson should be back completely by training camp, and Broyles is realistically targeting Week 1. That's great news for the Lions.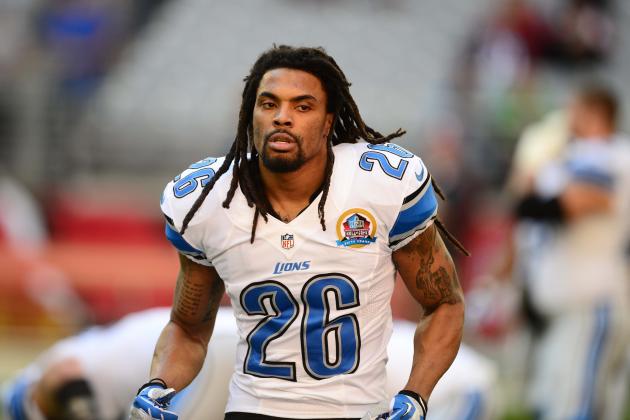 Mark J. Rebilas-USA TODAY Sports
The Lions would like to see Delmas in pads a lot more often.
It's not Louis Delmas' fault that he's got the brittle body of an 80-year-old man. He simply can't stay healthy, and by now, it's actually surprising that he hasn't drawn more ire from the Lions' faithful.
That's not to say he hasn't drawn a little.
People are fed up with his talent being wasted on the sideline, and the Lions have been burned too many times relying on him being on the field. At least this year, they've added enough talent at the safety position, so that if/when Delmas goes down, they have viable options to replace them.
That's a good thing because Delmas hasn't participated in any offseason activities, and there's no timetable for his return. That's five-and-a-half months since the end of the regular season, and he's still not fully healed.
If it's any consolation, Delmas is as frustrated as everyone else, evidenced by this article from Dave Birkett of the Detroit Free Press.
Maybe Delmas returns for training camp, maybe he doesn't play until Week 1. Maybe he stays healthy the entire season. It could happen, and Delmas, the Lions and fans would rejoice.
For now, his absence is a major disappointment.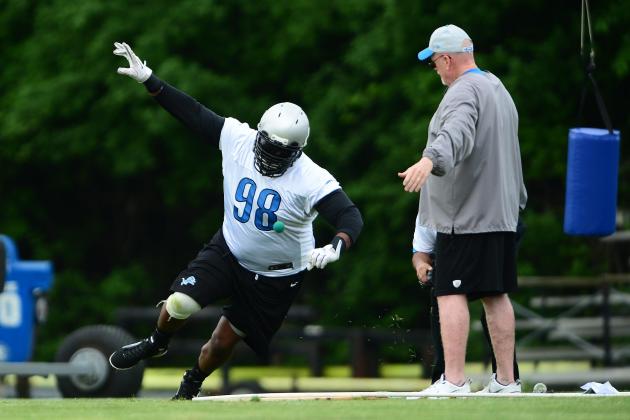 USA TODAY Sports
Fairley appears to be a changed man this summer.
The offseason isn't over yet, so let's not get ahead of ourselves, but it does appear that Nick Fairley has significantly matured over the past 12 months.
Last offseason, Fairley was in the news for all the wrong reasons. Arrests and mugshots gave a lasting impression of a young athlete who simply did not "get it." He went on to have a successful season, but injuries robbed him of playing a full 16 games for the second straight year.
All that missed time was a referendum on his offseason preparation. Fairley's not the first young millionaire to live it up and suffer the consequences early in his career, and he won't be the last, but the Lions needed him to be better.
That all appears to be in the rearview now. Mlive.com's Justin Rodgers reported the following:
Defensive tackle Nick Fairley has always been an excitable guy, but he's taken his energy and intensity up a notch this offseason and it's rubbing off on his teammates.

During individual drills, Fairley could be seen and heard issuing challenges, only to back up his talk. After finishing his set, he often stayed close, cheering on his teammates.
Mlive's Anwar Richardson weighed in with this:
Fairley was very vocal during every practice. He routinely challenged teammate Ndamukong Suh during individual drills at practice - and routinely won. The former first-round draft pick was high energy from start to finish.
From the sounds of it Fairley is morphing into the vocal leader the Lions' need on their defense, and for once, he might be taking the offseason seriously.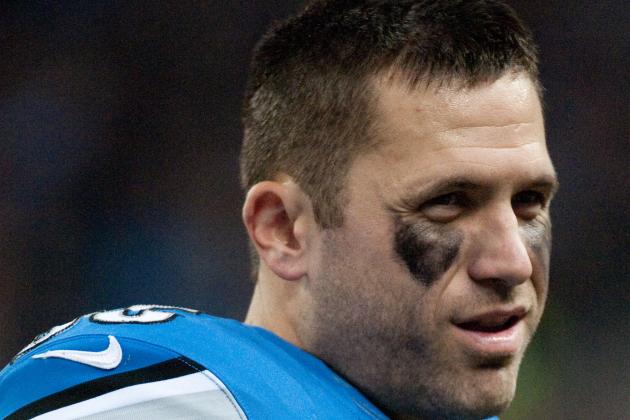 Tim Fuller-USA TODAY Sports
Scheffler's time with the Lions could be nearing its end.
I already mentioned Tony Scheffler, so it should be no surprise that he gets his own slide.
When an undrafted free agent is routinely mentioned as taking your roster spot, as discussed in this article by Chris McCosky of The Detroit News, it's a pretty good indictation that things aren't going well for you. And that's where things are at right now for him.
It's not that he had a terrible season in 2012. His touchdown numbers were way down from the year before, but he exceeded his yards receiving mark by nearly 200 yards.
No, Scheffler is simply losing in the court of public opinion. Everyone knows what he can do. There's no surprises.
On the other hand, his competition, Joseph Fauria, is the next best thing. His ceiling is limitless, and his 6'7" frame has the makings of a touchdown-catching machine.
Plus, Fauria comes at a much cheaper price.
The Detroit News' Chris McCosky confirmed that the Lions will have a lot to think about regarding their tight end situation this offseason. He offered this bit of insider wisdom on The Detroit News:
Something is going to have to shake out here because the Lions typically keep just three tight ends. Williams is probably a lock to make the 53-man roster as the Will Heller-type third tight end. If Fauria is as productive catching the ball when the pads come on and the contact starts as he has been during offseason team drills, it's going to give the Lions something to think about.

If they kept Fauria over Scheffler, they would clear more than $2 million off the cap, money which could be spent on a veteran free agent.
The writing is most definitely on the wall.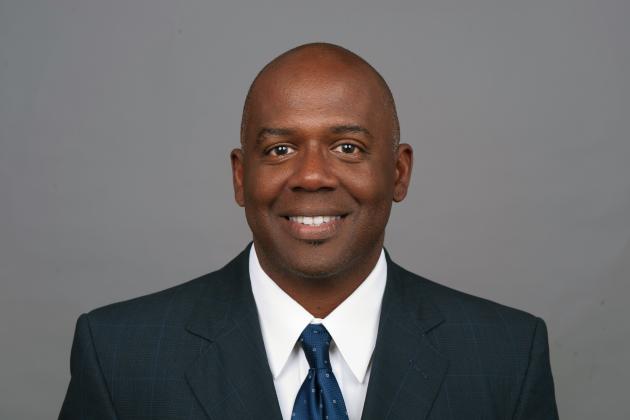 Handout/Getty Images
Mayhew is all smiles this offseason.
When the final whistle sounded on the Lions' dreadful 2012 season, fans were out for blood. They were ready to blow the whole thing up.
The general consensus was to fire Martin Mayhew and Jim Schwartz and start over.
Fortunately, cooler heads prevailed, as they usually do since fans (luckily) have no control. Mayhew kept his job, as did Schwartz, and he got busy preparing for the draft.
So far, and granted it is very early, it looks like his preparation payed off. The Lions drafted players who made sense, filled gaping holes in their lineup and could make immediate impacts. For the most part, Mayhew hit a home run.
Of course, there was the matter of letting Denard Robinson slip away in the fifth round and drafting a punter instead.
Even the shock of that has faded. After all, the Lions needed a punter badly.
Better yet, the Lions were the first team in the NFL to sign each, and every one of their draftees, according to ESPN.
Since then, every rookie has lived up to expectations and worked hard to assimilate into the team and learn what they need to.
First-round pick Ezekiel Ansah is raw, as everyone expected, but he's intelligent, too. So, he's having no problem learning the schemes that coaches Gunther Cunningham and Jim Washburn put in front of him.
Go down the line and each of the Lions rookies have impressed with their attitude and work ethic, not to mention their talent.
Like I said, it's early. Things might change once training camp starts and people start hitting each other. For now, Mayhew has restored the faith of fans, and the Lions are in a great position to improve upon last year.