Spain vs. Tahiti: Players to Watch in Confederations Cup Clash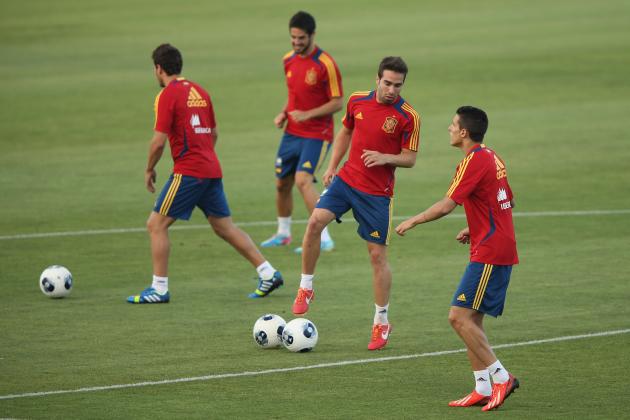 Ian Walton/Getty Images

In the world of football, it really doesn't get more David and Goliath than Thursday's encounter between Spain and Tahiti in the Confederations Cup.
Vicente del Bosque's Spain is arguably the best national side the world has ever seen, whereas the national side from the island of Tahiti only has one professional player in its ranks that it can count on.
In their first matches in Group B, Spain was a class above Uruguay, while Tahiti lost 6-1 to a jet-lagged Nigerian side that was deprived of a slew of starters and that rarely ever needed to get out of first gear in order to dictate the run of play.
Whichever way you look at it, Thursday's game is bound to be an extremely one-sided affair.
Here are the five players to keep an eye on.
Begin Slideshow

»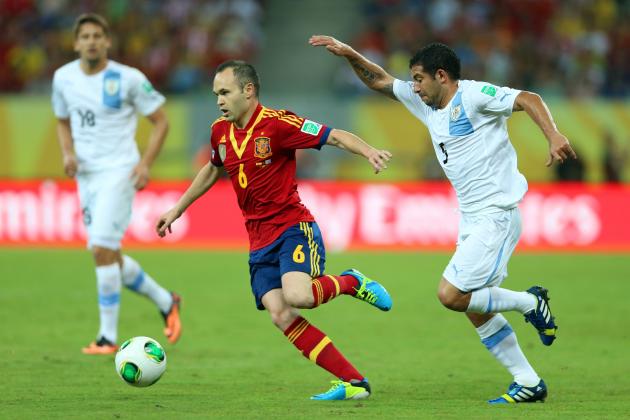 Jasper Juinen/Getty Images

Uruguay is renowned in South America for its very physical—sometimes reckless—play and when La Celeste squared off with Spain on Sunday, it certainly set out with the idea of playing tough and disrupting the Spaniards' intricate possession game.
Despite the Uruguayans' best efforts, however, the Spanish simply had too much quality for them to handle.
Iniesta, with his 122 completed passes and 94 percent pass completion rate, was particularly good. He showed once more that his ability to elegantly weave out of tight spaces and keep possession in midfield is second to none.
Against a very meagre Tahiti side, one can only imagine the tricks and flicks he'll be able to pull off.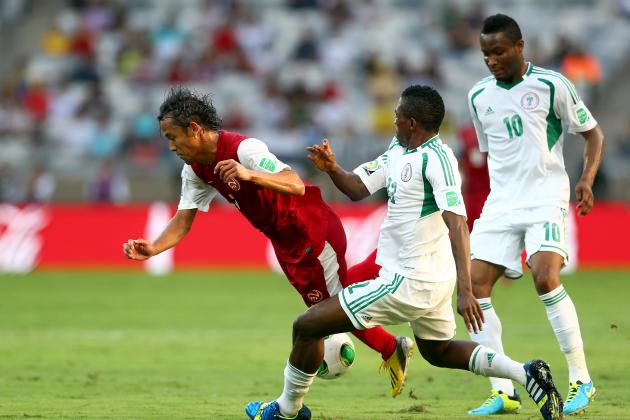 Ronald Martinez/Getty Images

No one questions Tahiti's passion and commitment in this tournament, but its technical ability isn't something to call home about.
But if there is one player who's worth a mention, it has to be Marama Vahirua.
The 33-year-old forward, who plies his trade for Panthrakikos in the Greek Super League, is the only player in the Tahitian team that plays the game for a living. Predictably, he was at the heart of just about every one of Tahiti's attacking maneuvers against Nigeria. His corner kick in the 54th minute helped Tahiti find the back of the net. That Tahiti has managed to score a single goal in this tournament is already a feat in itself.
Given the incredible possession Spain was able to enjoy against Uruguay, it's hard to see how the islanders will even manage to get a shot on net, let alone get out of their half. But if they are able to pose some form of danger, Vahirua will probably have had something to do with it.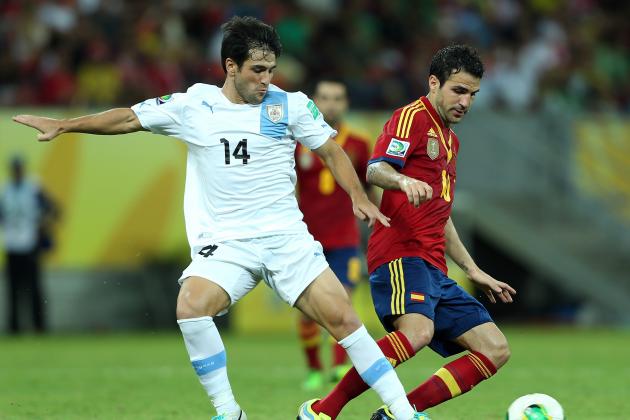 Miguel Tovar/Getty Images

Cesc Fabregas was one of Spain's brightest performers against Uruguay and if Eddy Etaeta's men intend to keep a high defensive line like they did for much of the game against Nigeria—which only helped accentuate their defensive woes—they'll surely get a terrible whooping.
There aren't too many players in the world that are able to make those late darting runs behind back lines as effectively as Fabregas can. With Tahiti's passive midfield and the likes of Xavi and company with free reign to orchestrate proceedings in the center of the park, Fabregas will likely have plenty of opportunities to put his name on the score sheet.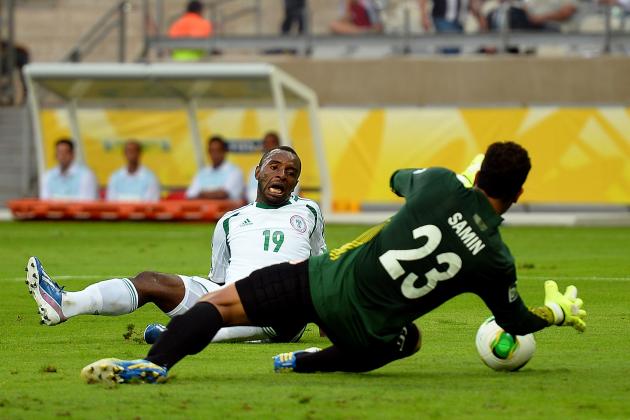 Laurence Griffiths/Getty Images

Such is the gap in quality between these two teams that when they do meet, Tahiti's goalkeeper, Xavier Samin, will probably see much more of the ball than most of his outfield counterparts.
Remarkably, Samin only had eight shots to deal with against Nigeria, but he'll surely have a whole lot more coming his way against La Furia Roja.
The 35-year-old will need to be on his finest form if the islanders are to have any chance of saving themselves from utter embarrassment.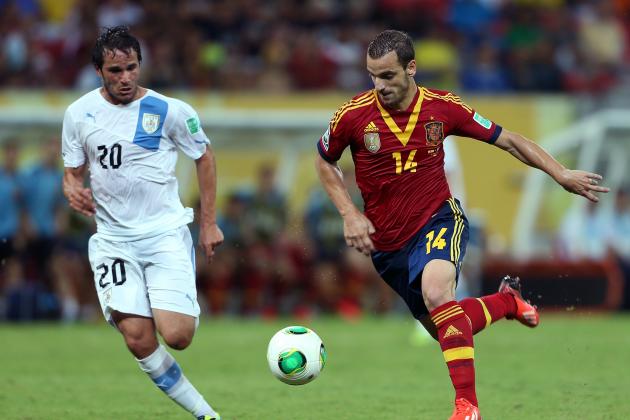 Miguel Tovar/Getty Images

If Spanish coach Vicente del Bosque has one lingering question going into next summer's World Cup, it's who will start at center-forward?
Roberto Soldaldo has been given a great chance in this tournament to show that he's just the man to lead the line.
The Valencia striker did a commendable job against Uruguay in the first game, where he was able to score what proved to be the winning goal on the night, but he will need a to do a lot more of the same throughout this tournament if he wants to earn a permanent place in the starting 11.
It's not as if del Bosque needs to have a forward lead the attack anyway: Spain did, after all, win the last European championship without one.
For Soldado, impressing against a side as weak as Tahiti will mean burying nearly every chance that comes his way.
Statistical data from WhoScored.com