Breaking Down Every San Diego Padre's Odds of Being Moved at the Trade Deadline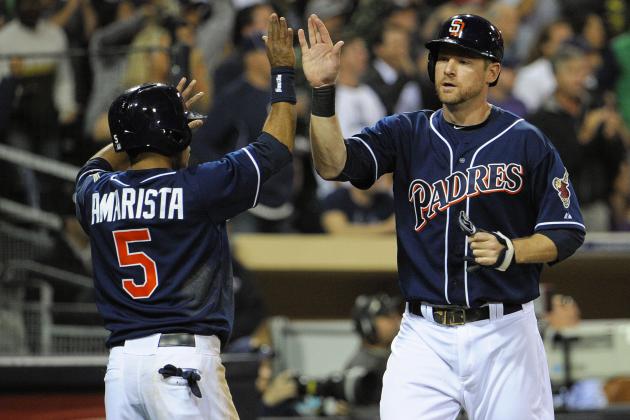 Denis Poroy/Getty Images

How about them Padres?
The San Diego Padres are on a seven-game winning streak as of Tuesday, June 18, and have gone 31-19 since April 24th. They stand only one games in back of the first-place Diamondbacks following a series sweep.
However, with injuries to Everth Cabrera and Carlos Quentin, to go along with the already banged-up Jedd Gyorko and Yonder Alonso, can the Padres sustain their momentum and stay in contention? Only time will tell if they can weather the storm.
If the Padres remain in contention they could be buyers at the trade deadline rather than expected sellers.
Taking a negative standpoint and assuming the Padres don't lead the NL West near the trade deadline, who could be on the block this year? Let's take a look…
All player statistics are as of June 17. Statistics and contract information are courtesty of Baseball-Reference.com
Begin Slideshow

»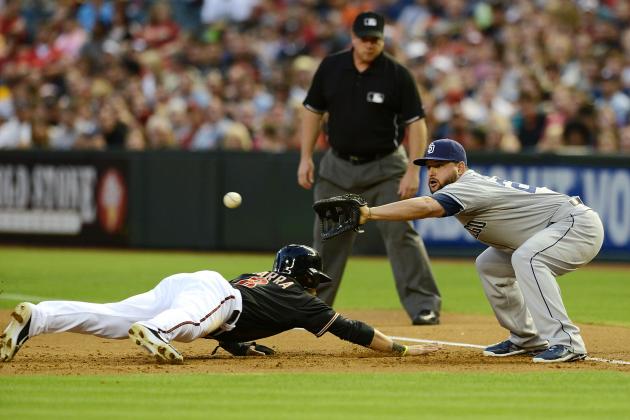 Norm Hall/Getty Images

Prior to his injury, Yonder Alonso was putting up great stats in his second full season, hitting .284 with six home runs and 29 RBI.
Alonso, a crucial piece in the Mat Latos trade, is under a team-friendly contract with the Padres through 2017 and not eligible for arbitration until 2015. Therefore, there's absolutely no reason the Padres would be looking to trade one of their key building pieces.
Trade Odds: 0 percent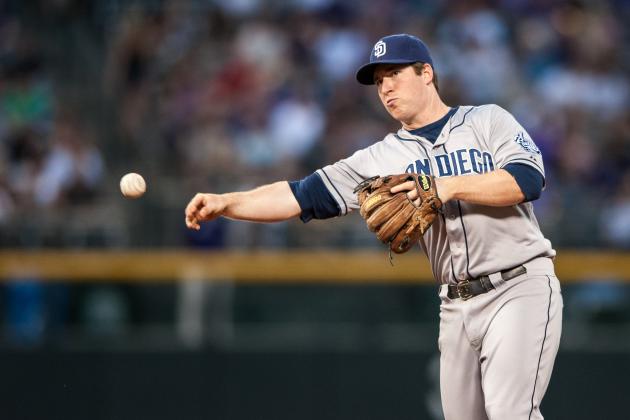 Dustin Bradford/Getty Images

Obviously, there's no chance the Padres even try to explore trading their stud rookie. Unfortunately, an injury came right as Gyorko was heating up this season.
Gyorko is in the first year of his rookie contract and isn't eligible for arbitration until 2016. The 24-year-old will be with the club until 2019. Prior to his injury, Gyorko was hitting .284 with eight home runs and was in NL Rookie of the Year conversations.
Trade Odds: 0 percent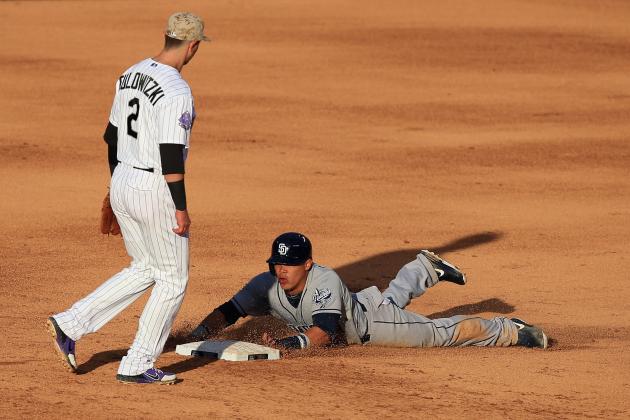 Doug Pensinger/Getty Images

Everth Cabrera is arguably the Padres' MVP, as we're nearing the halfway mark of the 2013 season.
He owns a .305 batting average and is tied with Jacoby Ellsbury for an MLB-leading 31 stolen bases. We saw the speed last year, but Cabrera has considerably raised his batting average and has maintained solid defense to shine as a Padre star this year.
Cabrera has another team-friendly contract through the 2017 season, but is arbitration eligible next year. He is also a client of super-agent Scott Boras who is notorious for getting inflated contracts for his players. For this reason, and this reason alone, Cabrera has the slightest chance at being traded.
Trade Odds: 5 percent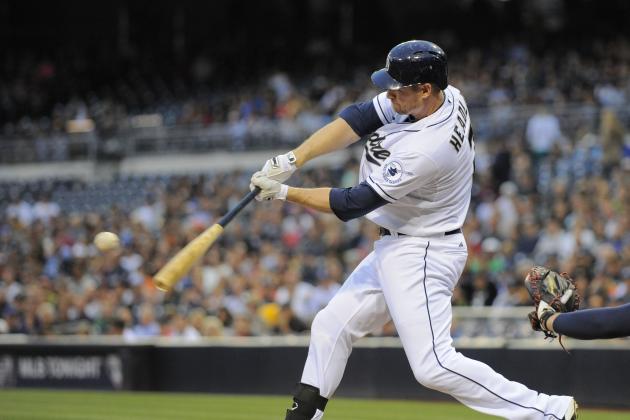 Denis Poroy/Getty Images

Chase Headley is the most interesting player on the Padres when it comes to trade conversations.
In case you've been living under a rock for the last year or so, Headley had a career year in 2012 when he led the NL with 115 RBI and finished fifth in the NL MVP voting.
Nearing the final year of his contract with the Padres, Headley has stated he will not discuss trade negotiations in midseason (per mlbtraderumors.com). He is eligible for arbitration after this season. Therefore, the Padres will have to gamble that they're able to re-sign him when he becomes a free agent or else trade him.
Headley's stubbornness to negotiate in midseason may have cost him too. Jon Heyman of CBSSports.com reported the Padres were willing to offer a record-contract somewhere in the lines of five years and $75-million.
Furthering the intrigue is Headley's play this season. Following an extremely impressive year, Headley is hitting a dismal .221 and can't find the power of his 2012 season.
Trade Odds: 30 percent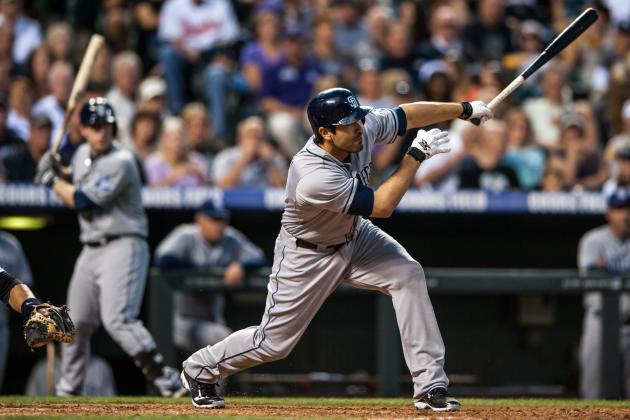 Dustin Bradford/Getty Images

If the Padres indeed become sellers at the deadline, I actually think Carlos Quentin could be on the block.
Though he has a no-trade clause written into his contract, some have speculated (per mlbtraderumors.com) that he would be willing to relinquish this if he was traded to an AL team to serve as their designated hitter.
His defense and health have slowly been diminishing, but he continues to show he can rake when he's able to play. I think he could go to an NL team considering the new interleague play and the DH will be more prevalent among NL teams.
We'll see where the Padres stand as the trade deadline approaches, but if the Padres aren't looking optimistic by mid-July, they may listen to some offers.
Trade Odds: 48 percent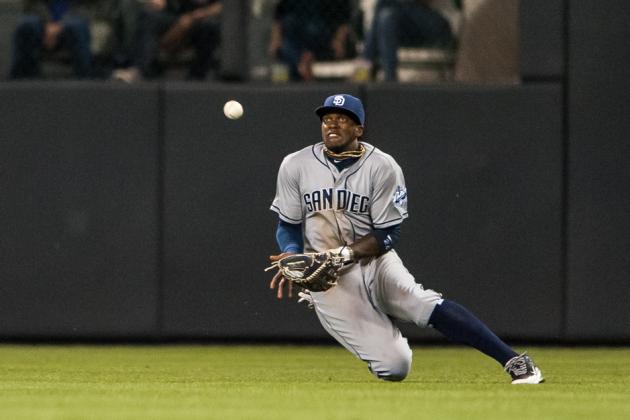 Dustin Bradford/Getty Images

Cameron Maybin, what will/can the Padres do with you?
They signed Maybin for five years in 2011 thinking they found a franchise player. He still was a highly touted prospect from the storied Marlins' farm system.
However, since coming to San Diego, Maybin has been a disappointment.
Ask any Padres fan about Maybin and they probably would have said something along the lines of "this is Maybin's year."
Unfortunately, 2013 hasn't been any exception. Maybin is hitting a pathetic .157 with one home run and five RBI. Granted, he has only played in 14 games, but he hasn't lived up to his hype once again.
He is under contract with the Padres until 2017 so teams could be enticed by that. However, the Padres would probably have to eat some of his five-year ,$25 million contract given his current play.
He's still only 26, so there is still time to turn his career around, but the Padres would have to find a buyer first, probably the most difficult problem.
Trade Odds: 15 percent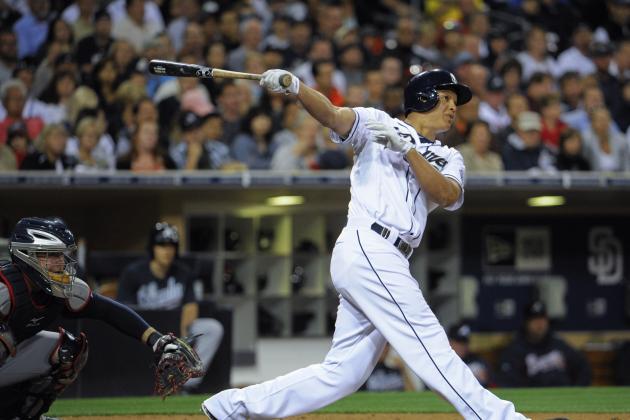 Denis Poroy/Getty Images

If you're an avid reader of mine, you probably know my thoughts about Will Venable leading into this season.
I was a huge advocate of the Padres signing another outfielder to take his spot.
I'm glad to admit I was wrong.
Though he's only hitting .229, he has nine home runs to go along with nine steals. Venable's defensive troubles also aren't as prevalent since Petco Park moved in the outfield fences.
He has stepped his play up at just the right time in terms of contract decisions. Venable becomes arbitration eligible after this year and could see a contract boost if he comes close to the coveted 20-20 season.
The issue with trading Venable is outside demand. He mostly plays right field and no contender is really hurting there that I can think of. Unless there's an injury or a depth issue, I don't think anyone will be calling for Venable.
Trade Odds: 10 percent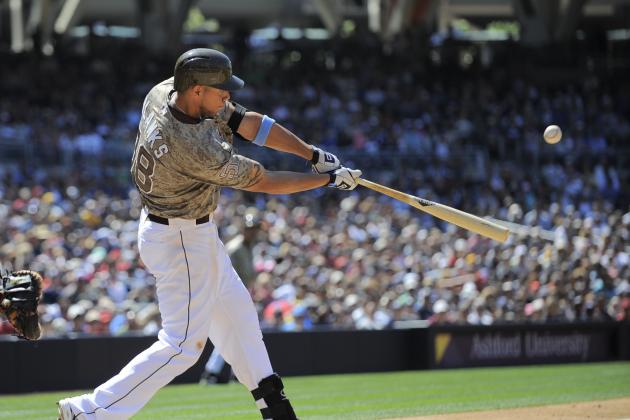 Denis Poroy/Getty Images

Kyle Blanks is having a great little season for a guy who is anything but little.
In only 46 games, Blanks has eight home runs, 26 RBI, and a .281 batting average. Though he's never played a full season in the MLB, due to injuries and play issues, he has been great in short stints.
He's eligible for arbitration after this year, but isn't a free agent until 2016.
I think the Padres would move Quentin before Blanks, which subsequently would finally give Blanks everyday playing time.
Trade Odds: 10 percent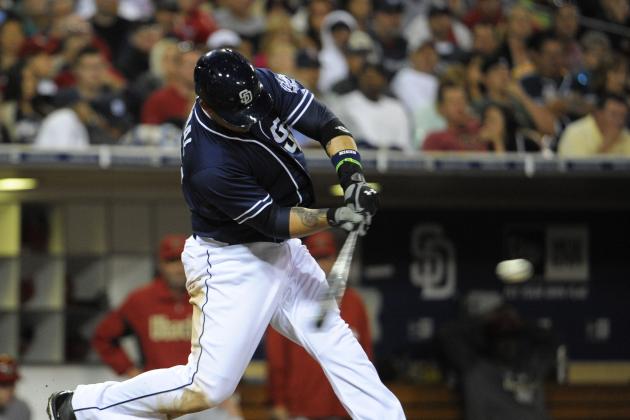 Denis Poroy/Getty Images

Yasmani Grandal is another interesting asset for the Padres.
On one hand, he crushed it in 60 games in 2012, which if spread that out over a 162-game season, would be 30 home runs and 100 RBI. He's another young player (24) under a nice contract until 2019.
On the other hand, Grandal has already been suspended for PED use and was cited in the Biogenesis case, which could land further punishment. Also, his 2013 season has been unremarkable, as he is hitting only .191.
Adding another twist to the story is the fact the Padres have a stud catching prospect in Austin Hedges. Keith Law of ESPN.com ranked him as the 36th-best prospect in the game right now.
I don't really see the Padres trying to move Grandal for a few reasons. Because of the multiple questions on Grandal's PED use and inconsistent play, the Padres won't get much in return. Also, Hedges is a few years away from being an everyday player, and as we know, no prospect is a sure thing.
Trade Odds: 5 percent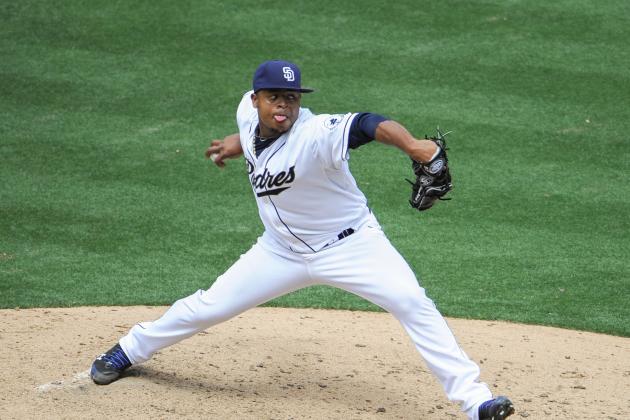 Denis Poroy/Getty Images

I think Edinson Volquez is on a similar level as Cameron Maybin, so who would want this guy?
He currently sports a ridiculous 5.87 ERA to match an equally disturbing 1.61 WHIP. He is a free agent after this year, so there will be talks. If the Padres are out of contention, I wouldn't mind getting rid of Volquez for a bag of peanuts.
The Padres are loaded with young pitching talent and injured pitchers Cory Luebke and Casey Kelly will rejoin the team next year.
There isn't a need for Volquez, and frankly, the Padres should explore a trade regardless of contention.
Trade Odds: 35 percent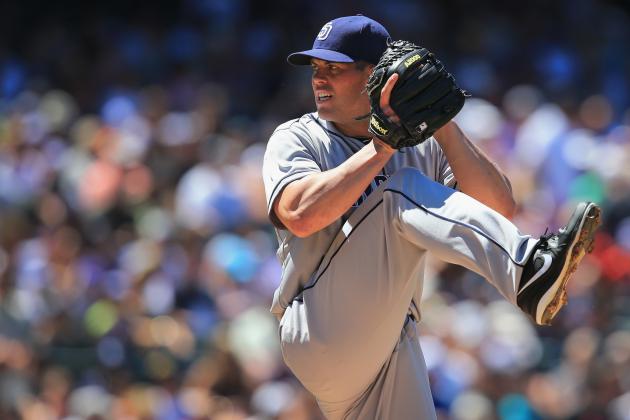 Doug Pensinger/Getty Images

Clayton Richard may be the only thing making Edinson Volquez look decent.
Richard pitched just his second quality start over the weekend. His 7.01 ERA and 1.63 WHIP don't deserve to be on a major league roster.
I know Richard has been serviceable, even good, in the past. However, I believe he needs to work on his mechanics in the minors until he can prove he's a worthy MLB starter.
I can't really see a trade happening for Richard, simply because there are hundreds of better options out there.
Trade Odds: 2 percent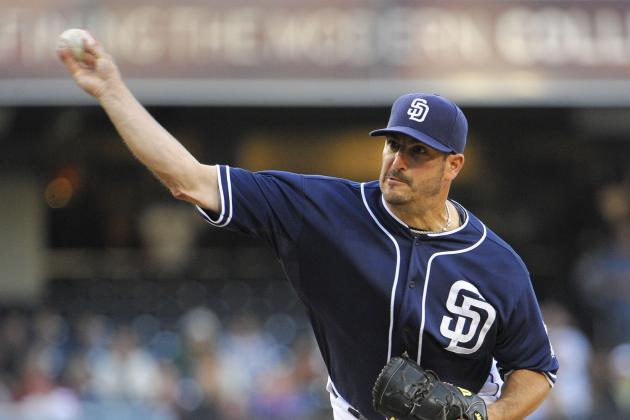 Denis Poroy/Getty Images

Jason Marquis continues to be a workhorse for whatever team he takes the mound for in the majors.
He still is able to eat innings and go deep into games. He has also been a pleasant surprise for the Padres this year.
He sports a surprising 9-2 record and a 3.63 ERA, although his 1.38 WHIP hint that he's gotten lucky.
Marquis will be a free agent after this season and may appeal to strong clubs with young arms. Given his veteran leadership skills, his playoff experience and his consistency, I could see a team wanting him on their club.
Teams like the Cardinals, who may limit Shelby Miller's innings down the stretch, or the Tigers, who recently placed Anibal Sanchez on the DL, could definitely use Marquis.
Trade Odds: 55 percent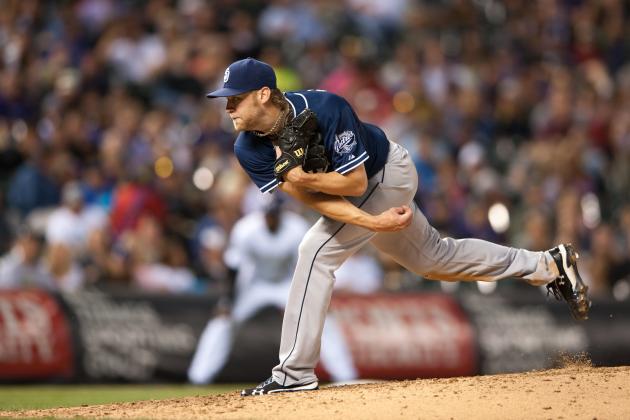 Dustin Bradford/Getty Images

Another obligatory mention, as Andrew Cashner will not be traded this year.
Cashner remains one of the key pitching building blocks for the Padres' future and will be with the club through 2016. Cashner, Kelly, and Luebke, combined with highly-touted prospects Max Fried, Joe Ross, and Robbie Erlin will be a formidable staff for years to come.
He's having a good season, but we'd like to see a little more consistency between starts and a higher strikeout-per-nine-innings ratio given his stuff.
Trade Odds: 0 percent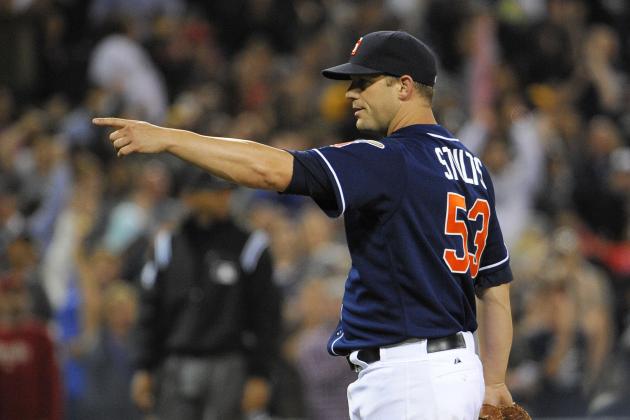 Denis Poroy/Getty Images

Eric Stults has been the Padres' saving grace this season. Though he has a mediocre 6-5 record, Stults sports a team-best 3.28 ERA and 1.07 WHIP.
He's under team control until 2016 with a team-friendly contract. Though he's on the older side (33) compared to the rest of his teammates, Stults will be crucial to the development of San Diego's younger arms.
Though teams may call for him near the trade deadline, I can't really see the Padres trading him unless they get a good group of prospects in return.
Trade Odds: 5 percent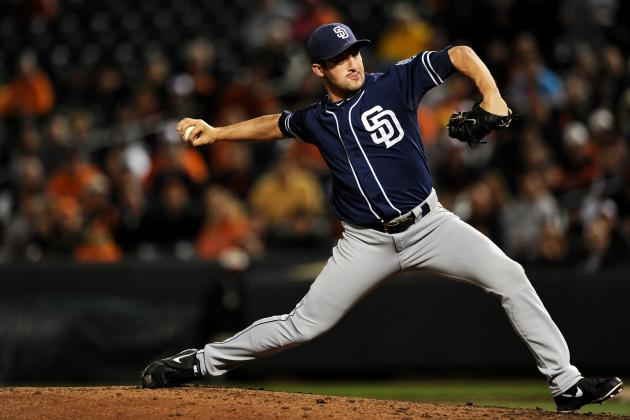 Patrick Smith/Getty Images

It seems Huston Street's name comes up every year during trade rumorsand this year will probably be no different.
Contending teams can never have enough bullpen help (ahem, Tigers), and a lights-out arm like Street's is highly coveted. Though he has been hit quite a bit this season with a 4.43 ERA and 1.25 WHIP, he still has 13 saves.
His trade chances are completely dependent on the Padres' record closer to the deadline. If they are fluttering and out of contention, he is very likely to be traded. On the flip side, if there's a remote chance for a strong playoff push in San Diego, his presence will be vital to the team.
Trade Odds: 75 percent