Power Ranking the Boise State Broncos' 2013 Schedule from Easiest to Toughest
Otto Kitsinger III/Getty Images

Boise State enters the last year of the current BCS system with a favorable schedule. However, that is not to say there won't be some serious challenges between the team and another big-time bowl game.
As a member of a non-automatic qualifying conference, the Broncos must be perfect or nearly perfect to find their way back to another BCS game. One loss might not doom their chances. After all, it wouldn't have last season, but it would depend on who that loss was to and when a loss might happen.
Let's look at the 2013 Boise State football schedule and power rank each game in order of difficulty, according to how the teams look on paper.
Begin Slideshow

»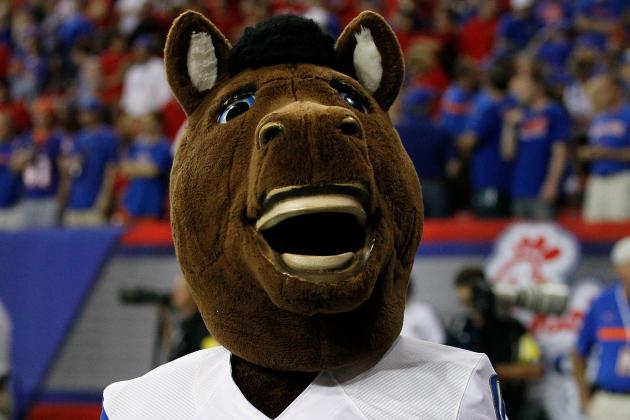 Kevin C. Cox/Getty Images

If Boise State struggles against the Tennessee-Martin Skyhawks on Saturday, September 7, there are going to be some angry coaches, fans and players in Boise. Not to mention, it will give a huge load of fuel to critics who will quickly light a fire and proclaim the Broncos are overrated.
However, if those same said Broncos take care of business, as they should against this FCS opponent, it should be a bit ugly for the Skyhawks. However, the critics will still complain because it will be a victory over an FCS team.
It is really a no-win situation for head coach Chris Petersen and his team. But, it is a game on the schedule, and it should be business as usual for the Broncos.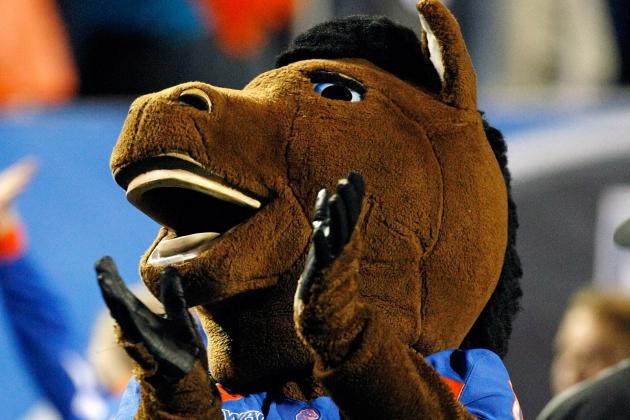 Ethan Miller/Getty Images

Last season, Boise State rolled into M.M. Roberts Stadium in Hattiesburg, Miss., and handed a highly overpowered Southern Miss team its fifth straight loss of the season.
It was a game that the Broncos dominated from the start, and they never looked back. In fact, the 40-14 final score was not indicative of the game itself. It could have been much worse for the Golden Eagles.
Fast forward one season, and it just might be worse for the team out of Mississippi.
When the Golden Eagles travel to Boise on September 28, it may be a painful trip. If Boise State plays its game, it may be an even bigger blowout in 2013.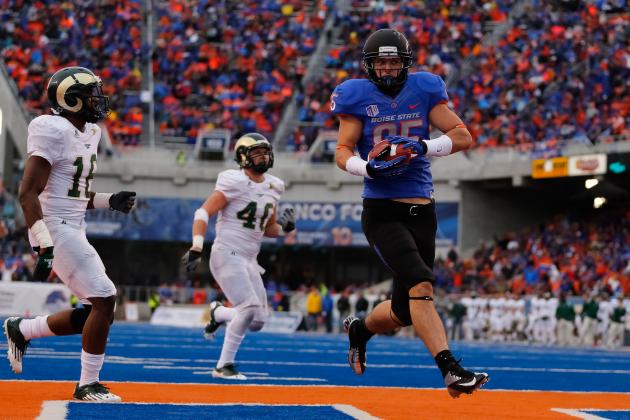 Otto Kitsinger III/Getty Images

It was 35-0 by halftime in Bronco Stadium last season. It ended 42-14 in favor of the home team, but anyone who watched the game knows that it could have been much worse.
In 2011, the very first official game for the Broncos in the Mountain West Conference, Boise State rolled up a 63-13 win over those same Rams. Of course, that was in the year 2011 BKG (Before Kellen Graduated).
Still, it appears as if the Broncos have the Rams' number, and that probably doesn't change in 2013.
Look for another big win for Boise State on November 2, when the Broncos roll into Hughes Stadium in Fort Collins, Colo.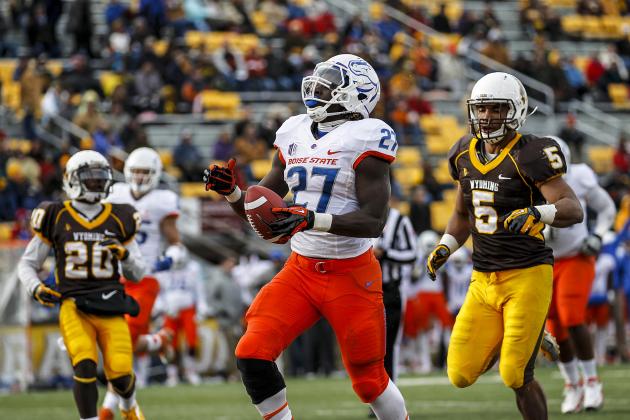 Troy Babbitt-USA TODAY Sports

Once upon a time in the "Old West," "Cowboys" used to tame "Broncos." However, in the modern Mountain West, it just doesn't happen.
In 2011, Boise State beat Wyoming at their house 36-14. Last season, it was an even bigger win for the Broncos at home by a score of 45-14.
Not much has changed in 2013, except for the fact that Boise State will probably be a bit better on offense.
Look for the Broncos to buck the Cowboys once again this season.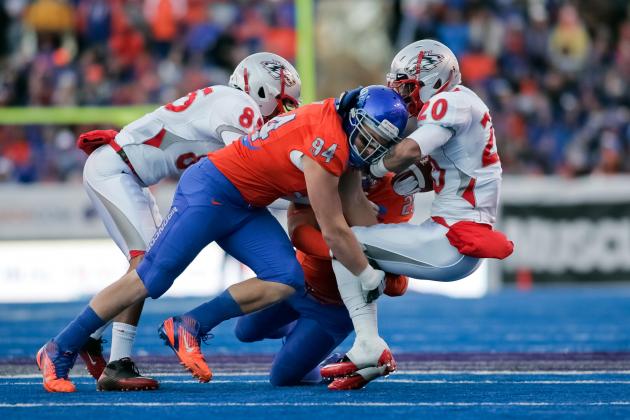 Otto Kitsinger III/Getty Images

New Mexico gave the Broncos a scare in 2012. Don't expect that in 2013.
When Chris Petersen took his team to New Mexico last season, it didn't give many fans much worry. However, that changed in a big way in the second half of a game that should have been over with.
The problem is, no one told the Lobos that.
New Mexico fought back from a 25-0 halftime deficit to make things far more than interesting. With a relentless option offense that tired out the Boise State defense, first-year head coach Bob Davie almost pulled off a huge upset.
In the end, it was a fourth-quarter touchdown that saved face for the Broncos. The final score was a very surprising 32-29.
In 2013, the Lobos must come to Boise for the rematch, and you have to think Coach Petersen will have his team ready this time around.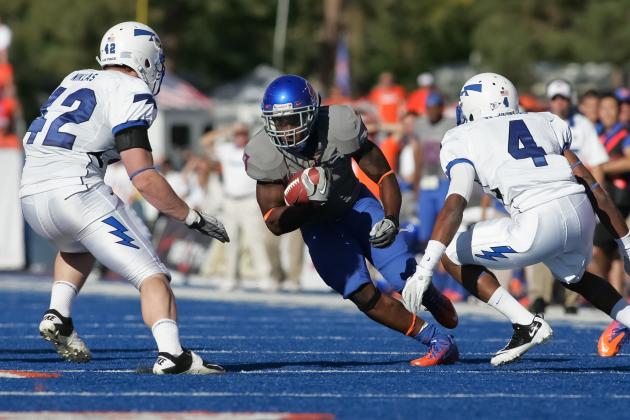 Otto Kitsinger III/Getty Images

Air Force is another option-based offense that gives the Broncos fits. However, 2013 is probably the year Boise State solves the option riddle.
Head coach Chris Petersen doesn't seem like the type of coach to be satisfied with the status quo. The option has been a thorn in his side for a few years now, but don't expect that to continue.
The Broncos offense should be good enough in 2013 to keep the Falcons' option offense on the sidelines. That is the key when battling the option, you have to limit your opponent's opportunity to run out the clock, chewing up yardage in the process.
That should happen this time around, and it should produce a victory for the Broncos.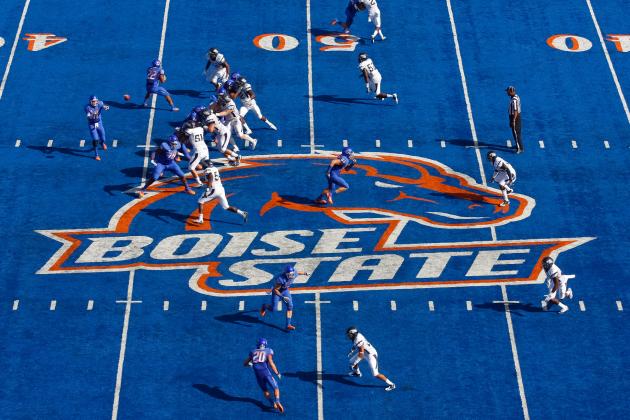 Otto Kitsinger III/Getty Images

The Nevada game is intriguing. If for no other reason, the Wolf Pack have a new head coach.
Gone is coaching legend Chris Ault. In is the unknown commodity, Brian Polian.
Polian, as pointed out in an ESPN.com article, is a first-time head coach. In fact, Polian has never even been an offensive or defensive coordinator. He has mostly been a special teams coach.
It will be interesting to see how he does in his first season leading Nevada. It will be a huge task for the first-year coach, but the rivalry between the Broncos and the Wolf Pack will certainly continue.
This game is always a challenge for Boise State, and that probably doesn't stop simply because of a coaching change.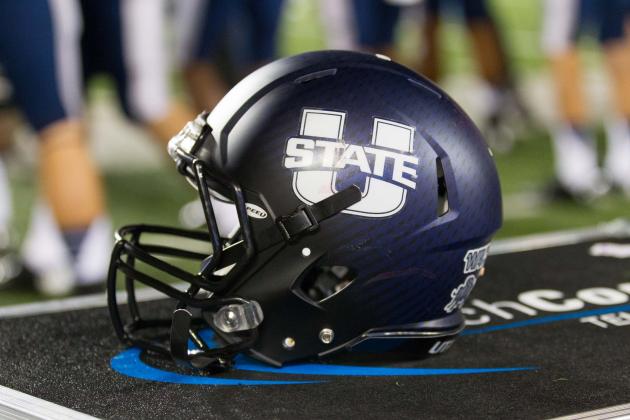 Jeff Hanisch-USA TODAY Sports

Utah State is another team that lost their head coach last year. However, they have enough talent to be very good once again in 2013.
They finished the 2012 season ranked in the top 25. However, they may have a very hard time breaking the top 25 in 2013. They open with rival Utah and then play Air Force, USC, San Jose State and BYU before hosting Boise State on Saturday, October 19.
It should be a battle, and if the Aggies survive their early schedule, this game could be a game of two ranked teams.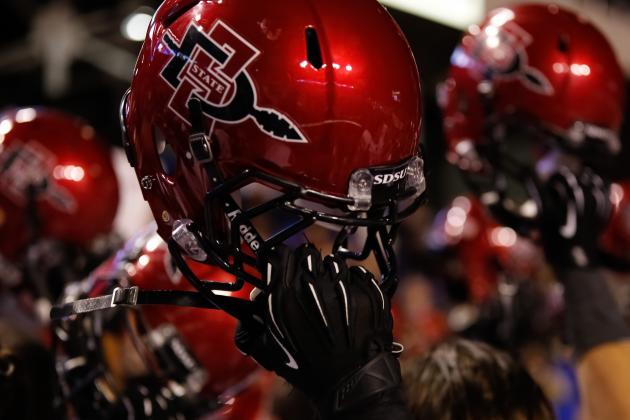 Otto Kitsinger III/Getty Images

San Diego State spoiled the Broncos' BCS run last season, and they will certainly be trying to do the same in 2013.
This game will be a challenge for the Broncos, but payback may be the fuel they need to bring home the win. It should be a battle between two powerful offenses and two head coaches who seem to always have something up their sleeves.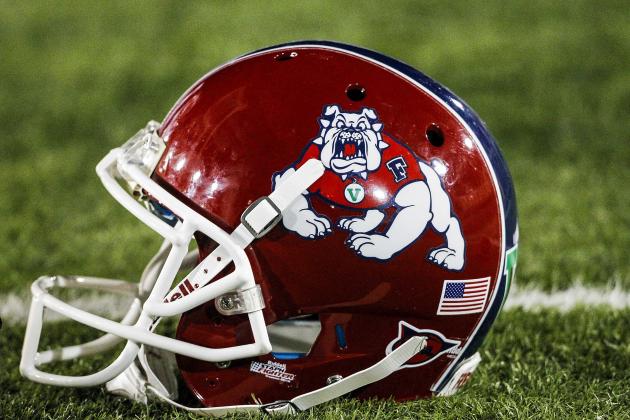 Troy Babbitt-USA TODAY Sports

The Fresno State Bulldogs have a bone to pick with the Broncos, and they are going to get their chance.
Boise State must travel to the Central Valley for a Friday night game against Fresno State in late September. It is a tough place to play, and this game will be a battle.
Fresno State quarterback Derek Carr wants to beat the Broncos. He hasn't done it in his career, and this will be his last chance. The Bulldogs have a good team with several key returning players, and this may be their best chance to beat Boise State since 2005.
This is going to be a very interesting and entertaining football game.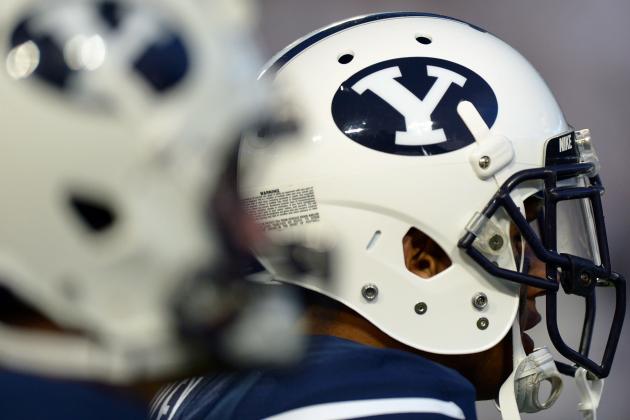 Jake Roth-USA TODAY Sports

BYU was embarrassed last season in a 7-6 ugly loss to the Broncos. However, Boise State was equally embarrassed. Both teams will be looking to do much better this time around.
BYU will still have a very good defense led by senior linebacker Kyle Van Noy. But, the Broncos offense should be much better as well.
It will be a very intriguing matchup. Playing in LaVell Edwards Stadium in front of 65,000 loud and loyal fans and against a stingy and stubborn defense is going to be quite the challenge for Boise State.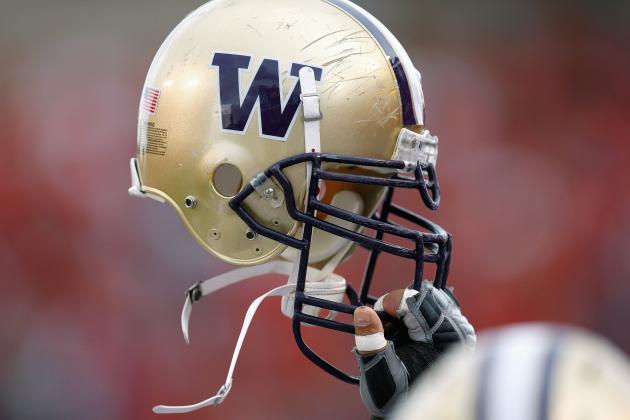 Gregory Shamus/Getty Images

The opening game against Washington is the most difficult game on the Broncos' schedule for a few different reasons.
Just like the BYU game, the Broncos must travel to a hostile stadium to take on the Huskies. However, instead of 65,000 fans, it will be more like 75,000-plus fans. It will be even louder and crazier.
It is also the opening game since Husky stadium was renovated. The new atmosphere will bring its own energy.
Another challenge facing the Broncos is that they just beat these same Huskies in the Las Vegas Bowl last December. Certainly, Washington wants revenge, and it is also difficult to beat the same team back-to-back—even if the games are eight months apart.
Lastly, the Broncos are going to have some problems to solve on defense. With the loss of some key starters from last season and the departure of freshman All-American Sam Ukwuachu, the Broncos have some defensive question marks.
Slowing down the rushing attack, led by running back Bishop Sankey and a somewhat mobile quarterback in Keith Price, will be difficult. It will be a puzzle head coach Chris Petersen and his players must solve quickly.
It will be a brutal battle, and the winner will most likely be the team that makes the fewest mistakes.