9 Predictions for Zack Wheeler's Huge MLB Debut Against the Rival Braves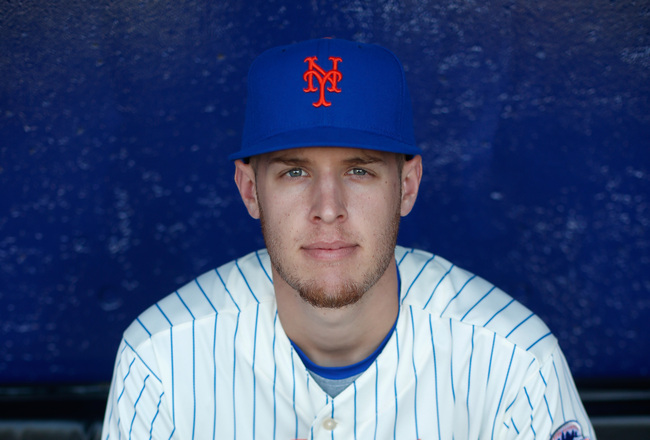 Chris Trotman/Getty Images
New York Mets top prospect Zack Wheeler is set to make his major league debut in Game 2 of Tuesday's doubleheader against the Atlanta Braves, marking the beginning of the team's one-two punch at the top of the starting rotation.
Along with Matt Harvey, Wheeler will comprise half of the duo that the entire Mets organization expects to lead the franchise's return to prominence.
His career won't be made or broken depending on Tuesday's results, but showing the fans and his teammates what they have been waiting for is important for his psyche as much as it is for the general sentiment surrounding the ballclub.
Wheeler won't be making his debut at home in front of the Mets faithful, but he has been afforded the opportunity to do the next best thing—debut in his home state.
Everybody is expecting top-tier production out of Wheeler at some juncture in his career. General manager Sandy Alderson is hoping that day comes sooner rather than later, as his job could depend on Wheeler's performance.
Here you will find nine predictions for Wheeler's debut against the division rival Atlanta Braves.
6 Innings Pitched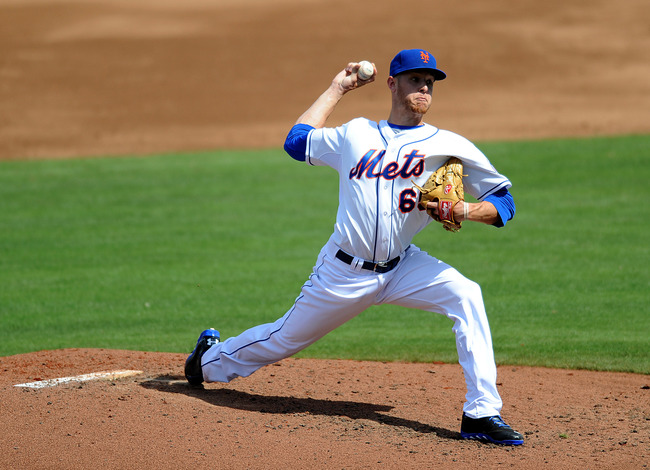 Steve Mitchell-USA TODAY Sports
After a tough outing on June 7, Zack Wheeler bounced back nicely in his final Triple-A start by hurling 5.2 innings of one-hit, one-run ball. He did allow a home run and was slapped with just his second loss of the season, but it was his second consecutive start with seven punchouts.
Wheeler wasn't exactly eating up innings in Las Vegas. Only twice has he recorded an out in the seventh inning, with the most recent coming on May 11 (7.1 innings pitched).
Don't expect Wheeler to pitch too deep into Tuesday's game even if he's dealing. Most managers don't like to push young guys too hard in their debut, and Terry Collins is in that group.
7-Plus Strikeouts
Chris Trotman/Getty Images
Wheeler isn't quite the strikeout pitcher that Matt Harvey is, but he managed to strike out over a batter per inning this season in Las Vegas.
It's unlikely that Wheeler will go more than seven innings, so seven strikeouts may be a slight overestimation, but he could have some added zip on his pitches because of the adrenaline.
Wheeler is certainly under a substantial amount of pressure given that he's set to debut in his hometown, but one thing going for him is that the Atlanta Braves hitters haven't seen him before.
Of course, that also means he hasn't seen them, but he should be able to keep the lineup off balance thanks to his extensive repertoire of pitches.
Full Arsenal on Display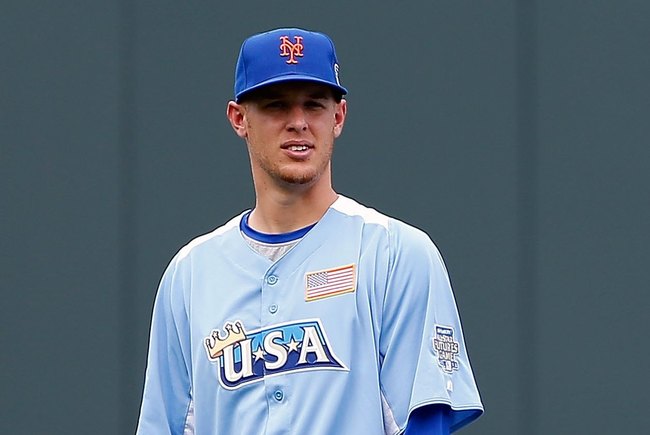 Jamie Squire/Getty Images
Speaking of that extensive repertoire, my guess is that all of it will be on full display from the New York Mets' No. 1 prospect in his pro debut.
John Buck has been great with Matt Harvey thus far and clearly knows how to handle young pitchers. He'll probably try to get Wheeler to solidify his fastball command early on, then gradually work in Zack Wheeler's breaking stuff.
Wheeler's curveball is referred to as a plus pitch in terms of its potential. It has great downward break and could prove especially hard for hitters to make contact with given that they have to account for a fastball, slider and changeup as well.
Impressive but Inconsistent Command
Stephen Dunn/Getty Images
Command has been a bit of an issue—or as Keith Hernandez would say, a "bugaboo"—for Wheeler this season. The righty has walked at least one batter in all but one of his 13 minor league starts.
However, Wheeler has walked two or fewer in seven of his last eight outings, meaning that he may have relieved himself of his early-season control issues.
Nerves have to be taken into account for most big league debuts, but accounts of Wheeler's personality are similar to that of Matt Harvey's. Here is an excerpt from a recent article by ESPN New York's Adam Rubin:
Before a game at the beginning of his senior year at East Paulding (Ga.) High, a teammate burst into the locker room and awakened him, exclaiming: "Zack! Zack! There's about 40 scouts out here to see you."

"OK," Wheeler replied, before renewing his pregame slumber on a couch.
He doesn't seem to care about being in the limelight, as evidenced in a Monday press conference in which he iterated multiple times that he was going to go out there and "just pitch." That mentality will be huge for him in a media hub like New York.
No Home Runs Allowed
Jamie Squire/Getty Images
Wheeler had some trouble this season in the home run department, but a more in-depth look at the numbers reveals that it may not be anything that he is doing wrong.
Las Vegas is known as one of the most hitter-friendly ballparks in the Pacific Coast League, and Wheeler has allowed seven of the nine homers at Cashman Field. His road resume is a totally different story, as he owns a 2.92 road ERA.
The Atlanta Braves are tied for the National League lead with 91 home runs, but Wheeler has surrendered just one homer in his last three starts. His motion allows for downward action on his pitches, which is usually a recipe for keeping home runs to a minimum.
5 Hits or Fewer
Stephen Dunn/Getty Images
The New York Mets were hoping for Zack Wheeler to finish his minor league career on a high note, and he obliged. His previously noted outing should provide him with some much-needed momentum heading into the biggest start of his young career.
His ERA numbers haven't been stellar over the last month or so, but Wheeler does a good job of keeping his hits allowed to a minimum. He has allowed five hits or fewer in four of his last five outings.
The Atlanta Braves aren't playing particularly well lately and are just 4-of-6 in their last 10, so Wheeler isn't running into an offensive buzz saw. He'll still have to be careful, but a five-hit debut would be more than enough to whip Mets fans into a frenzy.
90-100 Pitches
Like I wrote earlier in the slideshow, Terry Collins will have his most prized prospect on a short leash in his first major league start. It won't be unnecessarily short, though.
Matt Harvey did only pitch 5.1 innings in his July debut against the Arizona Diamondbacks, but it took him 106 pitches to get there. Pitches add up quickly when your strikeout numbers are high, but I don't expect Wheeler to hit double-digit strikeouts like Harvey last season.
It would be a surprise if Wheeler surpasses the century mark, but it obviously isn't out of the question.
1 Earned Run
A prediction of one earned run may be a tad optimistic given that Zack Wheeler has had trouble with home runs this season, but I think he will play up to his major league competition.
For a period, it seemed like Wheeler was pitching down to hitters in Las Vegas—like he was disenchanted with minor league ball.
The Atlanta Braves' power bats are worrisome, but Wheeler should be able to navigate through the middle of the order. He's much more effective against lefties (.214 BAA compared to .258 BAA against righties), and lucky for him, Freddie Freeman, Jason Hayward and Brian McCann are all lefties.
1st Career Win
Following a 14-18 record over the first 32 games of the season, the New York Mets have gone 11-21 over the last 32. Things have been ugly for almost the entire season, and the Mets are just 3-9 this month.
However, Wheeler's arrival marks the beginning of a new era at Citi Field, and I'm confident in his ability to pitch well enough to get the "W." Whether the Mets support him with enough runs to win is a different story.
After a Game 1 date with Matt Harvey to kick off the doubleheader, the Atlanta lineup should be mentally drained. That will work in Wheeler's favor, but we'll have to wait to see if he takes advantage of it.
Keep Reading

New York Mets: Like this team?