The United States men's national soccer team is looking to maintain the momentum generated by two consecutive 2014 World Cup qualifier victories in taking on Honduras on Tuesday.
However, the Americans will have to shore up certain areas to avoid a similar fate to the 2-1 loss they suffered to this particular foe in the opening fourth-round CONCACAF fixture back in February.
Star forward Clint Dempsey notched the first goal in that match, but then Honduras' Juan Carlos Garcia answered just four minutes later five minutes before halftime, and Jerry Bengston banged home the game-winning goal in the 79th minute.
What is nice for the U.S. is that this showdown will be in the friendly confines of Rio Tindo Stadium in Sandy, Utah, and it will be completely full of passionate supporters, per Ives Galarcep:
20,250 is the attendance for USA-Honduras. The match has sold out (again) after more than 100 extra tickets were released on Saturday.

— Ives Galarcep (@SoccerByIves) June 17, 2013
Let's take a closer look at what the Americans have to do to avoid losing and build on the previous triumphs over Jamaica and Panama in their bid to punch a ticket to Brazil in 2014 for the World Cup.
Keep Jozy Altidore Aggressive
Greg Fiume/Getty Images
With three goals in as many games, it seems as though Altidore has finally found his form and cemented himself as the Americans' striker extraordinaire.
However, Altidore has struggled with consistency in the past, and it's important that his teammates continue to make him the focal point of the offense and constantly provide positive reinforcement.
As strong as Dempsey has been on the attack, the x-factor is the prodigious Altidore, and his ability to put the ball in the net will be critical to any legitimate run in the World Cup—much less getting out of the qualifying stages.
Altidore discussed the key to his success with ESPN's Julie Foudy (h/t Jeremy Pond on Twitter):
Check out the beautiful feature by @espn reporter @JulieFoudy on @AZAlkmaar and @ussoccer star @JozyAltidore at http://t.co/a0t7DTGCaH

— Jeremy Pond (@JeremyPond) June 12, 2013
The 23-year-old says that adversity brings out the best in him, but what will be key moving forward is that he maintains his strong form and plays with the chip on his shoulder—though hopefully it's not from a racially motivated insult from fans this time around.
Should he do that, Altidore will continue to blossom into the star he's capable of being and be the centerpiece of the United States attack.
Capitalize on Depth Advantage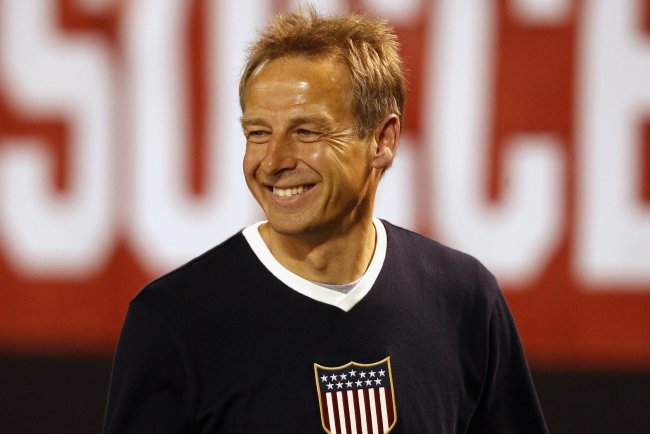 Matt Sullivan/Getty Images
A huge edge the U.S. has is that Bengston—who as mentioned earlier, scored the deciding goal in these two clubs' initial encounter—has been asked to leave the team, per renowned Spanish world football broadcaster Andres Cantor:
Honduran forward Jerry Bengston has been separated from the team ahead of its clash with @ussoccer. Reasons unknown so far

— ANDRES CANTOR (@AndresCantorGOL) June 14, 2013
Jeff Carlisle of ESPN followed that up, indicating that Bengston got into a quarrel with manager Luis Suarez about playing time.
Will the U.S. ultimately qualify for the 2014 World Cup?
That is just one of the many issues currently plaguing Los Caratchos, as Carlisle also points out that defender Victor Bernardez is suspended, while another defensive staple in Maynor Figueroa is out due to injury.
Oscar Boniek Garcia may miss the match as well, which leaves Honduras significantly shorthanded.
Sports Illustrated's Grant Wahl highlights the depth in the USA's starting XI, noting that even defensive midfielder Geoff Cameron, who Wahl references as being brilliant against Panama, may not start if Jermaine Jones returns from his mild concussion.
The Americans may be missing DeMarcus Beasley due to an accumulation of yellow cards, but they're still far better off than the Hondurans. Keeping everyone fresh and substituting well will give the U.S. a big boost as the match progresses.
Michael Bradley Keys Improved Defensive Effort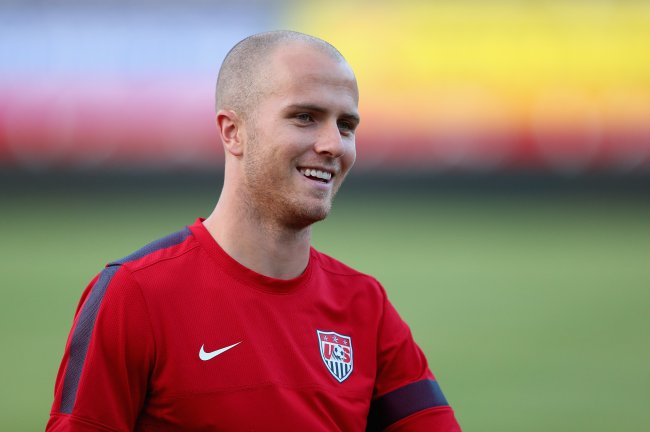 Streeter Lecka/Getty Images
Speaking of defense, that has to be an emphasis for U.S. manager Jurgen Klinsmann, and the tone will be set on both ends of the pitch by Bradley as the central midfielder.
What went wrong in the Americans' last loss to Honduras could be attributed to a lack of intensity on defense, when the Honduras attack simply manhandled them after the momentous opening goal by Dempsey.
Bradley and Co. need to do a far better job than they did in February in the midfield. Honduras deployed just two on their line, while the Americans consistently had three. Luis Garrido and Roger Espinoza dominated even with the U.S. having two additional subs, as The Shin Guardian highlighted.
There are no excuses in this match, because the majority of the crowd will be on the U.S. side and the Americans have plenty more players to deploy.
Look for Bradley to lead the step-up in midfield play, help the U.S. vastly increase its time of possession and make life easier on the back end in front of stellar goalkeeper Tim Howard.