Pictures of Athletes Who Just Won Championships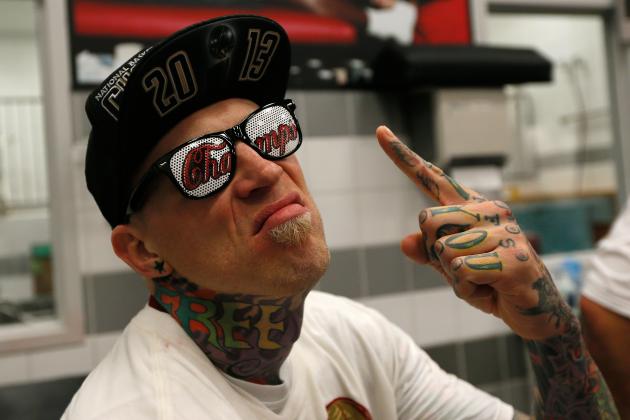 Kevin C. Cox/Getty Images

Most athletes will never know what it's like to lift the Lombardi, drink from the Stanley Cup or bite into an Olympic gold medal. Pick your iconic symbol of a champion, and only a fraction of the generations who've played the game have ever reached that mountain top.
Winning it all—becoming a champion—is the dream that motivates and inspires athletes from the backyard to Game 7. For the fortunate few who live it, the moment must be equal parts surreal and beyond joyous.
Like the great Vince Lombardi said, "Winning isn't everything, it's the only thing."
It's no surprise that the greatest moment of an athlete's career is almost always captured in thousands of photos as the world shares in the experience, albeit vicariously. It's nearly impossible not to value those frozen images of men and women achieving something born in their childhood imaginations.
Slack-jawed disbelief, champagne showers, silent contemplation, tears—these amazing images of athletes living a dream finally realized are as revealing as they are entertaining.
Begin Slideshow

»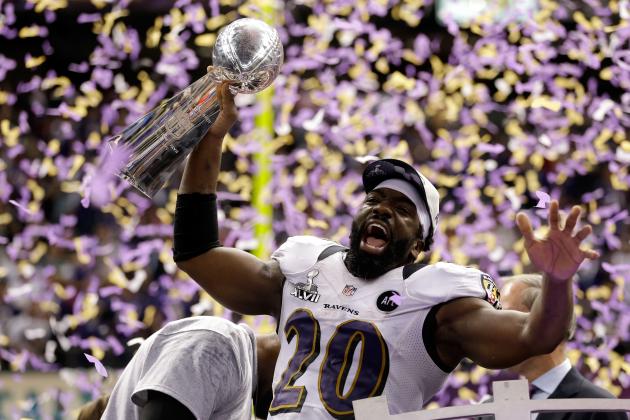 Ezra Shaw/Getty Images

Date: February 2013

Event: Super Bowl XLVII
After a decade of exceptional play with the Baltimore Ravens, safety Ed Reed celebrates the first Super Bowl championship of his career after defeating the San Francisco 49ers in a game that can only be described as bizarre.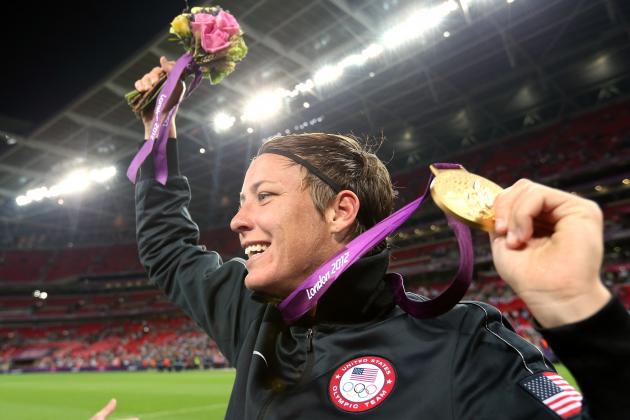 Julian Finney/Getty Images

Date: August 2012

Event: London Olympics
In 2011, the U.S. women's national soccer team lost a devastating final against Japan in the World Cup—on penalty kicks, no less. A year later, they were vindicated by defeating Japan in the gold-medal match at the 2012 Olympics in London. Superstar Abby Wambach stayed to celebrate long after the crowd dissipated, as did most of the team.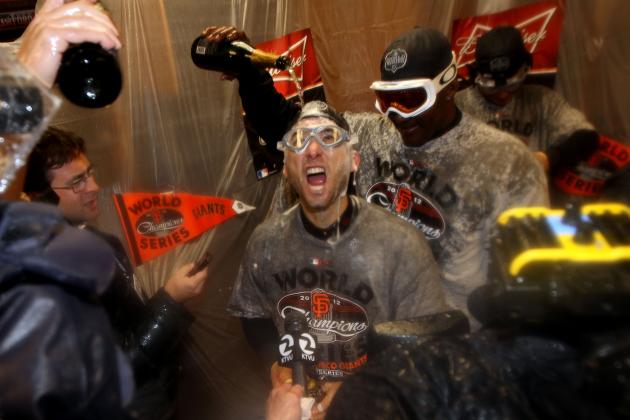 Ezra Shaw/Getty Images

Date: October 2012
Event: World Series
In 2012, the San Francisco Giants won their second World Series championships in three seasons, this time by sweeping the Detroit Tigers in four games. There was more than enough champagne to go around in the locker room—but why not shower in water and drink the champagne?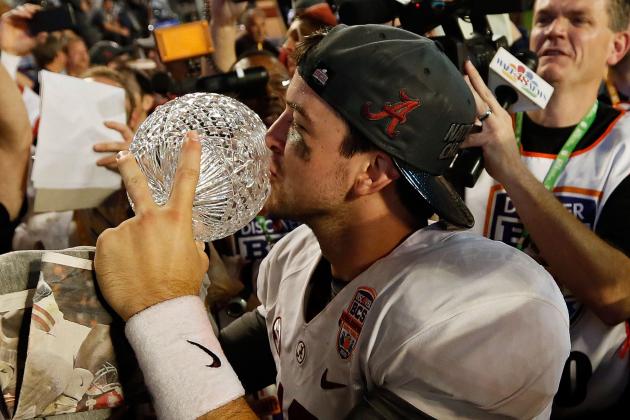 Kevin C. Cox/Getty Images

Date: January 2013
Event: BCS National Championship
University of Alabama quarterback A.J. McCarron celebrated his third championship with The Tide in four years after blowing out the University of Notre Dame 42-14. There was no fight in the Irish that day.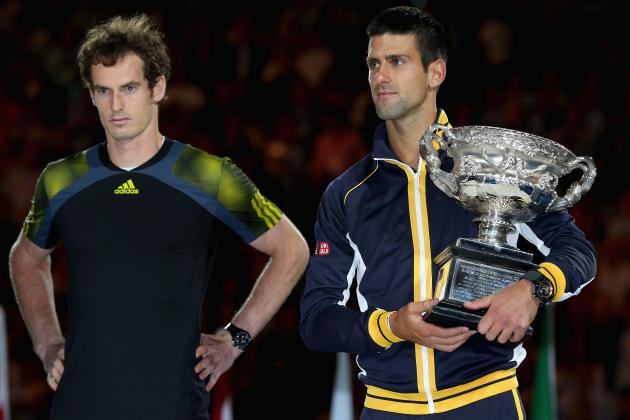 Michael Dodge/Getty Images

Date: January 2013
Event: Australian Open
Andy Murray finally got the monkey off his back by winning his first Grand Slam in 2012, but that didn't seem to comfort him a bit when he went down to Novack Djokovic at the 2013 Australian Open. Murray looks so angry that it seems to be making Djokovic uncomfortable.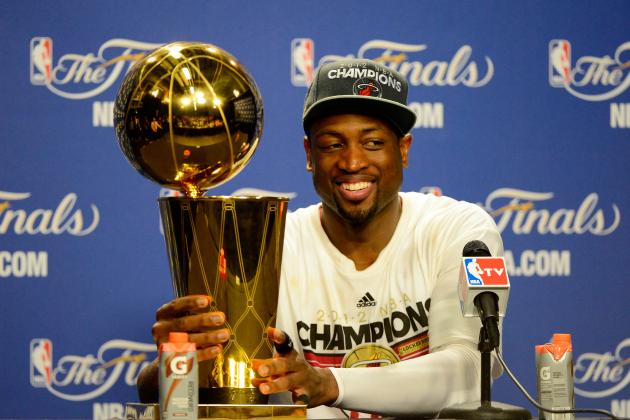 Ronald Martinez/Getty Images

Date: June 2012
Event: NBA Finals
After losing a Finals stunner in six games to the Dallas Mavericks in 2011, the Miami Heat rebounded (see what I did there?) in a big way by ousting the Oklahoma City Thunder in five games in 2012. LeBron James looked relieved, but Dwyane Wade looked like a kid on Christmas.
Doug Pensinger/Getty Images

Date: June 2008
Event: U.S. Open
In what was one of the greatest individual championships in sports history, golf great Tiger Woods won the 2008 U.S. Open in a sudden-death playoff, playing the entire tournament essentially on one leg. He missed the rest of the season recovering from knee surgery.
As much as he seems to be savoring that win, imagine if Woods had known that would be the last major he'd win until…well…whenever he wins his next one.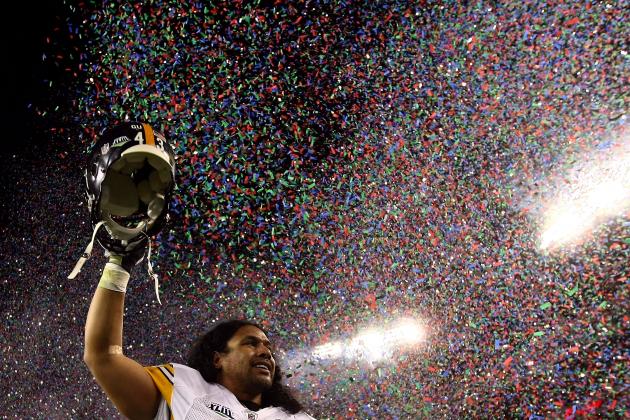 Chris McGrath/Getty Images

Date: February 2009
Event: Super Bowl XLIII
The Pittsburgh Steelers won their sixth Super Bowl in franchise history when they defeated the Arizona Cardinals in 2009 in a game that came down to the final seconds. Steelers safety Troy Polamalu looks like he was just trying to soak in the moment as it rained confetti as he exited the field.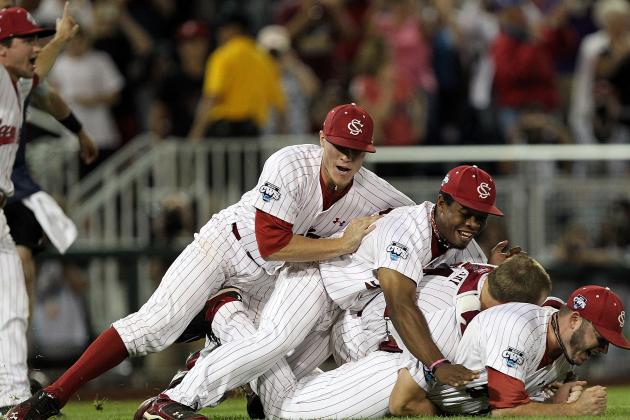 Ronald Martinez/Getty Images

Date: June 2011
Event: College World Series
The University of South Carolina Gamecocks baseball team begins what would become a much more extensive dog pile after winning the College World Series in 2011. The fact that they beat SEC rival University of Florida made it that much sweeter.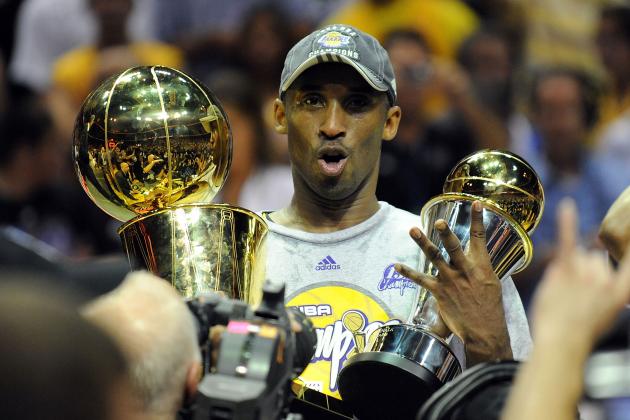 Ronald Martinez/Getty Images

Date: June 2009
Event: NBA Finals
Lakers legend Kobe Bryant is sure touting some hardware right there—he's earned plenty of it in his career. These particular pieces came as a result of the Los Angeles Lakers' five-game defeat of the Orlando Magic in the 2009 NBA Finals.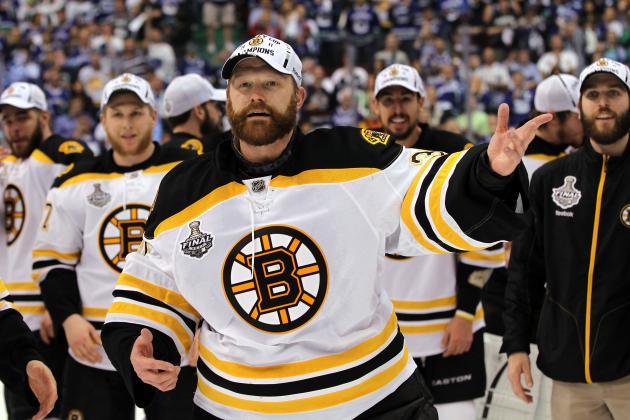 Bruce Bennett/Getty Images

Date: June 2011
Event: Stanley Cup Finals
It's almost as if politically petulant former NHL goalie Tim Thomas didn't know what to do with himself in the immediate moments after his Boston Bruins defeated the Vancouver Canucks in a dramatic Game 7 on the road.
It was the first championship of his career, and, aside from turning the traditional White House visit into a chance to make a political statement, he was never heard from again. Let's hope it stays that way.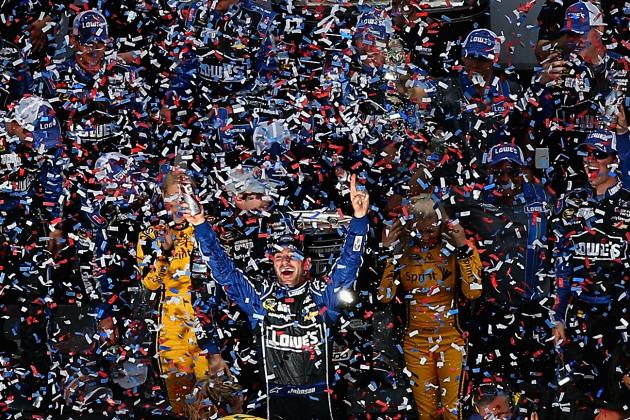 Jonathan Ferrey/Getty Images

Date: February 2013
Event: Daytona 500
NASCAR driver Jimmie Johnson celebrated winning the 2013 Daytona 500 with more confetti than one man can handle. Funny enough, fellow driver Danica Patrick seemed to be more celebrated for her eighth-place finish in the race.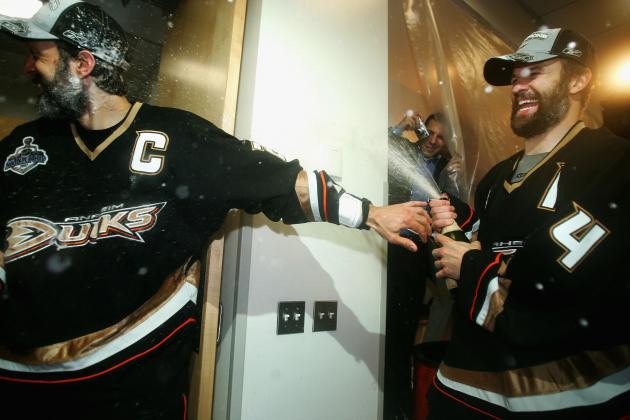 Jeff Gross/Getty Images

Date: June 2007
Event: Stanley Cup Finals
Who would have thought a sports franchise spawned from a Disney movie franchise would win a championship? Well, that's exactly what the Anaheim Ducks did when they beat the Ottawa Senators in five games in the 2007 Stanley Cup Finals. The players celebrated with some surprise champagne showers in the locker room after the game.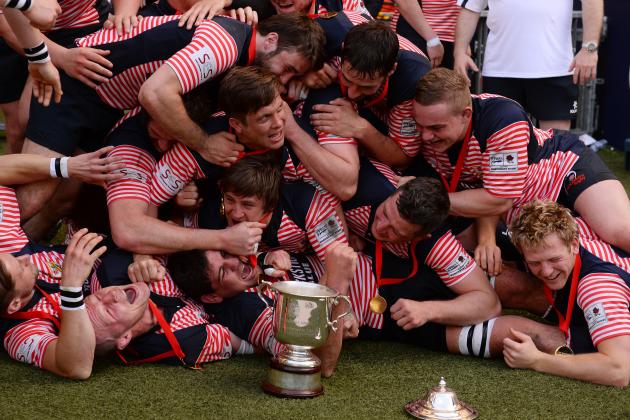 Mike Hewitt/Getty Images

Date: May 2013
Event: Bill Beaumont Cup Final
This one might be a little obscure outside of Great Britain, considering the Bill Beaumont Cup Final seems to be some kind of county-level rugby championship. But Lancanshire's jubilation over their defeat of Cornwall resulted in one of the most intensely and painfully happy celebrations in sports history.
Seriously! That looks like it hurts!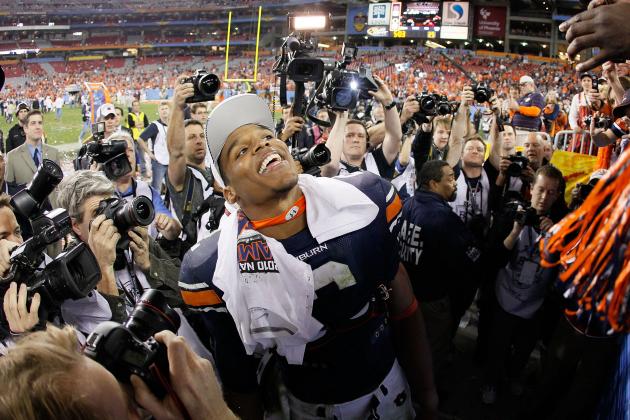 Kevin C. Cox/Getty Images

Date: January 2011
Event: BCS National Championship
After a historic season at Auburn University in which quarterback Cam Newton practically carried the team on his shoulders to an undefeated season, he celebrated the final victory of his college career with a 22-19 win over the University of Oregon in the championship game.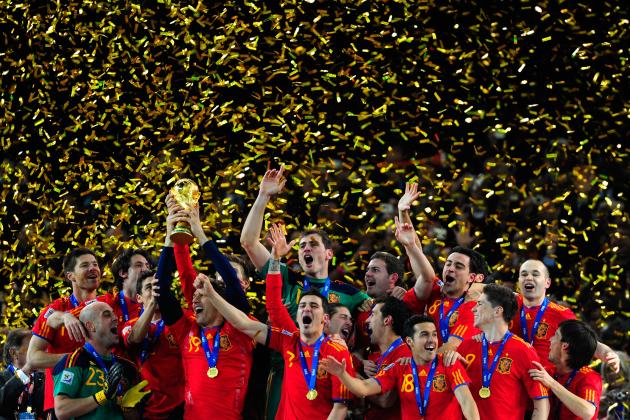 Jamie McDonald/Getty Images

Date: July 2010
Event: FIFA World Cup
After 13 appearances in the World Cup dating back to 1934, the Spanish national football team finally celebrated its first victory with a 1-0 win over the Netherlands in 2010. Their elation is more than evident, and their faces were probably sore for days from all that smiling.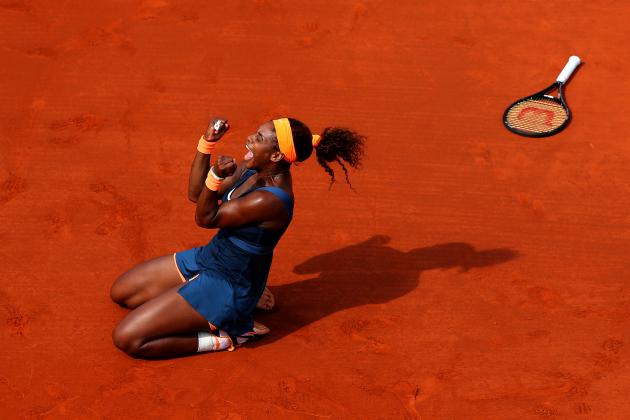 Julian Finney/Getty Images

Date: June 2013
Event: French Open
American tennis legend Serena Williams has won countless Grand Slams in her career, which has spanned over a decade, but you can tell she doesn't take a thing for granted. She was as thrilled as ever after topping Maria Sharapova at the 2013 French Open.
Jim McIsaac/Getty Images

Date: June 2009
Event: Stanley Cup Final
After losing to the Detroit Red Wings in six games in 2008, the Pittsburgh Penguins met them again in the Stanley Cup Final in 2009. They won the rematch in seven, and Pens captain Sidney Crosby hoisted the first Stanley Cup of his career—but likely not the last.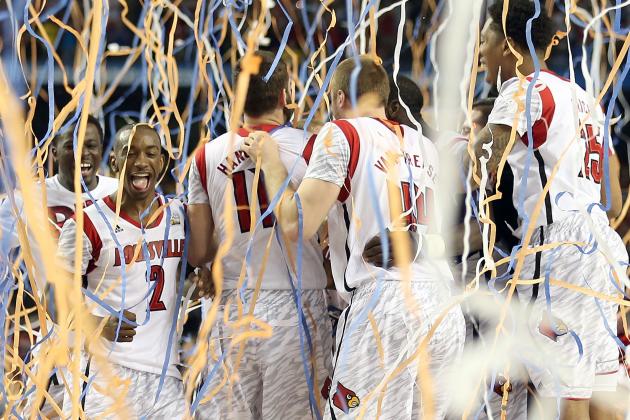 Andy Lyons/Getty Images

Date: April 2013
Event: NCAA Championship
After surviving the madness of March, the last two teams standing were the No. 1 seed Louisville Cardinals and the No. 4 seed Michigan Wolverines. It was a hard-fought battle between the two, but Louisville walked away with a 82-76 victory and a national championship. Michigan just walked away.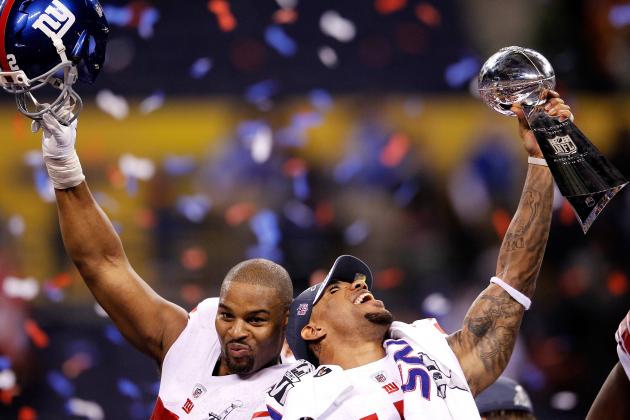 Rob Carr/Getty Images

Date: February 2012
Event: Super Bowl XLVI
Four years after defeating the heavily favored New England Patriots in Super Bowl XLII, the New York Giants were facing a slightly less favored Pats team in Super Bowl XLVI. The results were pretty much the same, and Osi Umenyiora and Devin Thomas proved the second time was quite as nice.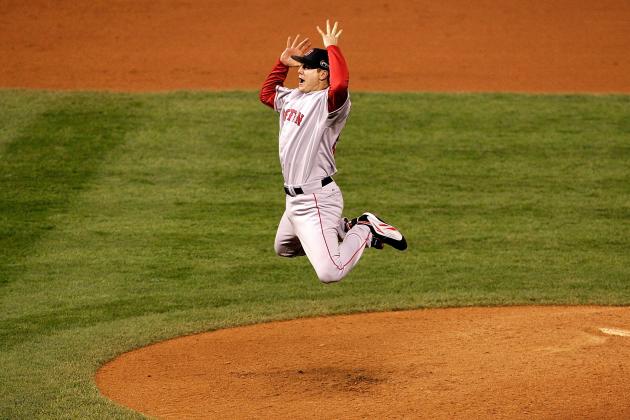 Jeff Gross/Getty Images

Date: October 2007
Event: World Series
The Boston Red Sox broke the curse twice over when they defeated the Colorado Rockies in a four-game sweep in the World Series in 2007. The entire team, and all of Red Sox nation, was thrilled. But was there anyone more thrilled than Jonathan Papelbon?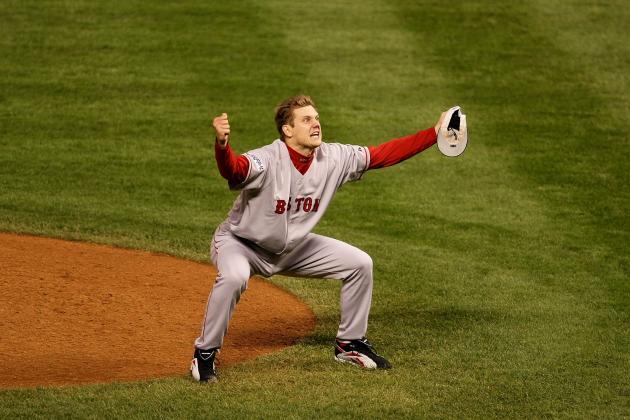 Jonathan Daniel/Getty Images

Date: October 2007
Event: World Series
Seriously, was anyone more thrilled than Jonathan Papelbon?
Sorry! These two photos just really seemed like they needed to come as a pair.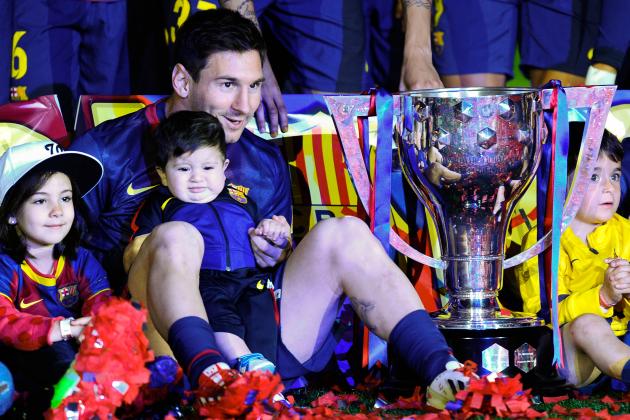 David Ramos/Getty Images

Date: May 2013
Event: La Liga Championship
Barcelona superstar Lionel Messi already looks like a guy who has won everything in the world, and he's only 25. That's probably why he seems so serene after defeating Real Valladolid in the La Liga Championship in 2013. Messi looks like he might as well be sitting at a movie theater with his little boy and not celebrating such a massive victory.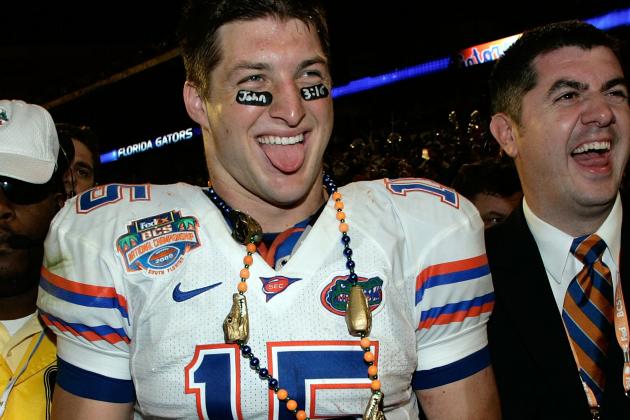 Eliot J. Schechter/Getty Images

Date: January 2009
Event: BCS Championship
Remember, there was a time when Tim Tebow playing quarterback wasn't the subject of national debate and critical ire—like back in 2009, when he led the University of Florida to victory over the University of Oklahoma in the championship game. He looks quite pleased with himself…and with good reason.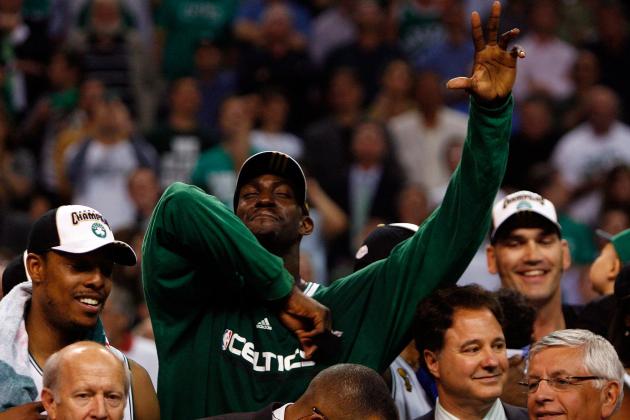 Jim Rogash/Getty Images

Date: June 2008
Event: NBA Finals
After more than two decades in the league, Boston Celtics big man Kevin Garnett finally won his first NBA championship by defeating the Los Angeles Lakers in six games in the NBA Finals. He looks like a man who officially has everything.
Speaking of championships—and people who love Kevin Garnett—I've got a championship Twitter account you should be following: @blamberr.