Omaha has played host to several great performances—on the mound and at the plate—throughout the first few days of the 2013 College World Series.
Who's performance has been the most impressive?
The best collegiate players in the nation have had the opportunity to strut their stuff against the top teams and in front of large crowds. Many have taken advantage of it too, playing their best whether their team is on the winning or losing side of the tilt.
Pitchers and hitters who are excelling at the highest level of college baseball deserve to be recognized. The pitchers in Omaha have been outstanding for the most part and some have tossed complete games already. While most hitters are struggling to get on base, others are making it look easy.
Even though we're still in the early stages of the tournament, here's a look at which performances have been the most impressive.
Joey DeNato vs. Louisville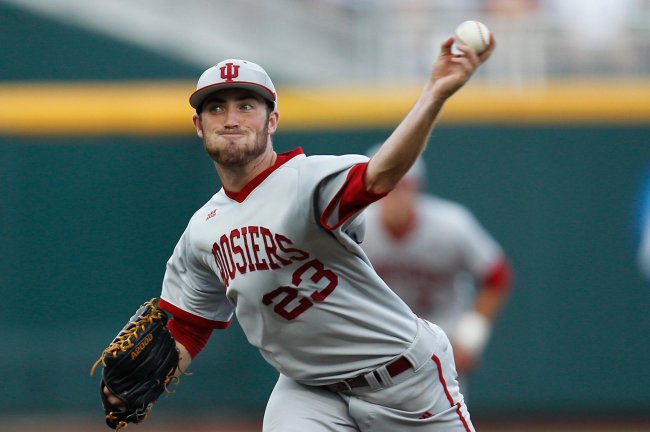 Bruce Thorson-USA TODAY Sports
This past Saturday wasn't the first time that Joey DeNato took on the Cardinals this season. He threw four scoreless innings against Louisville in the team's season-opener in February. The two teams had squared off twice more before Omaha, but DeNato didn't make an appearance in either.
Even though DeNato hadn't taken the mound against Louisville for nearly four months, it looked like he had been scouting them all year long. The Cardinals couldn't get anything going off of the left-hander.
DeNato threw a complete game shutout against the Cardinals, allowing four hits and striking out eight while walking three. It was easily one of the best-pitched games of the junior's career. He now has 10 wins on the year, which leads the team, along with a 2.52 ERA.
How 'bout those Hoosiers?! DeNato makes history, throwing a 9-inning shut-out in IU's 1st #CWS game! Indiana Baseball beats Louisville, 2-0!

— Indiana University (@IUBloomington) June 16, 2013
DeNato will get at least one more outing in Omaha since his Hoosiers took down the Cardinals to start the College World Series. He's already proved that he can shut down a top-tier offense and if he can do it again, there will be no doubt that he's the pitcher to beat in Omaha.
Michael Conforto vs. Mississippi St.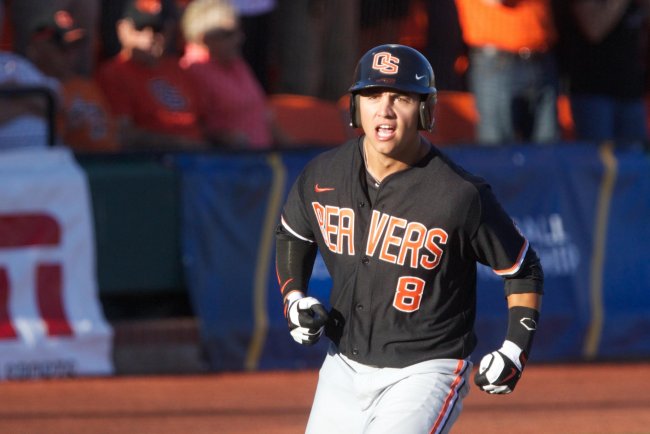 Jaime Valdez-USA TODAY Sports
While the Beavers couldn't top Mississippi State in their Omaha opener, Michael Conforto put on quite the show at the plate. The Oregon State outfielder went 4-for-4 with a pair of doubles, one run, an RBI and a walk. He nearly had half of his team's hits.
Well, Michael Conforto sure came to play—his CWS career is off to a 3-for-3 start. Just crushed a ground-rule double to center—2nd 2B of day

— Aaron Fitt (@aaronfitt) June 15, 2013
Conforto has been one of the more reliable hitters for Oregon State all season long. Through 62 games, he's hitting .332/.454/.532 with 11 home runs and 46 RBI. He has a very good eye at the plate, as he's walked 40 times throughout the season, which is a team-high.
Because Conforto provides so much offense for the Beavers, it should come as no surprise that he regularly hits third in the lineup.
Heading into Omaha, Conforto wasn't very consistent from the plate, but was still productive. In the Super Regionals, he hit .231 with two runs, three RBI, a pair of walks and a trio of strikeouts. He seems to be back on track, though, after the 4-for-4 performance.
Carlos Rodon vs. UNC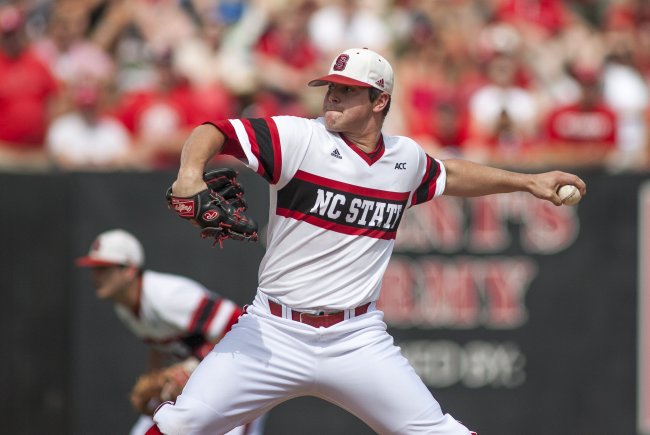 Jeremy Brevard-USA TODAY Sports
Carlos Rodon took the mound on Saturday attempting to upend the No. 1 team in the nation, UNC. Rodon had been NC State's top pitcher during the year and had faced off against the Tar Heels twice already.
The left-hander allowed two runs in 6.2 innings in the first outing. In the second, he pitched a brilliant game. In 10 innings of work, Rodon allowed just one run and it was unearned. He also struck out 14 batters in what would turn out to be a loss for the Wolfpack in the ACC Tournament.
It would be difficult to top Rodon's ACC Tournament outing, but he came pretty close when the in-state rivals met over the weekend. He pitched all nine innings while allowing just one earned run. The southpaw also struck out eight Tar Heels in NC State's 8-1 victory.
Carlos Rodon would have been the first pick in the draft if he'd been eligible

— Peter Gammons (@pgammo) June 16, 2013
In three appearances against UNC this season, Rodon has allowed three earned runs in 25.2 innings of work—That's a 1.07 ERA for those who are wondering. Those numbers are incredible for a sophomore pitching against the top team in the nation. Rodon could get another shot at the Tar Heels, should both teams win their second-round games.
Honorable Mentions
Adam Plutko vs. LSU (7 IP, 4 H, 1 ER)
Aaron Nola vs. UCLA (8 IP, 5 H, 0 ER)