Tahiti vs. Nigeria Confederations Cup Live Blog: Amateurs Challenge Eagles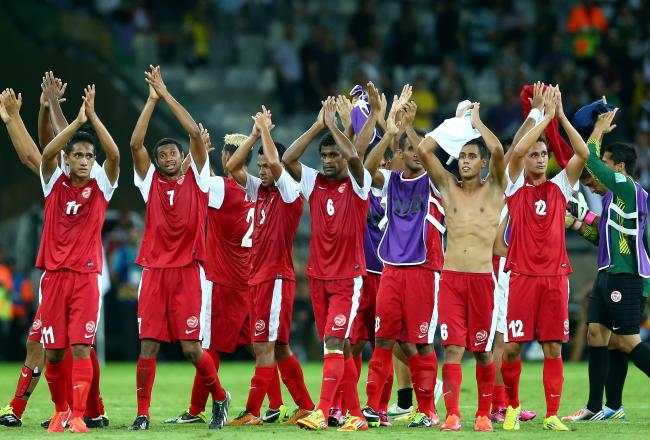 Ronald Martinez/Getty Images
Nigeria beats Tahiti 6-1 in their Group B Confederations Cup match. The Super Eagles were far from sharp, however, despite extending their unbeaten streak to 17 after toppling the island nation.
It was the first time these two nations met, with Tahiti making its first truly international debut by dramatically winning the 2012 Ocean Nations Cup. Playing against the Super Eagles was never going to be easy, Africa's heavyweights also winning this year's African Cup winners.
And while Tahiti boasted only one professional player in their squad (33-year-old striker Marama Vahirua of Panthrakikos FC), Nigeria brought experience and big names like Chelsea's John Obi Mikel.
Even before the match, Tahiti noted that any chances at pulling off an upset in the tournament were slim. In quotes given to the BBC, Henri Thierry Ariiotima, president of the Tahiti FA, said:
Many people are surprised we actually play football on grass and not just on the beach for fun, but we do and we are improving at it…We know our limitations and we know we face very hard opponents in the Confederations Cup, but playing the world champions at the Maracana is an impossible dream that has been made real. I just hope we get our tactics right.
When talking about the game against Nigeria, he then went on to boost the morale of his men by saying: "Of course we will probably lose, but we don't want to lose by too many goals."
Tahiti forward Steevy Chong Hue, who scored the winner against New Caledonia in the final of the OFC and played a great game against Nigeria, was also realistic. In quotes given to FIFA, he said: "For an amateur player it is a dream to face the best players in the world. However for it not to become a nightmare we have to keep working really hard so we are ready for the first game."
Nigerian defender Efe Ambrose reminded his side that they couldn't afford to be complacent against a country ranked 138th in the world with only a population of 178,000.
It is a match we know we need to win and, to do that, we need to be fully concentrated. We cannot afford to take any chances. Big shocks have happened before in these kind of tournaments and we don't want to be the victims this time.
Ironically, it was his slopping defending at the far post that cost his squad the embarrassment of Jonathan Tehau's goal.
The tournament will not get any easier with Spain and Uruguay as next opponents. Tahiti will certainly be the happier of the two, putting in a courageous effort to thwart the Nigerians and even grab a goal. They can boost their confidence by noting bad luck cost them on two occasions as well, especially on the brace from Echiejile.
Nigerian manager Stephen Keshi, meanwhile, will be disappointed with his side's display. They were largely sloppy throughout, their passing game not sharp, their defending questionable on the flanks, easy runs needlessly caught offside. It didn't look like they had recovered from their long flight or scandal-ridden qualifying campaign.
If they stand a chance at making it any further in the tournament, let along making it to the World Cup next year, they'll have to find a way to get back to their best.
Follow me on Twitter.
Final Whistle: Tahiti 1 Nigeria 6.
Nigerian manager Stephen Keshi looks like a pretty angry man. Etaeta will be the much happier of the two managers, that's for sure. Brave display from Tahiti.
Chance Nigeria
Last chance of the game and Samin comes up with a massive save on Ideye.
Double Chance Tahiti
Tahiti still attacking bravely. Again, Tehau gets down the right flank and put in a good cross. No one to latch on to the other side.
A minute and its the other Tehau (Jonathan) who's inches from getting his second goal with a long-ranged header.
Goal Nigeria (Echiejile 80')
It's 6-1 as Echiejile gets lucky with another scuffed, deflected shot after Samin punches away a shot.
Goal Nigeria (Oduamadi 77')
Better passing pays dividends as Ideye gets in behind the defense and sets up a tap-in for Oduamadi, who gets his hattrick.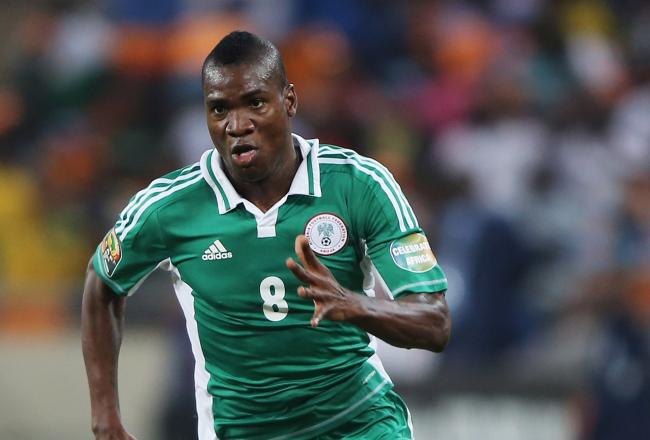 Chance Nigeria
Ideye with two for support and only Samin to beat sends the ball too far ahead with a heavy touch and Tahiti regroups.
Substitution: Egwuekwe comes on for Omeruo as Nigeria's passing starts to sharpen up.
Goal Nigeria! (Tehau OG 68')
An own goal from panicked defensive play gives Nigeria the 4-1 lead.
Vahirua meanwhile comes off the pitch for Atani to a deserved ovation.
Samin makes a big save to keep it "close."
Goal ruled offside for Nigeria!
Oduamadi looked to have scored his hattrick, but strayed offside.
There have been several instances where offsides could have easily been avoided by the Nigerians. They'll have to time those runs better if they want to have a chance against the bigger teams.
Chance Nigeria
Samin intercepts a low cross by Musa from the right. Nigeria better organized but in no way dominating the game.
Substitution: Ogu on for Mba.
Tahiti really making a game of this thanks to Vahirua's dribbling.
Chance Nigeria!
Another one-on-one for Nigeria, but they fail to capitalize. End-to-end stuff now.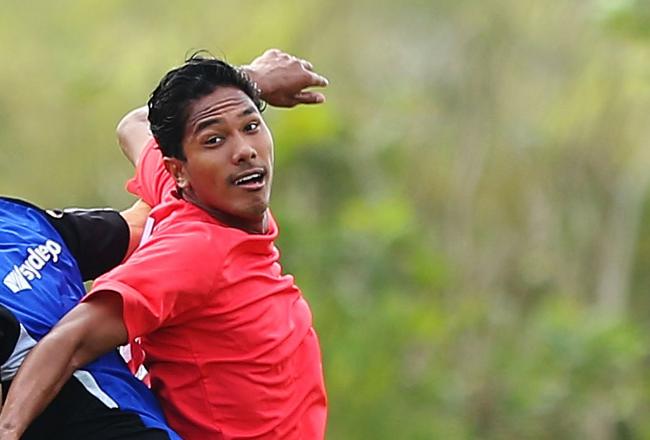 Goal Tahiti (Tehau 54')
Deep corner kick and Jonathan Tehau leaps above Ambrose to head the ball in at the back post. He's rightfully thrilled.
Nigeria going to be looking to avoid embarrassment with a few more goals now. Can Tahiti grab another?
Substitution: Nigeria replaces Ujah with Ideye, the quick, high-scoring striker from Dynamo Kyiv.
Double Chance Nigeria
Musa offside has he puts in a dangerous cross which would have led to the fourth goal. He then finds himself on the end of a series of good passes but skews his shot wide.
Interesting to note that both teams have the same amount of completed passes.
Halftime - Tahiti 0 Nigeria 3
Neither manager will be too happy during the break. Nigeria could have several more goals if their players decided to pass around more than showing off individual talents. Tahiti on the other hand have been a bit sloppy. They're certainly capable of playing the game, creating several good chances.
At this stage, they need to start making those chances count, while cutting out individual errors that have led to Nigeria's goals. They should thinking that they need to make Nigeria win it on their own accord, rather than beating themselves.
Double Chance Tahiti
The island's one professional player Vahirua curls a freekick from the left side but goes wide.
Tahiti stringing together some beautiful play in midfield leading to a cross and Chong Hue just barely misses a clear header on goal.
Chance Nigeria
Mba burst through the left side, but one-on-one with Samin, slips just as he takes the shot.
Give credit to Tahiti. They are trying to play their game rather than blasting clearances in any direction like middle schoolers.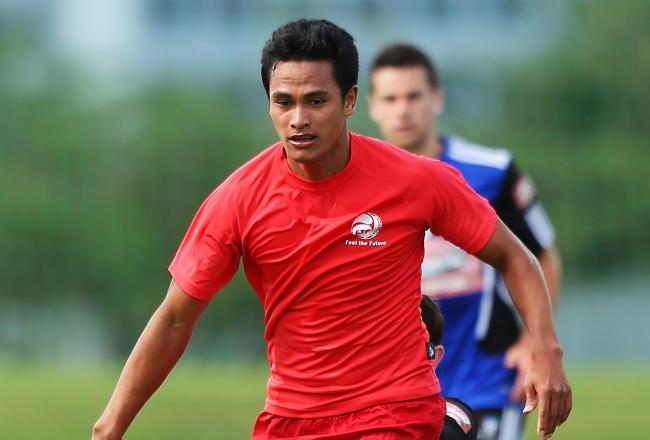 Chance Tahiti
Chong Hue drives down the left flank and puts in a low cross. Enyeamana comes up big.
Chance Nigeria!
Samin makes up for his earlier error with a big save when Ujah was two-on-one with the keeper.
Goal Nigeria (Oduamadi 26')
Nigeria goes up 3-0 after Tahiti keeper Samin spills an easy cross. Looks like Tahiti's bravery going forward might have to hold off unless they want to be down 6-0 at halftime.
But, as Gab Marcotti points out, it might not be as bad as it seems.
Bourebare gives away a cheap free-kick but Mikel unable to capitalize. Believe it or not, he has managed to score for his country, even if that feat has so far not come to pass at Chelsea.
What a chance for Nigeria!
Musa breaks through the backline and tries to dribble past the keeper. Good recovery from Vallar to block the shot.
Goal Nigeria (Oduamadi 10')
Bad giveaway in the Tahitian midfield. Oduamadi takes advantage and scores his 2nd international goal with a curling effort at close-range.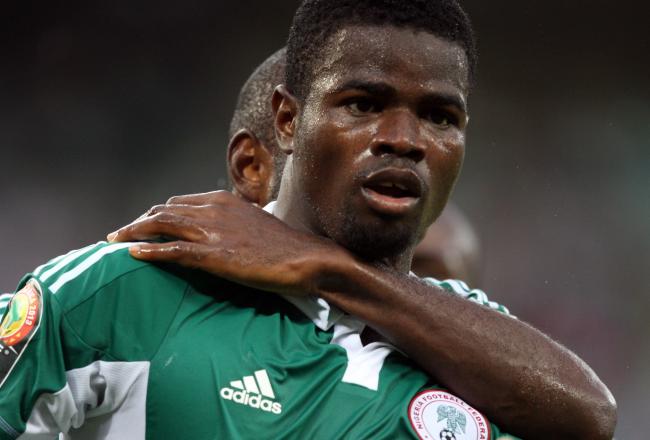 Goal Nigeria
Neutrals whistling Nigeria every time they have the ball. To be honest, the Tahitians are looking sharp. But it seems the soccer gods are already against the underdogs.
Clearance from the back comes off the referee, then Echiejile takes a hopefully shot which comes off two Tahitian defenders and into the net.
Vahirua reacts with a shot on the other end.
This article is
What is the duplicate article?
Why is this article offensive?
Where is this article plagiarized from?
Why is this article poorly edited?