NY Yankees: Stock Up, Stock Down for Yankees' Top 10 Prospects for Week 11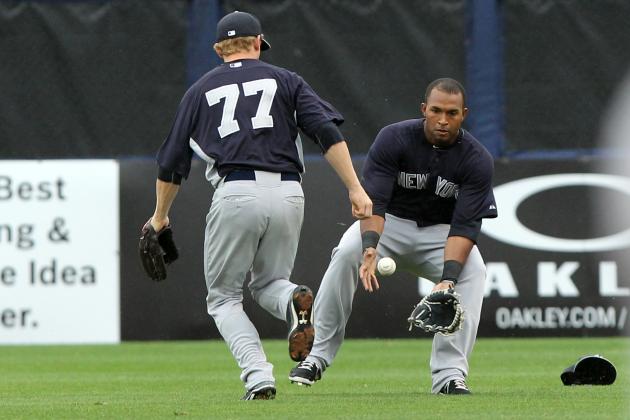 Kim Klement-USA TODAY Sports

It's been a rough week for the New York Yankees.
After a five-game losing streak on their trip west, the Bombers finally picked up a win on Sunday.
This recent losing streaking has been a reality check for many Yankees fans. One that might indicate this patchwork team being put together by GM Brian Cashman and manager Joe Girardi can't win the American League East.
It is becoming ever more noticeable that the future lies in the hands of the young players being groomed in the Yankees' farm system, as the group of veterans on the current team continue to break down.
So lets take a look at how 10 of the Yankees' top prospects did last week.
All stats taken from MiLB.com, unless otherwise indicated, and are current as of June 16, 2013.

Begin Slideshow

»
2013 Stats: 13 GS, 6 W, 2.94 ERA, 3 HR, 23 BB, 96 K
Overview
Rafael De Paula had a rough start last week.
The young right-hander lasted five innings in his only start of the week, giving up five earned runs on seven hits.
De Paula was still able to strike out five batters and walk only one, but he was roughed up.
This past week's start isn't something to get nervous about, but De Paula needs to turn it around next week.
He is a young, raw pitcher and needs to stay on track. His power numbers were still there, but five earned runs won't help get him moved up in the organization any time soon.
Last Week's Stats: 1 G, 9.00 ERA, 5 IP, 7 H, 5 ER, 5 K
Stock: Down
2013 Stats: 63 G, .201 BA, 7 2B, 4 HR, 66 K, .555 OPS
Overview
Last week wasn't pretty for Dante Bichette.
The third baseman collected only one hit in six games and 21 plate appearances.
This is the second week in a row Bichette has struggled, and he is in the midst of a serious slump.
Bichette has seemed to lose the power and plate discipline that he was building on throughout the beginning of the season.
What makes things worse is the fact that Bichette is striking out often and drawing few walks.
Over his past 10 games Bichette has a .146 on-base percentage.
Things are starting to get ugly for the young Bichette, and he needs to wake up before his season drifts away.
Last Week's Stats: 6 G, .048 BA, 1 H, 7 K, 1 RBI
Stock: Down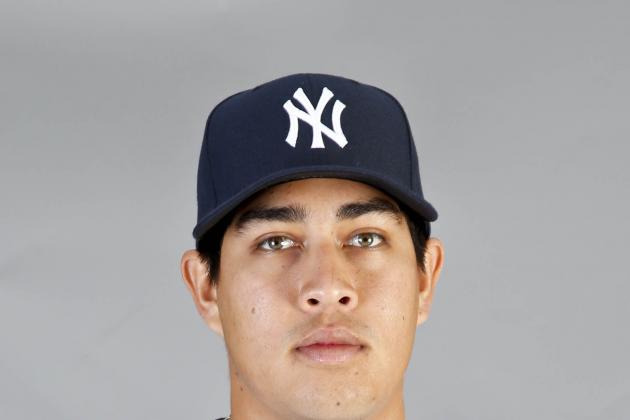 Derick E. Hingle-USA TODAY Sports

2013 Stats: 66 G, .247 BA, 12 2B, 27 RBI, 58 K, 4 SB
Overview
Ramon Flores finally put together a solid numbers after back-to-back weeks of mediocrity.
The left fielder hit safely in all five of his games last week, including a multi-hit game on Tuesday.
Like much of this year for Flores, this week wasn't flashy, but consistent.
The Venezuelan picked up five strikeouts, but also walked four times last week.
Overall it was a solid week for Flores, who saw his batting average jump four points.
If he can stay consistent, Flores could continue to rise in the organization.
Last Week's Stats: 5 G, 6 H, 2 2B, 2 R, 4 BB
Stock: Up
Kim Klement-USA TODAY Sports

2013 Stats: 19 G, 2.93 ERA, 30.2 IP, 29 H, 37 K, 20 BB
Overview
In this past week Mark Montgomery saw very little action.
In .2 innings of work, the right-handed reliever struck out one batter and didn't walk any or give up any hits.
After recent inconsistency and a few shaky appearances, this past week was hardly enough to prove that Montgomery is back to being his dominant self.
He needs to regain his confidence and find that groove he had earlier in the season, when he was fanning most of the batters he faced.
Until Montgomery proves himself, there will be little reason to think that he will be with the Yankees any time soon.
Last Week's Stats: 1 G, 0.2 IP, 0 H, 0 ER, 1 K
Stock: Even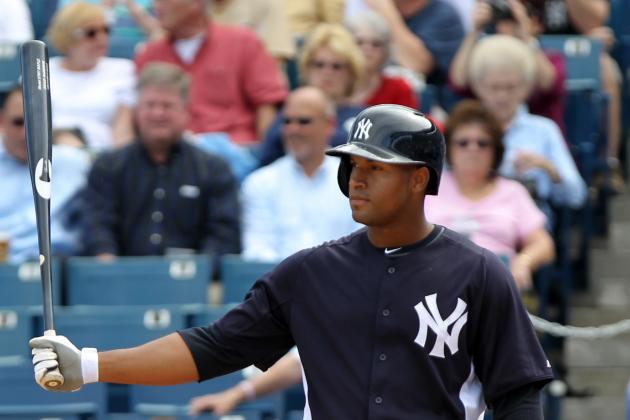 Kim Klement-USA TODAY Sports

2013 Stats: 66 G, .292 BA, 12 2B, 6 HR, 36 RBI, 47 K, .785 OPS
Overview
Zoilo Almonte exploded at the plate at the end of last week.
Almonte collected seven hits in two games against the Lehigh Valley Ironpigs on Saturday and Sunday.
For the entire week, Almonte had three multi-hit games and struck out only once in 26 plate appearances.
It was a great week for the center fielder, with Saturday's 4-for-5 performance highlighting it all.
Almonte had only one bad day last week (Thursday), when he didn't reach base once but also didn't strike out.
If this kind of production can continue, don't be surprised if Almonte sneaks up to the Bronx sooner rather than later.
Last Week's Stats: 6 G, 11 H, 4 R, 1 K, 2 RBI
Stock: Up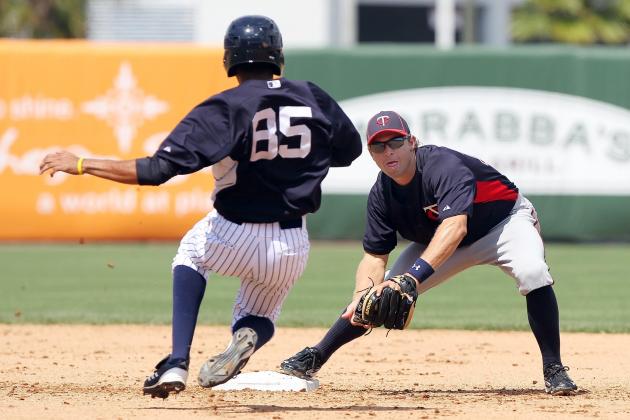 Kim Klement-USA TODAY Sports

2013 Stats: 58 G, .240 BA, 2 HR, 14 RBI, 11 2B, .326 OBP, .649 OPS
Overview
After dropping three spots in the rankings last week, Mason Williams has remained in that spot.
Once again Williams didn't do very much in the three games he played.
The center fielder had a two hits in the second game of a doubleheader on Thursday.
Williams continues to show from week to week that he isn't quite ready to be any higher than Single-A Tampa, and that he can't seem to put his dynamic skills to use.
He is still young and still has potential to do big things in the future, but right now Williams has done little to show he is a top prospect in this organization.
Last Week's Stats: 3 G, 3 H, 3 R, 2 K
Stock: Even
2013 Stats: 35 G, .228 BA, 10 2B, 6 BB, 29 K, 6 SB
Overview
This past week was the first down week for Angelo Gumbs since injuring his hand.
The second baseman played in only three games, adding just one hit.
Gumbs' statistics are pretty empty; he scored no runs and had no extra base hits, striking out twice.
It wasn't a terrible week, but it certainly wasn't good.
Gumbs will need to step it up this week.
Last Week's Stats: 3 G, 1 H, 0 RBI, 2 K, 1 BB
Stock: Down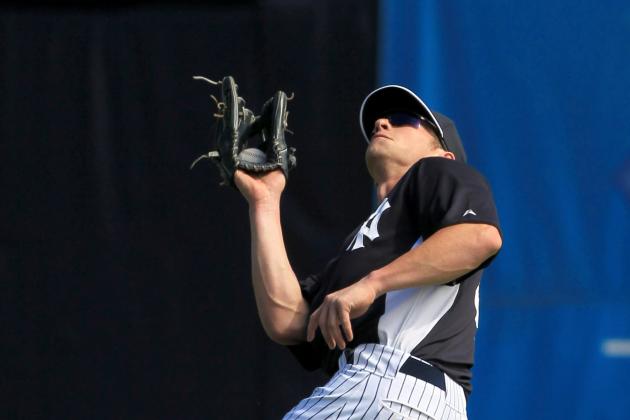 The Star-Ledger-USA TODAY Sports

2013 Stats: 57 G, .242 BA, 9 2B, 30 RBI, 63 K, 5 SB
Overview
This past week saw Slade Heathcott push his hit streak to six games.
The outfielder hit safely in all five of his games, and added his ninth double of the season on Tuesday.
Heathcott has struggled to stay consistent through the year, with a mixture of good weeks and bad weeks.
This past week was one of the first times this year Heathcott consistently hit the ball, and reached base.
His seven strikeouts are a bit alarming, but the fact that Heathcott is hitting the ball is a good sign.
If Heathcott can gain some discipline at the plate, his numbers will continue to rise.
Last Week's Stats: 5 G, 5 H, 1 2B, 1 RBI, 7 K
Stock: Up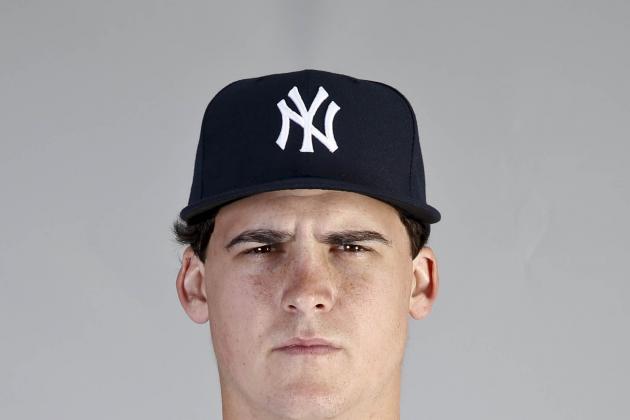 Derick E. Hingle-USA TODAY Sports

2013 Stats: 61 G, .268 BA, 13 2B, 5 HR, 35 RBI, 60 K, .757 OPS
Overview
After a spectacular week 10, Tyler Austin cooled off a bit this past week.
The young right fielder still picked up five hits, and had a multi-hit game on Friday.
But Austin also dawned the golden sombrero Tuesday with three strikeouts, and he picked up two more on Wednesday.
Austin had a red hot week before last, and wasn't able to keep it going this week.
Still, he was able to stay consistent and pick up hits in every game but one last week.
Austin needs to try to stay hot this week and keep raking at the plate.
Last Week's Stats: 5 G, 5 H, 1 RBI, 7 K
Stock: Even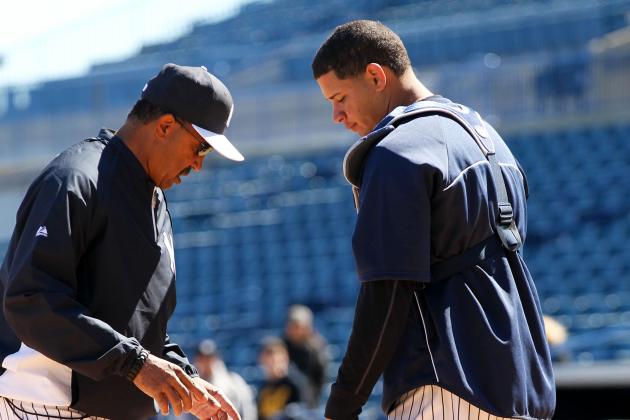 The Star-Ledger-USA TODAY Sports

2013 Stats: 56 G, .278 BA, 16 2B, 10 HR, 44 RBI, 40 K, .827 OPS
Overview
This past week Gary Sanchez showed again that Single-A Tampa isn't the place that he should be, at least in terms of how far along he as a hitter.
In a short week of work Sanchez picked up three hits, including his 16th double and 10th home run.
Sanchez had a bit of an off week and yet still was able to provide power and run support.
He is young and talented, and Sanchez has continued to prove his bat is something special.
Maybe working on the defensive side of the game should be a higher priority than is hitting right now for Sanchez, because if he isn't moved to Double-A within the next few seasons he may lose his chance.
Last Week's Stats: 3 G, 3 H, 1 2B, 3 K, 3 RBI
Stock: Even