Stock Up, Stock Down for Cincinnati Reds Top 10 Prospects for Week of June 10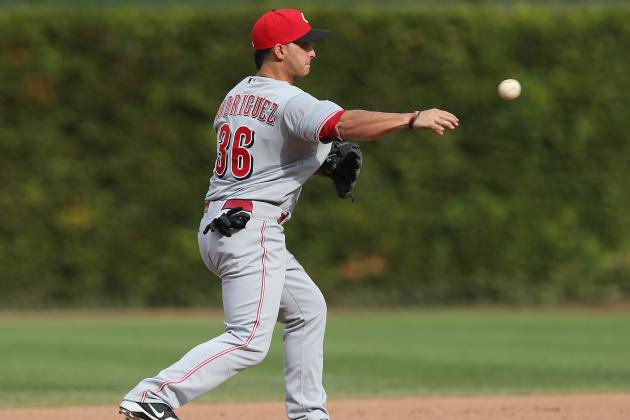 Jonathan Daniel/Getty Images

The Cincinnati Reds' scouting department has been working diligently the last two weeks with the draft—where the Reds took Phillip Ervin 27th overall and signed him only a few days later, according to mlbtraderumors.com.
The club is obviously hoping for budding stars to make their way quickly through the minors like Billy Hamilton and Tony Cingrani.
Some of the Reds' current top prospects are becoming more recognized by fans, but there are some that are quickly dropping off.
Focusing on the Reds' top prospects on their official site, here are the stock reports for the top 10 prospects.
All statistics courtesy of MiLB.com
*Sean Buckley, the No. 8 ranked prospect, is currently on the DL. Jesse Winker, the No. 11 ranked prospect was added at the 10th spot.
Begin Slideshow

»
2013 Stats
.291/.395/.493, 10 2B, 9 HR, 42 RBI, 38 R
Overview
Jesse Winker is quickly becoming one of the Reds' top prospects to watch. Coming in ranked at No. 11, Winker will certainly land much higher on the 2014 prospect list.
He's turning heads in the organization and showing a lot of pop in his bat. He's already at nine home runs for the season with the Dayton Dragons Low-A team.
Keep your eye on this prospect—he could end up in the top-five next season.
Last Week's Stats
3-for-21, 0 2B, 1 HR, 2 RBI, 1 R
Stock
Even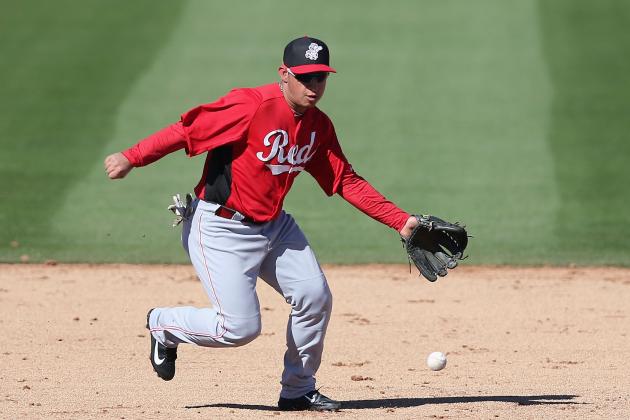 Christian Petersen/Getty Images

2013 Stats
.270/.312/.352, 11 2B, 3 HR, 27 RBI, 26 R
Overview
Henry Rodriguez spent part of his time in the majors last week,collecting only two at-bats without getting a hit in either opportunity.
Rodriguez has fluctuated throughout the minors and hasn't had a long enough chance to showcase his talent.
His stats are increasing, but his chances with the Reds are still clogged with Brandon Phillips' contract.
Last Week's Stats
2-for-15, 0 2B, 1 HR, 1 RBI, 1 R
Stock
Even
2013 Stats
12 GS, 4-7, 5.27 ERA, 21 BB, 42 K, 56.1 IP
Overview
Sal Romano recently had a bit of a clobbering in Low-A ball this past week. His ability to last in games is a bit of concern, as he has yet to pitch more than six innings in a single outing.
His strikeouts are low, but the good news is that his walks are as well.
The Dayton Dragons aren't necessarily running away with the Midwest League Eastern division with a 28-41 record. However, Romano hasn't earned a win since May 18.
Last Week's Stats
1 GS, 0-1, 10.80 ERA, 5 BB, 4 K, 5 IP
Stock
Down
2013 Stats
.262/.312/.398, 13 2B, 5 HR, 27 RBI, 28 R
Overview
Ryan Wright only played two games last week while collecting three hits. His bat was slumping until recently.
Wright has been able to bring up his average, but something to note is his collective .196/.239/.234 slash line at away games.
Last Week's Stats
3-for-9, 1 2B, 1 HR, 4 RBI, 2 R
Stock
Even
2013 Stats
19 G, 1-2, 9.13 ERA, 20 BB, 23 K, 22.2 IP
Overview
Kyle Lotzkar has struggled since his early success in 2007. He recently was converted to a reliever and has had some good outings.
However, his trend continues back to one of his biggest problems—giving up runs.
Lotzkar will need to consistently show he can keep opposing baserunners from crossing home. It's been his biggest challenge going through the farm system.
The Reds would never want to give up on a first-round pick, but his chances are dwindling.
Last Week's Stats
2 G, 0-0, 6 ER, 3 BB, 2 K, 1.1 IP
Stock
Down
2013 Stats
3 GS, 1-1, 3.86 ERA, 5 BB, 7 K, 14 IP
Overview
Nick Travieso was drafted in the first round of last year's draft and is making his way through the minors.
Travieso is only 19 years old and has started only three games at the Low-A level. Although there's not many stats to base his numbers off of, things still look good.
His strikeout totals per game are low, but he's keeping his earned runs very minimal. Travieso is easily one of the pitchers in this top-10 to keep an eye on because his increasingly solid pitching could land him in the majors sooner or later.
Last Week's Stats
1 GS, 1-0, 1.80 ERA, 2 BB, 2 K, 5 IP
Stock
Up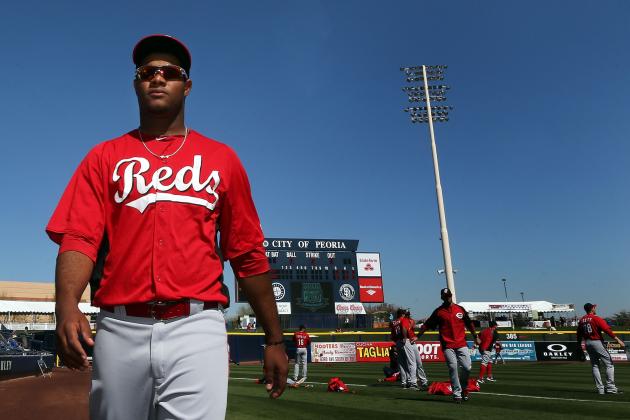 Christian Petersen/Getty Images

2013 Stats
12 GS, 3-9, 7.49 ERA, 34 BB, 42 K, 57.2 IP
Overview
Daniel Corcino continues to have a difficult year at Triple-A Louisville. His ERA is consistently exploding and his walks versus strikeouts are becoming more of a concern.
A lot of folks in the Reds organization believed he would be just behind Tony Cingrani in their transition to the majors.
It seems that Corcino still has some major work before he'll be called up to the majors.
Corcino recently came off one of his better games. He only gave up three hits and allowed three earned runs. If he's able to keep his walks and ERA down, Corcino could be right behind Cingrani.
Last Week's Stats
1 GS, 1-0, 5.40 ERA, 3 BB, 4 K, 5 IP
Stock
Down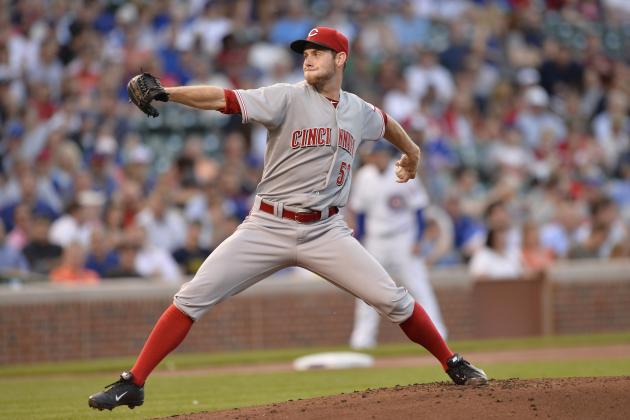 Brian Kersey/Getty Images

2013 MLB Stats
7 GS, 3-0, 3.15 ERA, 10 BB, 46 K, 40 IP
Overview
Tony Cingrani is making it really difficult for Dusty Baker to send him back to Louisville, according to John Fay of Cincinnati.com.
Although Cingrani will likely be sent back to the minors this week, he continues to show impressive outings at the major league level.
Cingrani was sent down to work on his off-speed pitches since he is a dominant fastball pitcher. However, his fastball alone won't keep him in the Reds' starting rotation for very long.
He's currently working on a curveball he learned from fellow Red Homer Bailey. If Cingrani figures out his off-speed pitches, he'll be a lock in the rotation next year.
Last Week's MLB Stats
1 GS, 1-0, 2.57 ERA, 1 BB, 5 K, 7 IP
Stock
Up
2013 Stats
12 GS, 5-3, 2.97 ERA, 17 BB, 85 K, 66.2 IP
Overview
Another one of the Reds' shining top prospects is Robert Stephenson, whose velocity is unbelievable and it shows in his stat line.
Stephenson leads the Midwest League in strikeouts, but according to Redsreporter.com, he recently landed on the seven-day DL with a strained left hamstring.
His injury doesn't appear to be anything drastic, but it is going to prevent him from starting the Midwest League All-Star Game.
If Stephenson can have a speedy recovery, don't expect him to be with the Dragons for too long.
Last Week's Stats
On the 7-Day DL
Stock
Even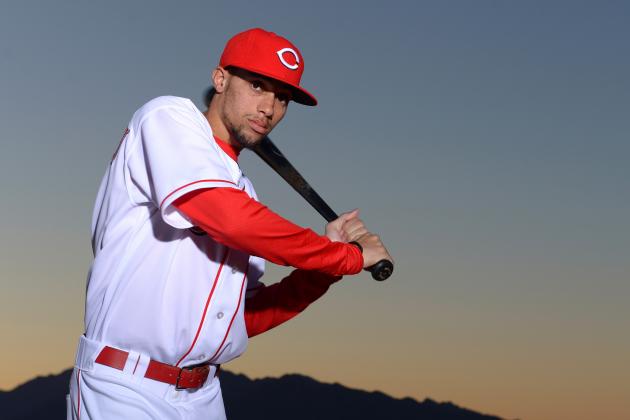 Jake Roth-USA TODAY Sports

2013 Stats
.252/.312/.352, 11 2B, 4 HR, 22 RBI, 45 R, 43 SB
Overview
Billy Hamilton is still finding some difficulty in keeping his average up. The Reds are hoping he'll be the leadoff answer for 2014 if Shin-Soo Choo doesn't re-sign with the club.
However, it's going to be hard to bring him up when he's batting just over .250 in Triple-A.
This certainly isn't a put-down to Hamilton. But, he might need more time in the minors to blossom and it seems like that wasn't really the plan for the Reds.
Hamilton continues to steal bases with ease and is finding himself on base a lot more recently. He only went one game last week without a hit.
The upside is still enormous for Hamilton, but he'll likely only be a September call-up at this point in the 2013 season.
Last Week's Stats
8-for-25, 2 2B, 1 HR, 3 RBI, 5 R, 8 SB
Stock
Up