UFC 161 Results: Reasons It Would Be a Mistake to Let Roy Nelson Walk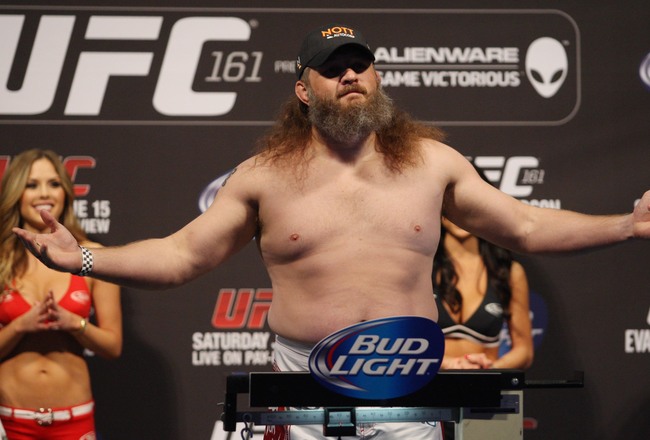 Bruce Fedyck-USA TODAY Sports
Roy Nelson was entering the final fight on his contract and filled his time during the week taking potshots at Dana White and Daniel Cormier.
On Saturday night at UFC 161, Nelson traded his verbal potshots for his haymaker right hand. It's a punch that's served the big man well in his last few fights. Indeed, Nelson made quick work of his last three opponents.
That wouldn't be the case at UFC 161, though. Nelson looked absolutely dreadful in getting hammered for 15 minutes by Stipe Miocic. Not only did Nelson see his three-fight win streak snapped by taking a beating, he also lost nearly every bargaining chip he had going into contract negotiations.
White's disdain of "Big Country" is well documented. Nobody would question his decision if he did not re-sign Nelson after this past showing. Yet, there's still a few reasons White may want to keep the well-rounded star (pun intended) on the UFC's roster.
Roy Nelson Puts Butts in the Stands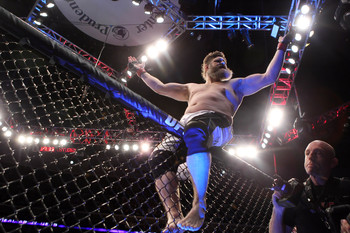 Brad Penner-USA TODAY Sports
Dana White may not be a Roy Nelson fan, but I'm sure "Big Country" isn't noticing. Nelson is one of the more popular fighters on the roster despite not surpassing the gatekeeper level in the UFC.
Just listen to the roar of the crowds as Nelson's music hits in the arena or the cheers after he knocks out another opponent.
He also happens to be a fairly outspoken guy when given a microphone, which always leads to more fan interest.
Nelson won't compete for a title in the heavyweight division, but he'll routinely help fill arenas and sell pay-per-view cards. White just has to get Nelson's contract written up so that both sides benefit from the drawing power of "Big Country."
Roy Nelson Comes to Fight
Tom Szczerbowski-USA TODAY Sport
In a world where fighting safe (or boring, depending on your tastes) has become the latest craze, Roy Nelson and his fans can at least say the big man comes to fight each time he steps in the Octagon.
You don't earn five post-fight bonuses by laying and praying. Nelson has won Fight of the Night once and holds three Knockout of the Night awards. That means not only is Nelson very good at putting people to sleep, he generally does it in exciting fashion.
Nelson may not win a lot of UFC fights but at least he will never be involved in a boring fight.
The Heavyweight Division Is Short on Talent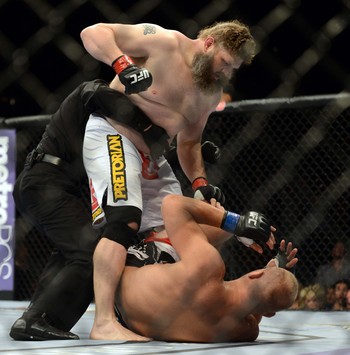 Ron Chenoy-USA TODAY Sports
Although the top fighters in the UFC's heavyweight division are excellent, there's a considerable drop off in talent when moving down the rankings. For many people, the heavyweight division is run by Cain Velasquez and Junior dos Santos. Fabricio Werdum, Daniel Cormier and Alistair Overeem highlight the group of guys who stand a chance at defeating the top two. However, after that, it's an open discussion as to who's the best of the rest.
By keeping Roy Nelson on the roster, the UFC can keep the talent pool from getting even more shallow in the heavyweight division. The current crop of heavyweights are full of interesting prospects but few have proven to be consistently entertaining.
Nelson at the very least provides a big name for the younger guys to build their own reputation up with but could also become a solid gatekeeper to prevent some of the young guys from being forced up the rankings too soon.
Keeping Roy Nelson Also Means Keeping Him Away from Bellator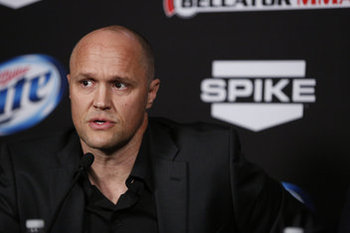 mmafighting.com
The UFC is the unquestionable king of MMA. The gap between the UFC and second place Bellator is quite large but that gap could begin to close with Bellator's deal with Spike TV.
It's no secret that virtually every UFC fighter looks for Bellator's number as soon as they're released and Roy Nelson is no different. "Big Country" would fit perfectly into what Bellator is doing with their marketing campaign. He also would be the guy in their heavyweight division as Bellator's heavyweight division is extremely shallow in terms of talent.
Dana White and the UFC may not consider Bellator to be anywhere close to their level (and they shouldn't) but keeping a popular star like Nelson away from their competition would be a good move to prevent Bellator from growing anymore.
Keep Reading