Top 2013 Heisman Trophy Candidates and the One Game That Will Trip Them Up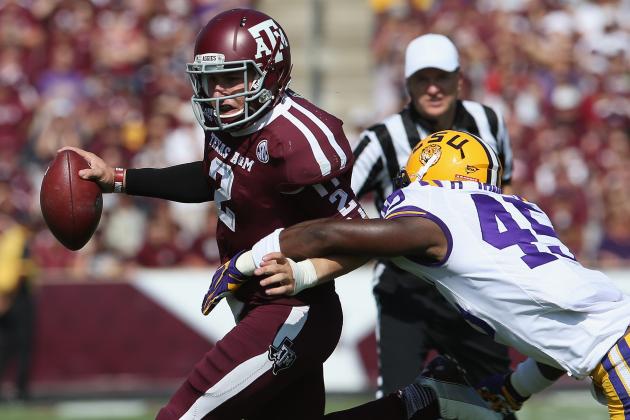 Ronald Martinez/Getty Images

We all know about the so-called "Heisman Moment." It's that one enduring image or signature play that launches a player's bid for, and eventually secures him, the most prestigious trophy in college sports.
Last season, against Alabama, Johnny Manziel had the fumble that wasn't. The year before that, Robert Griffin helped Baylor beat Oklahoma for the first time ever, throwing a broken-play touchdown to Terrence Williams with eight seconds left on the clock. The list goes on and on.
But what of the anti-Heisman Moment? What of the players who could have won the trophy, but didn't because of one bad game or one fatal slip-up or one missed opportunity?
In college football, it's not uncommon for one game to cost a team its chance at a national title. Just ask the Oregon Ducks. But can't the same be said for individual accolades?
Here are the top 10 contenders to win this year's Heisman, listed in reverse order, along with a highlight of which opponent stands most poised to derail their candidacy.
A look at which game could provide their anti-Heisman Moment.
Begin Slideshow

»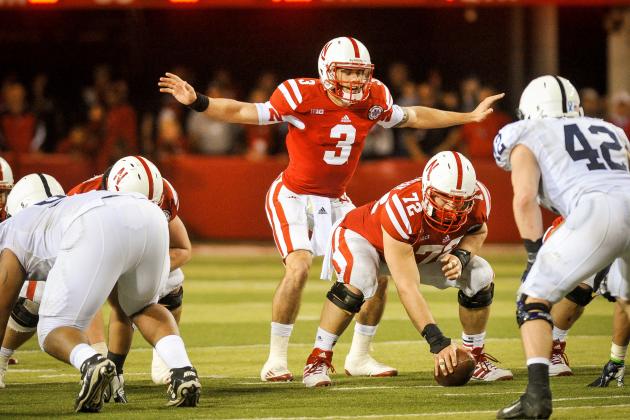 Eric Francis/Getty Images

Slip-up Game: at Michigan (Nov. 9)
Why He's a Contender: Martinez enjoyed his finest season as a junior last year, throwing for 2,871 yards and running for 1,019 more. His improvement under QB guru Steve Calhoun—mentor of overachievers like Nick Foles and Kellen Moore—has been of the night-and-day variety.
He got some help from the schedule makers, too. Nebraska misses out on Wisconsin and Ohio State from the Leaders division, and also get two of the top three Legends, Northwestern and Michigan State, at Memorial Stadium.
T-Mart wouldn't be the first plucky, undersized, mobile Nebraska QB to take home the Heisman. If he, like Eric Crouch before him, can guide his team to a BCS bowl, he'll get the invite to New York... and perhaps even more.
Why Michigan Will Give Him Trouble: Martinez still has nightmares about his first trip to the Big House, a 45-17 thrashing in 2011 that went down as one of his worst career performances.
In that game, Martinez completed just nine of his 23 pass attempts and was contained for only 3.1 yards per carry on the ground. Granted, Michigan's personnel has changed a lot since 2011, but the Brady Hoke system has remained the same.
The Michigan game also comes in the midst of Nebraska's toughest stretch, a four-week period that includes games with Northwestern, Michigan State and Penn State. His team gets no breather before or after this game, which doesn't bode well for Martinez's chances in Ann Arbor.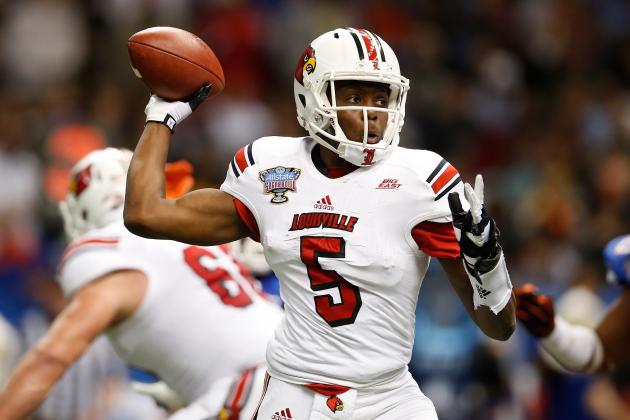 Chris Graythen/Getty Images

Slip-up Game: at South Florida (Oct. 26)
Why He's a Contender: Bridgewater dismantled Florida, a defense that ranked first in Football Outsider's opponent-adjusted FEI, in last year's Sugar Bowl. In other words, according to the numbers, even college football's best defense was no match for Bridgewater's all-around repertoire.
This is scary because this year's schedule doesn't feature any defenses like the 2012 Gators—not even close. The newly-formed AAC made a weak Cardinals schedule even weaker, setting them up for an undefeated campaign, but also for a ton of competition-related backlash.
Still, if Teddy can guide his team to an undefeated season, it will be hard to keep him away from New York. On talent and talent alone, he might be the best offensive player in America.
Why South Florida Will Give Him Trouble: Because who else on Louisville's schedule is going to do it? Mark Stoops will bring a new attitude, in time, to Kentucky, but for now he's got the personnel of a unit that finished 117th in defensive FEI. Rutgers finished top 10 in defense last year, but lost five NFL players on that side of the ball and has to travel to Cardinal Stadium in October.
In truth, Bridgewater's schedule is a cupcake. Anything other than 12-0 will instantly nullify his Heisman bid. The same can be said for any less-than-stellar statistical outing. I don't know if the former will happen at South Florida, but I'm not ready to discount the latter.
The Bulls are coming off of a year of regression, but there are reasons for optimism in 2013. Willie Taggart is in at head coach, following a wildly successful stint at Western Kentucky, and Notre Dame transfer Aaron Lynch is in on the line.
The Bulls return six defensive starters from last year's team and catch Louisville, potentially, looking ahead to the following week at Connecticut. (The Huskies beat them in triple OT last year.) If there's a letdown game on Bridgewater's upcoming tour de force, this is probably it.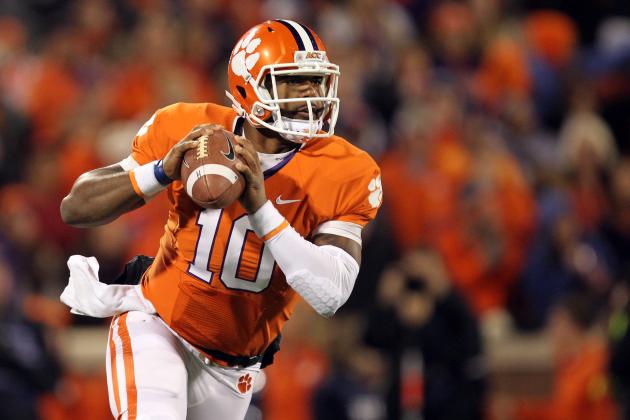 Streeter Lecka/Getty Images

Slip-up Game: at South Carolina (Nov. 30)
Why He's a Contender: If Bridgewater isn't the top-rated in quarterback prospect for 2014, that's only because of Tajh Boyd's improvement. What started as a messy conflation of raw physical tools has slowly morphed into a potential top-five pick next April.
Unlike Bridgewater, though, Boyd has a schedule conducive to national recognition. Virginia Tech is off the calendar, but games against Georgia, Florida State and South Carolina will garner him plenty of time in the spotlight.
If Boyd can help Sammy Watkins return to form, there's a good chance he posts similar—if not better—numbers to last season. That plus a BCS Bowl bid would make Tajh Boyd a viable candidate.
Why South Carolina Will Give Him Trouble: Last year Clemson hosted South Carolina, and Tajh Boyd played his worst game of the season, completing just 11-of-24 passes and throwing two interceptions in a 27-17 loss.
This year the Tigers travel to South Carolina, where the bane of their existence, Jadeveon Clowney, is still in employ.
He's best remembered for his near-decapition of Vincent Smith in last year's Outback Bowl, but Clowney's best performance in 2012 actually came one game sooner, against Boyd and the Tigers, where he racked up 4.5 sacks.
On the one hand, Boyd's four starting guards and tackles are all back for another year, and should all have 11 more games of starting experience under their belt. On the other hand, they're also the same unit that tried so unsuccessfully to stop Jadeveon Clowney last year.
This could throw a late-season wrench in Tajh Boyd's Heisman bid.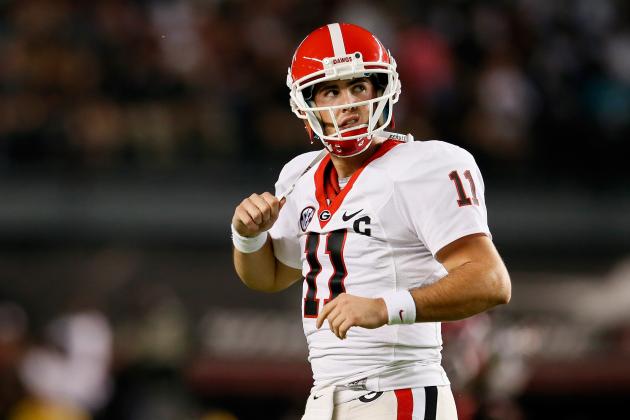 Kevin C. Cox/Getty Images

Slip-up Game: vs. Florida (Nov. 2, in Jacksonville)
Why He's a Contender: Murray and the Bulldogs came within five yards of last year's National Championship game. And, had they beaten Alabama, assuming they would have then dispatched Notre Dame with similar ease, there's a good chance Murray would find himself at the top of this list.
Nine starters are back on offense this year, too, including four offensive linemen and receiver Malcolm Mitchell. With the security blanket of "Gurshall" lining up behind him, Murray could be the maestro of college football's most balanced offense this season.
If a defense enduring major upheaval is able to coalesce by SEC season, the Dawgs should find themselves in every game they play. The experience on last year's close games should help Murray guide them in this year's, which makes Georgia a legitimate title threat.
Why Florida Will Give Him Trouble: In short, because they always have. Murray has completed 62 percent of his passes at Georgia, but in three games against the Gators, that number dips by 15 points (45-for-95).
Only South Carolina and Florida held the Bulldogs below 28 points last year, but in 2013, Georgia gets the Gamecocks in Athens. The same can't be said for Florida, who Murray will have to face on the neutral confines of EverBank Field.
Florida's defense had some turnover in the front seven, but they return three starters in the secondary, including potential All-American Loucheiz Purifoy at cornerback. In what could very well be College Gameday's featured game that week, Georgia might defer from the passing game and ride its talented duo of running backs.
That's something voters won't forget.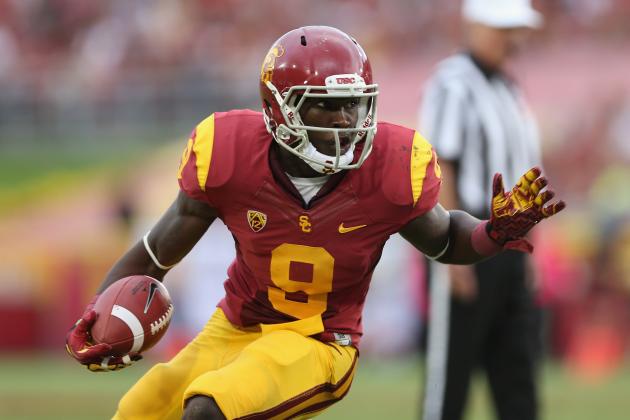 Jeff Gross/Getty Images

Slip-up Game: at Notre Dame (Oct. 19)
Why He's a Contender: The best skill-position player in all of college football, Lee looks to capitalize on an historic sophomore year and become one of the all-time great USC receivers.
With no signature, high-profile running back returning to school, Lee might be the most targeted back or receiver in the nation. Whoever ends up with USC's starting quarterback job, the first read will be easy on almost every play: Get the ball to Marqise.
No receiver has won the award since Desmond Howard in 1991. But Lee is that kind of special player, a once-in-a-generation talent who can alter the game in so many different ways. If USC has the kind of season some expect them to, Lee has a legitimate shot at the award.
Why Notre Dame Will Give Him Trouble: Most receivers would be fine with 75 yards and five catches against an undefeated defense. But Marqise Lee isn't most receivers. For him, that line against Notre Dame represented his second-worst game of the year.
Lee found little success against Notre Dame in 2011, too, catching only two balls for 36 yards. With the Irish returning eight starters on defense, including both cornerbacks and safety Matthias Farley, it's hard to envision why that trend would change, especially in South Bend.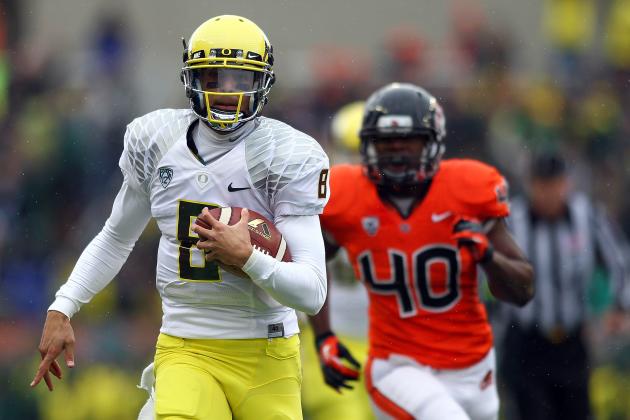 Jonathan Ferrey/Getty Images

Slip-up Game: at Stanford (Nov. 7)
Why He's a Contender: Oregon's offense didn't stop running when Mike Bellotti retired, and it shouldn't with Chip Kelly's defection either. Just as Kelly inherited the job after years as the offensive coordinator, the job was passed to Kelly's offensive coordinator Mark Helfrich.
Which is all to say that, even with Chip Kelly out of town, this will be the same, powerful Oregon offense. And the head of that offense is do-it-all sophomore Marcus Mariota, the best quarterback either Kelly or Bellotti ever had.
Mariota has every physical tool in the book, and mastered the offense in record time last season. With a whole offseason of experience at his aide, he should come back even more confident in 2013.
Why Stanford Will Give Him Trouble: Mariota may play quarterback, but Oregon's whole offense is predicated on the running game. They need to beat you off the line, beat you to the edge and beat you with their discipline.
Stanford, however, has the best front seven in college football—a unit jam-packed with veterans and future NFL starters. Ben Gardner, Trent Murphy and Shayne Skov are anathema to Oregon's unique offense, having successfully contained it in ways other teams can only dream of.
They held Mariota to his lowest-rated passing performance of 2012 and handed Oregon their only loss of the season. If the Ducks are incapable of exacting revenge, it could cost Mariota his Heisman.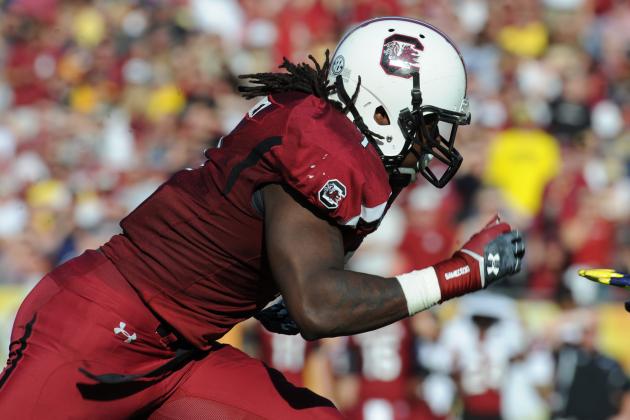 Al Messerschmidt/Getty Images

Slip-up Game: at Tennessee (Oct. 19)
Why He's a Contender: Because he's the best player in college football this year, and perhaps of this generation. Seriously. That's not just being a slave to the moment—Clowney is that good.
A defensive lineman winning the award would be unprecedented, but leaving Clowney off the top part of this list feels dirty. He takes what he wants when he wants—exhibit A—and if he sets his sights on the Heisman, who are we to tell him no?
He's already targeted Derrick Thomas' single-season sack record, and if he somehow finds a way to sift through the triple-teams and break that, it would be hard not to give him the trophy.
Why Tennessee Will Give Him Trouble: Jake Matthews is the best tackle in the SEC and Clowney's toughest one-on-one threat. But as a unit, no team in the SEC—perhaps in the nation—sports a better offensive line than Tennessee.
"Tiny" Richardson, Ja'Wuan James, Zach Fulton and James Stone are all future pros, the first two returning to form one of the country's top tackle tandems. Pedestrian double-teams might not be enough to slow Clowney down, but blue-chip double teams should be.
One sack-less game probably isn't enough to ruin Clowney's season, but would certainly be enough to halt his pursuit of the sack record. And if Tennessee makes him look (relatively) bad in the process, that would be a crippling blow for his Heisman chances.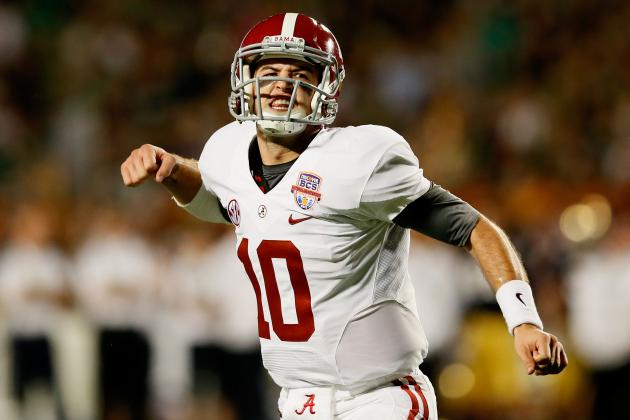 Kevin C. Cox/Getty Images

Slip-up Game: vs. LSU (Nov. 9)
Why He's a Contender: Because after two National Championships in three years, it's about time people start giving him the proper credit.
McCarron has steadily improved during his time in Tuscaloosa. When he started as a freshman, people said that Alabama won in spite of their offense. Now they win because of it.
Coming off a scary-efficient junior season (63-percent completions, 30:3 TD-INT ratio) and a dominant BCS Championship Game, McCarron has more momentum than (almost) any QB in the country.
If he takes No. 1 Alabama back to the championship, McCarron will be an easy choice.
Why LSU Will Give Him Trouble: Because it's LSU-Alabama, and if recent history has taught us anything, regardless of what future offensive pros take the field, this game will be a low-scoring crapshoot.
In two career starts against LSU, McCarron is 30-for-55 with 364 yards, one touchdown and one interception. Those are pedestrian numbers for any quarterback, much less one in search of a Heisman.
Low-scoring crapshoots are the worst kind of game for Heisman contenders. Even if they win, their numbers take a dent. And if they lose, because the offense couldn't score, the loss is their fault.
McCarron doesn't just need to beat LSU, he needs to beat it down. But as we all know, that task is easier said than done.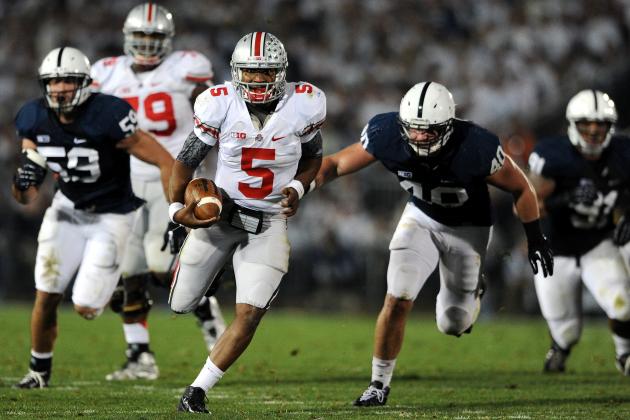 Patrick Smith/Getty Images

Slip-up Game: vs. Wisconsin (Sep. 28)
Why He's a Contender: Legitimate questions surround Braxton Miller's arm, but let us not forget one thing: Tim Tebow won a Heisman in this offense. The same Tim Tebow who threw this pass.
Miller needs to improve his throw-to-throw consistency, but he has some of Tebow's fourth-quarter moxie, and, in this offense, as Miller proved last season, that can be enough to run the table.
The Tressel-Pryor sanctions are lifted, so another undefeated season will put Ohio State in the BCS Championship. It would also be two undefeated seasons in two years under Miller's command.
If Ohio State makes it that far, Miller will be a very strong candidate—regardless of his passing numbers.
Why Wisconsin Will Give Him Trouble: If you chalk up the Purdue game as an unmitigated fluke, Wisconsin was by far Miller's toughest opponent last season. The Badgers held him to 98 passing yards and 48 rushing yards on 23 carries. They also held Ohio State to 14 points in regulation.
Bret Bielema is gone, but most of the defensive players aren't. Wisconsin returns five players from last year's front seven, including All-American candidate Chris Borland. They have the four big S's—size, speed, strength and scheme—requisite for slowing down a guy of Miller's ilk.
Miller struggled to throw against Wisconsin in his first year too, completing just seven passes for 89 yards. One ugly blemish like that would be enough to derail his Heisman bid.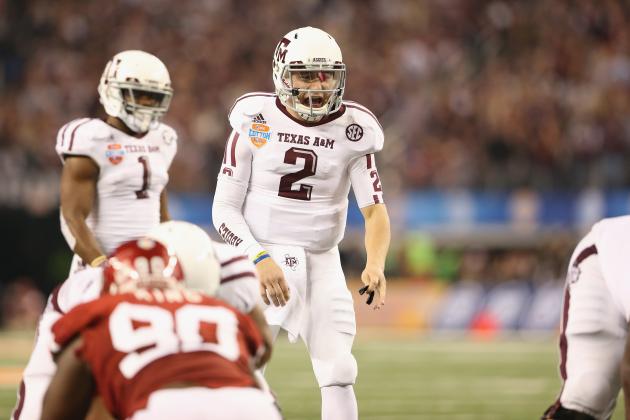 Ronald Martinez/Getty Images

Slip-up Game: at LSU (Nov. 23)
Why He's a Contender: Um...really?
Why LSU Will Give Him Trouble: Just like A.J. McCarron, Manziel's biggest hurdle in his quest to repeat is LSU, the only team he didn't find success against as a freshman.
Johnny Football played his worst game of the season against LSU last season, and it wasn't even close. The Tigers contained Manziel's legs, holding him to a season-low 27 yards on 17 carries.
In turn, by taking away Manziel's biggest strength, LSU managed to rattle him in the pocket too. On a season-high 56 passes, he only threw for 276 yards, almost 50 percent worse than his season average of 8.54 yards per attempt. They also forced him into three interceptions.
LSU endured some major losses on defense this year, but that's nothing new for Les Miles & Co. His "next man up" philosophy always allows him to field a dominant unit, and this year will be no different.
Especially by November 23, the Aggies' second-to-last game, LSU's untested defense will have rounded into peak form. If they can rattle Manziel for a second straight year, it'll be tough for him to win a second Heisman.