Tiger Woods at US Open Golf 2013: Day 4 Recap and Twitter Reaction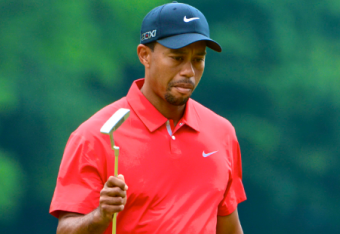 World No. 1 Tiger Woods hadn't won a major in five years heading into the 2013 U.S. Open, and he did nothing to change his fortunes on Merion Golf Club's tough track this weekend, finishing with a 13-over 293 for the tournament.
With a final round of 74 on Sunday, Woods capped off a U.S. Open performance he's not likely to forget, made worse by some missed opportunities, questionable putting and a course that absolutely devastated the field and yielded few rounds under par.
According to SportsCenter on Twitter, Woods' plus-13 finish made history for the wrong reason:
Tiger Woods finishes +13 (4-over 74 today), the worst finish in a major championship in his professional career.

— SportsCenter (@SportsCenter) June 16, 2013