Rounding Up the Latest Offseason Buzz Surrounding the Minnesota Vikings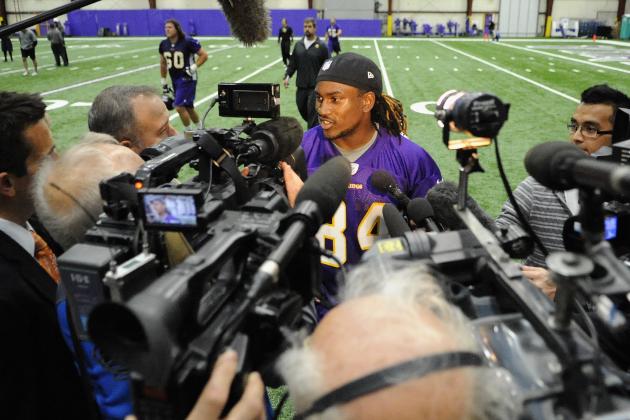 Hannah Foslien/Getty Images

Did you happen to hear that the New England Patriots signed a new third-string quarterback last week? There is simply no denying that the NFL has become a "365 days a year" news-making machine.
Along that line, the summer momentum is certainly building out at Winter Park as the Minnesota Vikings completed their OTAs last week and head into a mandatory three-day minicamp beginning on June 18.
After minicamp, the players will scatter to enjoy a good month and a half of summer before reporting to training camp July 25 at Mankato State University.
Hopes for the 2013 season are high across the league right now, but the Vikings believe they have more reasons to be excited than most teams. A surprising 2012 season yielded a 10-6 record and a playoff spot and quickly changed the forecast for the team from that of a complete rebuild to one that is ready to be a legitimate contender in the NFC North.
The expectation bar has been raised for a team that bottomed out at 3-13 just two seasons ago. Head coach Leslie Frazier and general manager Rick Spielman have done a masterful job of weathering the storm that comes with such a disastrous season.
Frazier's even-keel approach came off as a little too sleepy for some (a 3-13 record will do that), but his steady hand has proved to be just what the organization needed. There have been no overreactions to the good times or the bad, and the Vikings are clearly headed in the right direction as the 2013 season approaches.
As we head into the last week of football activity until training camp, we take a look at the latest buzz and storylines surrounding the Minnesota Vikings.
Begin Slideshow

»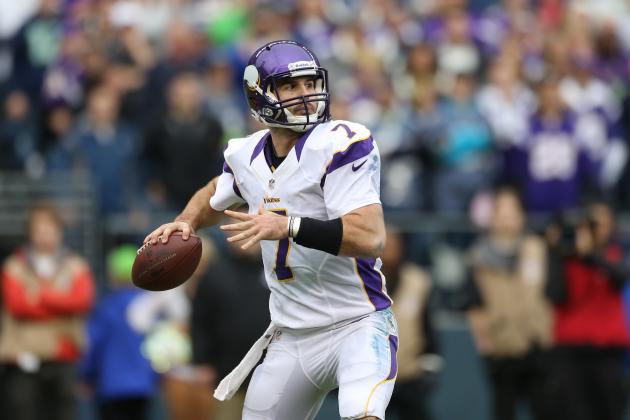 Otto Greule Jr/Getty Images

The Vikings had a slam dunk of a draft in 2012. The 2013 haul of players looks to be just as exciting on paper. All of that is fine and dandy, but the bottom line is that quarterback Christian Ponder remains the most pivotal player on the Minnesota roster.
In 26 starts in the league, Ponder has shown more bad than good, but there's been enough good for the Vikings to be hopeful heading toward 2013. Ponder has suffered his share of growing pains, but he's also been saddled with weak receiving corps in both seasons.
Ponder has now gone through his second season of spring and summer workouts as the Vikings undisputed starting quarterback. He's played enough snaps in the NFL at this point that things should be slowing down for him, the game should be becoming less about thinking and more about doing.
For a third-year quarterback, it's essential that his game become more proactive than reactive. It's a natural progression that comes with experience. Ponder now has that experience and should be locked, loaded and ready to go in 2013.
Having said that, as Matt Williamson writes for ESPN.com, Ponder remains the Vikings' biggest question mark.
Ponder is the most pivotal player on the roster simply because he's the quarterback in a quarterback-driven league. The Vikings had one of the best seasons ever turned in by a running back in 2012 and they still needed a four-game run at the end of the season to reach 10 wins and the playoffs.
There is only so much that non-quarterbacks can do, that's just the nature of the league right now.
Make no mistake, Adrian Peterson is still the focal point of the offense, but it's Ponder's play that will dictate how good the offense can become.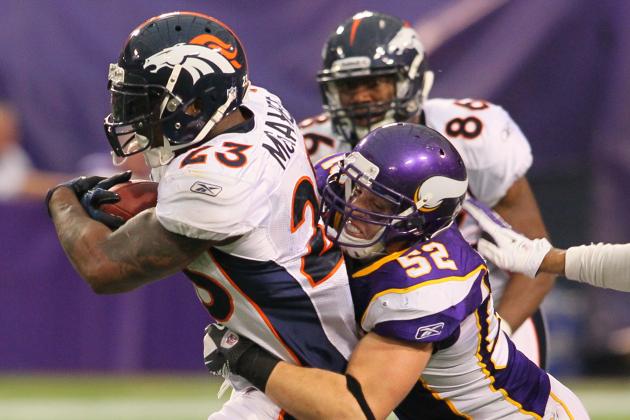 Adam Bettcher/Getty Images

Knee surgery is never a good thing for a football player.
Red flags went up last week when the Vikings announced that linebacker Chad Greenway would have knee surgery on Wednesday. As reported by the Pioneer Press, Greenway felt some tightness in his knee during OTAs and an MRI showed that some cleanup work was needed on one of his knees.
The good news for Vikings fans is that in this day and age, arthroscopic knee surgery can be as routine as a teeth cleaning. While Greenway will more than likely sit out this week's minicamp, there is no doubt he will be ready to go for training camp in late July.
2013 will be a huge year for Greenway, as the Vikings will need him to be a steadying hand among the linebackers.
Greenway will be entering his seventh season as a starter on the Vikings defense and he'll be joined by Erin Henderson, who is making the switch to middle linebacker, and a new starter at the other outside spot, whether it be Marvin Mitchell or rookie Gerald Hodges.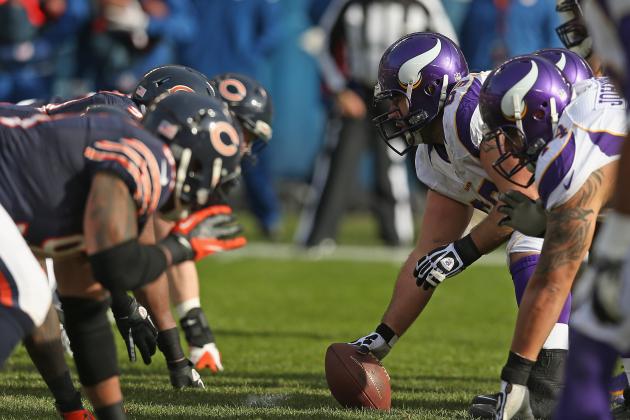 Jonathan Daniel/Getty Images

With Chad Greenway's surgery being a simple cleanup job, the Vikings will be heading toward training camp with a roster that is almost completely healthy.
Other than receiver Greg Childs (more on this later), the only lingering concern is with starting center John Sullivan, who underwent microfracture knee surgery in January. Tom Pelissero reports on 1500espn.com that Sullivan still needs to gain some confidence in the knee, but that no problems are expected.
Sullivan anchors the Vikings offensive line and his experience will be paramount as the team heads toward a training camp that could see some intense competition at the two guard spots on either side of Sullivan.
All things considered, the Vikings will begin training camp as healthy as can be as head athletic trainer Eric Sugarman and his staff continue to be among the best in their profession.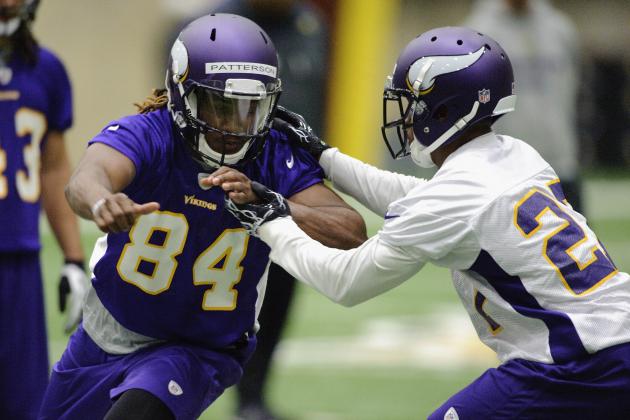 Hannah Foslien/Getty Images

The Minnesota Vikings receiving corps has been pretty awful for the past two seasons. Look for that to change in 2013, as Minnesota has added both talent and experience to a group that would have made a CFL team blush in 2012.
There's the uber-talented rookie in Cordarrelle Patterson. The wily veteran in Greg Jennings. The reclamation projects in tight end in John Carlson and wideout Jerome Simpson. The headed-for-the-stars tight end in Kyle Rudolph. The best is yet to come in youngsters Jarius Wright and Stephen Burton.
It's a very good sign for the Vikings and quarterback Christian Ponder that of Vikings.com's Mike Wobschall's eight standout players at the OTAs, six of them were receivers.
Yes, it was simply OTAs, which isn't a lot more than glorified touch football, but all signs are pointing in the right direction.
Patterson's skill set jumps off the field. Jerome Simpson is injury free and looks like a completely different player. Rudolph and Carlson look like they could be a dominating duo, as Rudolph's MVP in the Pro Bowl seems to infused him with another level of confidence and Carlson looks hellbent on putting his forgettable 2012 in the rearview mirror.
On top of all that, one of the most tantalizing figures heading into training camp will be Joe Webb. The former quarterback is 6'4", 220 pounds, has speed, jumping ability and good hands. He didn't look like a guy trying to figure things out at the OTAs, he looked like the accomplished athlete that he is.
All told, the Vikings are excited about the receiving options they've assembled heading into 2013.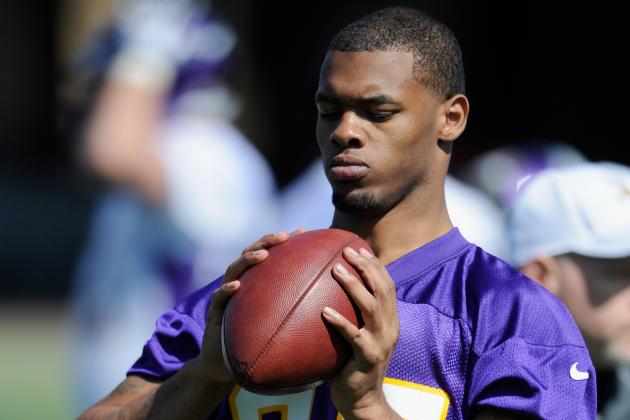 Hannah Foslien/Getty Images

In the fourth round of the 2012 draft, the Vikings selected a pair of wide receivers from the University of Arkansas, Jarius Wright and Greg Childs.
While Wright had an impressive second half to his rookie season and looks to be an impact player in 2013, Childs' football future remains in doubt. The Star Tribune's Mark Craig wrote a great piece in Sunday's paper on Childs' fight to get back on the football field.
Childs was having a great training camp last summer when he ruptured both patellar tendons in his knees on the same play. Nobody has ever returned to NFL play following such an injury, but Childs is set on becoming the first.
The Vikings are moving forward as if Childs won't be a part of their future—that's really the only sensible approach the team can take—and if Childs is able to play again, it will be like adding a bonus player to the roster.
After reading Craig's story linked above, it's hard not to root for Childs, who's attacked his rehabilitation as well as anyone could have expected and who seems like a genuinely good kid. If football turns out to not be in the cards for Childs, he'll be successful in whatever else he wants to do.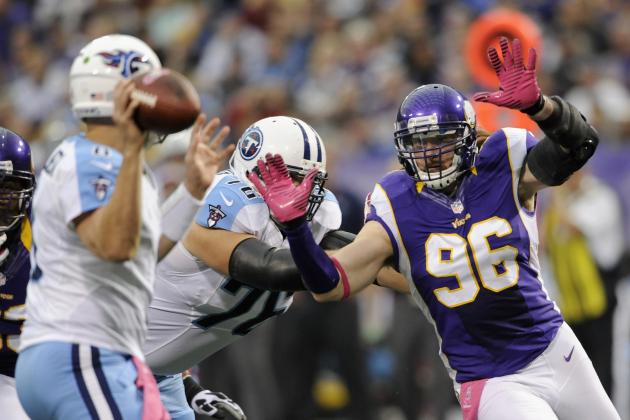 Hannah Foslien/Getty Images

The Vikings have three defensive ends who are more than capable of being NFL starters. In Jared Allen, Brian Robison and Everson Griffen, Minnesota is certainly stacked at the position. Defensive coordinator Alan Williams will be tasked with getting enough snaps for all three of them to maximize their talents.
An interesting twist to the Vikings' three-for-two dilemma is that all three players will become unrestricted free agents at season's end.
Allen is heading toward the last contract of a Hall of Fame career. Robison is the high-energy veteran who is hoping to shake the injury bug and break through with double-digit sacks. Griffen is the young stud who is bucking to cash in on his overabundance of athletic ability.
Allen and Robison will more than likely open the season as the starters, but Griffen will also be given plenty of opportunities to make an impact. For Minnesota's coaches, the rotation should be simple enough: Whoever is making the most plays gets the most reps. Ride the hot hand.
For the Vikings, it's a great problem to have. The obvious hope is that all three stay healthy and that all three are productive. Let the headaches wait until the offseason, when Spielman will have to decide who gets the money.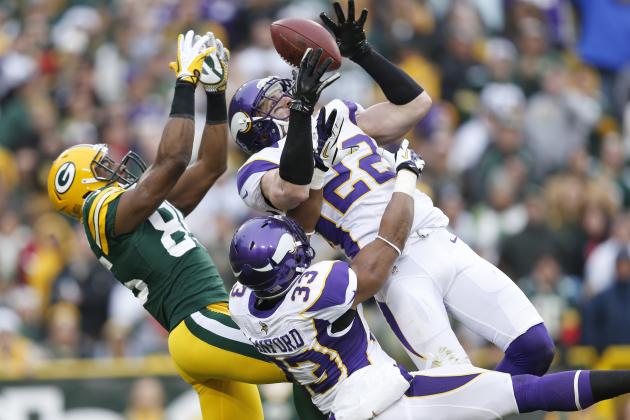 Joe Robbins/Getty Images

Harrison Smith is the starting free safety for the Vikings and will be for the next several years. Smith had an exceptional rookie season, bringing both a toughness and a high football IQ to the Vikings secondary that had been lacking for several seasons.
Heading into training camp in July, one of the most intriguing questions for the Vikings will be who lines up next to Smith as the starting strong safety?
Jamarca Sanford will enter camp at No. 1 on the depth chart. Close behind are Mistral Raymond, who won the job over Sanford during camp last summer, and Robert Blanton, the second-year man from Notre Dame who transitioned from corner to safety during his rookie season.
All three are capable players. All three have room for improvement. All three are fierce competitors who want the job. Gentlemen, start your engines.
The Vikings were quite simply a black hole at safety in 2010 and 2011, having perhaps the worst safety set in the league.
The addition of Smith changed everything. As Smith grabbed the leadership role on the back end, both Sanford and Raymond played looser and with more poise. Blanton brings a hitter's mentality that matches up well with Smith.
All three players will see plenty of action in 2013, but that starting job is there for the taking.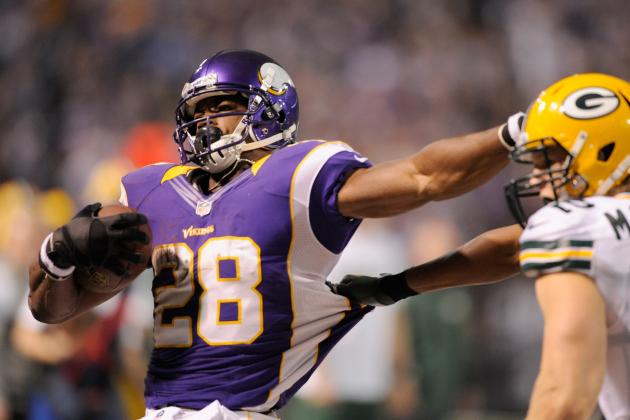 Hannah Foslien/Getty Images

Beginning on October 21 of last season, the Adrian Peterson put on a 10-game stretch of football among the best that have ever been played in National Football League.
In those 10 games, Peterson rushed for 1,598 yards and 10 touchdowns and virtually carried his team into the playoffs. Peterson won the league's MVP award for his efforts.
All of this came in a season that began just eight months removed from a complete reconstruction of his left knee.
So what can Peterson do for an encore? For Peterson himself, the goal is quite lofty. If we've learned anything in Peterson's six seasons in the league, it's never to doubt him. If he says he can do it, he probably can.
Realistically speaking, the Vikings have to hope that they are far less reliant on Peterson in 2013 than they were in 2012. In order to have a more rounded, less predictable offense, the Vikings will need large statistical improvements from both their quarterback and their receiving group.
Peterson obviously remains the central figure in the offense, but greater production from the other skill position players will give Peterson more room to roam.
It's almost silly to put any sort of expectation on Peterson at this point. The hope is that he remains healthy all season, and if that's the case, he'll have huge numbers.
Let's just hope there are other members of the offense who will be able to say the same thing.