New York Mets: Ranking the 4 Most Underappreciated Players of 2013
Al Bello/Getty Images

The 2013 New York Mets are off to an embarrassing 24-39 start, primarily due to an inept offense and another inconsistent bullpen.
Despite the overall lackluster effort this season, there are a few players on this team who have stood out in a surprisingly positive way. The Mets are certainly building for the future, and these players are making the case that they should be in that plan.
Interestingly, these players could be a part of the team in the future, or part of a trade to a contender for prospects.
Here are the rankings of the most underappreciated players of 2013.
Begin Slideshow

»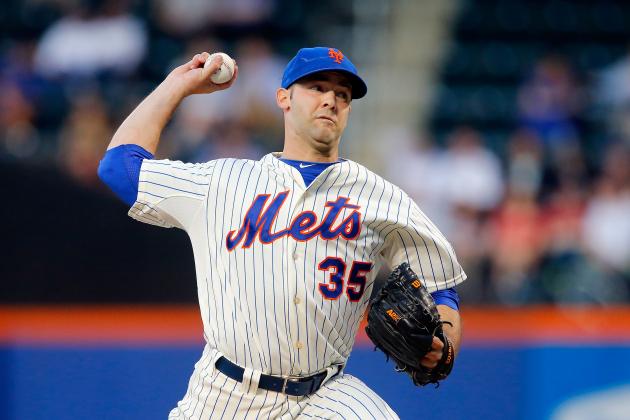 Jim McIsaac/Getty Images
Gee has had some spectacular outings this season and is currently in the best form of his career.
With Zack Wheeler's call-up quietly plaguing the minds of Mets starters all season, everyone not named Matt Harvey has been playing for their rotation spot.
Of those starters, Dillon Gee has stepped up the most.
Gee has had his share of terrible outings, but in 13 starts he has let up one earned run or less in six of them. He also has a respectable 63/20 K/BB ratio in 73.1 innings and has yet to allow more than three walks in an outing.
Gee has also been on fire of late. He has won three straight starts, lowering his ERA from 6.34 all the way to 4.84. In total, Gee had a 1.28 ERA, 1.10 WHIP and 26/3 K/BB ratio in those three outings.
Take away Gee's two worst outings, and he is having a solid season with a 3.68 ERA and 1.35 WHIP.
Gee has very likely played his way into the rotation with Wheeler, once the phenom is called up. Once the prized young arms like Wheeler, Noah Syndergaard or Rafael Montero develop and enter the Mets rotation, it will become clear that the club has developed a solid back-of-the-rotation starter in Gee.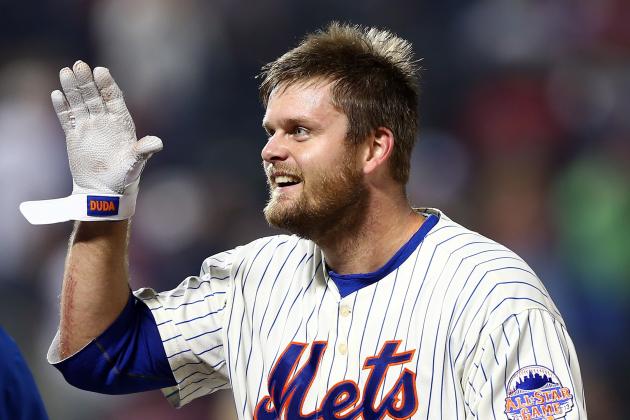 Elsa/Getty Images
Duda must improve with runners on base but has clearly shown an above-average ability to hit for power and get on base.
Lucas Duda has cooled off since April, but he is still putting together a fairly respectable season.
In April, Duda's batting average was an uninspiring .264. However, he quietly hit five doubles, five home runs and drew 20 walks, equating to a superb .436 on-base percentage and .978 OPS.
Duda's batting average has slowly decreased since his surprising April, but he appears to be channeling a dangerous combination of raw power and uncanny plate discipline.
Duda now has 11 doubles, 11 home runs and a .336 on-base percentage. Considering Duda is hitting just .228, his on-base percentage is very impressive. He also has seven home runs in pitcher-friendly Citi Field.
The Mets were hoping Duda would develop into a complete and consistent hitter. That does not appear to be the case, but Duda is a powerful left-handed bat with great discipline.
Whether or not the Mets try to trade Duda at some point this season, he has quietly gotten on base at a solid pace. Duda's biggest flaw, though, is hitting with men on base. Of Duda's 11 home runs, 10 of them are solo home runs. With runners on, he is hitting just .202, and with runners in scoring position he is hitting .152.
Regardless, Duda has arguably been one of the best hitters on the Mets not named David Wright or Daniel Murphy. That may not be saying much, but Duda has certainly been an underappreciated asset in this lineup.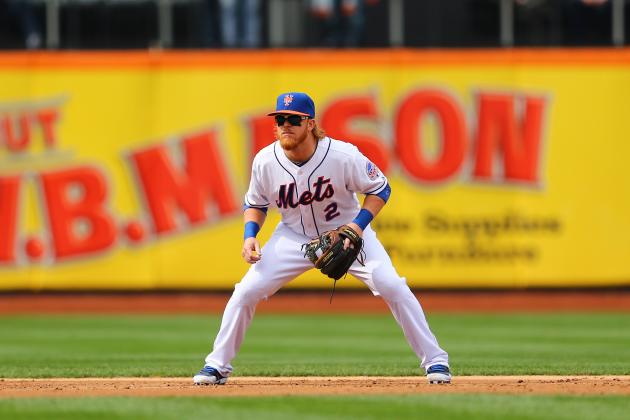 Al Bello/Getty Images
Turner has played in five different positions this season and is quietly hitting .281.
Despite getting irregular playing time, Justin Turner has consistently produced for the Mets this season.
Turner has usually been a force as a pinch hitter; yet, despite massive struggles in that role, he is hitting .281. Take away Turner's abnormal struggles as a pinch hitter, and he is hitting .313.
Turner has been an invaluable role player for the Mets. He has played five different positions this season, including all four infield positions.
Moreover, Turner has some very reliable offensive numbers. He is hitting .316 against righties and .292 at home. More importantly, Turner is hitting .323 with runners on base, which is a situation the Mets have hopelessly struggled with all season long.
Turner, perhaps, is not an everyday player, because in his 89 at-bats he has totaled just six extra-base hits—all of which are doubles. Nonetheless, he is able to fill in at a number of defensive positions and provide a consistent bat at the plate.
The Mets will need a key role player like Turner, and he has quietly produced well for an otherwise inept Mets offense.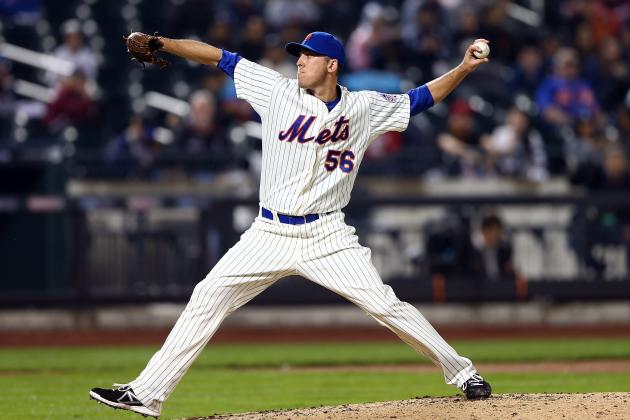 Elsa/Getty Images
Rice's numbers have declined this month, but part of that is due to fatigue; he is on pace for almost 100 relief appearances this season.
In classic Mets fashion, the Mets are preparing to use a promising left-handed reliever for every ounce he is worth. Scott Rice has already pitched in 36 games and is on pace for a team record 93 appearances.
Rice has been a feel-good story for the team as a 31-year-old rookie, but his pitching has slowly dissipated. Fatigue certainly has to be a factor.
After posting a 1.88 ERA in April, Rice's ERA has ballooned to 4.40 on the season. In five appearances this month Rice has a 19.29 ERA, while opposing batters are hitting .455.
Rice's numbers are mediocre at this point, but when given a normal amount of rest, he has been a quality reliever.
Pitching on zero days of rest, opposing batters hit .333 against Rice. By comparison, on one day and two days of rest, opponents hit just .125 and .200, respectively. In total, opponents are only hitting .222 against Rice all season, and lefties hit a paltry .169.
Rice could be a very effective left-handed reliever. However, the Mets have severely hindered his ERA and walk numbers by using his arm almost every game.
He has been an extremely overused and underappreciated asset on this team, and in my opinion is the most underappreciated player on the Mets.
Stats and/or info via ESPN.com, MLB.com, Baseball Reference