Picking the Right U.S. Lineup to Face Honduras on Tuesday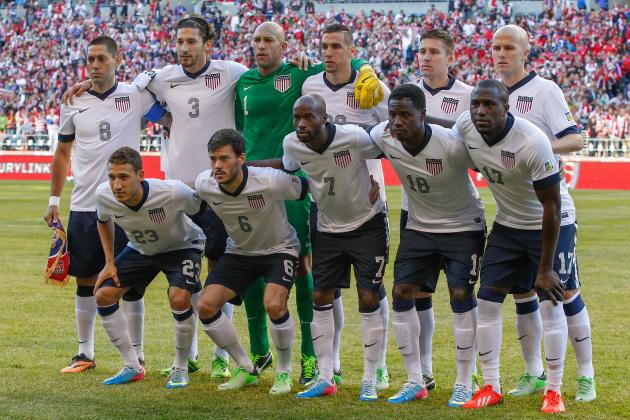 Otto Greule Jr/Getty Images

On Tuesday, the United States men's national team takes on Honduras in World Cup qualifying with another three valuable points on the line.
Following wins against Jamaica and Panama earlier this month, the U.S. is in prime position in the CONCACAF hexagonal with 10 points from five games. A win against Honduras Tuesday night in Sandy, Utah, would virtually guarantee the U.S. qualifies for the 2014 World Cup.
Here is the right lineup for the U.S. to pick up that win.
Begin Slideshow

»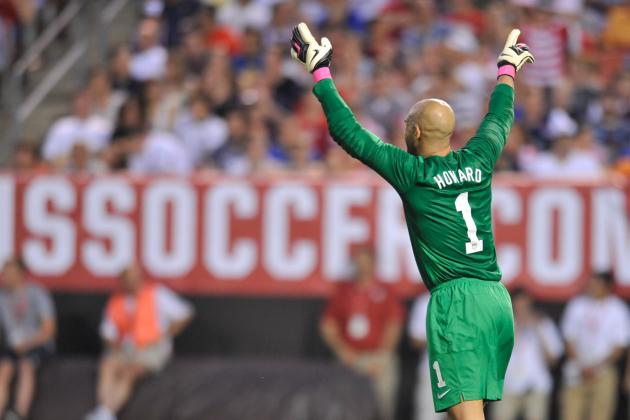 David Richard-USA TODAY Sports

While Brad Guzan has certainly proved himself to be a top-class goalkeeper, only a moment of madness would get U.S. head coach Jurgen Klinsmann to change horses midstream.
Tim Howard is the man for Tuesday.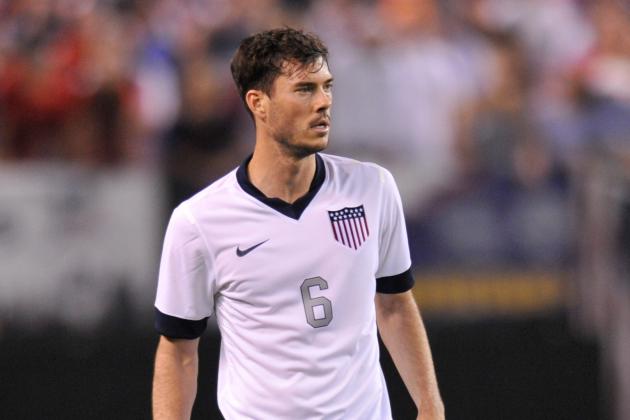 David Richard-USA TODAY Sports

Since shining against Germany in a friendly two weeks ago, Brad Evans has laid a solid claim to the U.S. right-back position for the time being. He struggled against Panama, especially in the first half, but some of that was due to the lack of help he received from Eddie Johnson on the right flank.
Besides, Jurgen Klinsmann doesn't really have any better options at the position right now. Michael Parkhurst hasn't played a full match in months for club or country, and Geoff Cameron was less than confidence-inspiring in his last outing at right-back against Belgium.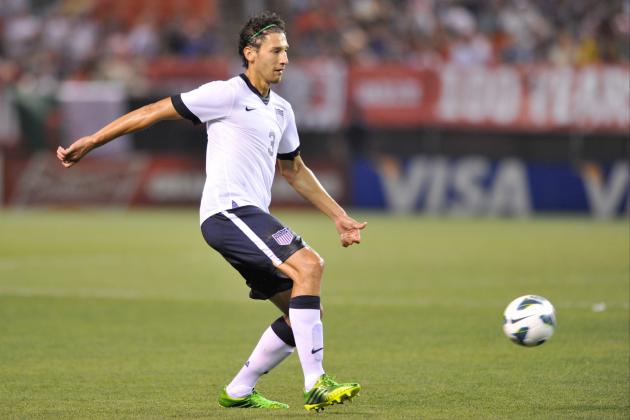 David Richard-USA TODAY Sports

Omar Gonzalez has certainly had plenty of "learning experiences" since claiming the starting center-back spot for the U.S. back in February, but after a number of shaky performances, it does appear that he is finally learning to adapt to the international game.
His performance against Panama only had one really shaky moment—late in the game when Gonzalez was culpable on a Panamanian breakaway.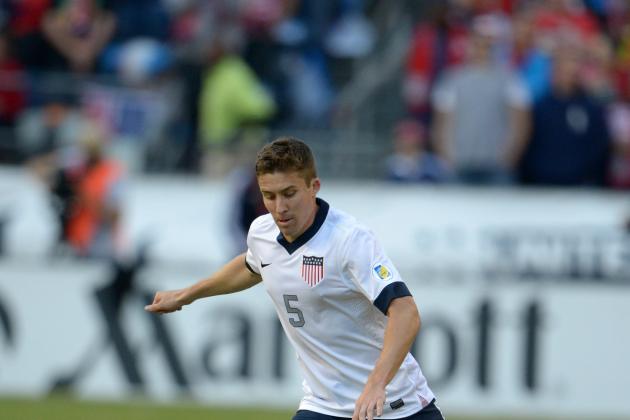 USA TODAY Sports

Watching the U.S. play over the last three months, one might not have even noticed Matt Besler on the field. But he has been there, starting four of the U.S.' last five games.
A big reason that Besler tends to go unnoticed is that he rarely makes mistakes—not a bad trait for a center-back. He is usually well-positioned and hasn't committed the type of howler that has ended many a U.S. center-back's career.
Credit must be given to Jurgen Klinsmann for giving Besler a chance to play for the U.S. in such important games, and credit must be given to Besler for making the most of those chances.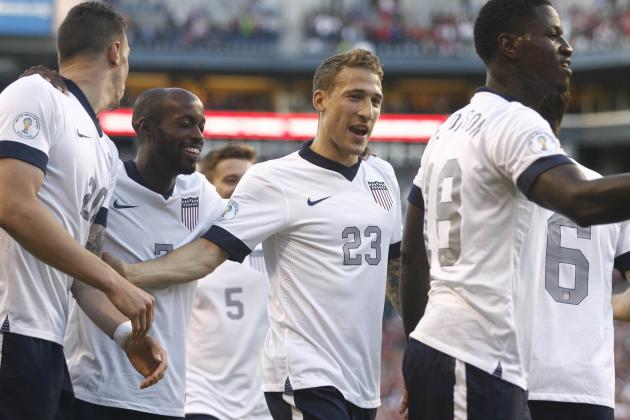 Joe Nicholson-USA TODAY Sports

Over the past three months, surprisingly, DaMarcus Beasley has cemented his place in the U.S. lineup at left-back. However, Beasley is suspended for Tuesday's match against Honduras.
Many will call for the start to be given to Edgar Castillo, who had a strong season this past year for Club Tijuana in Liga MX.
However, starting Castillo would be a mistake for several reasons. First, Castillo did not have a good game in his appearance at left-back against Germany two weeks ago. Second, by Tuesday night, Castillo will not have had a 90-minute effort in 19 days—too long to be in top form. Finally, if Castillo is given the start at left-back, Fabian Johnson would likely start at left midfield, forcing either Eddie Johnson or Graham Zusi to the bench.
To start Castillo is to bench Eddie Johnson or Zusi, and both Eddie Johnson and Zusi deserve to be in the lineup more than Castillo.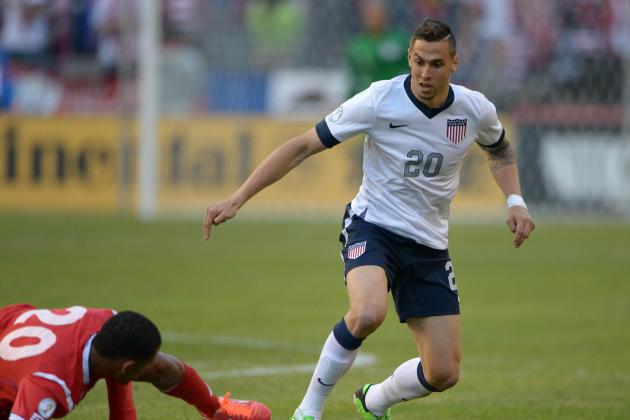 USA TODAY Sports

With Jermaine Jones looking on track to recover from his concussion in time to play against Honduras, Jurgen Klinsmann faces a very tough decision figuring out who to start in the holding midfield role.
However, the correct choice is Geoff Cameron for two reasons.
First, international soccer is all about form, and after a Man of the Match performance against Panama, Cameron deserves to start again.
Second, if Klinsmann goes back to using Jones, it will negatively affect Michael Bradley's impact on the game. Although Jones has played some of his best games for the USMNT over the past two weeks, when Jones is paired with Bradley, Bradley assumes more of the holding responsibilities while Jones goes forward. And although Jones does a good job for the U.S. on the attacking end, Bradley is the more dangerous player.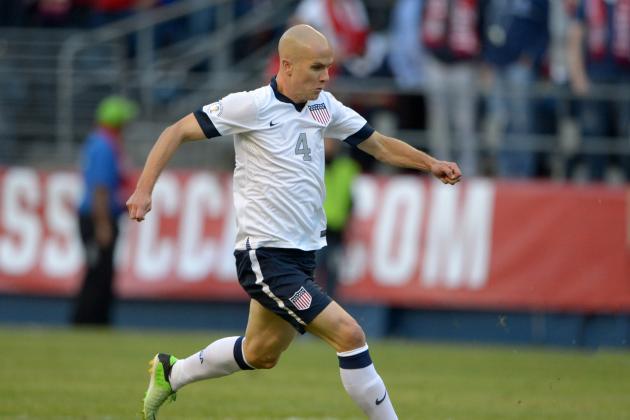 USA TODAY Sports

Against Panama, with Geoff Cameron behind him, Michael Bradley once again demonstrated why he must be given the freedom to go forward. Although in Jurgen Klinsmann's 4-2-3-1 system both Jermaine Jones and Michael Bradley are No. 6's when they start together, when they are paired up, Jones goes forward more often like a No. 8 while Bradley tends to do more of the defensive dirty work.
Arguably Bradley's best two games over the past year, the win against Guatemala in Kansas City in October and last week's game against Panama, were when he had a dedicated holding midfielder behind him.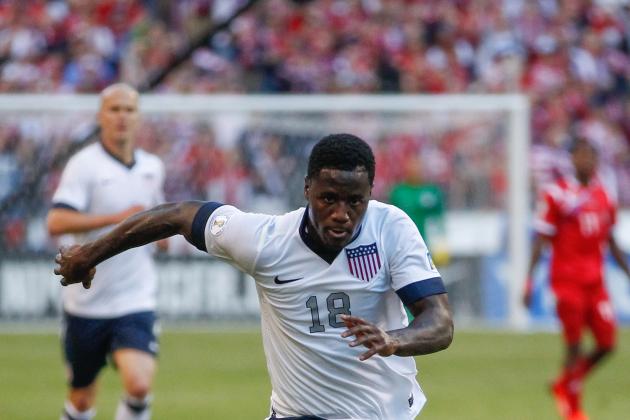 Otto Greule Jr/Getty Images

With Fabian Johnson sliding back to cover for the suspended DaMarcus Beasley, Eddie Johnson should get the start at left midfield.
Fabian Johnson will not need as much defensive help as Brad Evans, and with Eddie Johnson's forward instincts, he does not recover as well as Graham Zusi. Therefore, putting Eddie Johnson on the left allows Graham Zusi to be slotted in on the right to help Brad Evans.
Although his performances at forward have left one wanting, Eddie Johnson has proved over the past six months that he can be very effective at the international level as a winger. And after his goal against Panama, he has earned another start for the U.S.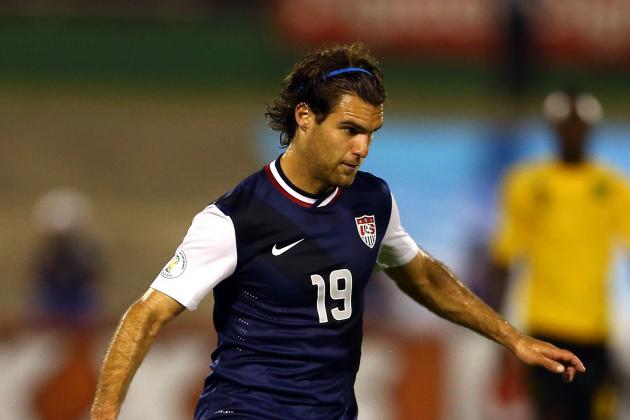 Streeter Lecka/Getty Images

Graham Zusi returns to the team after being suspended against Panama and should reclaim his spot in the lineup at right midfield.
Zusi has provided two great assists to Jozy Altidore in his last two games against Germany and Jamaica, and his service from the wing is strong. More importantly, however, and less noticed, is Zusi's defensive work.
With Zusi out of the lineup against Panama, Brad Evans was exposed at right-back. Zusi needs to be reinstated not only for his service, but also for the help he will provide Evans on the right flank.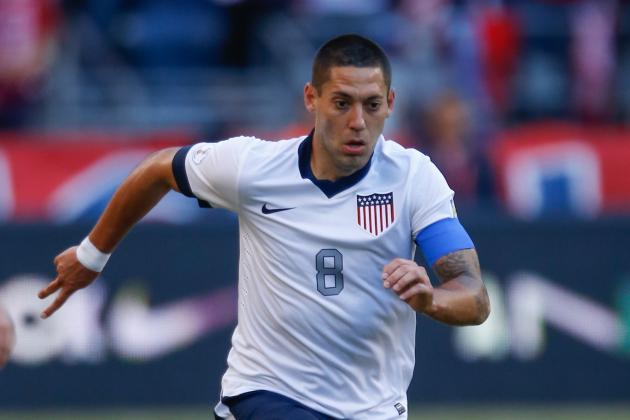 Otto Greule Jr/Getty Images

Clint Dempsey has been a little quiet on the goal-scoring side of things over the past two games, but against Panama, in particular, his combination play was fantastic. With Honduras' three top center-backs and their holding midfielder out due to injury or suspension, Dempsey should have a field day up top.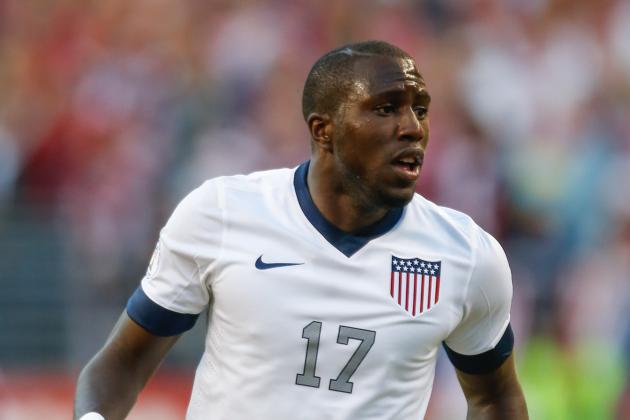 Otto Greule Jr/Getty Images

Jozy Altidore has silenced most of his doubters over the past three games, scoring the opening goal against Germany, Jamaica and Panama. All three goals came off great service into the box, illustrating the argument of many that all Altidore needed to replicate his outstanding club form with the USMNT was some decent midfield play underneath him.
With Honduran center-backs Victor Bernardez, Maynor Figueroa and Osman Chavez all set to miss the match, Altidore could be primed for a huge game.
Follow me on Twitter @JohnDHalloran
Follow me on Facebook www.facebook.com/AmericanTouchline