The United States easily handled Korea Republic to win 4-1 in a friendly on Saturday in Foxborough, Mass.
Some of the talk coming into the match focused on whether or not Abby Wambach would break Mia Hamm's goalscoring record, per ESPN Stats and Info:
Abby Wambach is 3 goals behind Mia Hamm's international record of 158. USA women vs South Korea today (7 ET, ESPN3) #ChasingMia

— ESPN Stats & Info (@ESPNStatsInfo) June 15, 2013
Alas, it wasn't to be, but there were plenty of reasons to celebrate for the United States.
Rachel Buehler was honored before the match. This was her 103rd cap but the first after her 100th to come on American soil. As a result, this was the first chance the U.S. Soccer Federation had to celebrate the defender. The U.S. Women's National Team offered its best to Buehler on Twitter:
Rachel Buehler's 100th cap ceremony is over and we are ready for kick. Congrats to the Buehldozer!

— U.S. Soccer WNT (@ussoccer_wnt) June 15, 2013
The United States wasted no time in exerting its dominance.
In the third minute, Sydney Leroux got free down the right and delivered in a low cross. Jung-Mi Kim was taken out of the play trying to deal with the cross. The ball was knocked into the path of Kristie Mewis, who had an easy finish for the goal. It was an emotional goal for Mewis as she grew up not far from Foxborough in Hanson, Mass.
The Americans didn't rest on their laurels, either.
Just four minutes after the first goal, Lauren Cheney sneaked a low shot into the near post for a 2-0 lead. The goal came from nothing, as the US threw the ball in, Cheney received the ball, turned to her right and fired it in past Kim. It's the kind of goal you shouldn't be giving up, but it counts all the same.
FOX Soccer Trax credited Tobin Heath with the assist to set up Cheney:
7' #USWNT 2-0: Cheney doubles the lead with a tidy near post finish. Heath's clever heel flick set her free from a throw.

— FOX Soccer Trax (@FOXSoccerTrax) June 15, 2013
Despite being outclassed for the majority of the first half, Korea remained unmoved. They didn't back down and snatched a goal back, via So-Hyun Cho. Cho really got a hold of it, smashing it into the left side of the goal.
Korea also managed to press the Americans much better as the first half went on, making this match much more even.
In the 57th minute, Carli Lloyd scored the goal of match. She was dead on with the goal mouth from about 30 yards out. No defenders stepped up, leaving Lloyd all alone to have an effort. She drilled a low shot into the bottom left corner, giving the U.S. a two-goal lead again.
Wambach did manage to get one goal closer to Hamm when the United States was given a gift of a penalty in injury time. Alex Morgan was taken down in the box by Seo-Yeon Shim in the 92nd minute. It wasn't going to be anybody but Wambach to step up and take the kick, which she calmly side-footed into the right side of goal.
The United States walked away deserved winners, as Korea could never offer a consistent challenge. They looked good for parts of the match, but they were completely overwhelmed by the strength and depth of the U.S.
Player Grades
Kristie Mewis: A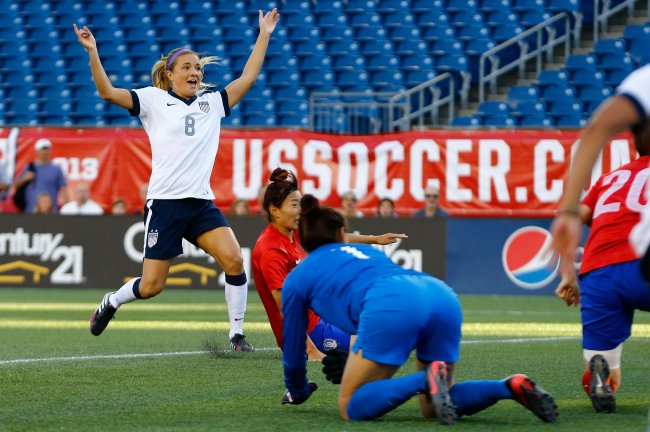 Jared Wickerham/Getty Images
This is largely a symbolic "A." That's not to say that Kristie Mewis was terrible, but she didn't put in a performance for the ages. The goal she scored was a special moment, though.
At only 22 years old, this will not be Mewis' last time suiting up for the U.S. She's got plenty of matches ahead, but few will be able to match scoring a goal in front of friends and family so close to home.
Alex Morgan: C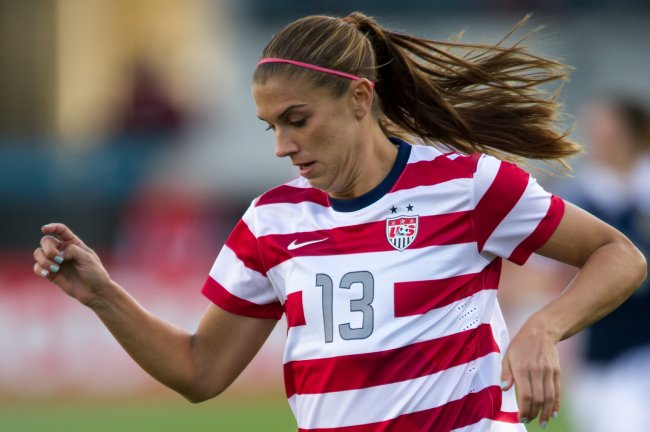 Michael Chang/Getty Images
Alex Morgan is unquestionably the star of the women's national team now. Hope Solo and Abby Wambach are great players, but Morgan can only go up.
Unfortunately, she failed to make much of an impact in this match. You hardly heard her name called, and she did very little in the attack. As the best player on the team, you just expected something more from Morgan. This performance isn't worrisome, just a tad disappointing.
Jung-Mi Kim, Korea Republic: D
Simply put, Jung-Mi Kim should have been better. She made a real mess of the first goal for the United States and probably should have at least gotten a finger to Carli Lloyd's goal. Kim misjudged the ball on both occasions and was slow to react.
The United States is very good. You don't want to give them any help. Unfortunately for Korea, that's exactly what Kim did.
United States Grades
Player
Grade
Nicole

Barnhart

(off '46)

C+

Christie

Rampone



B-

Rachel

Buehler



B

Becky

Sauerbrunn



B
Kristie

Mewis



A

Heather

O'Reilly



B-


Carli

Lloyd (off '67)

B
Lauren Cheney (off '77)

B+

Tobin Heath

B
Sydney

Leroux

(off '46)

B

Alex Morgan

C

Substitutes
Abby

Wambach



B

Hope Solo

B


Yael

Averbuch

C+

Ali

Krieger

C
Morgan Brian

C-
Korea Republic Grades
Player
Grade
Jung-Mi Kim

D


Hye

-Ri Kim (off '79)

C+


Seon

-Joo

Lim



C


Seo

-Yeon Shim

C-
See-Jin Lee

C

So-Hyun

Cho



B-

Na-Rae Kim (off '71)

C

Hee

-Young Park (off '61)

C


Eun

-Ha

Jeon

(off '54)

C
Young-Ah

Yoo

(off '90)

C-

So-Yun

Ji



D+

Substitutes
Sang-Eun Kim

C

Jung-Eun Lee

C+

Min-Ah-Lee

C+


Hah

-Nul-Kwon
C

Ji

-Hye-Kim

C-