Blackhawks vs. Bruins: Period-by-Period Predictions for Game 2 of Stanley Cup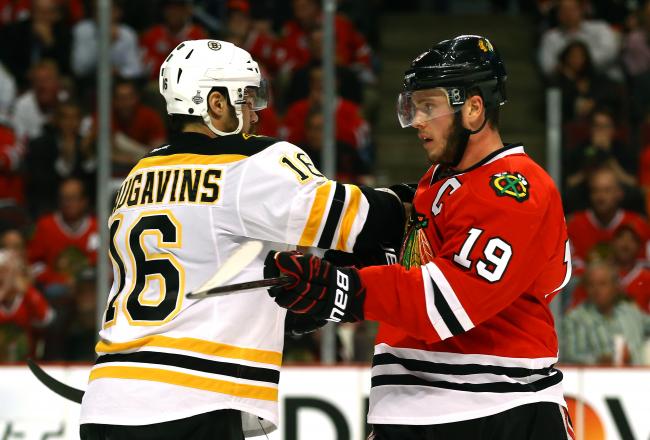 Bruce Bennett/Getty Images
The 2013 Stanley Cup Finals will resume on Saturday, June 15, as the Chicago Blackhawks host the Boston Bruins at the United Center. With the Blackhawks owning a 1-0 lead, both teams will be looking for a momentous victory in Game 2.
The question is, how will it all transpire when the battle of the top two teams in the NHL resumes?
We could touch upon basic predictions and look into what the final score may be, but it's imperative that we spell this game out. In other words, what will transpire during each of the periods to truly define this game.
Here's how Game 2 will transpire.
First Period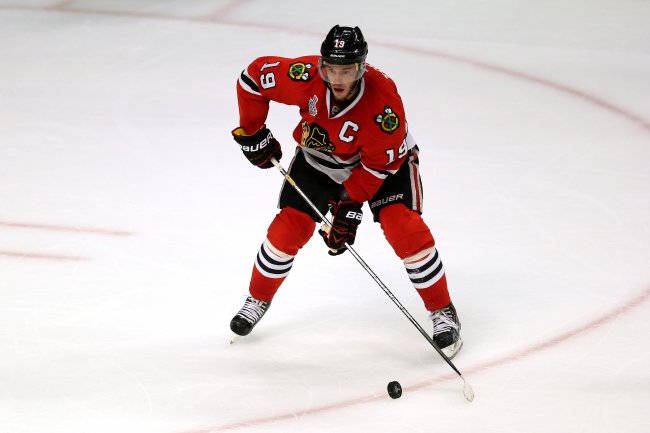 Jonathan Daniel/Getty Images
The Chicago Blackhawks currently have the momentum in this series, having scored three consecutive unanswered goals. They'll continue that success during the first period of Game 2, as they move the puck well and eventually break through for a 1-0 lead.
Blackhawks captain and struggling superstar Jonathan Toews will do the deed.
Toews has just one goal during the 2013 Stanley Cup Playoffs, and that suggests he's in for a big game sometime soon. Tonight will be that night, as Toews takes control early and finds the back of the net.
Boston will get shots on goal, but Corey Crawford has something to prove after a recent string of allowing at least three goals in three of his past four games. For that reason, we can't help but believe that he'll come out strong.
For the first period, at least.
Chicago Blackhawks 1, Boston Bruins 0
Second Period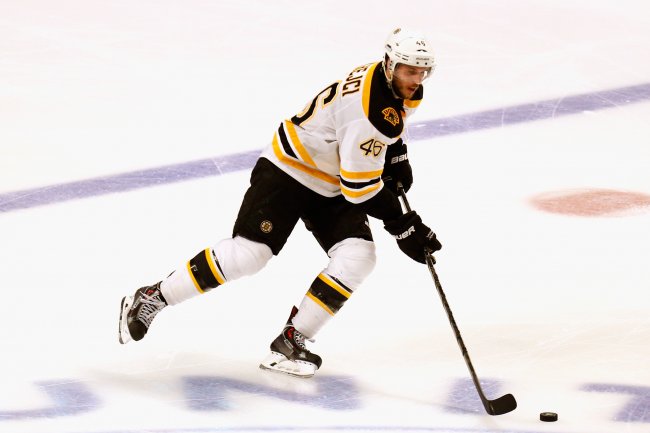 Gregory Shamus/Getty Images
The Blackhawks struck early to take a 1-0 lead and Corey Crawford picked up the slack in the net. With Nathan Horton battling an injury, the Bruins will have trouble breaking through and tying the game at 1-1.
With that being said, what's trouble to a team as opportunistic as the Bruins?
David Krejci has been extraordinary during the postseason, tallying 23 points in 17 games. In fact, the combination of Krejci, Horton and Milan Lucic have combined for 57 points during the playoffs.
Individually, they rank first through third in points amongst all players.
That trio will play a key role in the second period, as Krejci finds the back of the net to even things up. While Chicago will take control of the pace, Tuuka Rask will put up a scoreless period and this will shape up to be yet another classic.
The question is, who can strike gold during the third period?
Chicago Blackhawks 1, Boston Bruins 1
Third Period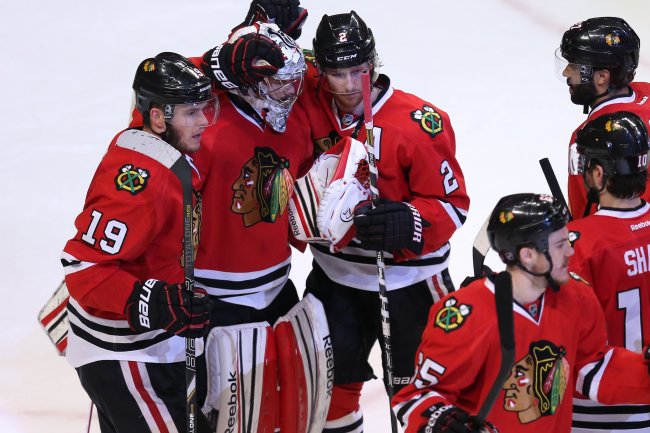 Jonathan Daniel/Getty Images
The pressure will be on the Chicago Blackhawks here, as they hope to avoid a tie as the action shifts back to Boston. After all, the Bruins haven't lost a home game since May 10, when they dropped one to the Toronto Maple Leafs in the first round.
Since then, they've dominated the Pittsburgh Penguins and New York Rangers.
Fortunately for the Blackhawks, they'll avoid that predicament by going up 2-0 when Jonathan Toews continues his rebound performance. Not only will he continue his elite defense, but Toews will add his second goal of the evening.
Thus, we will have a 2-1 game.
The Bruins will come on strong, firing shots off in the waning minutes, but this is Corey Crawford's time to shine. He'll put on a masterful display and lead Chicago's defense to a huge home victory.
Just like that, it's 2-0 Blackhawks.
Chicago Blackhawks 2, Boston Bruins 1
This article is
What is the duplicate article?
Why is this article offensive?
Where is this article plagiarized from?
Why is this article poorly edited?