Power Ranking the Wisconsin 2013 Schedule from Easiest to Toughest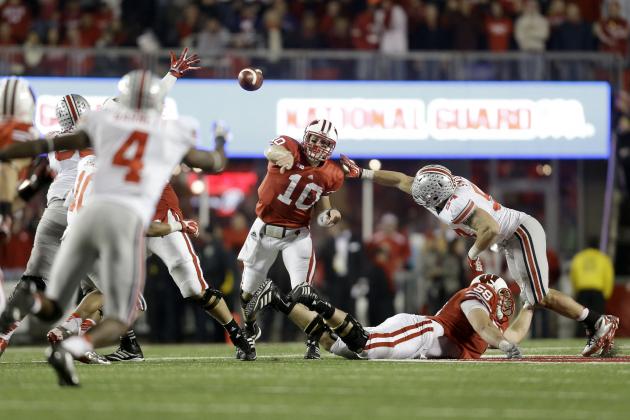 Mike McGinnis/Getty Images

You may notice the absence of some top teams from the Big Ten conference on the Wisconsin Badgers' schedule in 2013.
Sometimes, that's just how the chips fall. Wisconsin has the luxury of missing Michigan State, Michigan and Nebraska next season.
But with a "weak" conference slate comes a slightly tougher non-conference schedule. The Badgers will be challenged both at home and away from Madison by unfamiliar foes. And who knows? With a near-complete overhaul of the coaching staff, that could prove to be the biggest roadblock to glory for the Badgers.
There are several games Wisconsin will be expected to win with one arm tied behind its back, but the teams near the end of this list are most likely to knock off Bucky.
Begin Slideshow

»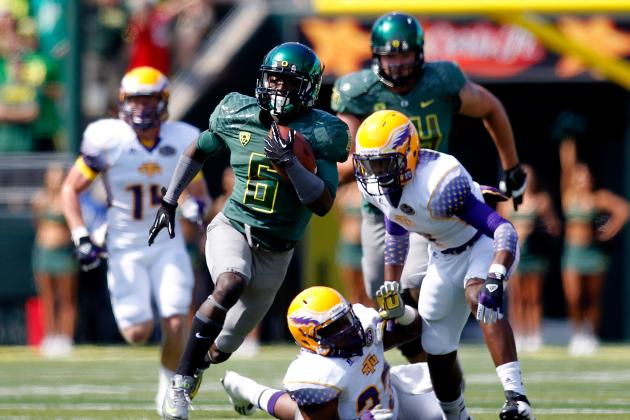 Jonathan Ferrey/Getty Images

Poor Tennessee Tech accepted a large sum of money in exchange for a 63-14 beating from the mighty Oregon Ducks last season. On September 7, the Golden Eagles will make the trek to Madison for a repeat performance.
Tennessee Tech plays in the FCS, but it's not as if it is one of the better teams at that level—the Golden Eagles went 3-8 last season and finished tied for last in the Ohio Valley Conference.
By a landslide, this should prove to be Wisconsin's biggest cakewalk next season.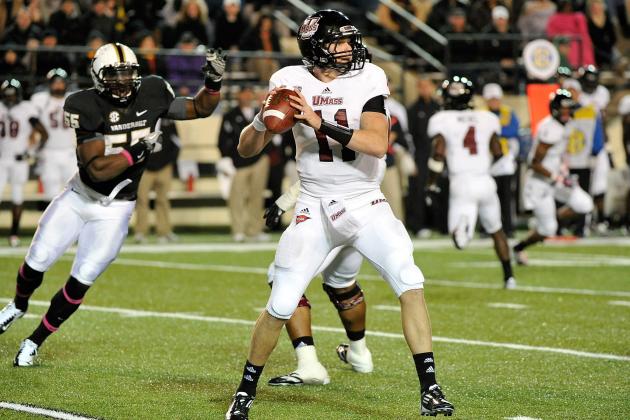 Frederick Breedon/Getty Images

At one time not so long ago, Massachusetts was an FCS team just like Tennessee Tech. That's who the Badgers will kick off their season against on August 31, a team that only managed to win one game overall last season—against Akron.
The Minutemen have a lot of work to do if they want to challenge for the MAC title, let alone become bowl-eligible. The 2013 season will greet them rudely.
UMass will be Wisconsin's second-easiest game, no matter who winds up starting under center Week 1 for the Badgers.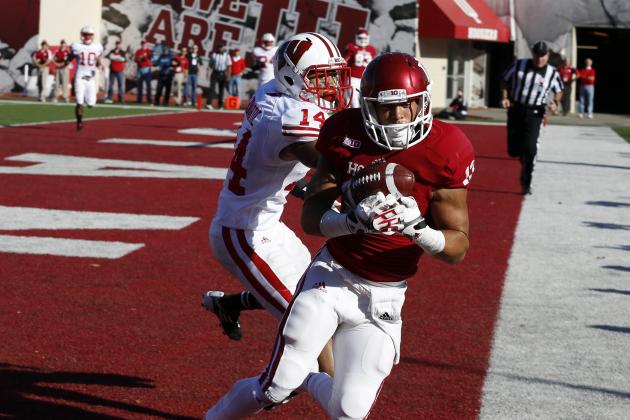 Brian Spurlock-USA TODAY Sports

Remember when the Badgers essentially faced a must-win situation when they traveled to Indiana to take on the Hoosiers last season? The winner had a much easier path to representing the Leaders Division in the B1G championship because of both Ohio State and Penn State's ineligibility.
Well, that game didn't go too well for Indiana—it lost by 48 points. It also happened to be the first game Curt Phillips ever started for the Badgers.
Now, the Hoosiers have to turn around and travel to Wisconsin next season, so the result probably isn't going to be any prettier. Like last year, this matchup will take place late in the season on November 16.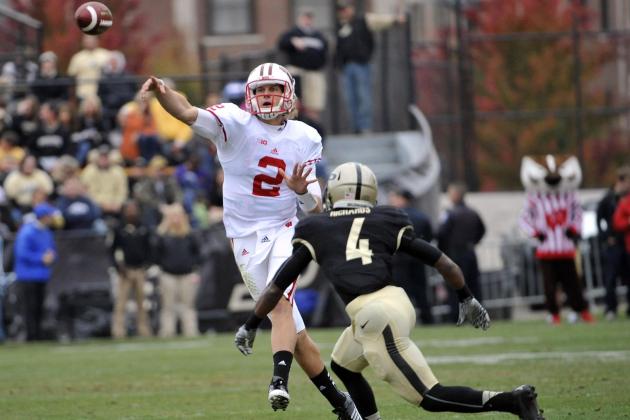 Sandra Dukes-USA TODAY Sports

Speaking of intriguing games that shouldn't have been that intriguing, the Badgers were in a similar situation to the Indiana game earlier in the 2012 season when they traveled to West Lafayette to take on Purdue.
The result was similar—Wisconsin took control early and defeated the Boilermakers 38-14.
As it turned out, the win wound up being perhaps the Badgers' most important victory during the regular season; Purdue only finished a game behind Wisconsin in the conference standings.
It was easy enough to do at Purdue, but next season's matchup will be in Madison, so consider it to be another walk in the park for head coach Gary Andersen and his squad.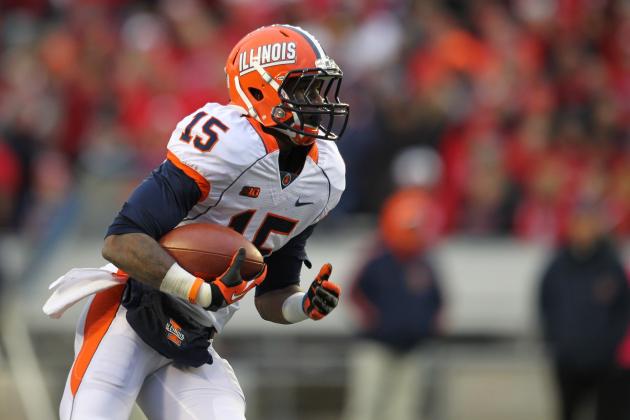 Brace Hemmelgarn-USA TODAY Sports

This game is the first road contest to make an appearance on the schedule rankings. Illinois failed to win a single game during conference play, although it did give Wisconsin a bit of a fight last season. The Badgers pulled away late and defeated the Fighting Illini 31-14.
How a team like Illinois shows up at No. 8 on this countdown comes down to one factor—the game takes place in Champaign.
Considering its proximity to Madison, the Badgers should still have a nice contingency on hand for what should be a pretty easy victory for Wisconsin. But road games are never a guarantee in college football, so we can't chalk up a win for the Badgers by any means.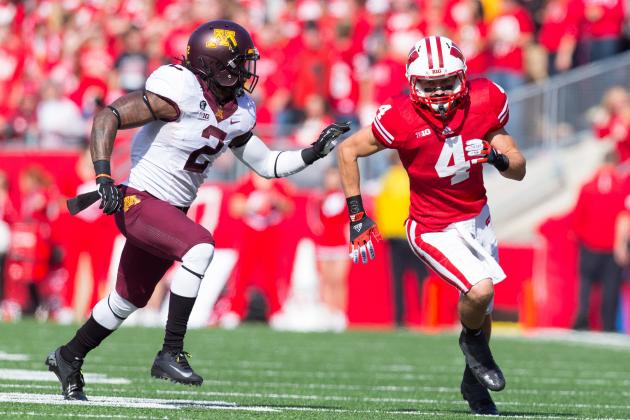 Jeff Hanisch-USA TODAY Sports

Seriously? A game against Minnesota, a team that hasn't possessed Paul Bunyan's ax since 2003, is the sixth-easiest game on the slate for the Badgers next season?
Minnesota actually reached a bowl game last season and nearly brought home a win against Texas Tech. But whether the game takes place at home or on the road against the Badgers, it doesn't tend to make a difference—Wisconsin takes care of business.
The Golden Gophers lost their best player from a season ago in MarQueis Gray, so that won't help. What may help a little is that the game will take place at TCF Bank Stadium, but Wisconsin beat Minnesota by 25 last season, and that was with Gray on the Golden Gophers' roster.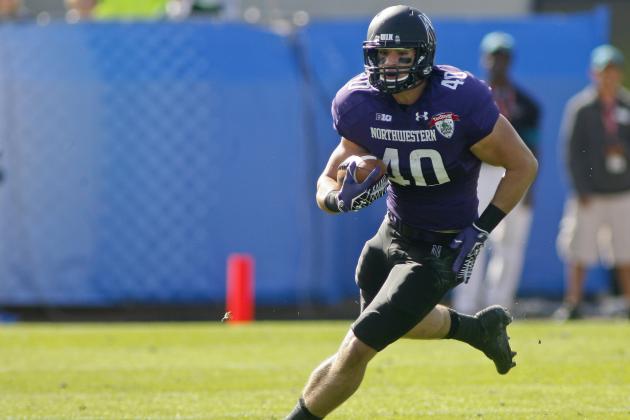 Phil Sears-USA TODAY Sports

We return to the raucous grounds of Camp Randall Stadium for the No. 6 game on the easiest-to-toughest countdown. This time, it will be a much-improved Northwestern team challenging the Badgers for the first time in three years on October 12.
The last time the Badgers played the Wildcats, Wisconsin racked up 70 points—it could have been worse—en route to its first Rose Bowl appearance in what would become a string of back-to-back-to-back appearances in Pasadena.
Since then, Northwestern has stepped its game up and managed to crack double digits in victories last season.
This is all well and good, and the Wildcats could very well give the Badgers fits on this go-round, but Northwestern doesn't have much luck playing in Madison. For Wisconsin to lose to Northwestern would be a huge disappointment.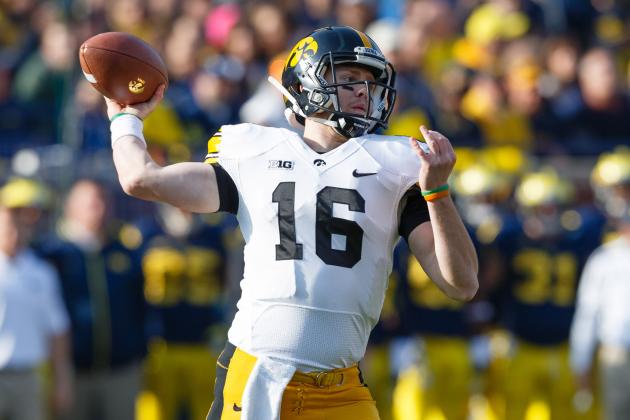 Rick Osentoski-USA TODAY Sports

Kinnick Stadium is a tough place to play regardless of how good the Hawkeyes are, but they haven't been getting it done in recent years. While it kept many games close thanks to its defense, Iowa finished with a 4-8 (2-6) record last season.
Like Northwestern, the Hawkeyes haven't played the Badgers for three years. This will be a second consecutive road game for Wisconsin on November 2, and the fact that it's a rivalry game ought to make this one closer than many expect.
It has trap game written all over it.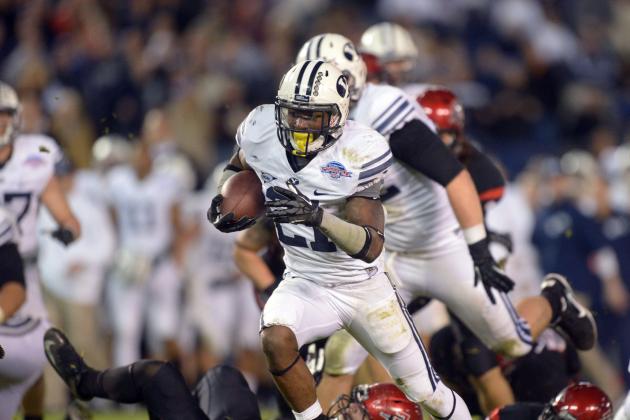 USA TODAY Sports

Wisconsin and BYU aren't two teams who normally go head-to-head, but Coach Andersen is plenty familiar with the Cougars from his time with Utah State.
Andersen was unable to get the best of BYU last year, one of two games the Aggies dropped last season during one of the best campaigns in school history. The other loss, of course, came against Wisconsin.
Having Andersen on board figures to give the Badgers a better chance of knocking off BYU because of how familiar he is with the Cougars, who went 8-5 last season despite having one of the top defenses in the FBS.
The Badgers had their trouble moving the football against some top-tier defenses last season, so BYU will prove to be a tough challenge—and a bit of a mystery—for Wisconsin despite the game taking place at home. It also comes at a strange time of the season—on November 9 to accommodate the Cougars, who are independent.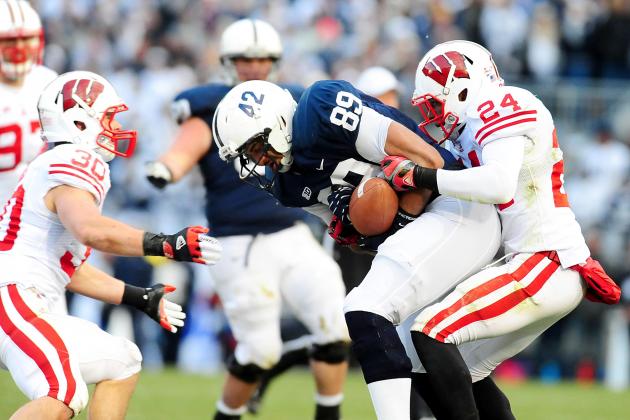 Evan Habeeb-USA TODAY Sports

Another difficult opponent late in the countdown is another team with a challenging defense, but like the BYU game, the Badgers don't have to travel away from Madison.
Penn State was expected to be a complete mess last season with a new head coach in Bill O'Brien and the harsh sanctions handed down by the NCAA. The Nittany Lions lost several scholarships and were given a four-year postseason ban, and it's possible we see that lack of scholarships take its toll on Penn State in the coming years.
Wisconsin certainly wouldn't mind if that started to happen in 2013.
Just like last year, the Badgers close out the regular season against Penn State. They're hoping this time turns out differently, as Wisconsin fell in Happy Valley last November in overtime, its third OT defeat of the season.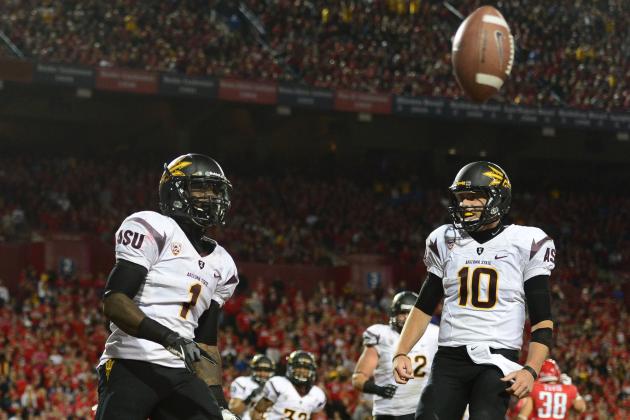 Mark J. Rebilas-USA TODAY Sports

For the second straight season, Wisconsin will head west to face a Pac-12 school, and the task doesn't figure to be any easier than last season when it unexpectedly ran into an eventual top-10 team in Oregon State.
This time, Danny O'Brien won't be starting at quarterback, but a Week 3 night game at Sun Devil Stadium just sounds like a daunting task for the Badgers. Arizona State only finished 8-5 last season, but then again, that's slightly better than Wisconsin's final record from a season ago.
The Sun Devils struggled with most of the top competition on the schedule last year, but they have one of the more underrated quarterbacks in the nation in Taylor Kelly. This could figure to be a shootout with the high-octane Sun Devils, so we'll see if Wisconsin can manage to keep pace and outduel Arizona State on September 14.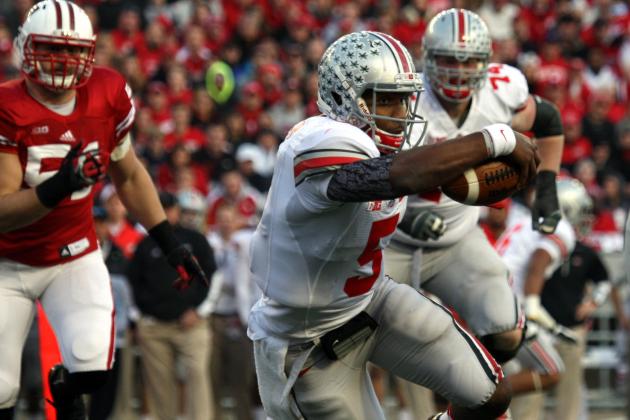 Mary Langenfeld-USA TODAY Sports

This is about as obvious as it gets.
A Heisman Trophy candidate in quarterback Braxton Miller. A head coach in Urban Meyer. A top-five recruiting class thanks to Meyer and his staff.
Oh, and Ohio State also happens to be coming off an undefeated season.
The Badgers have found a way to lose in heartbreaking fashion in back-to-back years against the Buckeyes. This year, they will be lucky to stay in the game, which takes place at The Horseshoe in Columbus.
Because this game takes place on September 28, Wisconsin could very well have two losses in the first month of the season. But from there on, it should get much easier for the Badgers.
Still, there's no question about it—Ohio State is the toughest game on the schedule for Wisconsin next season.