Chicago Cubs/White Sox Baseball: Can Combining Rosters Produce a Playoff Team?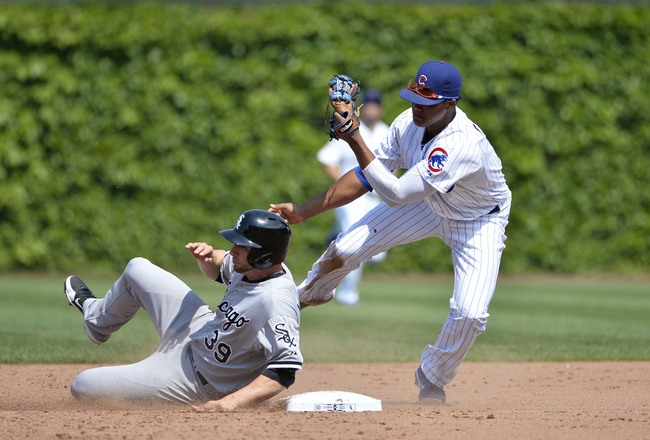 The Cubs and White Sox each have had their struggles in 2013
Brian Kersey/Getty Images
Newsworthy Chicago baseball headlines happen about as often these days as Starlin Castro draws a walk—few, and painfully far between.
It doesn't take Jonah Hill posing as a sabermetric baseball guru in a Hollywood film to point out the obvious: The Chicago White Sox and the Chicago Cubs are very, very bad.
So bad, in fact, the Cubs and Sox are currently on pace to win 138 games...combined. That's their lowest total since 1980, when the two squads combined for 134 victories.
And sure, we can talk about Golden Spikes finalist Kris Bryant's estimated major league arrival time until we're blue in the face. Or we can talk about the jaw-dropping display put on by Cubs infield prospect Javier Baez last week, where he belted not one, not two, not three (I hope you're reading this, LeBron), but four home runs in one game.
Awfully impressive.
But the city of Chicago needs to be gratified, and it needs to be gratified now. After all, Kenny Williams ran a baseball organization on this philosophy for years and look where it got him! (maybe not the best example.)
Anyway, the futility of both teams in the 2013 campaign raises an interesting thought: Even if you combined the two teams, would they still not make the playoffs?
Luckily for you, I have set out to answer this difficult and seemingly condescending question. However, all jokes aside: Combining the best of two Major League Baseball rosters should, in almost all cases, field a team that would at least be top five in the league as currently constructed.
It's like playing in a 15-team fantasy league where the rest of the leagues owners are competing against 29 others: should be a walk in the park.
Unfortunately, the terms "walk," "Cubs" and "White Sox" are rarely synonymous with each other, as it relates to either team's offense, which makes putting together a team of Chicago All-Stars no simple task.
*All stats in this slideshow are taken from Baseball-Reference.com. For the sake of this article, this is simply taking this season into account and whether these two teams combined would make the playoffs, thus making age and future beyond this season irrelevant.
Catcher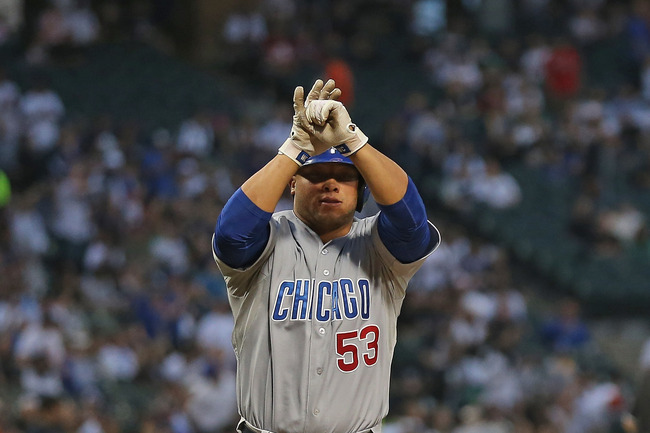 Cubs catcher Wellington Castillo
Jonathan Daniel/Getty Images
The Candidates
C Wellington Castillo (Cubs)
C Tyler Flowers (White Sox)
The Choice
Wellington Castillo (.256/.306/.333), 1.2 Wins Above Replacement (WAR)
Arguably the best catcher in either organization currently plays for the Charlotte Knights, as White Sox Triple-A catcher Josh Phegley is currently slugging .605 in the International League.
Tyler Flowers is good for the occasional big fly, and truth be told, isn't good for much else. His defensive deficiencies along with getting on base just over 27 percent of his plate appearances may spell the end of his starting tenure in Chicago very soon.
Wellington Castillo is the choice here due to his defensive edge over Flowers, and, well, that's about all there is to say at this point. Perhaps, this super-Chicago team can explore their options for a backstop in the trade market.
The Verdict: BAD major league quality
First Base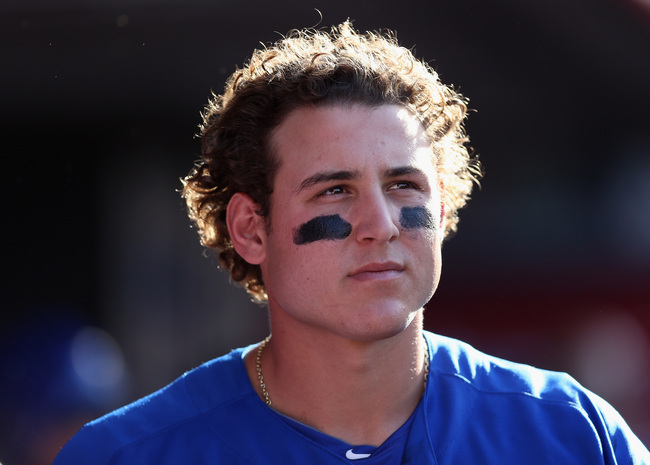 Jeff Gross/Getty Images
The Candidates
1B/DH Adam Dunn (White Sox)
1B Paul Konerko ( White Sox)
1B Anthony Rizzo (Cubs)
The Choice
Anthony Rizzo (.251/.331./.462), 1.3 WAR
Going into the season, first base seemed to be a position that Cubs manager Dale Sveum and Sox manager Robin Ventura knew what they would be getting: horses in the middle of their lineup.
Suffice it to say, things haven't exactly turned out as they expected—especially on the South Side.
We knew "ol' Paulie," Paul Konerko, had to decline at some point, but the rate of his demise has been far too rapid for many Sox fans' liking this season. Konerko has posted an abysmal .664 OPS in 2013, his lowest ever in a White Sox uniform. Adam Dunn hasn't been much better, looking more like his 2011 self than his renaissance in 2012.
And while "#RizzOnMe" is probably the most childish, yet also, one of the most genius Twitter hashtags ever created, Anthony Rizzo had his share of ups and downs this season.
It would be unfair to say the 23-year-old slugger has been a disappointment, but there is also reasonable optimism that he will continue to improve as the season progresses. His batting on average on balls put in play is about 15 points below the league average, according to Fan Graphs.
The Verdict: AVERAGE major league quality
Second Base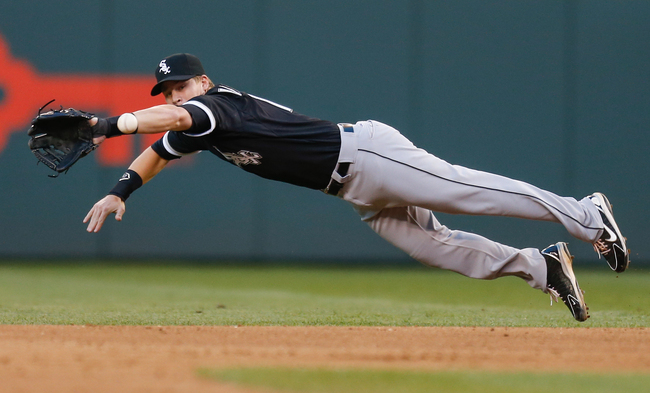 Otto Greule Jr/Getty Images
The Candidates:
2B Darwin Barney (Cubs)
2B Gordon Beckham (White Sox)
IF Jeff Keppinger (White Sox)
The Choice: Gordon Beckham (.309/.361/.345), 55 at-bats
Three positions dissected, two positions selected essentially by default…need I say more?
Beckham only has 61 plate appearances this season after recently returning from injury, but he does look to have made strides at the plate.
His new Jeff Bagwell-esque stance has appeared to have made him shorter to the ball, as he once carried a hitch in his swing that often would prevent him from catching up to quality major league fastballs. He's always been phenomenal defensively, this year being no different.
Darwin Barney has been, well...I'm not here to depress anyone. Let's just move on to shortstop.
The Verdict: AVERAGE major league quality
Shortstop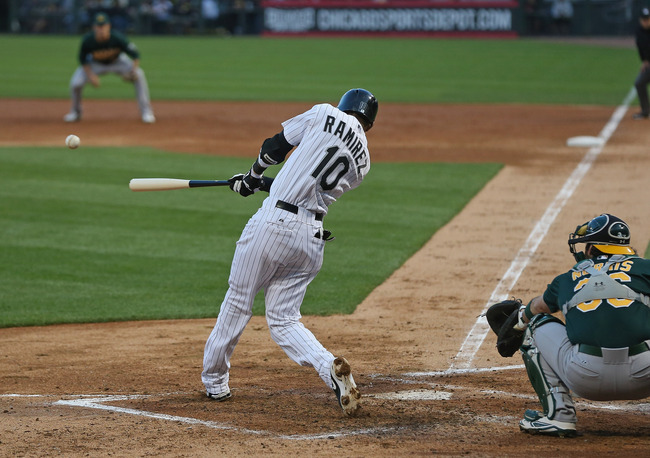 Jonathan Daniel/Getty Images
The Candidates
SS Starlin Castro (Cubs)
SS Alexei Ramirez (White Sox)
The Choice
Alexei Ramirez (.265/.298/.325), 0.8 WAR
Watching the demise of Starlin Castro really has been sad.
Once one of the most electrifying young players in the game, Castro's recent struggles have been well-documented. His walk rate has been the lowest it's ever been in his career, his strikeout rate is the highest it's ever been, and Cubs brass has to be wondering if they made a huge mistake by locking Castro up to an eight-year deal in 2012.
"We're building a young core, and Starlin's right in the middle of that," Cubs GM Jed Hoyer said last August, according to ESPNChicago.
...Or perhaps not.
With the previously mentioned Baez and other hot prospects on the way for the Cubs, a major storyline in the near future will be whether or not Castro can turn his game around, and if not, what they could possibly fathom to do with him.
Alexei Ramirez, meanwhile, has declined in his own right each of the last four years, as his OPS has slipped considerably in each of them. That's fairly alarming for a player who has only been in the league for six years.
But to his credit, he's still been one of the most productive shortstops in the American League the last few years. However, in the post-steroids era where power-hitting shortstops are not exactly a dime a dozen, it would be refreshing to see Ramirez gain, say, his 2008 form once again.
The Verdict: BELOW-AVERAGE major league quality
Third Base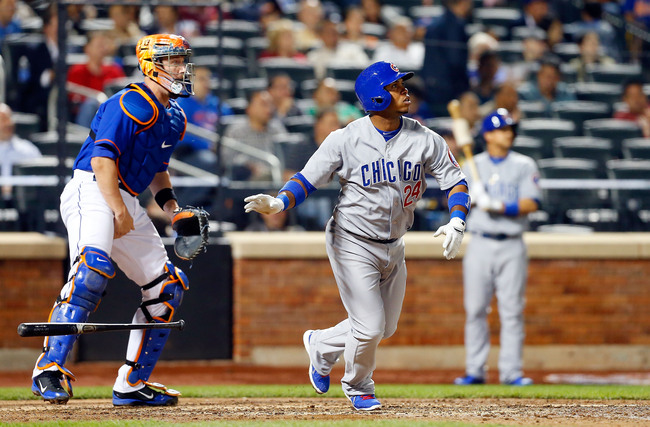 Jim McIsaac/Getty Images
The Candidates
3B Conor Gillaspie (White Sox)
IF Jeff Keppinger (White Sox)
3B Cody Ransom (Cubs)
3B Luis Valbuena (Cubs)
*Ian Stewart's Twitter Account*
The Choice
Luis Valbuena (.238/.354/.414)
Just when I decide to make an impulse purchase of a Conor Gillaspie jersey, the once-promising-looking youngster decides to go "0" for the month of June until a recent homer against the Toronto Blue Jays. Go figure.
Which makes Luis Valbuena the choice here. Ian Stewart can whine on Twitter all he wants, but Valbuena has been a steady force at the hot corner for the Cubs this season. He leads the Cubs' every-day players with a solid .354 on-base-percentage, a skill that appears to be non-existent with the majority of Chicago's hitters.
The Verdict: AVERAGE major league quality
Left Field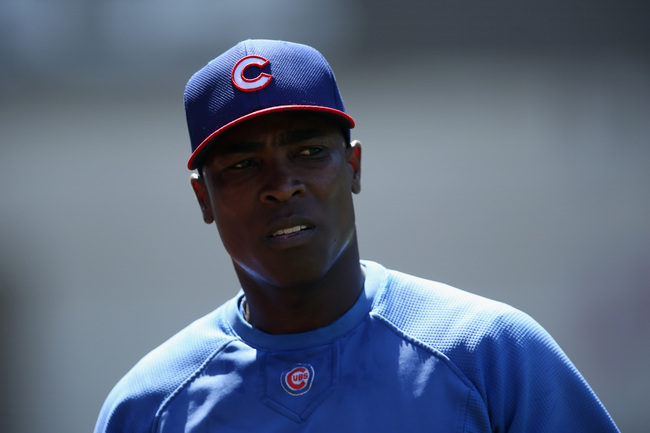 Jeff Gross/Getty Images
The Candidates
LF Alfonso Soriano (Cubs)
LF Dayan Viciedo (White Sox)
The Choice
Alfonso Soriano (.263/.296./.415), 0.6 WAR
After having his best season in recent memory in 2012, Alfonso Soriano is starting to show his age in 2013.
The 37-year-old is posting an OPS just over .700, and he doesn't exactly make up for it with his routes to balls in left-field that would make Magellan cry from the heavens. Oh well, it's not like he's making $18 million per season or anything….and by that I mean, he's making $18 million this season.
For the Sox, after returning from the DL, Dayan Viciedo hasn't exactly progressed as Sox brass planned. "The Tank" may employ the lyrical beats of Ace Hood in his walk-up song, "I Woke Up in a New Bugatti," which is a shrewd move in itself.
Still, much more should be expected out of the guy who was pegged to be the centerpiece of the Sox lineup for years to come.
Right now? That guy gets on base about 26 percent of the time while displaying little to no power.
The Verdict: BELOW-AVERAGE major league quality
Centerfield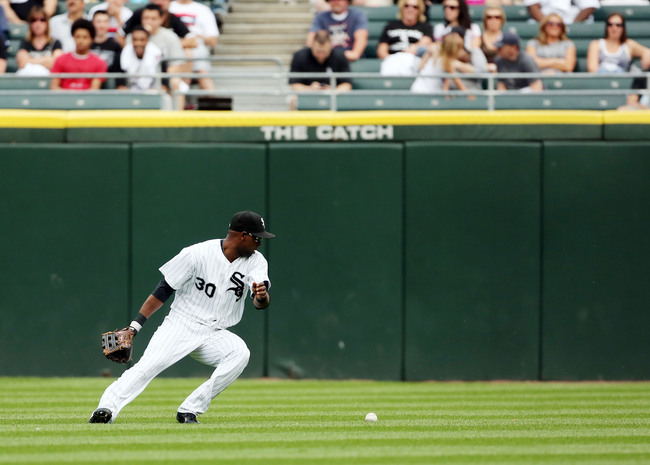 Tasos Katopodis/Getty Images
The Candidates
CF Alejandro De Aza (White Sox)
CF David DeJesus (Cubs)
OF Julio Borbon (Cubs)
The Choice
Alejandro De Aza (.270/.318/.411), -.06 WAR
David DeJesus was recently placed on the disabled list with a right shoulder strain, according to the Associated Press (via Yahoo! Sports), essentially giving the nod to Alejandro De Aza by default.
After a disappointing start to 2013, De Aza has started to come on as of late with the bat. The Sox leadoff man is hitting .370 with a .423 on-base-percentage in the month of June, but what's alarming is his defense.
In a position that is routinely the "anchor" of the outfield, De Aza is a full win BELOW a replacement Triple-A player as far as his defense goes. This explains his negative overall WAR number that appears to look fishy based upon his acceptable offensive numbers.
It speaks volumes when your manager moves you from center to left field in late-game situations. Still, hopefully, his offense continues to progress in order to make up for his defensive mishaps.
The Verdict: AVERAGE major league quality.
Right Field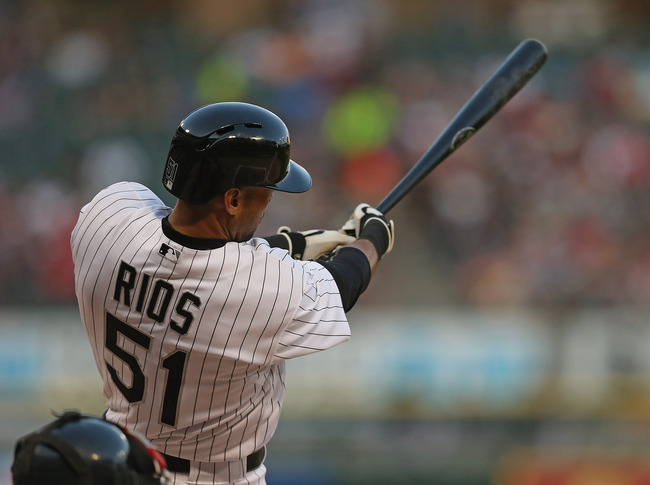 Jonathan Daniel/Getty Images
The Candidates
RF Alex Rios (White Sox)
RF Nate Schierholtz (Cubs)
The Choice
Alex Rios (.288/.343/.484), 2 WAR
I swear, I'm not this negative on purpose. These teams just don't give me any choice.
It gives me great pleasure to write about Alex Rios.
Now, granted, he shouldn't be the best offensive player in the entire city, but as you can probably predict by reading about the last seven positions, Rios is just that.
Posting an .827 OPS which has actually been much higher than that for the majority of the year, Rios has held up his end of the bargain and could be a very hot trade commodity if the Sox are open to dealing him come deadline time. At the very least, he'll get some serious All-Star Game consideration.
Nate Schierholtz has been no slouch either, but likely isn't a part of the Cubs' future plans along with Ryan Sweeney.
The Verdict: GOOD major league quality
Starting Pitching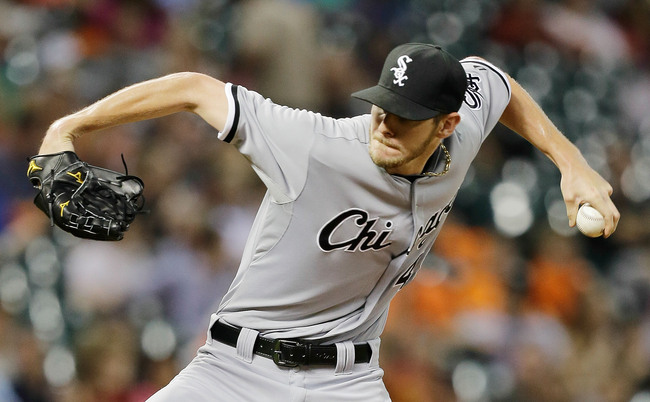 Bob Levey/Getty Images
The Top 5
SP Chris Sale, White Sox (85.1 IP, 2.43 ERA, 0.90 WHIP, 9.3 K/9)
SP Jeff Smardzija, Cubs (91 IP, 3.46 ERA, 1.21 WHIP, 10.9 K/9)
SP Travis Wood, Cubs (85 IP, 2.65 ERA, 1.0 WHIP, 6.4 K/9)
SP Scott Feldman, Cubs (72.2 IP, 3.22 ERA, 1.17 WHIP, 6.7 K/9)
*SP John Danks, White Sox
Honorable Mention: *Matt Garza (Cubs), Jose Quintana (White Sox), Edwin Jackson (Cubs), Jake Peavy (Injured, White Sox), Dylan Axelrod (White Sox)
*Just returned from injury
It's important to give credit where credit is due. Both sides of town have experienced their share of bright spots in their respective rotations in 2013.
Chris Sale is a bona fide ace, and Sox fans need to pray to whomever it is that they pray to that he has a long, injury-free career. The guy is a stud; there's no two ways about it.
While probably not an ace in his own right, Jeff Smardzija may have looked like one (not like it's too hard) when he fired a two-hit shutout at the listless White Sox lineup in the first game of the Crosstown Cup.
After getting roughed up a bit in his last two outings, the former Golden Domer still sports a 3.46 ERA with a very impressive 10.9 strikeouts per nine innings.
Scott Feldman and Travis Wood have proven to be key finds by Hoyer and president Theo Epstein. While more than likely not in the Cubs' future plans, they could net some quality prospects if they continue to be effective.
John Danks and Matt Garza both recently returned from injury and are still trying to find their velocity and command while hitters are already in mid-season form.
The Verdict: VERY GOOD Major League Quality
Bullpen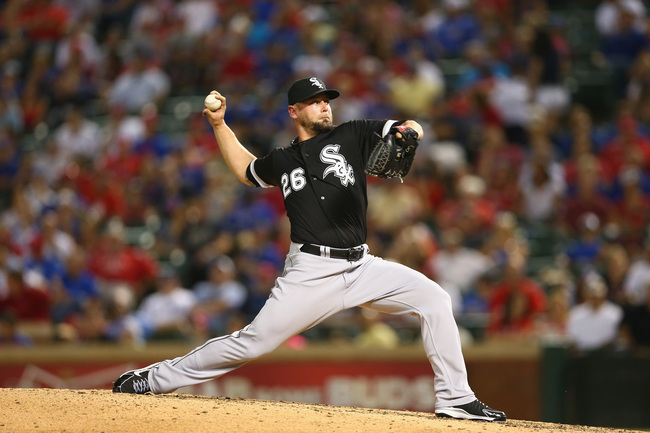 Ronald Martinez/Getty Images
Closer: Addison Reed
Setup: Jesse Crain
Setup: James Russell
Middle Relief: Matt Thornton
Middle Relief: Matt Lindstrom
Middle Relief: Kevin Gregg
Long Relief: Hector Santiago
It's tough to speculate how the combined pens would be made up, but this serves as a template. Jesse Crain could easily be an All-Star this year, putting together one of those patented White Sox hurler scoreless-innings streaks made famous by the likes of Mark Buehrle and Bobby Jenks.
Addison Reed, while experiencing some recent struggles, is still reliable at the end of the Sox pen. On the North Side, Kevin Gregg has been a godsend, mostly due to the fact that Cubs fans don't have to shield their eyes when they dread Carlos Marmol being trotted out there to close a game.
James Russell has been nothing to scoff at for the Cubs, either, but that's about where the positives end in their bullpen.
The Verdict: GOOD major league quality
Overall Outlook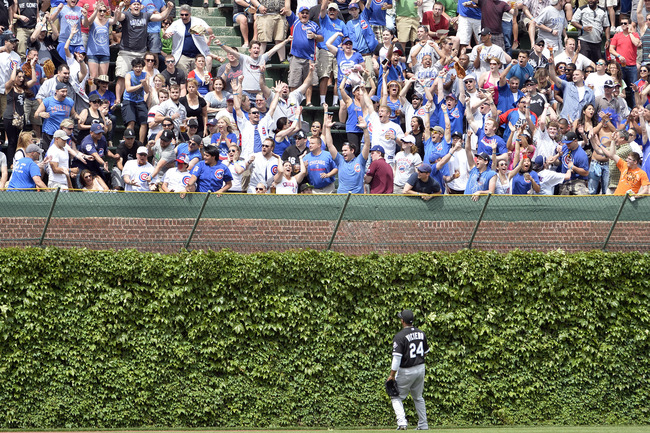 Brian Kersey/Getty Images
In a city that takes its baseball very seriously, it's a shame that it has to come down to this. After crunching the numbers, examining the trends, and looking at the personnel…things are looking better, but still not great for the "Chicago White Cubs."
Unfortunately for both teams, the Blackhawks won't be playing all summer. Bears training camp is still a few months away, and the Cubs and Sox will be in the limelight very soon.
At this point, positive signs from important players would salvage the season in some fashion for executives of these teams and fans alike.
Overall Ratings:
The Offense: below average
Starting Pitching: very good
Relief Pitching: good
Final Prediction: 85-77—three games back of a wild-card berth
Keep Reading

Chicago Cubs: Like this team?