UFC 161: 5 Things You Need to Know About Rosi Sexton and Alexis Davis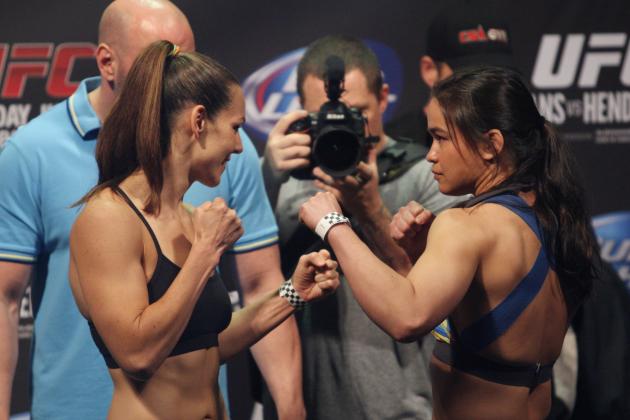 Bruce Fedyck-USA TODAY Sports

UFC 161 will feature a women's bantamweight bout on the main card. No. 6-ranked Alexis Davis takes on Rosi Sexton in the second bout of the pay-per-view telecast.
Women's MMA has picked up steam over the past 18 months, but a lot of the talent is still largely an unknown commodity to fans. Once these top-level fighters have bouts under the bright lights of the UFC, that will all change.
With the division being new, all fights are of extreme importance. One impressive victory could move any of the women into the discussion of being the next title contender.
Here are five things you need to know heading into UFC 161.
Begin Slideshow

»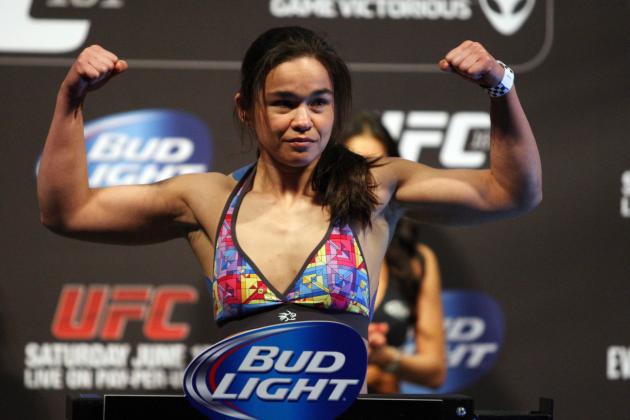 Bruce Fedyck-USA TODAY Sports

Rosi Sexton is a veteran of the sport, and she has just about seen and done it all. This won't be her first trip up in weight, but she is a natural flyweight.
At one point Sexton was the top-ranked 125-pound fighter in the world at MMARising.com, and even now she maintains a top-15 spot in their pound-for-pound rankings.
As the smaller fighter, she enters with a significant disadvantage. That does not mean she can't win, but going up against Davis is a tall order. Overcoming the size difference is nothing to brush aside.
Sexton is highly intelligent and well-rounded. She will try to find ways to win this fight, but let's not go into the fight under false pretenses. Sexton is a natural flyweight fighting above her weight class. That will be an issue.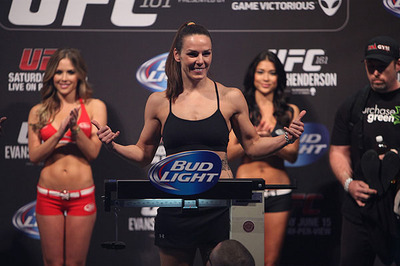 Photo Credit: TJ De Santis/Sherdog.com
Alexis Davis is currently ranked No. 6 in the official UFC rankings as previously mentioned, but she is much better than that ranking.
Davis is also No. 6 in MMARising's women's rankings. Their pound-for-pound rankings. Davis is No. 4 in the divisional standings. The rankings that MMARising puts out are typically utilized by most promotions as the standard for women's rankings.
The problem with the official UFC rankings right now is that most of the voters are still not versed in women's MMA. That will change over time, but right now it isn't the most accurate ranking out there.
Liz Carmouche, Sara McMann and Miesha Tate all rank above Davis. They are very good fighters, but over the past year Davis has superseded them all. Carmouche is 2-3 in her last five fights, and Tate is 2-2. While McMann remains undefeated, Davis has looked more impressive against some of the same talent.
When the UFC flashes their ranking of Davis on the screen you should just disregard it. Davis is one of the very best bantamweights in the world today. Being No. 6 is great, just not for Davis.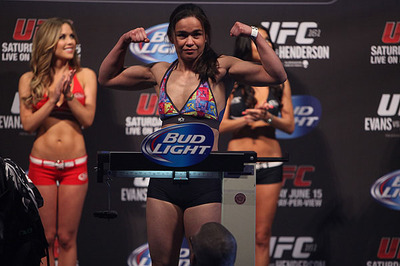 Photo Credit: TJ De Santis/Sherdog.com
Judging by the previous two slides you may believe I am giving Sexton no shot to win this bout. That is certainly not the case.
Sexton has big power in her punches, and without having to cut weight she will be at full strength.
She has more submissions to her credit than TKO/KO victories, but don't let that fool you. She can alter a fight with one punch just like anyone else. That is the type of power she brings into the cage with her. Sexton can upset Davis if she connects cleanly.
If Davis is not mindful of this, she will get tagged.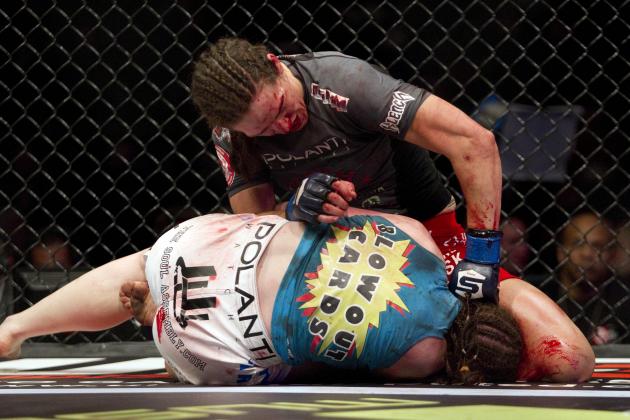 Greg Bartram-USA TODAY Sports

Davis is one of the hottest fighters at 135 pounds right now. She is 5-1 in her last six outings.
Her lone loss is to Sarah Kaufman. In that fight, which took place in March of 2012, she lost the first two rounds but came back to nearly defeat her in the third. It was the fight of the night in Columbus, and Davis never gave up.
Since then she is 2-0. Davis has taken on two submission specialists in Hitomi Akano and Shayna Baszler under the Invicta FC banner. She submitted both. Akano tapped, and Baszler had a little shut eye in the cage.
Davis continues to improve her striking, but her ground game is what she is known for. She can put anyone to sleep on the canvas, and she'll be looking to do the same to Sexton.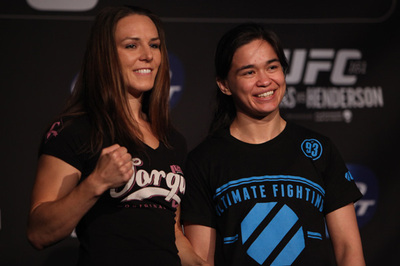 Photo Credit: TJ De Santis/Sherdog.com
The women will deliver once more.
Sexton will not be afraid of the size difference, and Davis will stand and trade with Sexton. The first round will be fireworks. Count on it.
There are several fun matchups on the card at UFC 161, and no one truly knows what will happen. The one thing you can bank on with Davis and Sexton is that it won't be dull. It's not in their blood. They will make this fight exciting.
This will be the Fight of the Night, and each lady will be award some bonus money from UFC President Dana White.