Ideal Landing Spots for the Top 10 Prospects in the 2013 NHL Draft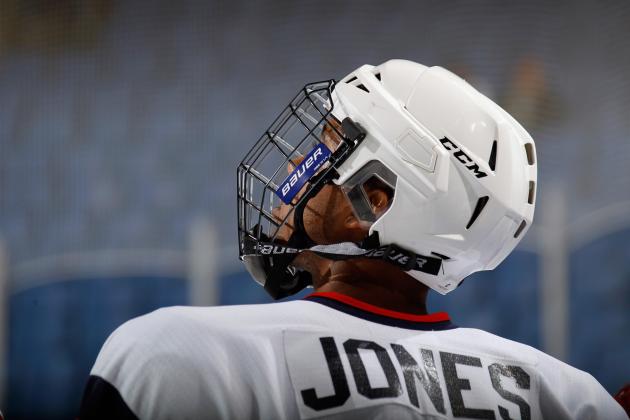 Bruce Bennett/Getty Images
You can't blame projected No. 1 pick Seth Jones from looking above and beyond to get his NHL career started.
No matter what the sport, trying to guess where the top available prospects will land in the upcoming draft is an inexact science at best.
You can have the top experts, all with the latest information about a player's ability, talent, health, strengths and weaknesses, and invariably some teams will go in a completely unexpected direction and choose someone else.
While we still think Bleacher Report's Franklin Steele for the most part has it right in how he projects this year's NHL draft will play out, what is the fine art of debate without a differing viewpoint at times, right?
Let's see how Steele's and my expected locales for where the top 10 draft prospects will land on June 30 are or are not in agreement:
Begin Slideshow

»
There's nothing like starting off a list of top prospects with a huge surprise, and that's what we see in Max Domi. While others, including BR's Steele, have Domi penciled in to go to Columbus with the 14th pick and no higher, I think Domi could be a surprise sleeper that could be one of the first 10 draftees.
Max's father, Tie, was a legendary scrapper, having earned over 3,500 penalty minutes in 15 NHL seasons.
Max, on the other hand, is more of a finesse guy than a fight guy. While he would fit in well with the Blue Jackets, there is an admitted knock on his size (5'9", 195 lbs).
Still, with 39 goals and 48 assists (87 points) during the regular season and another 32 points in the playoffs (11 goals, 21 assists) for the London Knights of the Ontario Hockey League, Domi is an offensive threat despite his size because of his blazing speed on-ice and overall agility.
Ideal Landing Spots: If he's still available, look for Domi to indeed go to Columbus on the 14th pick. But don't be surprised if goes to Dallas with the 10th pick, and maybe even as high as seventh to Edmonton (if Sean Monahan is not available when it's the Oilers' turn to pick).
Domi has a lot of the same scrappiness that new Oilers coach Dallas Easkins had as a player. Edmonton needs a player that can both shoot and pass the puck with equal aplomb, and even though he may have a slight size disadvantage, Domi's natural talent should make up for that. But if he doesn't go to Edmonton, Domi could very well fit into the Stars' plans. Center/right wing Hunter Shinkaruk is pegged to be Dallas' choice, but Domi could vault over him on draft day.
Bo Horvat has a great deal to offer to whatever team chooses him in the draft.
He's projected to go to the New Jersey Devils with the No. 9 pick, which appears to be a pretty solid choice.
However, if Sean Monahan doesn't go to the Oilers as projected, or Max Domi vaults upward as the draft plays out, Horvat could either go up or down.
To his credit, Horvat has an outstanding mix of goal scoring, passing and defensive play.
You could almost make the case that he's a combination center and defenseman with the way he plays.
Ideal Landing Spots: Because they have a number of outstanding prospects already in their farm system, the Devils could look elsewhere instead of Horvat when it comes time to choose. But at the same time, his raw talent offers the promise of a much more smoother and successful player once he gets some significant ice time in the NHL.
One thing is for certain, no matter where he winds up, be it New Jersey or elsewhere, Horvat appears to be a can't-miss.
Right team, right player. That would seem to best describe Darnell Nurse and the likelihood of his going to Buffalo with the No. 8 pick.
But after Seth Jones likely goes to the Colorado Avalanche with the draft's top pick, the next-best defenseman is the hard-hitting, 6'4" Nurse.
And even though Nurse may not have quite the all-around ability as Jones, especially on the offensive side of the puck, we have to ask will he still be around when the Sabres get to pick?
That's a significant question, as other teams picking higher also have needs for a good defenseman.
Ideal Landing Spots: Buffalo seems like a good fit for Nurse, and vice-versa. But Calgary and Nashville also need a talented D-man. The question for the two latter teams is whether they forgo anticipated picks for a center or winger in place of a defenseman. Frankly, after Jones and Nurse, the list of D-men drops off fairly quickly. It may be a situation of catch as catch can—while you can.
Sean Monahan may be the fourth center likely to be picked in this year's draft, but that doesn't mean he's the fourth best by any stretch.
Monahan has great playmaking skills, has innate natural ability and could develop into a Jonathan Toews or Sidney Crosby type star.
Edmonton needs help at center, there's no doubt. And Monahan has the necessary tools to succeed.
But he's also one of those types of players that could need time to be brought along and to develop. If he's rushed, he could be overwhelmed, having to carry a load that he may not quite be ready to assume.
Ideal Landing Spots: Edmonton would appear to be the best spot for Monahan's talents. However, he could wind up being chosen higher in the draft by the likes of Calgary or Nashville, particularly if their planned picks wind up going elsewhere.
This pick has trade written all over it. The Calgary Flames unquestionably need help in many areas, but perhaps none more so than on defense.
But that's where the conundrum occurs. As a center, Elias Lindholm has the potential to be an 80- to 100-point scorer in the NHL, based upon his play in his native Sweden.
Much like fellow prospect Jonathan Drouin, Lindholm lets his brain do his talking for him on the ice as much as his stick. That not only makes up for any deficiencies in his game, it puts him at an advantage when he goes up against an opponent who is known more for brawn than smarts.
Ideal Landing Spots: We expect Lindholm to be trade bait, given that the Flames have three picks in the first round (two through trades). It's pretty clear the Flames need to bolster their defense, so if his tenure in Calgary is brief (like in perhaps minutes), Lindholm would fit nicely as a center with a number of teams, including Buffalo, Philadelphia, Phoenix, New Jersey and Carolina.
Russian star Valeri Nichushkin appears headed to Carolina as the No. 5 pick.
Often compared to players like Alex Ovechkin, Evgeni Malkin and Patrick Kane, the 6'4", 200-pound Nichushkin is big, bad and brawny.
The best part of his repertoire is his versatility to play right or left wing—and center, if he's pressed into service.
He's a pure goal scorer who brings a great game with him, able to shoot from anywhere on the net, while also not afraid to mix it up defensively or when fighting for the puck.
Ideal Landing Spots: While I'll stop short of saying Nichushkin was made to play in Carolina, the Hurricanes do seem to be the most ideal club for him at this point. I don't see Carolina trading him away on draft day, so barring any surprise, he'll soon be calling Raleigh his new home.
The Nashville Predators need scoring, and lots of it. And that's exactly what a player like Aleksander Barkov can give them.
He's as talented as any player in this year's draft field, can assume a number of different roles and isn't shy around the puck, both offensively and defensively.
On the surface, Barkov seems to be an ideal fit for the Predators. They have a great goalie in Pekka Rinne, their defense is good at times but also inconsistent, but what they need the most is a prolific scorer.
They can have that in Barkov. Because the Predators have a number of up-and-coming defensemen in their system, this is the time to go for a high-scoring player like Barkov.
Ideal Landing Spots: Barkov seems like a natural fit for Nashville. He will give them what they need (scoring), while they'll give him what he needs (an avenue to display his talents). While other teams may have interest in Barkov, it would serve both him and Nashville the best if he goes to Music City rather than elsewhere.
Projected to go to the Tampa Bay Lightning with the third pick, Drouin is practically a prototypical forward and the best of the bunch in this year's draft class.
Drouin knows how to shoot, pass and throw himself around the ice, and not necessarily in that order. But at 5'9" and only 175 pounds, he will have to put on some weight to be able to muscle up against players several years older when he gets to the big leagues.
But at the same time, that lack of size hasn't seemed to hurt Drouin all that much up to this point in junior hockey. Still, it's obviously a big difference between the Quebec Major Junior Hockey League and the NHL.
To his credit, Drouin is the type of cerebral hockey player who uses his brain as much as his physical attributes, particularly when it comes to finding the open man.
Ideal Landing Spots: Tampa Bay would appear to be a lock for Drouin. The Lightning needs someone of his caliber to not only be a scorer, but even more importantly, a leader. While he's still young, he has the potential to develop into a star rather quickly. Tampa Bay could trade down, giving another team a chance at getting Drouin.
But at this point, there doesn't seem to be a better landing spot for this young man than sunny St. Petersburg, Fla.
While Nathan MacKinnon is ready to take his considerable offensive talents to South Beach—well, close enough—with the Florida Panthers, the question is whether the Panthers have him already measured for a jersey and swim trunks.
Once the Colorado Avalanche likely pick Seth Jones with the No. 1 selection, the onus is placed upon the Panthers to either choose MacKinnon as expected, or swing a trade that would potentially send him and his talent somewhere else.
And if you look at the teams that follow Florida in draft order, particularly Tampa Bay, Nashville, Carolina, Calgary, Edmonton, Buffalo and especially New Jersey, virtually every one of them would welcome—and could certainly use—MacKinnon.
Ideal Landing Spots: Florida is the kind of team that MacKinnon has the potential to become a No. 1 star with, and a player that a team can build a championship contending club around.
Florida has to walk a tight rope on this one: if it keeps MacKinnon, all good, the rebuilding program can start almost immediately. But if the Panthers decide to deal him away, preferably to a Western Conference team so they won't see him all that often—translated: he won't be able to hurt them as much—they need to get some talented offensive players in return.
Unless a spectacular last-minute deal occurs, it's pretty likely that projected No. 1 pick Seth Jones is heading to Colorado.
With the Avalanche being a team that needs a lot of help fast, in Jones they have the type of player that can be brought up to the big league team quickly and also have a big impact, as well.
The one thing that the Avs need to keep in mind, though, is not to overly rush the burly 6'4", 206-pounder. While he may be the future of the franchise, bringing him up too soon could end up being a mistake.
He's likely a good prospect to be bought up maybe within a year, maybe even at midseason. Then again, if he is invited to training camp and impresses the heck out of everyone, he may very well indeed be ready for prime time.
Ideal Landing Spots: Any way you look at it, Jones likely isn't going anywhere else but Denver. Sure, other teams covet him and might be willing to give the Avalanche a sweetheart deal. But unless a trade would bring the Avs the next best defenseman in the draft, Darnell Nurse, plus another player or two that may fill existing holes offensively, he's likely heading for a Rocky Mountain high.
Follow me on Twitter @JerryBonkowski