Ranking the Best Moments of the 2013 NHL Stanley Cup Playoffs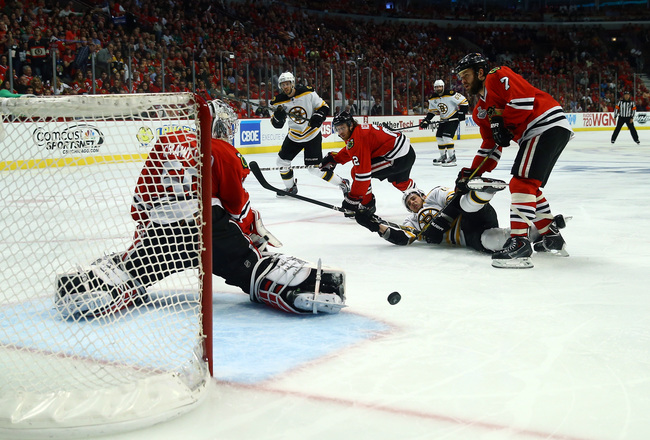 The 2013 NHL playoffs have been hard-fought and entertaining.
Bruce Bennett/Getty Images
Hockey fans, it's been quite a playoff.
After a frustrating work stoppage and a shortened 2012-13 regular season, this year's NHL postseason has delivered in a big way.
As the journey to a championship unfolds, we've seen both fresh upstarts and wily veterans lay down impressive performances. Many top superstars haven't lived up to their billing, but plenty of lesser lights and stars of tomorrow have stepped in to seize the moment.
As the evenly matched Stanley Cup Final heads to Boston for Game 3 on Monday, here's a look at the 10 best moments of the 2013 playoffs so far. Do you have another favorite? Share it with us in the comments below.
All stats are courtesy of NHL.com.
10. New York Islanders Make Some Noise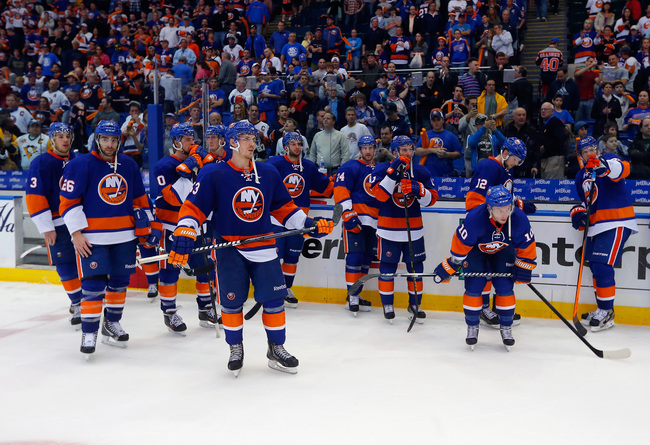 The New York Islanders added some sizzle to Round 1.
Paul Bereswill/Getty Images
As the 2013 playoffs began, the Pittsburgh Penguins were the class of the Eastern Conference. They held the No. 1 seed, had bolstered their late-season lineup by adding a number of veterans and were counting the days until captain Sidney Crosby returned from his jaw injury.
Virtually no one gave the upstart New York Islanders a chance in their first-round series, which suited them just fine.
After missing the playoffs for the past five seasons, the Islanders needed one game to adjust to the intensity of postseason play. New York caught on quickly and snagged a 4-3 comeback win in Game 2 to take a split out of Pittsburgh.
After Game 4, the series was tied 2-2 and the Islanders had chased starter Marc-Andre Fleury to the bench, effectively ending his postseason.
The Penguins went to overtime of Game 6 before they could dispatch the Islanders for good. The youngsters put a good scare into the favorites and earned a nice measure of respect for themselves from around the NHL.
9. Tomas Vokoun Steps In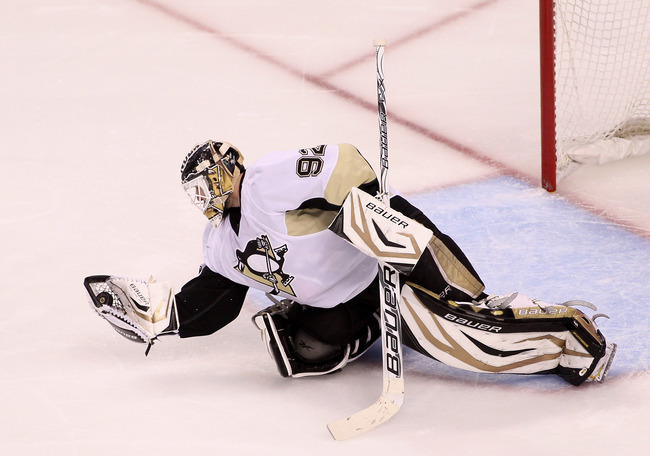 Tomas Vokoun proved valiant in backstopping Pittsburgh.
Alex Trautwig/Getty Images
After the Pittsburgh Penguins found themselves in the unenviable position of being tied 2-2 in their first-round series against the Islanders, coach Dan Bylsma made the tough decision to bench starting goaltender Marc-Andre Fleury in favor of Tomas Vokoun.
The 36-year-old Czech was steady in backstopping the Penguins to a 4-2 series win on Long Island, then easily out-dueled Craig Anderson as Pittsburgh defeated Ottawa 4-1.
Even after the Penguins' 4-0 series loss to Boston, Vokoun's numbers were outstanding. His .933 save percentage puts him right in the mix with Corey Crawford, Jonathan Quick and Henrik Lundqvist, and his final GAA of 2.01 ranks him fifth-best in the playoffs after two games of the Stanley Cup Final.
Pittsburgh may be disappointed not to be playing for the Cup, but had it not been for Vokoun, the team's soul-searching may well have begun several weeks sooner.
8. Zetterberg and the Red Wings Aren't Going Away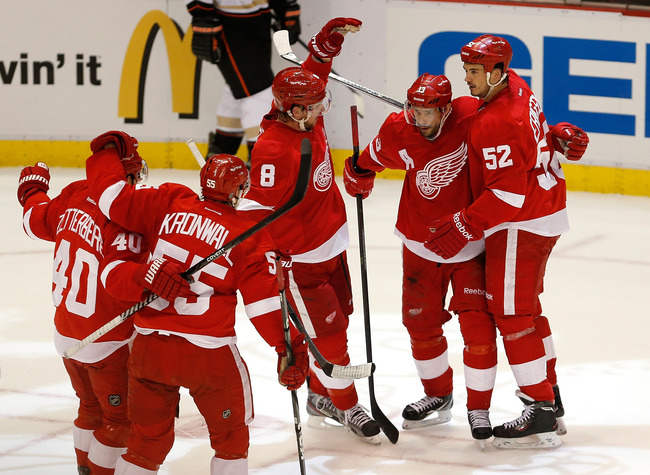 Henrik Zetterberg led the Red Wings to upset the favored Ducks.
Gregory Shamus/Getty Images
With the retirement of Nicklas Lidstrom, the Detroit Red Wings admitted that 2012-13 was to be a rebuilding year, and that they might break their string of 22 consecutive playoff appearances.
A late-season surge saw the Wings slide into seventh place in the Western Conference, good for a first-round date with the Anaheim Ducks.
The Wings started off like they were just happy to be at the dance, watching the Ducks skate to a 3-2 series lead. But with elimination staring them in the face, the competitive fire of veterans like Henrik Zetterberg and Pavel Datsyuk took hold.
Zetterberg logged three goals and two assists in Detroit's two elimination games against Anaheim, including the overtime winner in Game 6. The Red Wings easily dispatched the Ducks in Game 7 to advance to the second round.
By the time they pushed Chicago to seven games, the Wings had shown an impressive mix of emerging youth and poised experience. Rather than entering a full rebuilding phase, it looks like Detroit is simply turning the page to write the next chapter of its impressive history.
7. Toronto Maple Leafs Show They Belong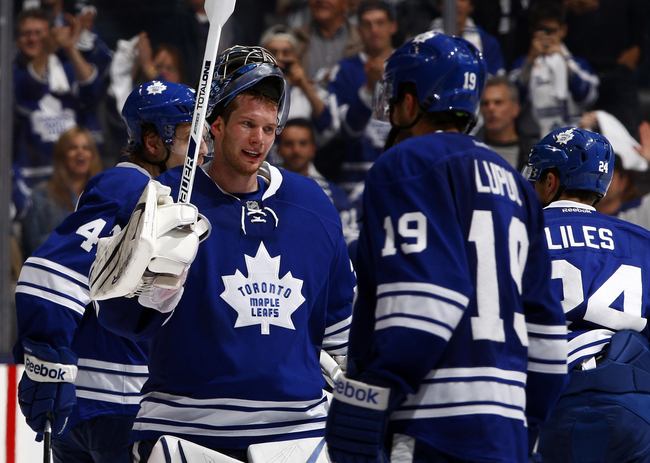 The Toronto Maple Leafs took a big step forward.
Abelimages/Getty Images
The Toronto Maple Leafs exited this year's playoff race in a cloud of shame, but the team has many reasons to be proud.
After nine years of futility, simply being part of the playoff mix was a big step forward for the Leafs. Finishing fifth in the Eastern Conference was even more impressive.
With limited postseason experience on their roster, the Leafs got championship-level play from greenhorns like James Reimer and Phil Kessel. They overcame a disastrous performance in Game 1 and some bad luck that put them in a 3-1 series hole to come back and tie their series against Boston.
They're the only team so far in the 2013 postseason to beat the Bruins at TD Garden. The Leafs did it twice and were 51 seconds away from doing it a third time in Game 7 before Boston tied the game, then won it in overtime.
The late collapse was a devastating way to lose, but the Leafs took their fans on an amazing ride this year.
6. Boston Bruins Come Back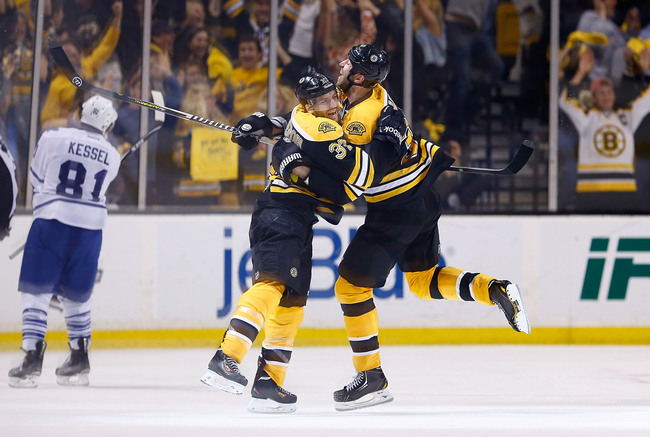 Boston's Round 1 comeback propelled them to the Stanley Cup Final.
Jared Wickerham/Getty Images
The Leafs deserve respect for reaching the postseason and playing the Bruins tough, but Boston's Game 7 comeback was the best moment of the first round.
A Bruins team that choked in Game 7 against Washington in 2012 and blew a 3-0 series lead against Philadelphia in 2010 came perilously close to repeating the pattern this year by letting Toronto bounce back from a 3-1 series deficit and take a big lead in the third period of Game 7.
This time, though, Boston played the full 60 minutes. Nathan Horton's goal midway through the third brought the score to 4-2. The Bruins kept applying pressure until they were able to snag two late goals to tie the game, then eventually win it in overtime.
Boston looked down-and-out in Games 5 and 6 against Toronto. The comeback brought the Bruins back to life, helping them cruise past the New York Rangers and Pittsburgh and now stare down the Presidents' Trophy winners in the Stanley Cup Final.
5. Josh Harding Provides Inspiration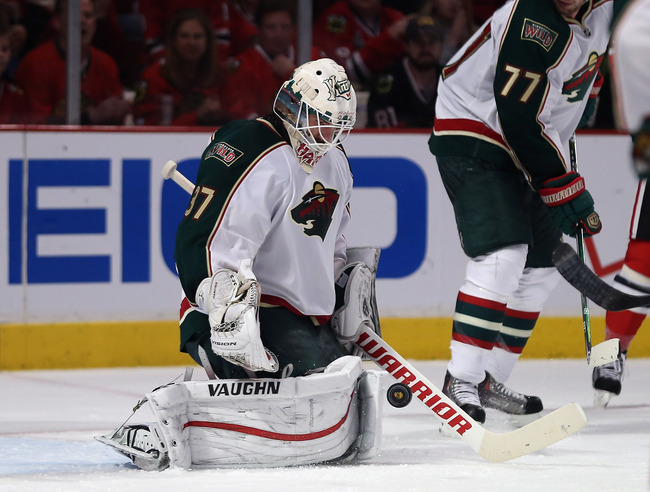 Josh Harding showed true grit against Chicago.
Jonathan Daniel/Getty Images
For pure inspiration, Josh Harding of the Minnesota Wild provided one of the best moments of the playoffs with his gutsy performance against Chicago.
Harding endured a tumultuous year in which he was diagnosed with multiple sclerosis and appeared in just five regular-season NHL games. An injury to starter Niklas Backstrom in warm-ups before the Wild's first game against Chicago forced Harding into playoff duty.
Harding showed warrior-like fierceness in forcing overtime in Game 1 before eventually falling to the NHL's best regular-season team. In five playoff games against Chicago, he recorded an impressive 2.94 GAA and .911 save percentage.
By comparison, 2012 Conn Smythe winner Jonathan Quick's numbers in his five-game series against Chicago were a 2.80 GAA and .897 save percentage—not far off.
Harding has been awarded the 2013 Masterton Trophy for his perseverance in battling a tricky and unpredictable disease. His playoff performance shows that Harding is also committed to fighting to stay at the top of his game.
4. Slava Voynov Wins Games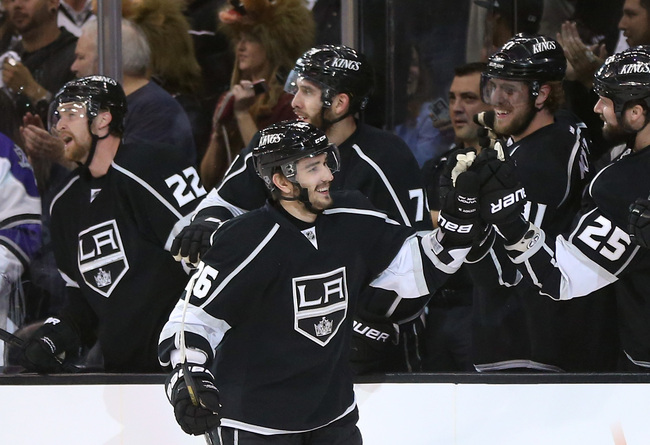 Slava Voynov has evolved into a clutch goal scorer.
Jeff Gross/Getty Images
At just 23 years old, Slava Voynov of the Los Angeles Kings has evolved into a clutch postseason performer.
Voynov had a great playoff in 2012 as the Kings galloped all the way to the Stanley Cup. In 2013, he stood out with his four game-winning goals in 18 games, the highest number in the playoffs through three rounds.
Voynov's first game-winner may have been his most important. His team dropped its first two games of Round 1 in St. Louis and desperately needed a win in Game 3 at Staples Center to get back into the series.
The Kings played a physical game, outhitting the Blues 53-39. Jonathan Quick stopped all 30 shots he faced. Voynov potted the one goal Los Angeles needed early in the second period. After a long scramble in front of the Blues' net, the puck popped out to Voynov, waiting in the right circle, who quickly roofed it past Brian Elliott.
The goal gave the Kings their first of four straight wins in Round 1 and started their forward momentum in the 2013 playoffs.
3. Gregory Campbell Guts It Out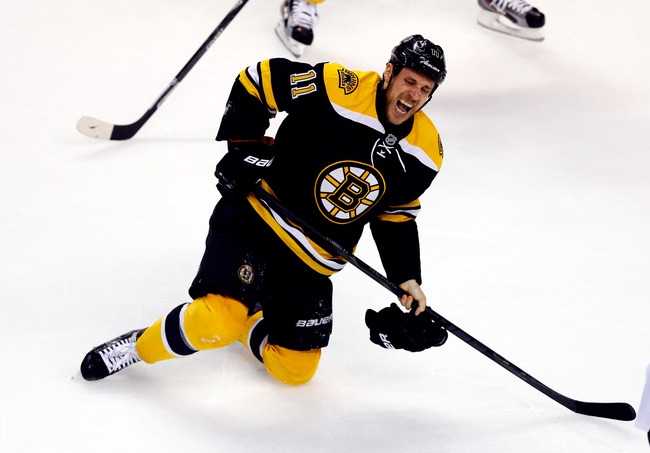 Gregory Campbell put his penalty-killing duties ahead of his broken leg.
Jared Wickerham/Getty Images
Hockey players are renowned for their toughness and ability to play through pain.
Boston Bruins center Gregory Campbell added a new chapter to the book of bravery when he completed his penalty-killing shift in Game 3 against Pittsburgh after suffering a broken right fibula from a blocked shot.
The game was tied 1-1 when Campbell was injured, with the Penguins pressing on the power play. Though clearly hurting, the gritty center elected to stay in position and do his best to help his team until the Bruins were able to clear the puck to safety. The penalty was killed successfully, and the Bruins went on to win the game.
Shot-blocking is a common part of hockey, and we see players in pain on a regular basis. With his adrenaline pumping on an important playoff penalty kill, Campbell may not have immediately realized that his injury was that different from a typical "stinger" that would see him back on the ice after a shift or two.
Whether or not Campbell immediately understood that his leg was broken, his commitment to his team under such trying personal circumstances is the stuff from which NHL legends are born.
2. Patrick Kane Conquers Kings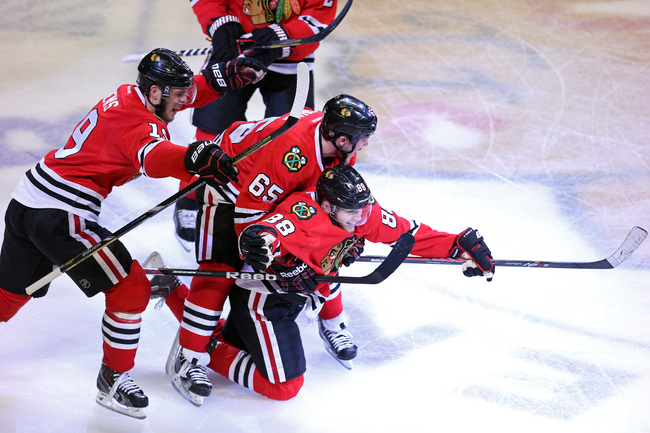 Patrick Kane almost single-handedly won Game 5 for Chicago.
Jonathan Daniel/Getty Images
The Chicago Blackhawks dispatched the Los Angeles Kings in five games in the Western Conference Final, but the defending champions did not go away quietly.
All the games were close, and when the Kings faced elimination for the first time in Game 5, they fought even harder. Los Angeles fell behind 2-0 but dug deep to tie the game with a shorthanded goal and a rare power-play tally against the 'Hawks' revered penalty kill.
When Patrick Kane scored his second goal of the game to put Chicago up 3-2 with less than four minutes left, it looked like curtains for L.A. But Mike Richards parked himself in front of the net to make a beautiful deflection and stun the United Center crowd with just 10 seconds remaining, sending the game to sudden death.
It took 31:40 of extra time before Patrick Kane accepted a perfect pass from Jonathan Toews on a two-on-one and fired a wrister into the top corner to complete his hat trick and send his team to the Stanley Cup Final.
After a relatively quiet playoff until that point, Kane's performance in Game 5 was the most dominant single-game effort by a non-goalie in the first three rounds.
1. Game 1 of Stanley Cup Final Is an Instant Classic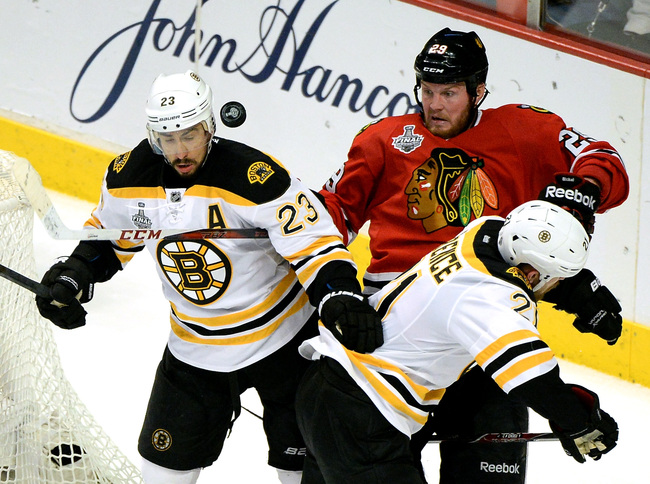 The Bruins and Blackhawks put on a Game 1 triple-overtime show.
Harry How/Getty Images
Without much face-to-face history between the Chicago Blackhawks and the Boston Bruins, it was hard to know what to expect going into the Stanley Cup Final.
On paper, the teams looked quite evenly matched. Through three rounds of this year's playoffs, each had suffered a few miscues but had mostly performed well. Each team could also draw inspiration from its previous championship win.
In Game 1, Boston and Chicago showed us that they're two talented, determined teams that are ready to fight to the bitter end. It took nearly six periods before the Blackhawks claimed victory in Game 1.
In addition to the game's epic length, it was also noteworthy for its intense physical play by both teams. The total hits ended up 61-59 in favor of Chicago.
Furthermore, both goalies were beyond stellar, especially through the overtime periods. Total shots in the game were 63-54 in favor of Chicago. In sudden death, Corey Crawford was perfect in stopping 29 Bruins shots.Tuukka Rask stopped the first 23 tries by the 'Hawks before Andrew Shaw's fluky double-deflection sneaked past him to give Chicago the win.
The fatigue factor often means that teams can't bounce back to keep playing at a high level, but the compete factor in this series diminished only slightly in Game 2. All signs point to a long, drawn-out fight to the finish for the 2013 Stanley Cup.
Thanks for reading. Feel free to follow me on Twitter for lots more hockey news and views:
Keep Reading