Detroit Red Wings: 5 Reasons a Championship May Be Around the Corner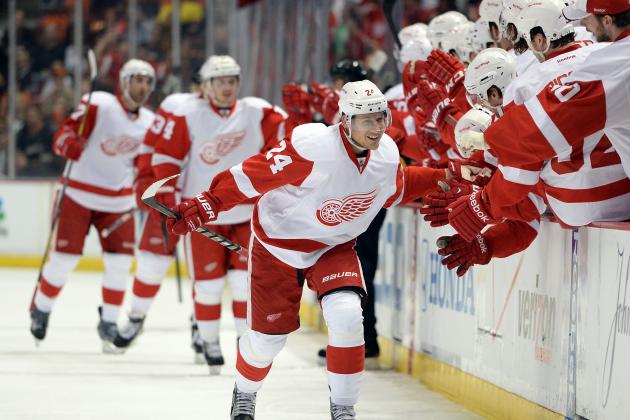 Harry How/Getty Images

Despite what was probably the most heartbreaking loss since the Game 7 defeat in the 2009 Stanley Cup Finals, there is still very much to be proud of if you are a Red Wings fan, and much to look forward too as well.
In what was labeled as a "rebuilding year," the Red Wings advanced in the playoffs and came one goal shy of knocking off the Western Conference Champion and President's Trophy winning Chicago Blackhawks.
Not too shabby for a season that was written off as a rebuilding year. Despite the rocky season, Detroit found a winning formula late, and took massive strides in development, and now look like they could potentially be immediate contenders in the Eastern Conference next season. Here are some reasons why...
Begin Slideshow

»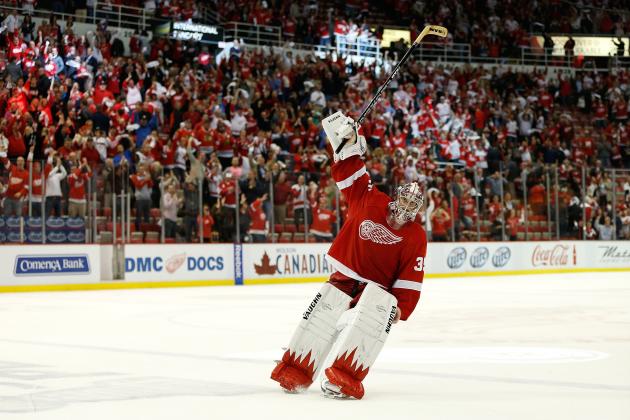 Gregory Shamus/Getty Images

Jimmy Howard has undoubtedly established himself as one of the best goaltenders in the NHL.
Throughout this season he has dealt with an inexperienced, often banged up and turnover prone defense. Despite all of that, Howard still managed to put up very strong numbers, often having to steal victories from his opponents in order keep Detroit's playoff hopes alive.
Detroit's defense finished the season 5th in the NHL in goals against average, but you can thank Jimmy Howard's brilliance for that.
There is no question that without his high level of play this season, the 21-year playoff steak would have never continued to 22.
Continued development and improvement on the defensive end will only make his numbers that much better. With a stronger and more improved defense in front of him, you could expect Jimmy Howard to start adding some hardware to his shelf.
Best of all, Howard is here to stay in Detroit for a long time. He signed a six-year contract extension this season.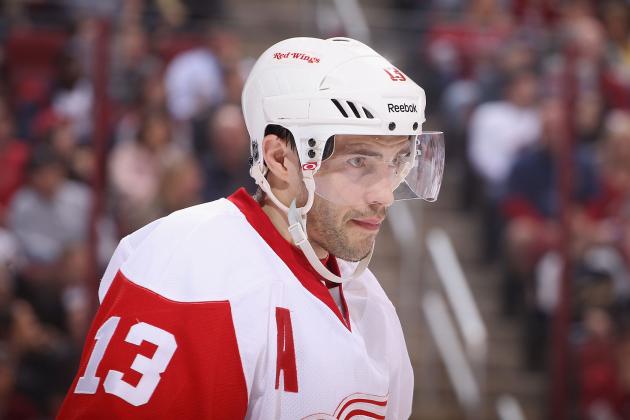 Christian Petersen/Getty Images

Detroit fans, you can sleep easy now. Pavel Datsyuk is staying with the Red Wings.
The world's best all-around player is a once-in-a-lifetime talent. He is among the best in every area of the game. He is an elite scorer, defender, face-off taker and penalty killer all in one. He is also the world's smartest hockey player too, and that is noticed by all the players.
An NHL Players Association and Hockey Night in Canada player poll conducted last year showed just how highly other NHL players think of Datsyuk. The poll asked 250 players about their thoughts on various NHL players, and Datsyuk finished No. 1 in six different categories. (http://www.playerspoll.ca)
Datsyuk won heavily in categories such as smartest player, most difficult player to stop, toughest to take the puck away from and most difficult player to play against, among others. He also won these categories convincingly, beating out stars like Sidney Crosby and Alexander Ovechkin.
Take a look at Datsyuk's stats since the 2004-05 NHL lockout, when Datsyuk assumed a top role on the Red Wings:
In 570 games played since the 2004-05 lockout, Datsyuk has 613 points. His plus/minus is over 200, and he leads the total takeaway count since then by miles. In this time, he has also been the winner of three Selke trophies for best defensive forward, and has been nominated for the Selke six consecutive times.
The fact that this man has only been nominated for the Hart trophy once is a travesty. But him coming out and confirming that he wants to stay in Detroit is great news. He is an irreplaceable part of this team, and he will play a big role in the development of the young players coming up on Detroit.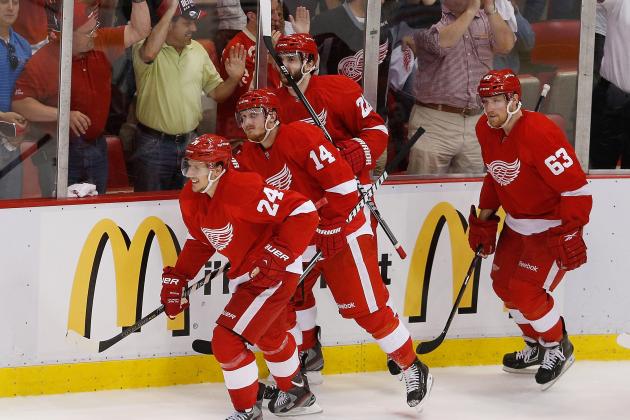 Gregory Shamus/Getty Images

The future doesn't seem so bleak now, does it?
It is amazing how just over a month of time can change a teams outlook so much. The perception of the future for this franchise definitely looks much better today than it did in March. This is largely part of the play of Detroit's young up-and-comers.
Detroit struggled all season trying to find secondary scoring, or yet any consistent production beyond Henrik Zetterberg and Pavel Datsyuk. Despite both players finishing among the elite scorers in the league and both finishing with an over a point-per-game average, Detroit ranked 19th in goals per game.
Then head coach Mike Babcock found a match.com match late in the season in Gustav Nyuist and Damien Brunner. Detroit's third line, consisting of three rookies Nyquist-Joakim Andersson-Brunner, was Detroit's leading scoring line this postseason. Both Nyqust and Brunner had overtime goals and all three players on that line gained invaluable experience playing in two seven game series.
The key is keeping these up-and-coming stars by making sure they don't depart in free-agency. This new wave of talent is something Detroit would be wise to continue to develop and build around. Also expect other prospects such as Tomas Tatar to gain a prominent role with the team. He may have even better chemistry with teammates Nyquist and Andersson. He also played well this NHL season on that third line, amassing four goals and three assists in the 18 games he played.
The Grand Rapids Griffins, Detroit's AHL affiliate, is currently one game away from winning the AHL championship. A winning culture is developing among Detroit's top prospects, and they all are continuing to develop together.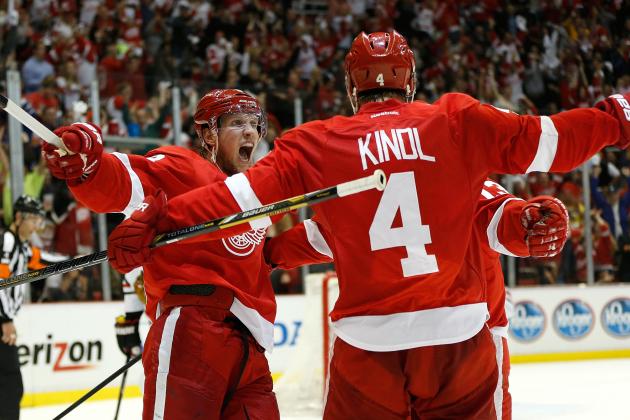 Gregory Shamus/Getty Images

Life was undoubtedly going to be difficult for the Red Wing defense without the perfect human, Nicklas Lidstrom, in the lineup.
Brad Stuart's departure didn't help the cause either. Nor did the failure to sign Ryan Suter. Despite all of that, Detroit's defense has much to be proud of.
Detroit's young forwards weren't the only group to take big strides this season.
In fact, the biggest improvement shown all year was on the defensive end.
It is night and day when comparing the Wings defense from the first part of the season to how they played to finish the playoffs.
Jakub Kindl and Jonathan Ericsson finally became a presence, and the defense collectively grew up on the job. The deep playoff run is also priceless in the development and confidence in a young defender such as Brendan Smith, who had his ups and downs throughout the regular and post seasons.
Also look for Danny DeKeyser to play a big role for Detroit. He showed great poise and promise in his short debut with Detroit before his season ended with an injury.
Detroit's defense is very young as a group. Detroit's oldest defenseman is Nicklas Kronwall, who is only 32 years old.
Detroit's salary cap situation and surplus of signed forwards will also enable to Detroit to possibly trade or sign a defenseman to provide some depth and size.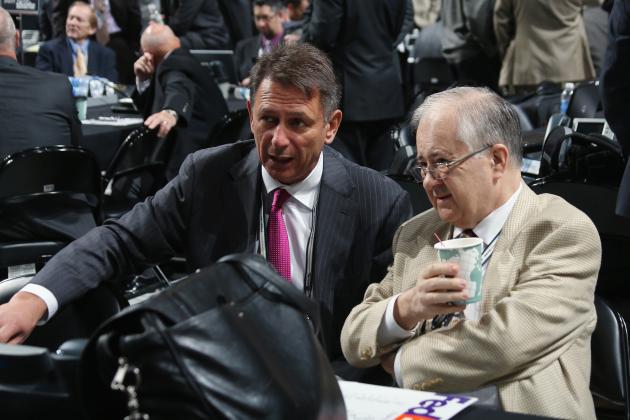 Bruce Bennett/Getty Images

The fans and critics who had grown frustrated with the inactivity by General Manager Ken Holland these past few off seasons (including myself) should be thanking him now.
Holland is a wise general manager, and while some other teams face cap issues now that the new CBA and salary cap are in place, Detroit is sitting pretty with a large amount of cap flexibility.
Holland undoubtedly foresaw the lockout and its implications and wisely avoided indulging in expensive long term contracts to try and lure free agents in. Once the Red Wings lost out on free agent defenseman Ryan Suter last season, Holland didn't rush to overpay and sign the next best guy. He locked down goaltender Jimmy Howard and put Detroit in a position where they have the cap room to resign free agents or explore the market.
The Red Wings do have some decisions to make this offseason, but that should be good news. They have a surplus of forwards signed, and have options they can explore via trade and buyout if they want to clear cap space to lure a free agent. They also are expected to make a run at a top-six forward and a big-bodied defensemen.