Full 2013 Home Run Derby Roster Predictions 1 Month Out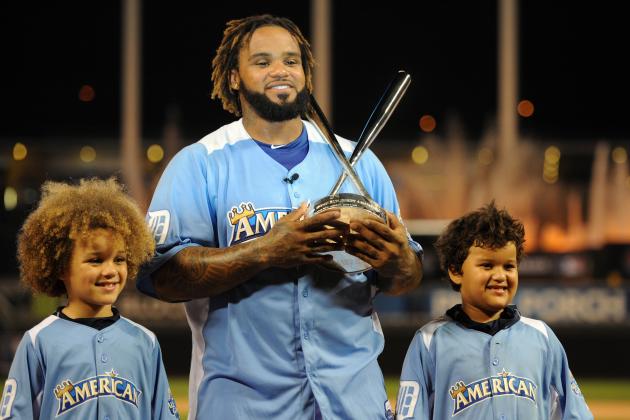 H. Darr Beiser-USA TODAY

We're now roughly one month away from the 2013 MLB All-Star break, and with that break comes what may be the most exciting display of skills in all of professional sports in the Home Run Derby.
Last year saw Tigers first baseman Prince Fielder beat out Blue Jays outfielder Jose Bautista for the crown. This season's rosters will be chosen by captains Robinson Cano and David Wright.
Each of those captains will get to select three sluggers from his league to participate alongside him in this year's derby. Here is my best guess on who the six other derby contestants will be for the 2013 Home Run Derby.
Average home run distance courtesy of ESPN's home run tracker.
Begin Slideshow

»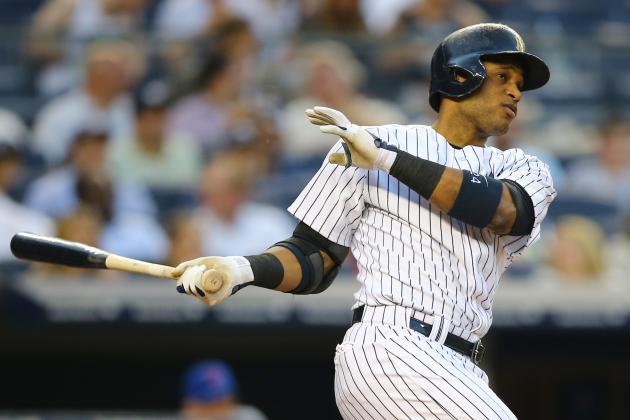 Al Bello/Getty Images

Season HR: 16
Average HR Distance: 397.9 feet
The 2011 Home Run Derby champion, Robinson Cano has emerged as not only the premier offensive second baseman in the game but as one of the best run-producers in all of baseball.
He hit a career-high 33 home runs last season and has been chosen as the captain of the AL team this year. That means he'll decide the other three AL players who are in the derby alongside him.
With his smooth left-handed swing, Cano will be looking to become just the third person to win the derby multiple times when the derby kicks off in New York City. Ken Griffey Jr. and Prince Fielder were the first two multiple-time winners.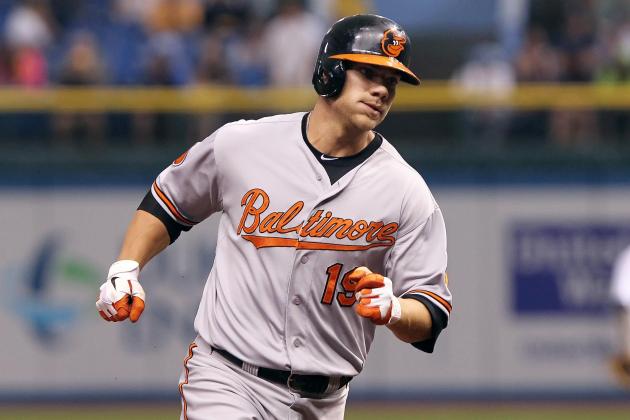 Kim Klement-USA TODAY Sports

Season HR: 23
Average HR Distance: 409.2 feet
Once a top prospect with the Texas Rangers, Chris Davis burst onto the scene in 2008 when he hit 17 home runs with an .880 OPS in just 295 at-bats.
However, he failed to take the next step from there in Texas. He was traded to the Orioles along with Tommy Hunter for reliever Koji Uehara at the deadline in 2011.
He enjoyed a breakout season last year, leading a potent Orioles offense with 33 home runs, and he is currently leading all of baseball with 23 home runs while hitting .335/.414/.697.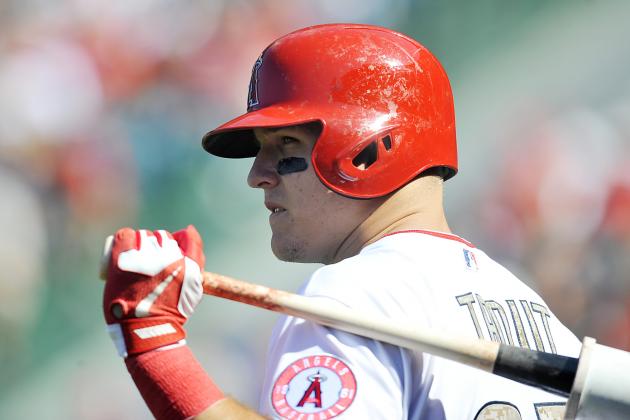 Gary A. Vasquez-USA TODAY Sports

Season HR: 12
Average HR Distance: 421.3 feet
While teammate Mark Trumbo put on a show in the Home Run Derby last season and is currently tied for the longest home run of the season at 475 feet, my guess is it will be Mike Trout who is in the derby this time around.
He currently ranks third in baseball in average home run distance and is by all accounts one of the most exciting all-around players in the game today.
Not only is he a fan favorite and one of the rising stars of the game, but he has the raw power and strong build to have real shot at winning.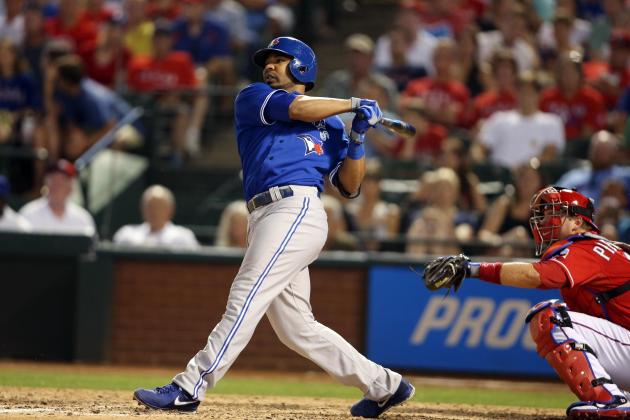 Tim Heitman-USA TODAY Sports

Season HR: 18
Average HR Distance: 400.7 feet
Last season, Blue Jays slugger Jose Bautista was bested in the Home Run Derby finals by Prince Fielder. While he's a good candidate once again, it's his teammate Edwin Encarnacion who is my choice for the final spot here.
A top prospect who broke into the league with the Reds as a 22-year-old back in 2005, Encarnacion was a middling starter until he broke out in a big way last season with 42 home runs and 110 RBI.
Snubbed from the AL All-Star team last season despite a .947 OPS and 23 home runs at the break, I expect Encarnacion to not only make his first All-Star game this season but to be a derby participant as well.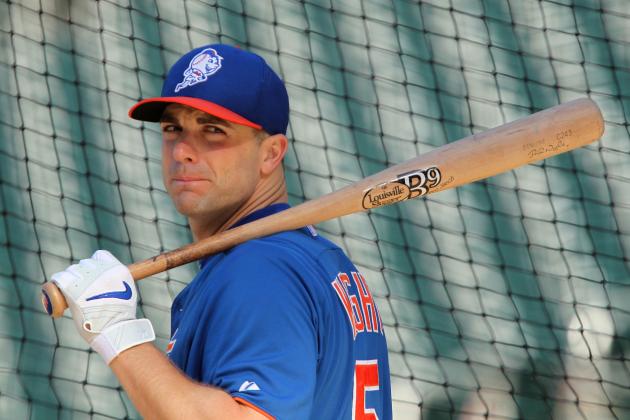 The Star-Ledger-USA TODAY Sports

Season HR: 9
Average HR Distance: 416.1 feet
Chosen as the National League captain, no doubt due to the game being played in Citi Field, David Wright was the runner-up to Ryan Howard in the 2006 Home Run Derby but has not participated since.
He's topped the 30 home run mark twice in his career, and last season he launched 21 with an .883 OPS, earning an eight-year, $138 million deal.
If anyone knows how to play Citi Field, it's Wright. After coming close to winning back in 2006, he could have a real shot at winning here despite lacking the raw power that many of these guys possess.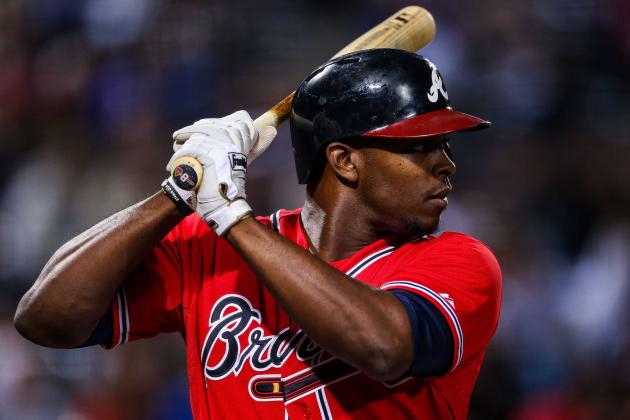 USA TODAY Sports

Season HR: 15
Average HR Distance: 427.9 feet
One of the biggest pickups for any team this offseason was the Braves' acquisition of Justin Upton from the Arizona Diamondbacks, and he got off to a blazing hot start.
The slugger hit .298/.402/.734 with 12 home runs the first month of the season. While he has managed just three home runs since, the impressive power is there nonetheless.
Upon last check in, he was leading all NL outfielders in All-Star voting, so it looks like there's a good chance he'll be in New York to begin with. Playing for the rival Braves only makes him a more fun addition to David Wright's roster.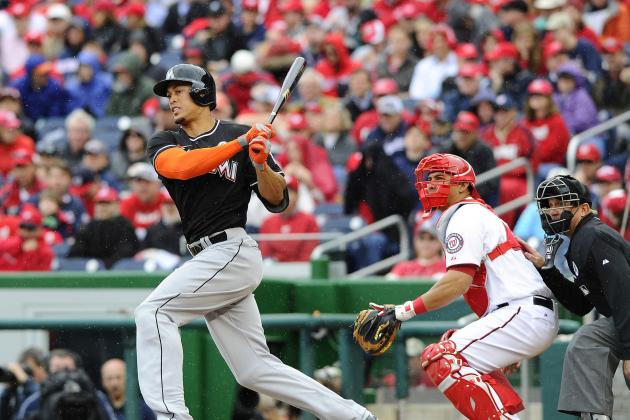 Brad Mills-USA TODAY Sports

Season HR: 5
Average HR Distance: 404.6 feet
It's been a tough start to the season for Giancarlo Stanton, as injuries have limited him to just 26 games. He is hitting just .263/.360/.475 with five home runs in 99 at-bats this season.
He returned to the field on June 10 after missing more than a month, and if he can turn it on over the next month or so, he still has a good chance to represent the Marlins in the All-Star game.
His 37 home runs last season averaged 413 feet, with seven traveling over 450 feet. He has as much raw power as anyone in the game. According to a report from MLB.com, Stanton is open to the idea of participating in the derby, so we'll see if Wright gives him the chance to do just that.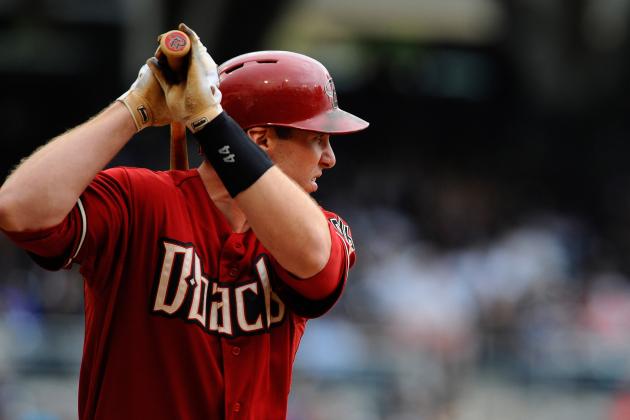 Christopher Hanewinckel-USA TODA

Season HR: 15
Average HR Distance: 401.4 feet
After making a splash in a 48-game audition back in 2011, Paul Goldschmidt proved he was for real in his first full season last year when he hit .286/.359/.490 with 20 home runs.
Impressive as that was, the 25-year-old has taken his game to another level entirely this year. He's been perhaps the best overall hitter in the National League with a .301/.381/.543 line and 15 home runs.
There are others out there who may be more exciting picks from a star-power standpoint, but few deserve to be in the derby as much as Goldschmidt given the season he's having.