USC Football: Power Ranking the 2013 Schedule from Easiest to Toughest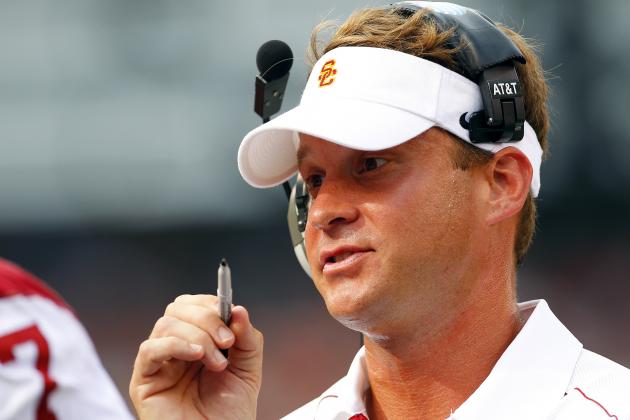 Rich Schultz/Getty Images

In order to return to prominence in college football, success in 2013 is absolutely crucial for the men of Troy.
Coming off of a disastrous 2012 campaign which saw the Trojans stumble to a 7-6 season when many felt they would contend for the national championship, head coach Lane Kiffin and his staff will attempt to turn his team around in a year where his job will likely depend on it.
To do so, USC will have to overcome a schedule that provides some challenges but overall is set up nicely to provide the Trojans with some fairly easy notches on the win column.
This slideshow will look at the upcoming slate of games that the Cardinal and Gold have in front of them and power rank the individual teams in terms of the challenge they provide, from easiest to most difficult.
USC simply can't afford to stumble often this year. In their pursuit of a return to prominence, here is what they have to face in 2013.
Note:
Teams are ranked based on strength of conference, 2012 season results, venue of play and strength of team returning, among other considerations.

Begin Slideshow

»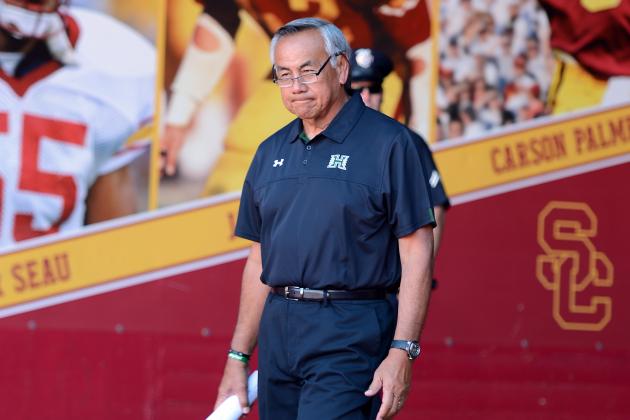 Harry How/Getty Images

USC opens the 2013 season with a road trip to beautiful Hawaii, where they will meet the Rainbow Warriors coached by their old friend Norm Chow.
Hawaii is coming off of a disappointing 3-9 2013 season and the prospects for this season continue to look bleak as Chow will ask Ohio State transfer quarterback Taylor Graham to lead an offense that only features two returning starters on their offensive line.
While Hawaii's defense has a chance to be solid, it is not deep and much of it depends on the health of a defensive line whose returning starters almost all went down with injuries in 2012.
Athlon Sports has projected Hawaii to finish last in the West division of the Mountain West Conference with an overall 1-11 record. This is certainly not a team to stand in the way of a motivated USC squad that wants to start the year right.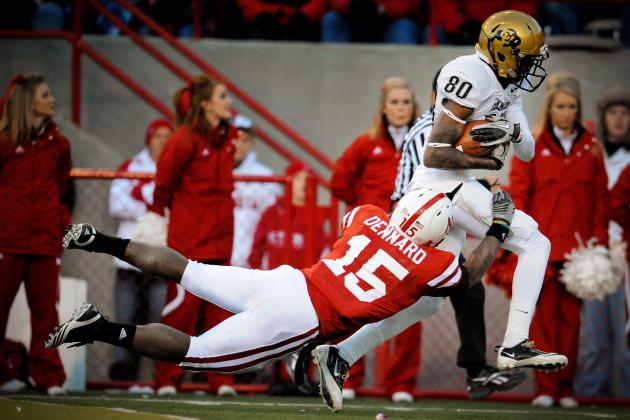 Eric Francis/Getty Images
Paul Richardson
If things go as expected, the greatest challenge for USC against the Buffaloes will be the frigid weather awaiting the Trojans in Boulder, Colorado.
With Mike MacIntyre taking over for the departed Jon Embree, the Buffs are still facing a woeful lack of talent on both sides of the ball.
Quarterback Jordan Webb will have to sit out the season after tearing an ACL. This leaves Connor Wood as the primary option to get the ball to wide receiver Paul Richardson—Colorado's best player—and he, too, is coming back after a significant injury in 2012.
On defense, the interior line is Colorado's best unit, but a lot will have to go right for things to go well in a season where the Buffs are picked dead last in the Pac-12 South. Athlon Sports also predicts Colorado will go 3-9 this year after a 1-11 season in 2012.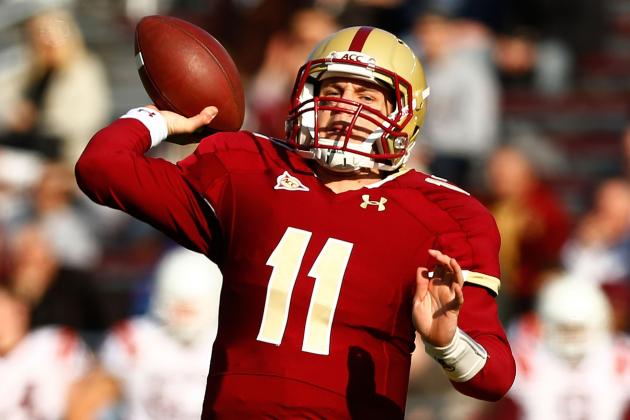 Jared Wickerham/Getty Images
Chase Rettig
USC doesn't schedule teams from the ACC often and, given Boston College's abysmal 2-10 season in 2012, it is easy to see why.
Led by local (San Clemente High School, San Clemente, CA) quarterback Chase Rettig, new Eagles head coach Steve Addazio will have to adapt to a team built on passing while he attempts to install a ball-control running offense.
Rettig has improved each year under center for the Eagles and should be even better in 2013. But if he has to do it all absent of a running game, USC will unleash its talented defensive line and have a field day.
On defense, Boston College struggled last year and that is not likely to change this season.
When taken in its entirety, it is easy to see why Athlon Sports has prognosticated a last-place finish for the Eagles in the Atlantic Division of the ACC with a 4-8 record.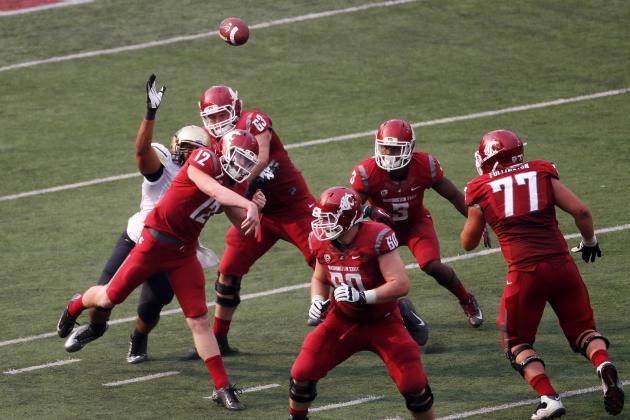 William Mancebo/Getty Images
Connor Halliday
While USC should win this game fairly easily, look for the Cougars to improve in 2013 as head coach Mike Leach enters his second year at WSU.
Leach, however, will have to reconcile his quarterback situation as Connor Halliday takes over full time for the graduated Jeff Tuel. The problem for Leach and his high-tempo spread offense is that Halliday isn't particularly accurate (52% in 2012) or discriminating (13 interceptions against 15 touchdowns).
That said, the Cougars will probably be firing on all cylinders late in the season, which is why it's good that the Trojans get them in the second game of the season.
The Cougars' defense in 2012 wasn't anything to write home about either, as they gave up an average of almost 34 points a game to go along with 425 yards per contest.
All of which is why Athlon Sports is predicting a 4-8 overall record for the Cougars and a last-place finish in the Pac-12 North Division.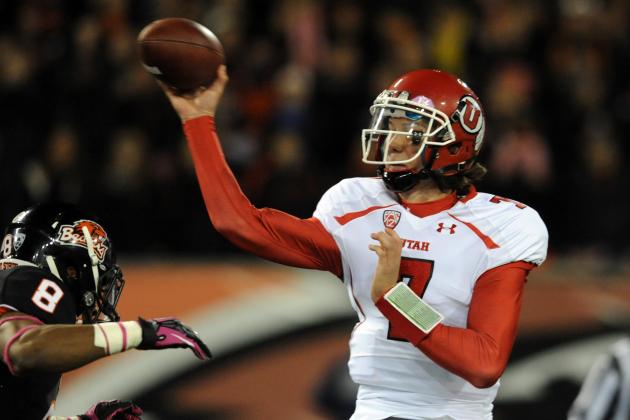 Steve Dykes/Getty Images
Travis Wilson
Utah will welcome former mega-head coach Dennis Erickson as its new offensive coordinator, but it remains to be seen if he can improve upon the Ute's last-place Pac-12 passing average of 190 yards per game.
If Erickson can work some magic, he will have to do it with true sophomore Travis Wilson at quarterback. Wilson was pressed into service last year after Jordan Wynn's career-ending injury.
Meanwhile, Kelvin York will take over for record-setting running back John White. And while he is no White, York has shown potential.
On defense, the prospects for Utah are much brighter, but the Utes will have to replace defensive tackle Star Lotulelei (who went on to be a high NFL draft pick), which will be much easier said then done.
Athlon Sports predicts a 5-7 2013 season overall for the Utes, along with a second-to-last-place finish in the Pac-12 South.
Bob Levey/Getty Images
Sonny Dykes
Well, at least the Trojans won't have Jeff Tedford to kick around anymore as new head coach Sonny Dykes attempts to install his pass-happy spread offense in Northern California.
However, Dykes will have to do it with a quarterback that has never thrown a pass in college as junior Austin Hinder, redshirt freshman Zach Kline and true freshman Jared Goff fight it out in the fall to see who starts.
Meanwhile, running back Brandon Bigelow averaged 9.8 yards per carry in limited action and the Bears still have a very good receiving corps despite losing Keenan Allen to the NFL.
On defense, Cal has some very good talent, especially on the defensive line, but they are young and inexperienced. It remains to be seen how effective they are until they are thrown into the fire.
Athlon Sports has predicted the Bears to finish 4-8 overall and fifth in the Pac-12 North.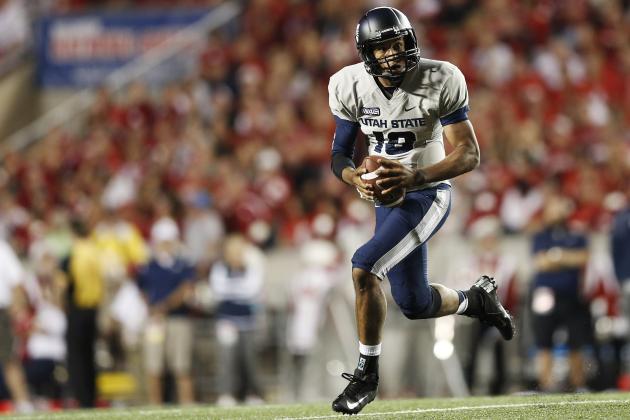 Tom Lynn/Getty Images
Chuckie Keeton
If this were 2012, the Utah State Aggies would rank as a much more difficult test for the Trojans. Still, this is a team that will have to be reckoned with.
Despite losing head coach Gary Anderson to Wisconsin, Utah State still has plenty to offer and it begins with their dual threat junior quarterback Chuckie Keeton, who threw for 3,373 yards and 27 touchdowns last year. Complementing Keeton is running back Kerwyn Williams, who ran for more than 1,500 yards.
Meanwhile, the Aggies' defense was stout in 2012 and they return many of their starters in 2013.
This year, examiner.com has the Aggies finishing second to Boise State in the Mountain Division of the Western Athletic Conference, and no one would be surprised if they win it outright.
It's a good thing USC has this team at home. Even then, perhaps I am placing the Aggies too low on this list.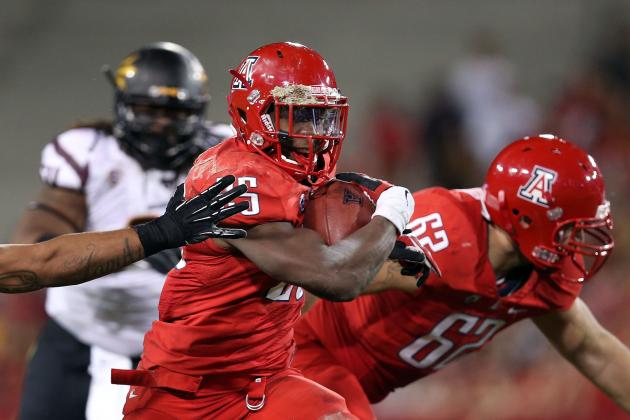 Christian Petersen/Getty Images
Ka'Deem Carey
Although Arizona is in search of a new quarterback, they still have a lot of talent for head coach Rich Rodriguez to work with.
For certain, the running game will be emphasized as Rodriguez welcomes back the nation's leading runner in Ka'Deem Carey, who rushed for almost 2,000 yards in 2012.
Fortunately for the Trojans, they will miss the return of wide receiver Austin Hill, who is scheduled to return from a knee injury in November. But regardless of when he returns, the Wildcats will have to settle on a quarterback decided by a competition between B.J. Denker, true freshman Anu Solomon and former Trojan Jesse Scroggins.
Arizona will also continue to struggle on defense as they adapt to the fairly new 3-3-5 "stack" defense, which is why Athlon Sports has it finishing fourth in the Pac-12 South Division with an overall 7-5 record in 2013.
Ezra Shaw/Getty Images

UCLA fans are feeling pretty good about their team after last year's 38-28 win over USC and they have good reasons for those emotions.
Led by dynamic young quarterback Brett Hundley, the Bruins are an up-and-coming team whose 9-4 record was good enough to find them playing in the Pac-12 championship game, where they lost to Stanford for all of the marbles.
While Hundley will continue to improve with experience, he will have to do it without record-setting running back Johnathan Franklin, who has moved on to the NFL, and behind an offensive line that leaked like a sieve in 2012 and isn't expected to be much better this year.
On defense, the Bruins will count on Anthony Barr at linebacker and a solid if not spectacular defensive line. However, their secondary is very young and they will have to hope their kids are quick learners.
USC gets their cross-town rivals at home and the Trojans will be motivated to wash last year's loss away at the Coliseum.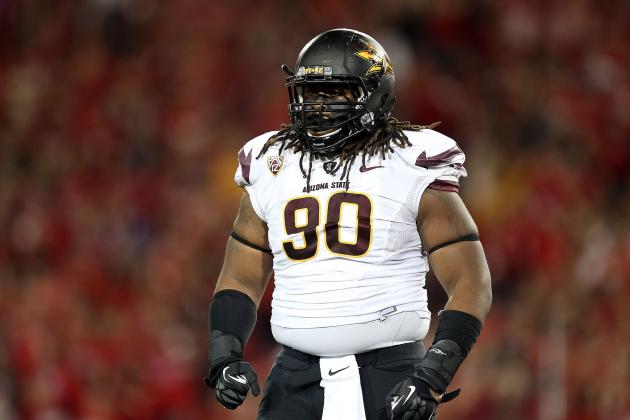 Christian Petersen/Getty Images
Will Sutton
This matchup with an improving Arizona State Sun Devil team was going to be difficult under any circumstances, but to do it in Tempe in late September makes it all the more brutal.
Blistering heat aside, USC will have to contend with an explosive offense led by quarterback Taylor Kelly and the two-headed running back monster of D.J. Foster and Marion Grice. In a grind-it-out, ball-control offense, look for both of these guys to approach if not surpass 1,000 yards.
On defense, tackle Will Sutton is as good as any you will find, and the rest of the front seven are scary good as well. If Arizona State has a weakness, it is in the secondary, but opposing quarterbacks may not have the time to pick it apart.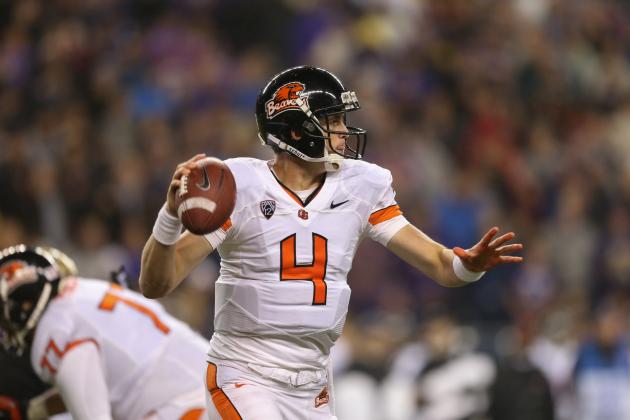 Otto Greule Jr/Getty Images
Sean Mannion
An unusual Friday evening game finds USC at its own personal house of horrors known as Reser Stadium in Corvallis, Oregon.
Trips to Oregon have always been historically difficult for the Trojans, and the Beavers, led by running back Storm Woods, promise to be more of the same this year.
Head coach Mike Riley will have to choose a quarterback between Sean Mannion and Cody Vaz, but both have talent. And whoever gets the call will have a good receiving corps to throw to—one led by Brandin Cooks, who had over 1,100 yards last year.
A veteran defense returns a bevy of starters too. While the defensive line has a couple of questions on the interior, the linebackers and secondary are solid and aggressive.
Athon Sports has predicted that the Beavers will finish third and go 8-4 overall in winding up third in the tough Northern Division of the Pac-12.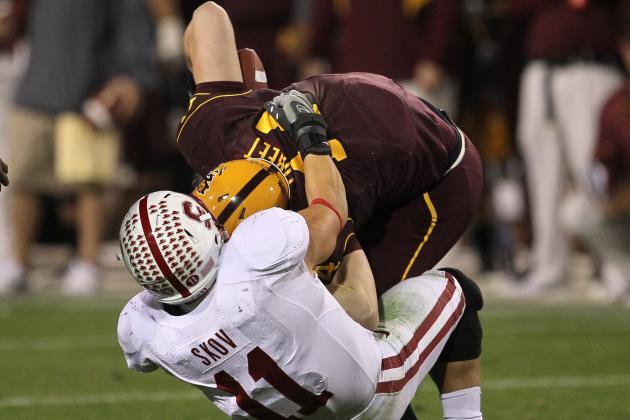 Stephen Dunn/Getty Images
Shane Skov
"What?" you say with indignation. "How can you not have a team USC has lost to four straight years as its most difficult game?"
Well, to be honest, it was a toss-up between this game and my ultimate choice for most difficult game, but a home contest with the Cardinal has a few things going for USC in snapping that losing streak.
For one thing, Stanford will be breaking in a new featured tailback after Stepfan Taylor took his considerable game to the NFL; the same goes for tight ends Zach Ertz and Levine Toilolo. And while quarterback Kevin Hogan is talented, the only receiver with a lot of experience he has to throw to is Ty Montgomery.
On defense, Stanford will continue to be tough, as it is led by two dynamic linebackers, Trent Murphy and Shayne Skov, but the secondary could be a tad shaky as it gains experience.
Still, this is Stanford, and USC has had a ton of trouble with them lately, so this game could wind up being as tough as any the Trojans play in 2013.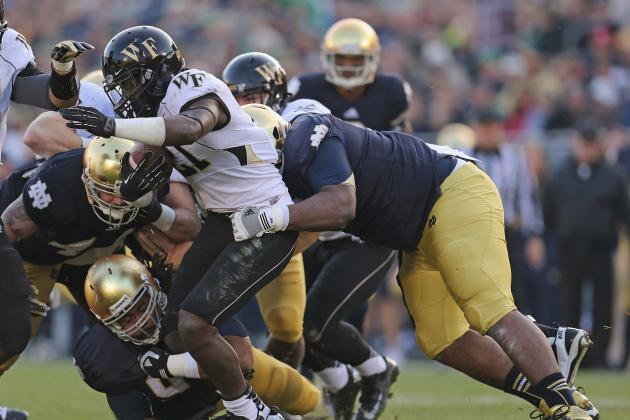 Jonathan Daniel/Getty Images
Louis Nix
Although the Trojans appear to have caught a break with the suspension of Irish quarterback Everett Golson, this is still Notre Dame, and South Bend is rarely an enjoyable place for USC to visit.
Senior Tommy Rees has been tabbed as the starter by head coach Brian Kelly. While Rees doesn't possess Golson's dual-threat capability, he is still a capable signal-caller with plenty of experience.
Running back Theo Riddick is gone, as is tight end Tyler Eifert, so Kelly will have to find some weapons this year to replace them. One of those will be running back George Atkinson III, who will be backed up by former Trojan Amir Carlisle (if he can stay healthy).
It is on defense where the Irish will shine, especially on the defensive line where Stephon Tuitt and tackle Louis Nix anchor one of the best lines in the nation.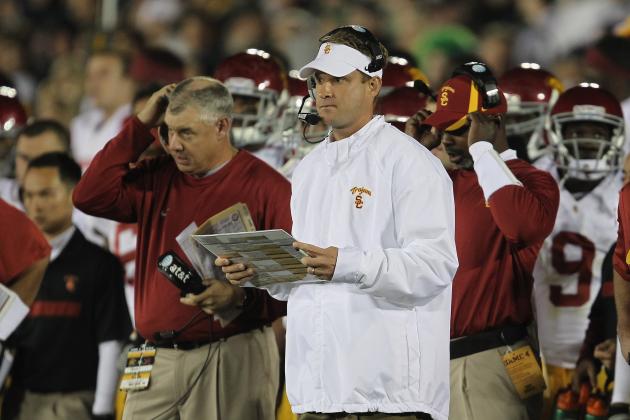 Jonathan Daniel/Getty Images

In viewing USC's 2013 football schedule, some fans see little reason why the Trojans can't muster 11 wins this year.
Others—perhaps more realistic or pessimistic—see nine wins as the final destination for a team that still has a few questions that need to be answered.
Whatever the final win total, this year's slate of opponents has a mix of both fairly easy and difficult foes.
To be certain, head coach Lane Kiffin and his staff will have to find a way to win the majority of their games in order to be invited back for 2014.
So while many may think the Trojans have a fair share of cupcakes this year, you can be sure that Kiffin doesn't share those sentiments.
And with his job on the line, you certainly can't blame him.