CHICAGO—It took a double-deflection to end it, and when the puck finally glanced off Andrew Shaw's leg, the Chicago Blackhawks took Game 1 of the Stanley Cup Final, winning 4-3 in triple overtime over the Boston Bruins.
It was the fifth-longest Stanley Cup Final game of all time, lasting 112 minutes and eight seconds.
If it's any indication of what kind of series will be played, the NHL is going to have a great one on its hands. The fast-paced, hard-hitting game could have gone either way once it got to overtime, but there was something a bit more relentless in the Blackhawks' play than from that of the visitors.
There was also a degree of luck, as Shaw readily acknowledged.
"How did I do it?" Shaw repeated a reporter's question. "It was just luck, no doubt about that. I was in the right place at the right time, and I don't care. We didn't care how the winning goal came, as long as it came."
Shaw got credit for the game-winning goal as Michal Rozsival launched a shot from the point. The puck floated toward Bruins goalie Tuukka Rask, hit Dave Bolland near the goal and then glanced off Shaw and into the net.
After 117 shots and 112:08 of hockey, Blackhawks go home with 1-0 series lead. Shaw: "When the opportunity is there, you have to seize it.''

— David

Haugh

(@DavidHaugh) June 13, 2013
As the Blackhawks have demonstrated so many times in this playoff season, they don't let unfavorable situations get the better of them. In this case, it was two separate two-goal deficits.
Burly Bruins left wing Milan Lucic buried two shots against Blackhawks goalie Corey Crawford, and Chicago had every reason to incur some self-doubt. The Bruins had given up just two goals in the Eastern Conference Final against the Pittsburgh Penguins, so the early lead looked golden for Boston.
Brandon Saad answered, scoring shortly after Lucic's second goal.
His goal got the United Center rocking and, more importantly, it got the Blackhawks going. From that point, Chicago started taking it to Boston with a ceaseless forecheck, led by Saad, Bolland and Shaw. The Bruins struggled to get the puck out of their own zone, making uncharacteristically sloppy passes.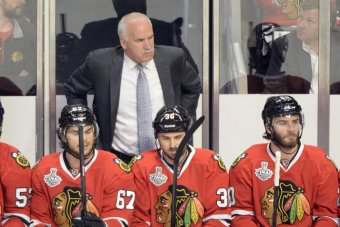 Scott Stewart-USA TODAY Sports
The Blackhawks were relentless aggressors, which was exactly what head coach Joel Quenneville expected from his team. Patrice Bergeron restored Boston's two-goal lead in the third period, but the Blackhawks would come back to tie the score with goals from Bolland and Johnny Oduya.
The third-period charge earned them a chance to win the game in the extra sessions, but that would never have happened if not for the remarkable play of Corey Crawford. The goaltender made 51 saves, 29 of which came in the overtime periods.
"Corey kept us in there, no doubt about that," Quenneville said. "They were all big-time saves. They had multiple plays where they came on him with clear-cut chances. Crawford stopped each one of them, and he gave us a chance to get the winner."
The Blackhawks nearly threw away Game 1.
They were called for too many men on the ice twice in the extra sessions, for example. That's normally the kind of thing that proves decisive in a postseason game, but the Blackhawks and Crawford were not going to let that stop them.
"You just don't see a goalie make those kind of saves so often," said Blackhawks captain Jonathan Toews. "I think he had just an amazing game."
Bruins head coach Claude Julien spoke up about not being down after the defeat, bringing up the team's success in the 2011 Stanley Cup Final against the Vancouver Canucks. In that series, the B's trailed 2-0 before rallying to win in seven games. Still, losing Game 1 in triple overtime is hard to take.
The Blackhawks' remarkable season, which teetered on the edge in the conference semifinal against the Detroit Red Wings when they trailed 3-1, has turned in a most remarkable way.
They have won eight of their last nine games since. More importantly, they have taken the first step in a journey that could allow them to claim one of the most remarkable seasons of all time.
Steve Silverman is a credentialed reporter covering the Stanley Cup Final in Chicago for Bleacher Report.