The Possible Ripple Effect of Gerrit Cole's Debut for the Pittsburgh Pirates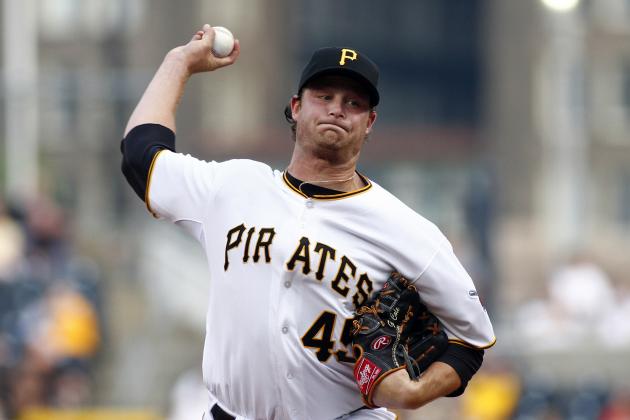 Justin K. Aller/Getty Images

Gerrit Cole's debut last night was a success: plain and simple. The former No. 1 overall pick went six and one-third innings, gave up seven hits and just two earned runs for the first victory of his Major League career.
Not only did Cole bring some life to the mound at PNC Park, but also at the plate, where he hit a two-run single with the bases loaded in the second to get the Bucs on the board.
The rest of Cole's teammates did their jobs, and the Bucs took the first game of a three-game set against the defending champs, by the score of 8-2.
Cole's numbers were solid in the start, but more importantly in this situation, he passed the eye-ball test. The young righty was throwing 97-98 mph early and often in his first start, as his fastball looked explosive as it sailed through the strike zone and into Russell Martin's glove.
His slurve swept through the zone with a ridiculous amount of lateral movement— enough to make Mark Melancon's 12-6 curve look easy to hit.
Plain and simple: he looked like he could grow into the top-of-the-line starter that the Pirates organization has been so excited about.
While last night certainly belonged to Cole, the rotation, the bullpen, the team, the organization and the National League will all be affected by Cole's insertion into the starting rotation.
When a top prospect comes up and looks as good as Cole did, there is going to be a heavy ripple effect. It starts on the mound, where Cole's right hand will do direct damage, and stretches all the way out to the rest of the National League.
Note: All statistics are from after Tuesday's game.
Begin Slideshow

»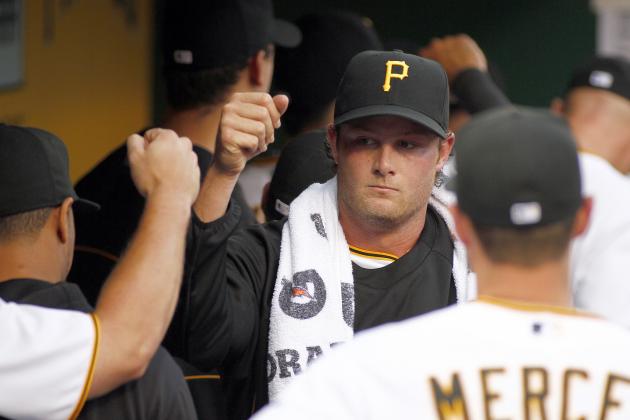 Justin K. Aller/Getty Images

After just one game, there are no facts about what kind of pitcher he'll end up being, but we can take indications, and we can comment on his pitches, approaches and his mound presence.
Cole's stuff is absolutely unbelievable. A few years ago, we watched Stephen Strasburg tear apart the Pirates in his debut and everyone was blown away by his repertoire. Cole's stuff is that good.
His fastball can touch 99 on the gun, his slider has some dive to it, his slurve has serious lateral movement and his changeup, which was seldom used, looks like it could be a great change-of-pace pitch, keeping the league's best fastball hitters off-balance.
Cole was also able to keep the ball down and pitch to contact without giving up a lot of line drives. His confidence for such a young pitcher is excellent and you can tell this guy trusts his stuff.
When looking at Cole's numbers from Indy this season, his lack of strikeouts were surprising considering how great his stuff was advertised to be. Now we know why: he throws a ton of strikes, he pitches to contact, and tries to get quick outs.
Cole didn't walk a single batter Tuesday night, although he did hit Gregor Blanco with a pitch. A young A.J. Burnett had equally great stuff early in his career, but struggled with walks (BB/9 numbers weren't below four any of his first four seasons).
The fact that Cole showed the ability to pitch within the strike zone effectively is an indicator that he probably won't struggle with walks.
It's important to remember that Cole didn't face a particularly great lineup yesterday. The Giants currently rank seventh in the National League in runs scored and 14th in the National League in long-balls, with only 47. That needs to be taken into account when quantifying Cole's success last night and when looking at areas he needs to improve in.
First of all, his control in general has a lot of room to grow. His fastball is by far his best pitch and if it's going to continue to be used at such a high rate, he's going to have to shore up his command.
He didn't miss high with the heater too often, which is a great sign, but he can definitely become more precise with his location, especially when he gets deeper in counts against some of the league's better hitters.
Cole's slider and off-speed stuff weren't highlighted in last night's game and I assume that speaks to his lack of confidence in throwing them for strikes. As Cole faced the order for the second and third times last night, Russell Martin began calling for more breaking balls to keep the San Francisco bats uneasy.
I'm not sure that Cole is able to throw his slider, slurve or changeup consistently for strikes when he's behind in the count, and that is something that he'll need to do if he wants to fulfill his potential.
Cole didn't look comfortable going inside to left-handed batters at times last night. Four of the seven hits that Cole gave up were to left-handed batters or switch-hitters. Cole's last pitch of the game was the only one hit for extra bases and it was hit by the switch-hitting, pinch-hitting Tony Abreu.
That specific pitch was supposed to be down and in, but it ended up catching too much of the plate and it got hit hard. Also, Cole hit the left-handed Blanco with a fastball that was supposed to be on the inside corner.
Pirates' pitchers this year have had great control on the inside corner and that includes guys like Wandy Rodriguez and Jeff Locke, whose stuff is nowhere near as good as Cole's.
If Cole can harness that inside corner, both with the fastball and with the diving slider, he'll see more success against left-handed hitters. Inversely, if he doesn't, he may struggle against the better left-handed hitters in the National League.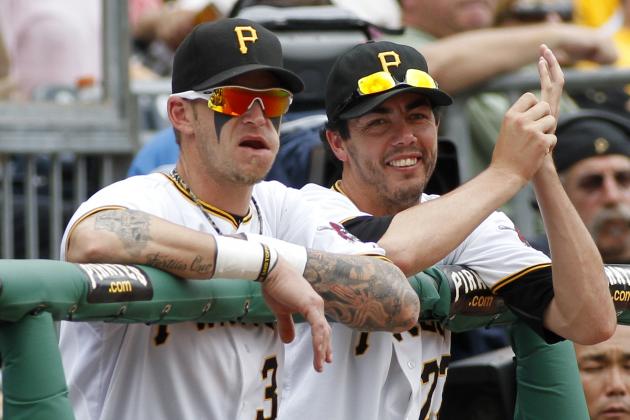 Justin K. Aller/Getty Images

Let's assume that Gerrit Cole is here to stay, which is a safe assumption despite our sample size of less than seven innings. Today, the Pirates have righties A.J Burnett and Gerrit Cole, and lefties Jeff Locke and Francisco Liriano in the rotation.
On Thursday, the Bucs are expected to call up Charlie Morton, who will be making his first Major League start since Tommy John surgery last June, and for now he's the fifth guy in the rotation.
On the disabled list, the Bucs have Wandy Rodriguez (left forearm tightness), James McDonald (right shoulder discomfort), Jeanmar Gomez (strained right forearm) and Jeff Karstens (on 60-day DL with right shoulder inflammation.
Of those four, I assume that only Wandy is guaranteed a spot back into the rotation, as McDonald's spot seems to have been stolen by Locke. Gomez will probably come back as a long reliever (the role he started the season in) and Karstens might not even get on the field this year.
Some people may look at this situation and called it "crowded" or some other phrase that has a negative connotation, but in reality, the depth is a luxury.
The Bucs have done a great job at getting guys back to full strength before bringing them back up to the majors and it's really amazing that guys seems to be ready just as someone in the rotation goes down (wink, wink).
The team-first mentality is apparent, showing Manager Clint Hurdle knows how to keep the peace in the clubhouse.
If the Yankees had this many starters, there would be tension in the clubhouse and tears of rage falling from the eyes of their beardless pitchers. In Pittsburgh, all the guys just want to win and watch Ashton Kutcher movies together (if you don't understand the reference, just watch Pirates batters make a "Z" with their hands and point it towards the dugout when they get a hit— it stands for Zoltan from the stoner-classic/ movie I watched continually when I was 12, "Dude Where's My Car").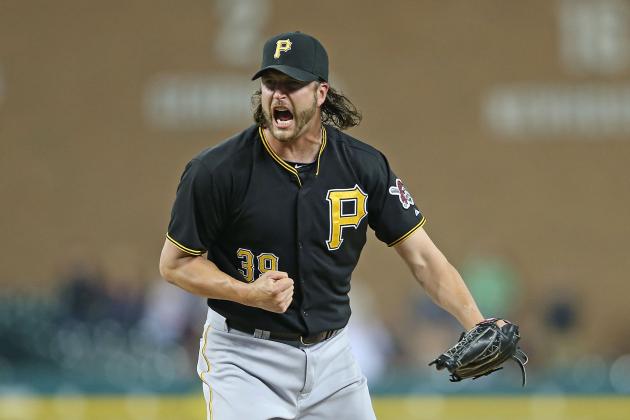 Leon Halip/Getty Images

The Bucs have only played 64 games so far this season, and the Pirates already have 13 pitchers who have made relief appearances this season.
Two of them are no longer with the organization (Jonathan Sanchez and Chris Leroux), three of them are on the disabled list (Jeanmar Gomez, Jared Hughes and Jose Contreras), two of them will most likely be optioned within the next few weeks (Mike Zagurski and Ryan Reid) and the other six all seem like they have earned their keep in the shark tank (closer Jason Grilli, setup man Mark Melancon, lefties Justin Wilson and Tony Watson, righties Vin Mazzaro and Bryan Morris).
When Gomez returns from injury, the assumption is that he'll head back to the pen and serve as their long reliever. Pittsburgh is currently holding eight relievers and only four starters, but that will probably change when they call up Morton to start on Thursday.
Mike Zagurski or Ryan Reid will likely be optioned to make room for Morton on the roster, although the team might choose to send seldom-used Alex Presley back to Indy (for the fourth time in less than three months).
If Cole is as successful pitching to contact as he was last night, then he'll give the Bucs a fifth starter who can give them six innings, something they've been looking for all year.
A.J. Burnett leads the team in innings per start, where he averages six and a third innings. Wandy Rodriguez (six innings per start, not including starts he left early due to injury), Francisco Lirano (six innings per start) and Jeff Locke (five and two thirds innings per start) are not too far behind the Pirates ace.
The four other pitchers who have made a start for the Pirates this year have a combined record of four wins, six losses, and have given up a total of 56 earned runs in 75 innings. None of those pitchers provided the Bucs with heavy innings, as they needed 18 starts to get to 75 innings (an average of a little over four innings per start).
The Pirates have had one of the best bullpens in baseball this season. Grilli and Melancon have combined to blow one eighth or ninth inning save this year in 42 chances (19 holds, one save and one blown save for Melancon, 23 saves in 23 attempts for Jason Grilli).
The rest of the pen, especially Justin Wilson (5-1, 1.98 ERA), Vin Mazzaro (3-0, 2.30 ERA) and Bryan Morris (3-2 2.03 ERA) have been unbelievably valuable, but they can't be pitching as much as they have been.
Clint Hurdle has seen this bullpen lose their effectiveness down the stretch of the last two seasons and keeping their innings down is a point of emphasis for him this season.
If the starters go deeper into games, the bullpen gets more rest. If the bullpen gets more rest, they'll be more effective. If the bullpen is more effective, the team wins more games. Simple, ain't it?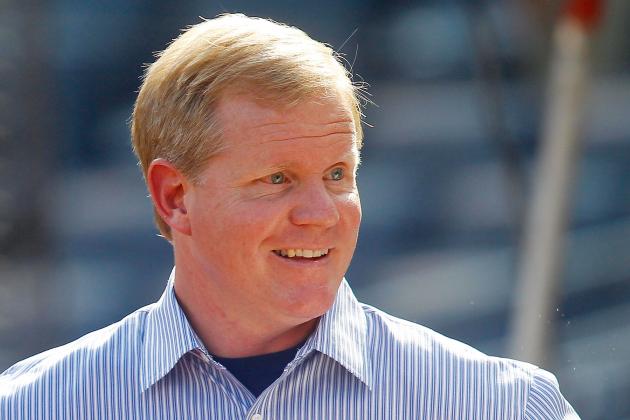 Jared Wickerham/Getty Images
Pirates' GM Neil Huntington
With Gerrit Cole up and dealing, Grilli and Melancon pitching at an All-Star level, veterans A.J. Burnett, Wandy Rodriguez, Francisco Liriano pitching well but near the end of the respective primes, the pitching staff is at a championship level.
The San Francisco Giants have won two out of three World Series and both of them were anchored by their pitching staffs. There seems to be a collective agreement among baseball minds that the Pirates can break through their pathetic streak of under -500 seasons.
So what's stopping the Bucs from being contenders for the National League pennant?
Simple answer: their unreliable offense.
To improve their offense, GM Neil Huntington doesn't need to go out and trade away his best minor league assets or even dump some of his young major league talent. With the Pirates' surplus of starting pitching, Huntington has the luxury of being able to shop the underachieving Charlie Morton and the inconsistent James McDonald.
I'm not saying that Huntington should throw either of those guys away for a little more depth off the bench, but instead to address one or both of the following needs: a consistent contact guy that can bat second or a power-hitting corner outfielder that Hurdle can add to his first base/ right field platoon.
So far this season, Travis Snider and Neil Walker have been penciled into the second spot in Clint Hurdle's lineup almost exclusively. Snider is currently batting just .234, with only two home runs and 19 RBI in 59 games.
Walker, who most recently has been batting seventh, but spent a number of games in the two-hole, is batting .251 with four long-balls and 16 RBI. Snider has recently been forced into more frequent action with fellow outfielder Jose Tabata on the shelf, but regardless, an upgrade is needed in the outfield for the Bucs.
Huntington knows how much potential his team has, and he knows that he can't mortgage their future in the hopes of getting a ring this year, but that doesn't mean he won't be looking to upgrade his offense before the deadline.
Last year Huntington traded reliever Brad Lincoln (who was sent to the minors less than a week ago) for Travis Snider, so expect of a couple deals like that.
This year, Huntington has two starters, who hold more value than long relievers, to offer the rest of the league, meaning it's possible he'll bring back an upgrade at the aforementioned needs.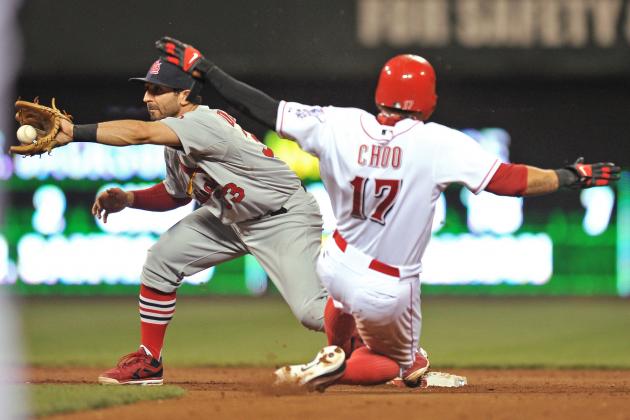 Jamie Sabau/Getty Images

With Gerrit Cole inserted into the starting rotation and pitching well, what does that do to the Pirates' chances at winning the NL Central?
Right now, the Bucs are four games behind the St. Louis Cardinals for first place in the Central division. They are currently only one game (zero games back in the loss column) behind the Cincinnati Reds for the first Wild Card and hold a three-and-a-half game lead over the Colorado Rockies for the second Wild Card.
If Cole continues to improve and continues to refine his plus (plus, plus, plus) stuff, the Pirates rotation can be just as good—if not better— than the Reds', the Nationals' and the Giants' starting staffs.
If Cole continues to improve and the bullpen stays close to where they are right now, then the Pirates could have the best pitching staff in the entire National League.
The Pirates are currently third in the Majors (and third in the National League) in team ERA. The Bucs' arms have a 3.22 ERA, which is just one hundredth of a point behind the Braves at 3.21, and both teams are right on the heels of the Cardinals staff, which leads the league with a 3.17 ERA.
The Bucs have done all that with McDonald and Liriano both missing significant time and without Morton making a single start. With the improved health of those guys and Wandy Rodriguez (who was put on the 15-day DL a few days ago), the team's ERA could actually improve.
If you couple the increased health of the starting staff with the increased rest of the shutdown bullpen, and you couple improving numbers of a few key sluggers (Alvarez, Martin in particular) and the addition of either an effective two-hole hitter and/or a power-hitting corner outfielder, and all of a sudden there's a team in Pittsburgh to fear in October.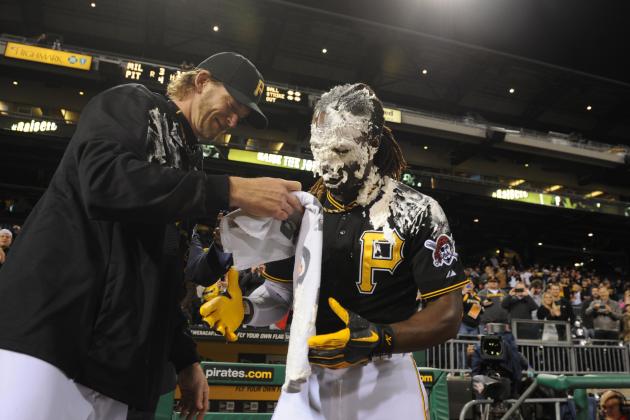 Brian Kersey/Getty Images

This one is a stretch, but let's just dream for a second (that's something you start doing when your favorite team hasn't had a winning season since 1992.... when you were two years old).
Imagine the Pirates make the playoffs this year. If you've been watching baseball, you know that all you have to do is make it to the postseason and there's always a shot that you can come away with a ring— especially if you have pitching the Pirates have.
Imagine that by next year, Gerrit Cole becomes a true No. 1 starter. Imagine Jameson Taillon, the Pirates first-round pick and second overall selection of the 2010 draft, comes up next June and impresses the way Cole impressed last night.
Imagine young hitters like McCutchen, Marte, Alvarez and Mercer become the backbone of a potent offense, while veterans Garrett Jones, Russell Martin and Neil Walker continue to play the brand of baseball they're known for playing.
Imagine we go into next year's postseason as the favorites, not the youngsters who are in over their heads.
Imagine by 2015 top prospects like outfielder Gregory Polanco and shortstop Alen Henson are in Pittsburgh and playing well. Meanwhile, top starting pitching prospects Luis Heredia and Tyler Glasnow are showing the kind of promise that Cole and Taillon did years earlier.
Imagine Neil Huntington becomes Major League Baseball's version of Sam Presti, who is a renowned NBA executive, known for building a championship-caliber team around successful first-round picks. What Durant, Westbrook, Ibaka and (the sadly departed) Harden are to Presti, Alvarez, McCutchen, Taillon and Cole will be to Huntington.
Imagine if the Pirates return to the once-proud franchise that they were, with the combination of great scouting, an old-school manager, and hardworking, selfless players.
You may say that I'm a dreamer, but I was two the last time they won.