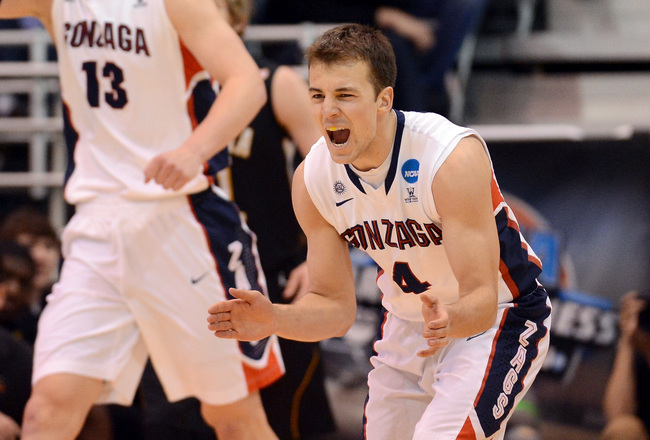 Harry How/Getty Images
Gonzaga basketball is reaching a crossroads in the context of today's college basketball society.
After a disappointing run in March Madness, many wonder if Gonzaga is perhaps incapable of ever stringing together wins against top programs.
If Gonzaga wants to prove that it belongs in the elite levels of the college basketball discussion, it must prove that it can put together back-to-back seasons of excellence.
A lot is riding on Gonzaga's performance this season. Another solid campaign could lead to a good seed in March, a potential run deep into the tournament and the commitment of several recruits who can help shape the program for the future.
The following are best- and worst-case scenarios for the Bulldogs in the coming year. While what will likely occur is somewhere in between the glory and pain of these best and worst cases, it is important to examine just what kind of impact this season can have on the Zags' future.
Recruiting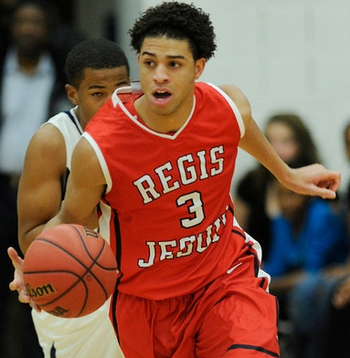 Josh Perkins has emerged as Gonzaga's top target in the coming recruiting windows. Photo courtesy of givengobasketball.com
When Gonzaga reached the top ranking in the nation, it saw a spike in recruitment interest and has taken this momentum into the summer.
With legitimate interest from top class of 2014 recruits such as point guard Josh Perkins (ESPN Top 100, No. 24), power forward Malik Pope (No. 30) and shooting guard Trey Kell, Gonzaga has a chance to turn its top ranking into a program-changing recruiting class.
Gonzaga, known for finding diamonds in the rough (see Kelly Olynyk) and underrated international players (see Elias Harris, Przemek Karnowski, etc.), has not had great success in luring top West Coast talents from the likes of UCLA, Arizona and SDSU, to name a few.
While it would hardly be a coup to land the seemingly interested Denver native to the Pacific Northwest, it will still be a challenge to win Perkins over the likes of UCLA and Kansas.
The same can be said for Pope, who boasts offers from high-major schools such as Georgetown, Baylor, UCLA and Louisville.
Kell does not boast the same prestigious offers that Perkins and Pope have, but it can be expected that after his recent performances on the AAU circuit, he will be receiving more interest.
Best-Case Scenario: If the Bulldogs are able to land two of the three recruits (preferably Perkins being one of them), they will be on their way to building toward their future after the graduation of Pangos, Bell and Stockton.
Worst-Case Scenario: The Zags lose out on all three recruits and are unable to find the heir apparents to their current starters until the recruiting class of 2015.
Offseason Training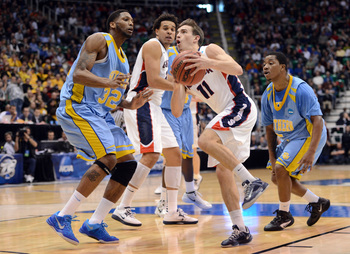 David Stockton and Gonzaga's guards must work on strength this offseason.
Harry How/Getty Images
Gonzaga was exposed in March in two main areas: backcourt toughness and perimeter defense.
While Kelly Olynyk and Elias Harris were able to hang tough in the post with Wichita State, Kevin Pangos and Gary Bell Jr. were bullied on the perimeter.
Bell Jr., who had been nursing injuries for the majority of the season, did not play during the pivotal moments of the game after being knocked out of the contest.
This offseason, the Bulldogs backcourt must work on building strength to avoid being bullied by bigger guards. This tended to be a weakness last season, and several players such as Marcus Smart and Pierre Jackson were able to have their way with the sophomore guards.
With the exit of Mike Hart, arguably one of the best perimeter defenders in college basketball last season, Gonzaga will be even weaker in an area that saw it eliminated from the tournament last season.
If Pangos, Bell, Stockton and the rest of the Gonzaga backcourt cannot learn to better defend the three-pointer, teams will sink dagger after dagger.
Best-Case Scenario: Gonzaga guards show improvement in these areas of deficiency and succeed because of it. With Pangos playing in China and Gary Bell Jr. becoming healthier by the day, the Bulldogs have a real chance to see their backcourt improve.
Worst-Case Scenario: Pangos and Bell show little improvement in these areas after an offseason to target them as needs and address them. Teams continue to target them on the defensive end.
Incoming Players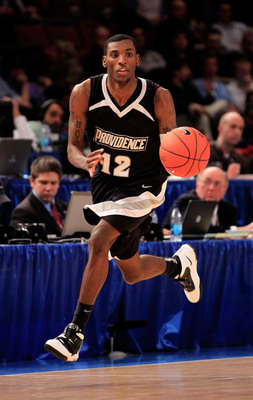 Gerard Coleman will look to build off his redshirt season.
Chris Trotman/Getty Images
There is a lot of excitement surrounding two transfers who will be eligible to play this season for the Gonzaga Bulldogs.
Former Providence standout Gerard Coleman put on a show at last season's Midnight Madness, and many fans expect him to carry this same energy forward into the 2013-14 season.
After seeing the impact that a redshirt season can have on a player such as Olynyk, who went from bench player to All-American, Gonzaga fans are excited to see what Coleman, who averaged 13.2 points per game in the Big East, can accomplish after his season off.
Also of note is Louisville transfer Angel Nunez, who will be eligible to play after the first semester next season. Nunez, a long-armed wing player, should provide solid perimeter defense for the Zags off the bench.
Incoming freshmen Ryan Edwards, a 7-footer out of Montana, and Luke Meikle, a 6'8" perimeter player from Tacoma, Wash., are not expected to do much in their first years. Both players figure to fit into the Gonzaga system well, but neither possesses the upside to contribute immediately.
Best-Case Scenario: Coleman comes off his redshirt season and provides Gonzaga with a third scoring option in its backcourt that has been missing since Steven Gray graduated two seasons ago.
Nunez becomes a defensive stopper on the perimeter, solving one of Gonzaga's greatest weaknesses. Gonzaga can hope to receive some production from Edwards and Meikle, but honestly, a true win would be for both to have a redshirt season to better prepare themselves for the college game.
Worst-Case Scenario: Coleman turns out to be an empty promise, and Nunez shows why he did not play significant minutes for Louisville last season. Edwards is forced to play his freshman season to provide depth in the frontcourt and is visibly outmatched all year.
Regular-Season Performance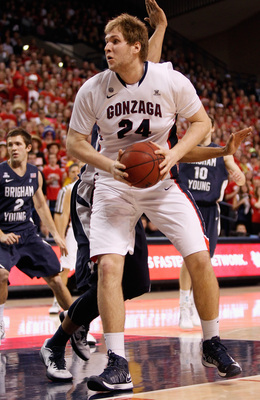 Przemek Karnowski and the Bulldogs will look to have another season with minimal losses.
William Mancebo/Getty Images
Gonzaga went undefeated in the WCC last season.
The Bulldogs' ability to steamroll all competition in their conference was more a statement about the talent that Gonzaga had and less to do with the apparent absence of talent on other teams.
Saint Mary's was dealt a significant blow this offseason when highly-touted recruit Cullen Neal, son of recently named head coach of New Mexico, Craig Neal, decommitted from the college to play for his dad.
Already left crippled with the loss of star point guard Matthew Dellavedova, Saint Mary's will simply not be the same team that has caused Gonzaga fits for the past couple of seasons.
BYU, however, is poised to have a great season. With several key players returning from a year ago, and with the addition of one of the top-rated recruiting classes on the West Coast, the Cougars will give the Bulldogs a run for their money whenever the two share the floor.
As always, Gonzaga will look to challenge itself in the nonconference. Gonzaga will participate in the Maui Classic, with a field that includes the likes of Syracuse, Cal and Baylor.
Best-Case Scenario: Gonzaga wins the Maui Classic over Syracuse, and the team only takes one loss through nonconference play. The Zags win the WCC with only one loss (at BYU) and wins the WCC tournament. This would leave the Zags with another two-loss season and would likely put them in contention for a top-four seed in the tournament.
Worst-Case Scenario: Gonzaga loses the Maui Classic and struggles throughout the nonconference segment of the season to string together wins and find an identity.
Limping into WCC play, Gonzaga takes three losses in conference play (home and away to BYU, at Saint Mary's and on the road to a California school). The Zags lose in the WCC championship game, and they are given a No. 9-to-11 seed in the tournament.
NCAA Tournament Performance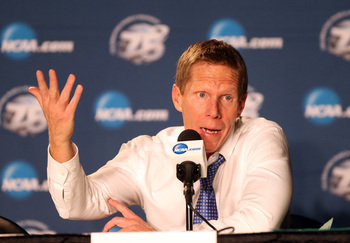 Mark Few was unable to comprehend the early exit a year ago, and he will look to take Gonzaga further this season.
Streeter Lecka/Getty Images
The overwhelming opinion of the Bulldogs is that the team is unable to perform in March, and given the early exit at the hands of the Wichita State Shockers, there may be some truth to that.
Gonzaga has not made it to the second weekend of the NCAA tournament since 2009, and while there is a nice ring to 15 straight tournament appearances, the basketball community needs to see more from the proverbial underdog.
With the likes of Butler, VCU and Wichita State breaking through to the Final Four, it is ridiculous that Gonzaga cannot even make the Sweet 16.
You can believe that Gonzaga fans are beginning to tire of the letdown that is felt every March. Gonzaga will be expected to reward its loyal fanbase with a run in March this season, and it would do well to succeed where it has recently failed.
Best-Case Scenario: In a year that they recover from the loss of their highly-touted frontcourt, the Bulldogs would consider a string of wins and an appearance in the Sweet 16 or Elite Eight as a successful season.
Worst-Case Scenario: Gonzaga finds itself on the wrong side of a first-round upset to a Big Ten school, continuing the narrative that the team is soft and cannot compete in March.
Keep Reading
Load More Stories