Just a couple of weeks removed from the announcement that his decorated NBA playing career was at an end, we learned on June 12 that Jason Kidd will be the next head coach of the Brooklyn Nets. And while it's best to let that kind of bombshell sink in before reacting, that's really not what Twitter's for.
Behold: the immediate, often congratulatory but also sometimes snarky blowback in the aftermath of Kidd's hiring!
But first, the latest from Kidd's personal website, complete with sweet graphic and nifty font.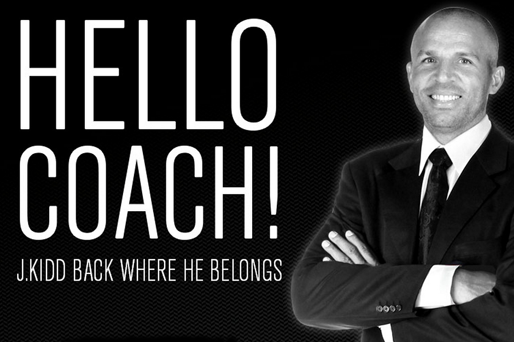 Cool, huh?
Anyway, it shouldn't be a surprise that everyone Kidd ever played with chimed in to congratulate him right away. The guy made a living by setting up teammates and imparting his wisdom to young players. The outpouring of support from his former on-court peers was uplifting.
From my rookie year to now @RealJasonKidd has always been a great teacher and more importantly a great leader. Tru warrior tru winner!!

— Brian Scalabrine (@Scalabrine) June 13, 2013
Thanks, White Mamba! Let's see what a few of Kidd's more recent teammates had to say.
And congrats to one of my fav players ever @RealJasonKidd on his head coaching job! #iLoveThisGame and everything he did for it.

— Iman Shumpert (@I_Am_Iman) June 13, 2013
It's unclear what Kidd taught Iman Shumpert (it was not how to style one's hair), but it certainly doesn't seem like he'll have any trouble connecting with young players in Brooklyn.
S/O 1st ballot HOF @RealJasonKidd, one of the best to do it and on the new gig!

— Marcus Camby (@MarcusCamby23) June 13, 2013
And now we know that ancient players also respect Kidd.
Wow, JKidd the Nets head coach, great move, so happy for Jkidd

— Charlie Villanueva (@CV31) June 13, 2013
Apparently, Kidd's influence affected guys he never even played with.
That's big time @RealJasonKidd becoming the Nets Head Coach. Who was the last player to retire then become a head coach the following sea?

— Jared Dudley (@JaredDudley619) June 13, 2013
Thanks to Jared Dudley, the inevitable speculation about whether Kidd will be a player-coach started within moments of his getting the sideline gig in Brooklyn. Hey, we were all thinking it, right?
And, just because he had to be different, Carmelo Anthony congratulated Kidd on Instagram. Too cool for Twitter, 'Melo?
Most importantly, the one player Kidd desperately needs to reach seems to be on board.
Excited to get to work under our new head coach @RealJasonKidd great leader and great basketball mind will be a great head coach #BROOKLYN

— Deron Williams (@DeronWilliams) June 13, 2013
Jason Kidd back in the NBA as the Nets head coach. If Deron Williams is even more lethal running the fast break next year, you'll know why.

— ESPN (@espn) June 13, 2013
And for the sake of comedy, the former Mr. Kardashian also approves.
Congrats to J kidd!

— Kris Humphries (@KrisHumphries) June 13, 2013
A couple of accomplished point guards also logged on to offer props to Kidd.
Congrats to @RealJasonKidd on becoming the Head Coach of the Brooklyn Nets! All the best bro!

— Mark Jackson (@JacksonMark13) June 13, 2013
Congrats to one of the greatest point guards ever and my friend @RealJasonKidd on becoming the Brooklyn Nets' new head coach!

— Earvin Magic Johnson (@MagicJohnson) June 13, 2013
Let's just hope that Kidd's tenure as a head coach works out a bit better than Magic Johnson's did. For that matter, let's hope it works out better than his short-lived TV show, too.
And then the NBA media got involved. Don't worry, I'll lead with the jokes.
So with Jason Kidd getting hired as a coach I assume his means Grant Hill gets a job somewhere and they win Co-Coach of the Year together.

— Royce Young (@dailythunder) June 13, 2013
This is actually a good point and seems somewhat inevitable. Grant Hill and Kidd have been linked forever since they shared the Rookie of the Year award so long ago. Their retirements synced up and now, here we are. Let's all just wait quietly until Hill is named the coach of the Los Angeles Clippers, shall we?
The Nets are just trolling the f*ck out of Stephon Marbury, right?

— Russ Bengtson (@russbengtson) June 13, 2013
I fully support any mention of Stephon Marbury, no matter how tangential. We need more head tattoos in the league.
At this rate, Jason Kidd is going to be commissioner after next season.

— Taco Trey Kerby (@treykerby) June 13, 2013
Sure, why not? The trajectory seems to be pointing that way.
If Jason Kidd doesn't hire Kerry Kittles as a sock advisor, I'm going to be upset.

— Taco Trey Kerby (@treykerby) June 13, 2013
Also, yes.
Jason Kidd's first practice: "Hey everyone. What's the key to winning? Play the exact opposite of how I played in last year's playoffs."

— Alex Kennedy (@AlexKennedyNBA) June 12, 2013
Burn. This feels about right, considering there were so many jokes about how Kidd had actually retired in January (based on his awful play after the calendar flipped) and merely announced it after the New York Knicks were bounced from the playoffs.
Howard Beck of The New York Times was among the first to break the news, so it's only fitting that he be given the honor of multiple consecutive tweets. Don't worry, though; they're relevant, as they chronicle Nets GM Billy King's statement after Kidd's hiring.
Billy King statement (1/2): "Jason is a proven winner and leader with an incredible wealth of basketball knowledge and experience."

— Howard Beck (@HowardBeckNYT) June 13, 2013
King cont.: "This will be a natural transition for him to move into the role of head coach ... "

— Howard Beck (@HowardBeckNYT) June 13, 2013
King cont: "...as he embodies the tough, smart and team-first mentality that we are trying to establish in Brooklyn."

— Howard Beck (@HowardBeckNYT) June 13, 2013
And as we head to the top of the Nets' hierarchy, Mikhail Prokhorov added his two cents.
"He has the fire in the belly we need," Mikhail Prokhorov said of Kidd in a statement. #Nets

— Mike Mazzeo (@MazzESPN) June 13, 2013
I like to imagine him saying this while skimming across the waves of his own private lake on a solid gold jet ski, two Russian models in tow.
Next come the media types, most of whom pointed out how bold the Kidd hire was.
Nets made a very intriguing move with Kidd, but its not as much of a gamble as some are suggesting. High hoops IQ is a great foundation.

— Alan Hahn (@alanhahn) June 13, 2013
Still more mentioned the fact that the Nets don't yet have any capable assistants with which to surround their rookie coach.
Jason Kidd has no assistants yet committed to joining staff, but Nets understand need to surround him w/ strong cast. Money won't be issue.

— Adrian Wojnarowski (@WojYahooNBA) June 13, 2013
Don't worry, Lawrence Frank is almost definitely on Kidd's speed dial.
And just to prove that not everybody was stoked on the Kidd hire, here's Patrick Ewing's son pointing out the injustice of the move.
For real though I'm mad J Kidd got a head coaching job a year after retiring n my pops been coaching 10 years n barely gets a look

— Patrick Ewing Jr (@pewingjr6) June 13, 2013
That being said I hope j Kidd does great I'm glad the nets brought him back. I love the Knicks but the best offer they had was NBDL HC?

— Patrick Ewing Jr (@pewingjr6) June 13, 2013
It's hard to fault him for standing up for his dad, but he's got to know that Twitter isn't the place to effect change. We'll give him a pass on this one, considering that his father probably does deserve a few more serious looks than he's been getting.
Last but not least, it's Mrs. Kidd.
June 13, 2013
Happy wife, happy life.