BYU Football: Why Kyle Van Noy Will Be a Heisman Contender in 2013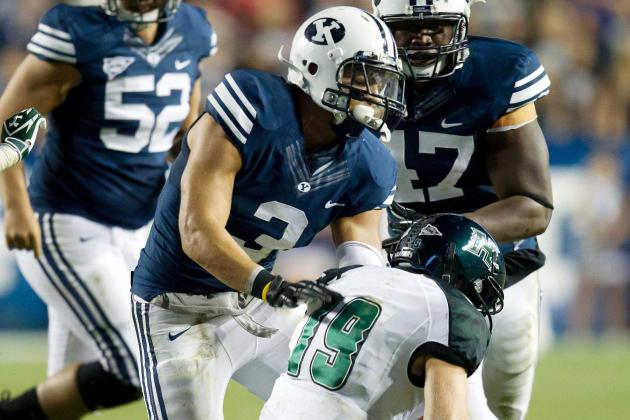 Russ Isabella-USA TODAY Sports

Kyle Van Noy has been the superstar of the BYU defense for several seasons, and his senior year as a Cougar could be better than any other. The extreme prize a college football player can earn is the Heisman Trophy, and Van Noy could be in a position in 2013 to contend for it.
I'm not saying that the Reno, Nev. native will be the winner of the famed award, but his performance throughout the year could help him compete.
The odds will be, without a doubt, stacked against Van Noy, but here are three reasons why he will be in the running for the Heisman.
Begin Slideshow

»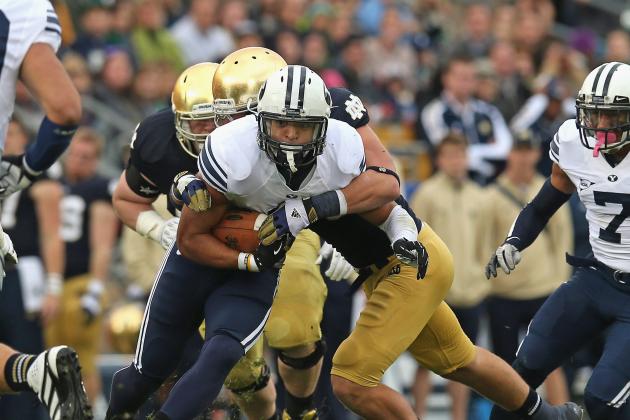 Jonathan Daniel/Getty Images

If there is anything that can get national eyes looking at you, it's having a big performance on a big stage. The Cougar schedule will give KVN plenty of those opportunities this year, with home games against Texas and Boise State and road matchups at Notre Dame and Wisconsin.
If Van Noy can come up with big showings in those games (three of which are scheduled to be on national TV), there's no doubt that Heisman voters will start looking at him. With some huge games and a little help from ESPN, the stage is definitely set for national recognition.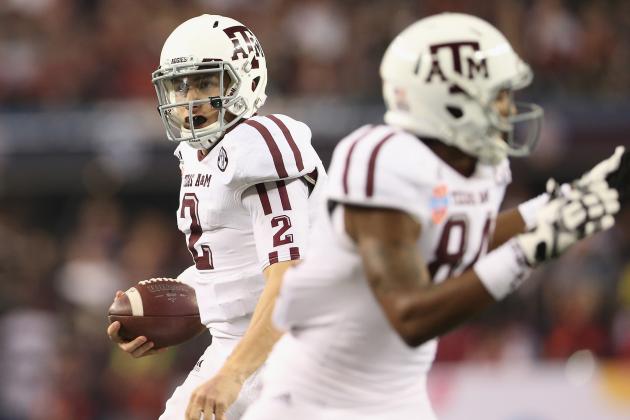 Ronald Martinez/Getty Images

There are plenty of great players who compete on great teams, but there are flaws with every one of them. Although this is one heckuva competing class, here's what could keep some of them from hoisting the hardware:
Johnny Manziel will have the opportunity to repeat as the Heisman winner, something that has been done only once (in the 1970s). It will be difficult to handle the pressure that will be on the quarterback, and with a weak schedule (only one member of Texas A&M's schedule is on Phil Steele's Top 26 list) it will be tough to repeat.
Jadeveon Clowney faces the same dilemma that Van Noy does—he plays on the defensive side of the ball. Due to this fact, it is unlikely that either will win, but they will still compete.
Braxton Miller is a great quarterback, but has not fared well in close games. He does not yet have a great passing arm, and has struggled when it comes to airing the ball out. In the Buckeyes' two overtime games in 2013, Miller threw for 113 yards in one game and 97 in the next, along with one touchdown and one interception.
AJ McCarron has led Alabama to several national championships, but he is not the star of the team. The Tide relies on their rushing game more than any other offensive aspect, and this alone could be a handicap to McCarron.
These are only a few of the many players competing for the Heisman, and there's no doubt that it will be hard for Van Noy to slip in the race.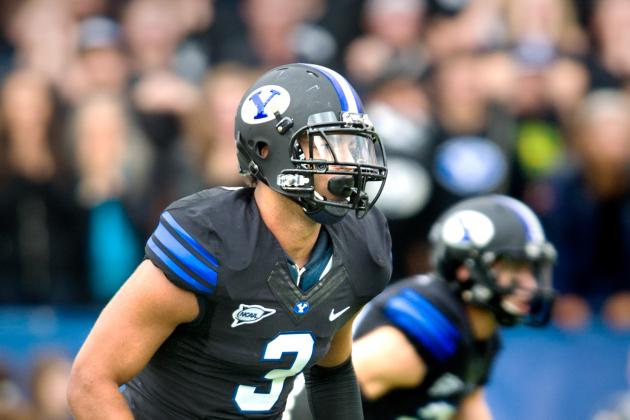 Douglas C. Pizac-USA TODAY Sports

If you look at KVN's stats from year to year, it's incredible to see how much his game has improved. From his sophomore to junior season, his forced fumbles and blocked kicks doubled, while his tackles for loss, blocked punts and sacks also increased.
Van Noy is a great player, and if he can put together a stellar season in 2013, we might see him contend for college football's greatest award. His defensive status alone may prevent him from winning it, but there's always hope to be in the running.