In 2012, for just the third time since Ben Roethlisberger became the Pittsburgh Steelers' starting quarterback in 2004, the team missed the playoffs. Their 8-8 record tied for their worst finish in that span as well.
In response to the disappointing season, which was the result of a poor run game, injuries to key players such as Roethlisberger and a lack of both turnovers and sacks by their otherwise solid defense, the Steelers made roster changes and draft decisions to help prevent another bad year.
Performance issues and salary-cap problems collided, leading to the release of linebacker James Harrison and Pittsburgh's willingness to let wide receiver Mike Wallace, running back Rashard Mendenhall and cornerback Keenan Lewis leave in free agency.
As a result, the Steelers selected linebacker Jarvis Jones, running back Le'Veon Bell and wide receiver Markus Wheaton in the first three rounds of the 2013 draft and brought back William Gay, formerly of the Steelers, to take up the starting nickel-corner job while Cortez Allen moves to the starting spot vacated by Lewis.
The goal is not for the Steelers just to improve upon their 8-8 record but to make it back into the postseason, but for the reasons below, it doesn't seem like it will be in the cards this year—even if their win-loss record improves.
The Run Game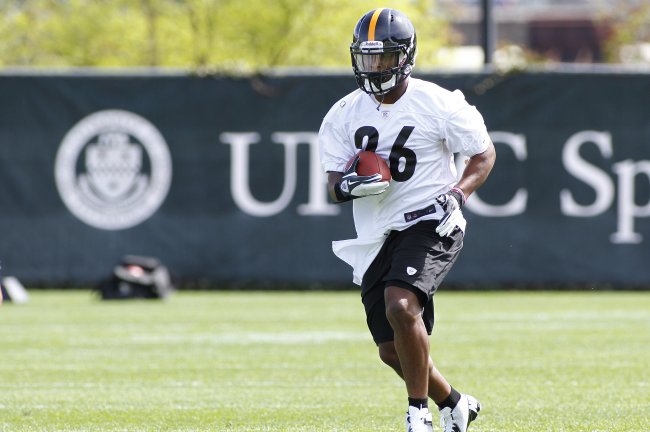 Justin K. Aller/Getty Images
Dismal is the only word to describe the Steelers' ability to run the ball last year.
Mendenhall's ACL tear near the end of the 2011 season forced them into looking to Jonathan Dwyer and Isaac Redman to carry the load of the rushing duties, and injuries, fumbles and overall ineffectiveness led to the Steelers' averaging a disappointing 96.1 rushing yards per game.
The strange thing is that though the Steelers' running formula quickly proved to not be effective, they didn't choose to make many changes aside from shuffling around the backs on their roster. No other team ran the ball up the middle more than the Steelers last year—according to Football Outsiders (subscription required) a whopping 74 percent of their runs came through the middle of the guards, though it yielded just 3.44 yards per carry, ranking them 31st in the league from that direction.
This year, the Steelers are going to try more zone blocking to help out their run game, aided by a younger offensive line, a new line coach in Jack Bicknell, Jr., and the rookie Bell, whose style of running is best suited for outside zone work.
On the one hand, this is a smart move—finally, the Steelers were able to recognize the exact things that were not working in their run game last year and make changes that should result in improvement.
On the other, however, it's a gamble that may not pay off in the short term, though it could work out in the long run.
Earlier this month, Mike Tanier of Sports on Earth provided a detailed breakdown of what happened to Pittsburgh's run game last year and what it hopes to accomplish in 2013. His biggest concern—aside from head coach Mike Tomlin's hair-trigger predilection to bench backs and punish them for fumbles—is whether or not the current group of Steelers offensive linemen can handle the new blocking scheme.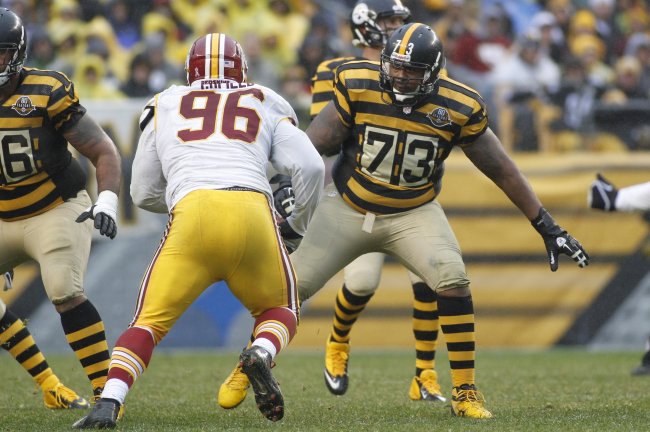 Justin K. Aller/Getty Images
Says Tanier, on guard Ramon Foster: "His awkward lateral blocking makes him the biggest question mark on the line." On tackle Marcus Gilbert: "The Steelers have been planning to move Gilbert from right to left tackle for two years, but something always goes wrong: Gilbert gets hurt, or he gets benched for skipping a team meeting, or the Steelers just get cold feet." Of second-year left tackle Mike Adams:
Adams, last year's second-round pick out of Ohio State, is a specimen: 6-foot-7 and change, long arms, a thick frame that looks perfectly proportioned at 325 pounds. He's a little sluggish off the line, however, and his fundamentals need work. Adams is exactly the kind of tackle zone-blocking teams avoid: The system is built for smaller, quicker, ornerier players. Assuming a smooth recovery from his attack, he will have to adjust.

Of course, the Steelers won't be running only zone-blocking rushing plays. The presence of Jonathan Dwyer and Isaac Redman, who both work well in power-running plays, assures this.
But a revamp of the run scheme with an offensive line only partially suited to execute it means there could be some growing pains that hold back their entire offense and their win-loss record as a result.
The Passing Game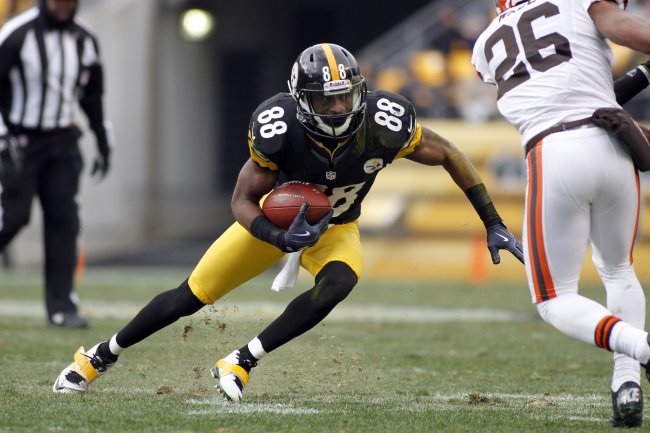 Justin K. Aller/Getty Images
The Steelers' run game isn't the only part of their offense with question marks surrounding it—their passing offense has also undergone a great deal of change this offseason, and it's difficult to yet say whether that change is for the better.
Letting Mike Wallace leave was a necessity, between his disappointing 2012 season and his high asking price on the free-agent market, but his departure leaves the Steelers to rely on Emmanuel Sanders to take his place in the starting lineup.
Sanders had his strongest season in his three-year career in 2012, with 74 targets, 44 receptions, 626 yards and a touchdown. However, he'll need to up his production significantly—especially where touchdowns are concerned—to be a perfect replacement for Wallace. Antonio Brown will be joining him, yes, but Brown too isn't a touchdown machine, having had five last year (with 787 receiving yards) and two in 2011 (when he had 1,108 receiving yards).
The Steelers drafted a speedy deep threat, Markus Wheaton, in Round 3 of this year's draft, but it won't be until well into training camp that we'll know how major a role he'll play in his rookie season. Veterans Jerricho Cotchery and Plaxico Burress remain as situational players who, especially in Burress' case, could be strong red-zone threats, but little more.
However, the biggest issue facing Pittsburgh's passing game at present is the right-leg ACL, MCL and PCL tears suffered by tight end Heath Miller at the end of the 2012 season.
Though Miller's rehabilitation is progressing as planned, he's only comfortable saying there's "a chance" that he's available to take the field come Week 1. If he cannot, the more time he misses, the bigger the strain on the Steelers' ability to move the ball.
USA TODAY Sports
In offensive coordinator Todd Haley's ball-control, short-passing offense, Miller played a significant role. Catch for catch, no Roethlisberger target was more productive last season, catching 71 passes on 101 targets for 816 yards and eight touchdowns and adding a career-high 44 first downs. While the Steelers have enough players who can take up field space should Miller miss time, none can rival his reliability.
Miller's absence could directly result in lost games; that's how important he is to this team in this offensive system.
The AFC North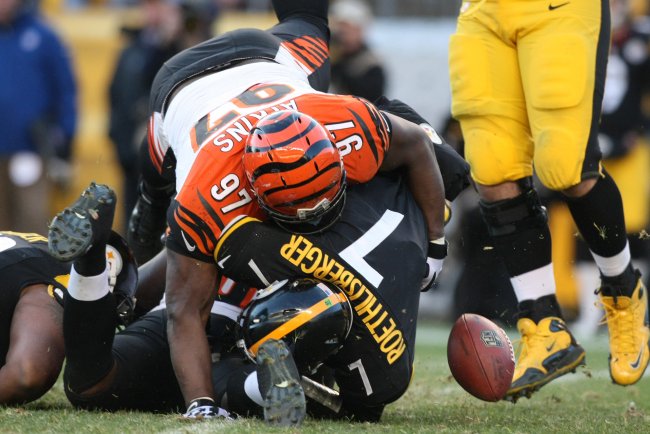 USA TODAY Sports
Though it's not unheard of for three teams from the same division to reach the playoffs—the Steelers, Baltimore Ravens and Cincinnati Bengals all did so in 2011—it's difficult. And with the Steelers no longer a team on the rise, but a team on the mend, there may be no room for them at the top of the AFC North this year.
Yes, the Ravens also underwent a drastic revamp this offseason, but in many ways they got stronger. Their defense is younger and faster without any sacrifice in quality, their run game is well established, their pair of tight ends (Dennis Pitta in particular) adds an extra dimension to their passing offense, and quarterback Joe Flacco may finally have found an offensive coordinator—Jim Caldwell—who can get the most out of him while reducing his inconsistencies.
The Bengals, on the other hand, seem to have nearly everything in place to not just be a top team in the division for years to come but also be a bona fide Super Bowl contender. Like the Ravens, their run game is good and getting better; their quarterback, Andy Dalton, is serviceable enough to have helped them along to back-to-back playoff appearances in his first two seasons; and their defense is one of the most talented and physical in the entirety of the league.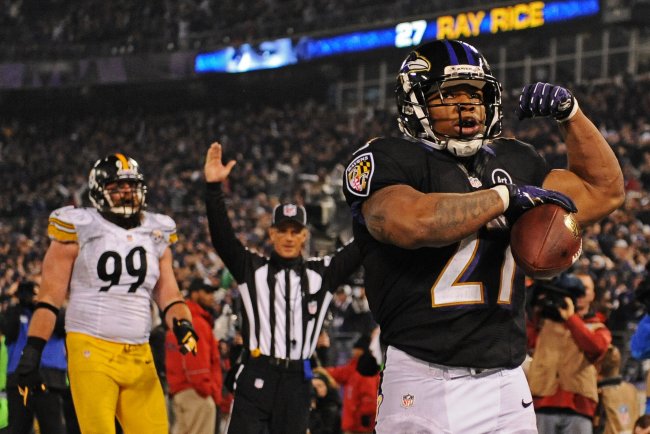 Patrick Smith/Getty Images
For the Steelers to reach the postseason this year, they'll need to at least win one of the two games they'll play against the Ravens and Bengals; better yet, they'll need to sweep at least one of them. Add into the equation a Cleveland Browns team that can no longer be ignored—they're patterning their defense after the Steelers' 3-4 attack and offensive coordinator Norv Turner is one of the best passing- and run-game minds of the last two decades—and the Steelers appear to have an uphill battle to make the playoffs.
In a strong division overall like the AFC North, being simply a good team may not be good enough. Where once the Steelers were the class of the division, falling behind even slightly this year could result in another year in which they miss the postseason—even if they do have better than 2012's 8-8 record when the regular season wraps.
The NFL As a Whole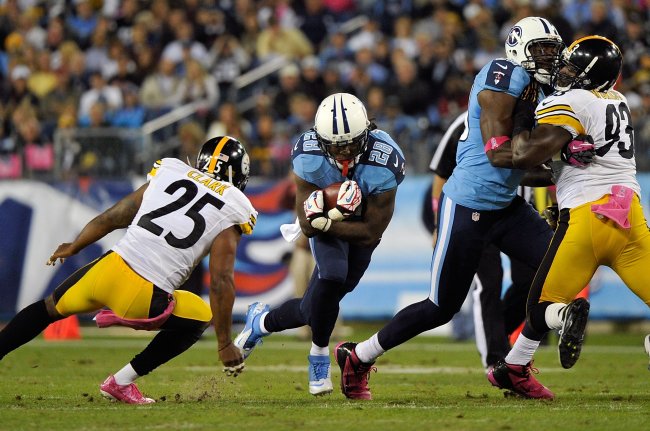 Frederick Breedon/Getty Images
So how can the Steelers have a winning record this year but miss the playoffs? To find the answer to that question, one must look back to the 2007 Cleveland Browns.
In 2007, the Browns managed to put together their best season since returning to the NFL in 1999, finishing 10-6, the same as the Pittsburgh Steelers. They were but one of just seven AFC teams to have a better than .500 record that season, but it still wasn't enough for a playoff berth—head-to-head records and win percentages kept them from a wild-card spot.
Though the AFC wasn't the most dominant conference that season, the Browns' situation provides a good example of how the Steelers could still have a 10-win 2013 and yet not make the playoffs. The 2012 Chicago Bears, also with a 10-6 record, are an even-more-recent example, albeit one in the NFC.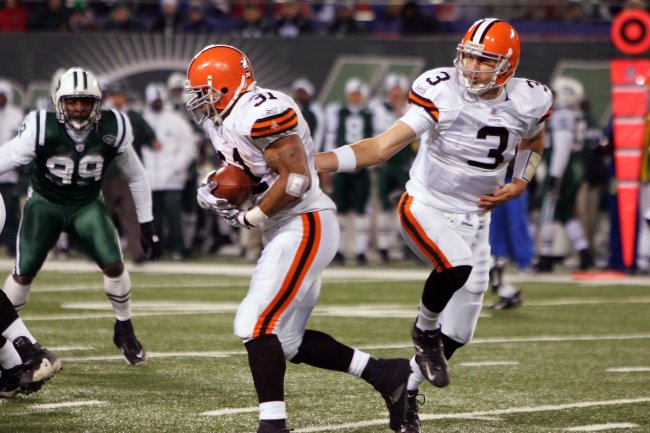 Jim McIsaac/Getty Images
In 2013, the Steelers have seven games against 2012 playoff teams—two apiece against the Ravens and Bengals, plus clashes with the New England Patriots, Green Bay Packers and Minnesota Vikings. They'll also be facing the Bears and the Detroit Lions, two formidable NFC North teams. This is quite the gauntlet to run.
Any early losses could quickly add up, especially once the second-half push for the postseason begins. A slow start—owing to the new running scheme, the lack of Miller, the adaptation to not having Wallace or any combination of these—might not be overcome by a strong latter-half showing, considering their divisional rivals and the rest of the talent among both the AFC and the NFL as a whole.
While it doesn't seem likely that the Steelers will have a terrible season—defined, here, by a sub-.500 record (8-8 is disappointing, yes, but there are many teams in the league that wouldn't mind that kind of end to the year)—the circumstances also aren't lining up for a playoff run, either.