Don't look now...well actually, go ahead and take a peek so you can believe it with your own eyes. The Pittsburgh Pirates are 38-26 and sitting on a playoff berth.
Playing in the toughest division in Major League Baseball, the NL Central, the "Buccos" have been able to keep pace with the Cardinals (currently the best team in baseball at 42-22) and the Reds, who the Pirates currently trail by a half game in the standings. They've done so by compiling a top-notch record in front of their hometown faithful at PNC Park and by boasting one of the best pitching staffs in all of baseball.
When playing at home, the Pirates are 22-11, tied for the second-best winning percentage at home in the National League (trailing only the Atlanta Braves at 21-7). With the expansion of the MLB playoffs to five teams per league, the Pirates now have their best chance to make the playoffs since the 1992 season, when this happened in the NLCS and Pittsburgh lost star outfielder Barry Bonds to the Giants in free agency.
In addition to being a great story for a team which has had a challenging last couple of decades, the Pirates' success doesn't appear to be merely an early-season fluke. There are several reasons to which we can attribute the Pirates' success, which continued Tuesday night as the team's top overall pick in the 2011 MLB draft, Gerrit Cole, pitched 6 1/3 innings of two-run ball and drove in two runs in an 8-2 victory over the defending world champion Giants. Here are some of the main reasons why the Pirates, at their continued pace, will make the playoffs this season:
Pitching wins championships, and Pittsburgh has an excellent pitching staff.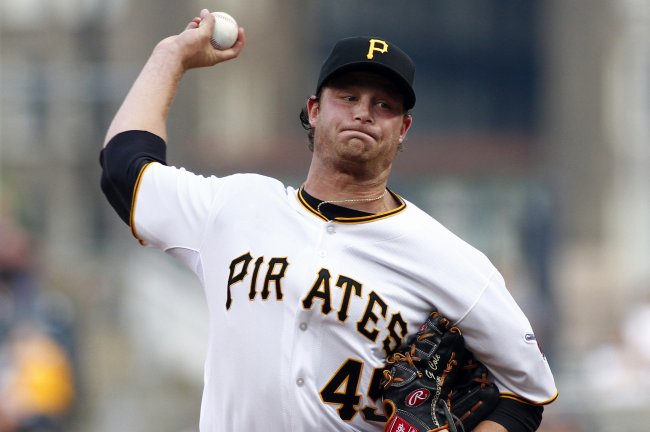 Justin K. Aller/Getty Images
Cole was as advertised in his debut, shutting down the world champs from the mound and battering them from the plate with two RBIs, as well. More importantly, Cole does not appear to be lacking in confidence, after going 5-3 with a 2.91 earned run average with Pittsburgh's AAA affiliate before being called up.
ESPN's David Schoenfield pointed out that Cole threw his fastball 64 times in his debut, and 50 times for strikes. In addition, Cole led with a fastball as his first pitch against 25 of the 26 batters he faced. In other words, instead of relying on finesse and placement, Cole dared opposing batters to catch up to the pitches he was putting over the plate.
Most of the time, San Francisco wasn't able to do that.
Pittsburgh already has the third lowest ERA of any pitching staff in baseball. They have given up the fewest total runs and have held the opposition to a .223 batting average, the lowest in the majors. In addition, Pittsburgh also has the lowest OPS in MLB, with a total of .655 so far.
Team performance starts with individual performance and the starting rotation has delivered. A.J. Burnett, a World Series winner in 2003 with the Marlins and the longest tenured member of the rotation, has a 3.12 ERA in 14 starts. Jeff Locke, a pitcher in just his second full year in the big leagues, is 5-1 on the season, and 4-0 with a 1.66 ERA in his last ten starts.
In addition, the Pirates have to be pleased with the contributions of Francisco Liriano. So far this season, Liriano is 4-2 with a 1.75 ERA, and has been a surprise performer in a staff which has had several in 2013.
This type of success extends to the bullpen, too, which has kept leads safe all throughout the first couple months of the season. The standout performers here include Vin Mazzaro (3-0, 2.30 ERA), Bryan Morris (2.03 ERA) and Justin Wilson (5-1, 1.98 ERA).
The most notable bullpen hurler, however, has been the closer, Jason Grilli. After losing six games out of the bullpen last season, Grilli has posted 23 saves so far this season, and has a 0.98 ERA in 2013 for a team which is tied for the major league lead with 25 saves.
The Pirates' homegrown bats are finally starting to come around.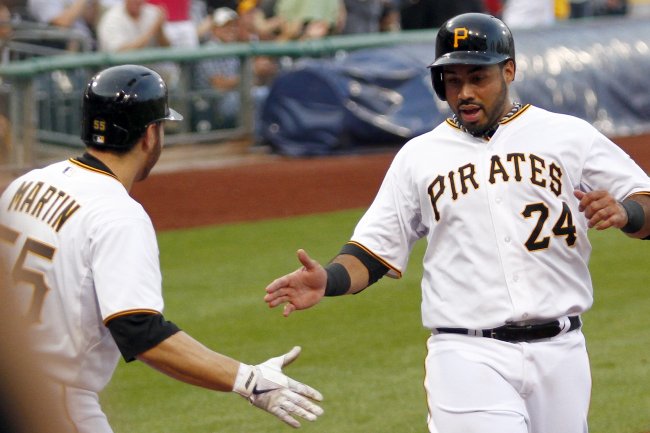 Justin K. Aller/Getty Images
For the past few seasons, the Pirates have been mostly known for bringing up talented players through their farm system thanks to consistently high draft picks. These players then end up being traded to (or swept away in free agency by) teams with higher budgets.
In the past, this happened with stars like Bonds and third baseman Bobby Bonilla, but has happened more frequently in recent years, including Jason Bay moving to the Red Sox and second baseman Freddy Sanchez heading west to the Giants.
This trend changed, however, when it came to their current star, center fielder Andrew McCutchen. Before the start of last season, the Pirates locked up their most valuable asset and new All-Star with a six-year deal worth $51.5 million, ensuring that their best outfielder, and face of the franchise, wouldn't leave town for brighter lights in a city like New York or Boston.
We'll get back to McCutchen in just a bit, but the players whom the Pirates have brought up, and given valuable playing time to in the past few seasons, are starting to step up.
Pedro Alvarez, a third-year third baseman drafted by the Pirates out of Vanderbilt in 2008, currently leads the team with 14 home runs and 37 runs batted in. 24-year-old outfielder Starling Marte, signed as an amateur free agent in 2009, is currently batting .279 and leading the team in hits with 68. These numbers certainly make him well worth the low level contract he's currently playing with.
Finally, there's first baseman Garrett Jones, who worried some Pittsburgh fans after being called up in 2011 with his inconsistent hitting at times in the bigs his first couple of seasons. This season, Jones has proven himself as an everyday player, currently hitting .266 with six homers and 14 doubles (good for second on the team).
Rather than spending big money on free agents, Pittsburgh has been able to keep their payroll in check by holding on to the players they've signed and drafted while bringing them up gradually during seasons in which they weren't in contention. Now, those same former prospects have the experience needed to keep producing during the later months of a potential playoff race.
Andrew McCutchen, the team's biggest investment, has been worth the hype.
After a breakout 2011 season in which "Cutch" hit 23 homers and earned his first All-Star game appearance, the now 26-year-old outfielder was rewarded with a big new contract. He, in turn, paid back the Pirates organization with an even bigger 2012 that made him a league-wide star. McCutchen hit 31 homers and drove in 96 runs, all while leading the league in hits (194) and finishing with the second-best batting average in the National League at .327.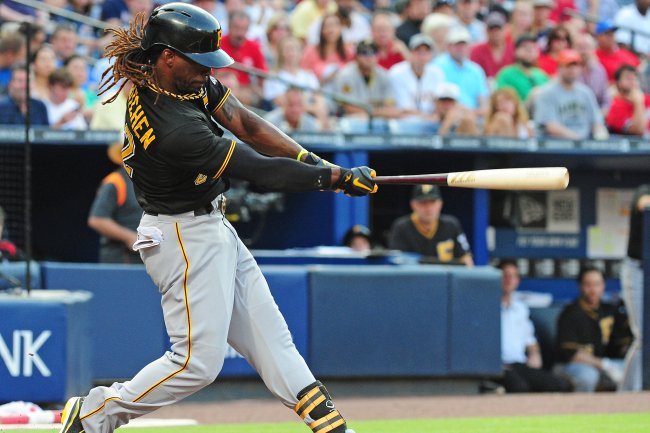 Scott Cunningham/Getty Images
In addition to being the cover boy for the video game MLB 2013: The Show, McCutchen has enjoyed similar success this summer. Batting .290 so far this season, McCutchen's power numbers are down from last year (seven homers, 31 RBIs). While some would be concerned with the slight lull in slugging percentage, it's also reasonable to expect that as long as Cutch stays healthy, the best is yet to come.
Regardless of whether their star hits 30 home runs again, the team has already excelled thus far with him hitting at a normal pace. If Cutch is able to hit the 25-30 homers we've come to expect from him, and the young hitters which surround him in the daily lineup continue to progress, the results could spell trouble for the rest of the National League. Already bolstered by one of the best pitching staffs in the entire majors, some timely hitting from their young everyday players means that we can expect to see the Jolly Roger raised quite a few more times as 2013 moves onward.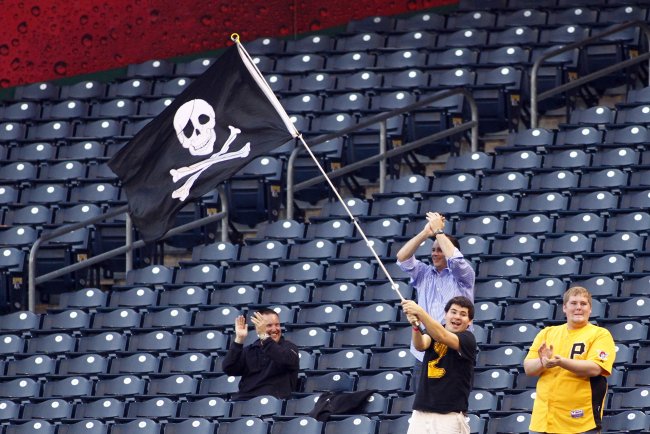 Justin K. Aller/Getty Images
The Steelers and Penguins aren't the only team capturing the attention of the Allegheny region these days. The Pirates are giving their faithful an abundance of hope and, for once, finally, this actually could be their year.