Texas Rangers' 5 Players Who Should Be All-Stars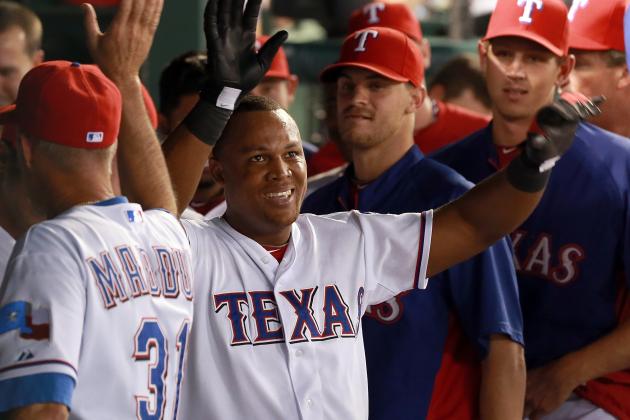 Rick Yeatts/Getty Images

The Texas Rangers have continued to impress as an organization over the last few years, even after the departure of familiar faces like Michael Young, C.J. Wilson, Mike Napoli and Josh Hamilton over that time frame.
New Rangers have stepped up and filled the roles of these former stars, and have made their own niche in Arlington as the new face of an organization that has gotten pretty familiar to winning over the last few years.
The 2013 season has been quite the success for the Rangers, but who exactly should earn the distinction of being representatives for Texas in the All-Star Game in New York this summer? Here is a list of the five players on the Rangers who deserve to play in Queens in the mid-summer classic.
Begin Slideshow

»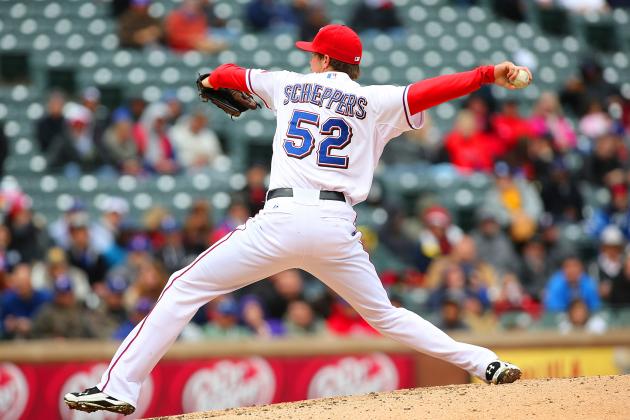 Rick Yeatts/Getty Images

Tanner Scheppers is in the middle of a breakout season for the Rangers and has been as close to lock down as possible this season.
Over 30 appearances, Scheppers has thrown 32.0 innings, compiling a sparkling 0.84 ERA while holding hitters to a .156 average against. He currently ranks second on the team with a 0.88 WHIP and has tallied 20 strikeouts so far this season.
The most impressive thing about Scheppers' game so far this season is the improvement in batting average against and WHIP from his 2012 campaign. Scheppers was hit pretty hard last season, finishing with a .343 BAA and a 1.73 WHIP. Though his strikeout rate is a little down from 2012, Scheppers has discovered more ways to get batters out, making him the primary set-up man for Texas this season.
Scheppers jump from last season makes him a strong candidate for one of the bullpen spots for the American League later on this summer.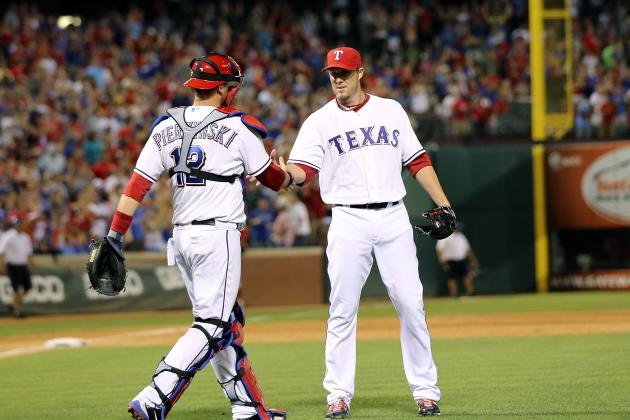 Rick Yeatts/Getty Images

Joe Nathan has revitalized his career during his time in Arlington, and is a clear favorite to earn one of the bullpen spots for the American League squad.
After having to undergo Tommy John surgery as a member of the Minnesota Twins in March of 2010, Nathan didn't appear in the big leagues again until 2011. He struggled that season with the Twins, finishing the season with 4.84 ERA which was the highest of his career outside of his 2000 campaign when he was a member of the San Francisco Giants as a starter.
In 2012, Nathan returned to his old form with the Rangers, converting 37 of 40 saves and finishing the season with a 2.80 ERA in 68 appearances; but even that performance pales in comparison to what he is doing in 2013.
So far, Nathan has converted 20 of 21 saves in 2013 with a dazzling 1.71 ERA. Though his strikeout rate is a down, Nathan is still holding hitters to a .143 batting average over 28 appearances. Nathan has been arguably the best closer in baseball this season, and is more than deserving of a trip to New York.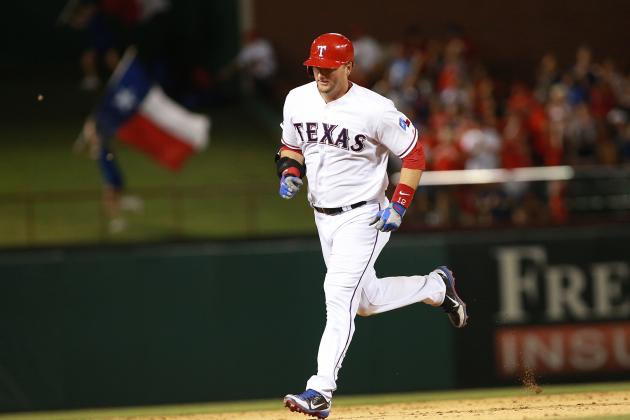 Rick Yeatts/Getty Images

A.J. Pierzynski was brought in this offseason to help offset the losses of Mike Napoli and Josh Hamilton in the middle of the order for the Rangers. Though he hasn't been healthy all season, he has been just what the Rangers were expecting out of the veteran catcher.
Known as one of the better offensive catchers in the game, Pierzynski currently ranks in the top six for the Rangers in batting average, on-base percentage, slugging percentage and OPS, even with a stint on the DL in the middle of May.
On the season, Pierzynski has a .310/.343/.462 line to go along with five homers and 17 RBI in 44 games played. One of the biggest factors that could stop Pierzynski from making the All Star Game besides the time he missed is the solid season that Carlos Santana is having for the Cleveland Indians. Santana will prove to be the main competition for the backup job behind obvious favorite Joe Mauer.
Though he may not get voted in, Pierzynski's numbers still suggest that he belongs with the best in Queens come July, despite his injury earlier in the season.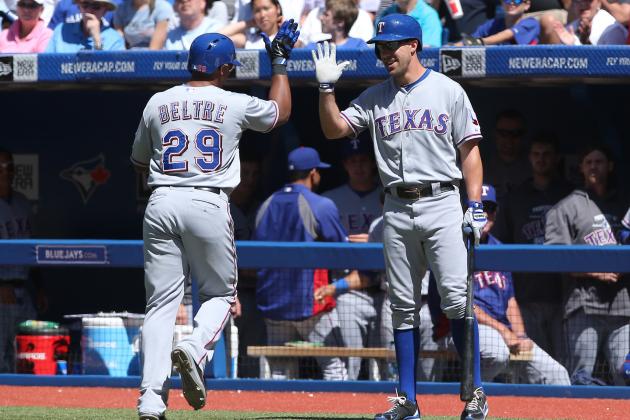 Tom Szczerbowski/Getty Images

Even since signing with Texas in 2011, Adrian Beltre has been one of the best all-around third basemen in all of baseball. Despite being a gold-glove caliber player every season, Beltre's offensive numbers in Texas have helped make people forget about his sub-par seasons he had as a member of the Seattle Mariners.
This season, Beltre has a .299/.343/.526 line to go along with 14 homers and 38 RBI, both of which are good for second on the Rangers.
Beltre has been an All Star for the Rangers the past two seasons, and will all but certainly be one again this season. The vote will be close with Tampa Bay's Evan Longoria for who earns the starting nod, but barring an injury, Beltre will most certainly be in Queens when all is said and done.
Rick Yeatts/Getty Images

The 2013 season has been a little bit of a coming out party for Yu Darvish, but most people around Major League Baseball will tell you that his success does not come as much of a surprise. Darvish had a solid debut 2012 season with the Rangers, as he finished the season with a 16-9 record to go along with a 3.90 ERA and 221 strikeouts over 191.1 innings pitched.
However, after his first start of the 2013 season, Darvish made it clear that his 2012 campaign was just a preview of what the former Japanese phenom had in store for the rest of the MLB. In that start, Darvish came one out away from throwing a perfect game while dominating the Houston Astros' lineup to the tune of 14 strikeouts.
Darvish would go on to match that total again on May 5 against the Boston Red Sox and again on May 27 against the Arizona Diamondbacks. He's currently 7-2 with a 2.75 ERA on the season, and leads all of baseball with 118 strikeouts and a .182 batting average against over 88.1 innings pitched.
At this rate, Darvish is currently in a tight race with Clay Buchholz of the Boston Red Sox for not only the starting nod for the American League squad, but the AL Cy Young award race as well. Of all the players on the Rangers this season, no one is more guaranteed of an All Star spot as much as Yu Darvish is.
For more baseball talk and random banter, feel free to follow me on Twitter.