Somebody better get Golden State Warriors point guard Stephen Curry in a broadcasting booth when his career is over.
During Game 3 of the NBA Finals between the San Antonio Spurs and Miami Heat on Tuesday, Curry unleashed a series of hilarious tweets via SportsCenter's Twitter account, complete with an impersonation of reserved Spurs big man Tim Duncan.
Just before taking over SportsCenter's Twitter account, Curry had some fun with his fans on his personal Twitter account by asking a thoughtful question:
Getting for a 6PM @SportsCenter hit. Question for u guys: If I was an SC anchor, who would I be best paired up with? My vote is @stanverrett

— Stephen Curry (@StephenCurry30) June 11, 2013
He then quickly acted out for SportsCenter in the first quarter:
Steph breaks down the 1st quarter of Heat-Spurs Game 3 #StephCenter https://t.co/sH8Nv2bdJQ

— SportsCenter (@SportsCenter) June 12, 2013
His halftime recap was straight and to the point:
#StephCenter Halftime Recap: LeBron James 4 Pts. My daughter Riley 2 Pts. https://t.co/niFUBebKAQ

— SportsCenter (@SportsCenter) June 12, 2013
After the game, Curry gave some love to Spurs guards Gary Neal and Danny Green:
Spurs blow out Heat, 113-77, but honestly S/O to Gary Neal and Danny Green. #StephCenter https://t.co/JkCJXMma6y

— SportsCenter (@SportsCenter) June 12, 2013
He also mimicked how Duncan probably celebrated after the 113-77 victory in San Antonio:
Me as Tim Duncan barely containing his excitement about Gary Neal's big Game 3. #StephCenter https://t.co/jdt81ToBrp

— SportsCenter (@SportsCenter) June 12, 2013
That wasn't all, though. Curry was tweeting throughout the game, about anything from Mike Miller to Tim Duncan's outlet passes.
Curry is coming off a mighty impressive run with the up-and-coming Warriors. The 25-year-old led the Warriors to a first-round victory over the favored Denver Nuggets, then took the Spurs to six games in the Western Conference Semifinals before eventually falling.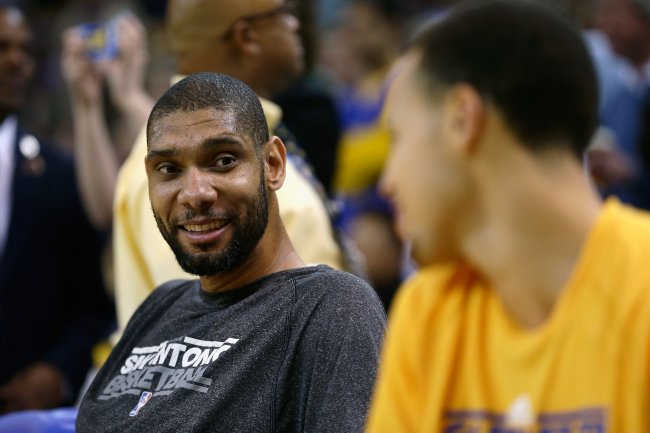 Ezra Shaw/Getty Images
For the season, the North Carolina native averaged 22.9 points, 6.9 assists, 4.0 rebounds and 1.6 steals while shooting 45 percent from the field and 45 percent from long range.
He averaged 23.4 points, 8.1 assists, 3.8 rebounds and 1.7 steals while shooting 40 percent from downtown in 12 postseason games.
Curry has already shown us what he can do on the court, but his fine display on Tuesday could mark the beginning of an acting or broadcasting career down the road. One thing's for sure: His play-by-play on Tuesday inspired more than a few chuckles.