Oakland A's: 5 Players Who Should Be All-Stars in 2013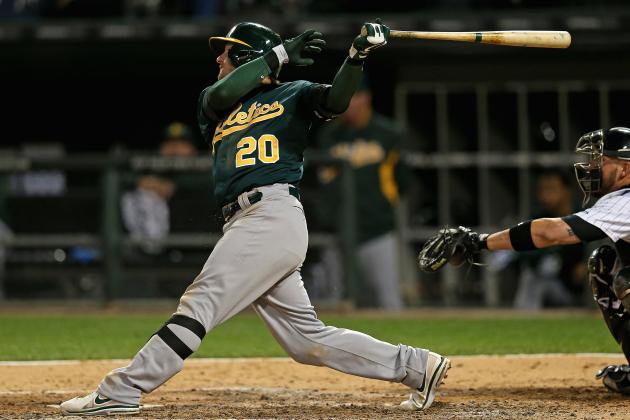 Jonathan Daniel/Getty Images
Donaldson is deserving, but will he be in New York for the All-Star Game?
After 66 games, the Oakland A's have established themselves among the best teams in the major leagues with a 39-27 record.
In the process, the A's have received stellar performances from multiple players who have merited consideration for the 2013 All-Star Game at Citi Field in New York.
To put that idea into proper perspective, the only time that Oakland sent more than one player to the All-Star Game in the past eight years was in 2010 when Trevor Cahill and Andrew Bailey were chosen.
Oakland has not sent multiple position players to the Midsummer Classic since 1991 and no position player has represented the A's since Ramon Hernandez was a reserve catcher in 2003.
But this year could be different. While contributions have been made by many players in Oakland, here are the five A's players who have played at a legitimate All-Star level.
Begin Slideshow

»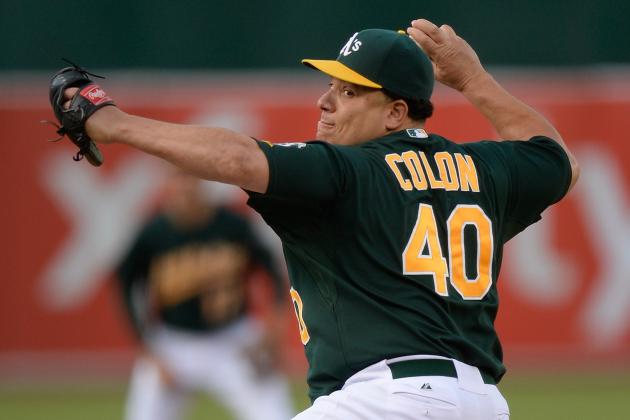 Thearon W. Henderson/Getty Images
Colon has gone from fifth starter to veteran stopper for the A's
Don't look now, but the best starter in the A's rotation is clearly 40-year-old Bartolo Colon.
It was a nice story after Colon's 50-game suspension and humble return to the A's in the spring, but as summer approaches, Colon is an integral part of the starting rotation.
Feel-good stories aside, Colon has been fantastic for the A's.
The numbers don't lie, as Colon has an 8-2 record with a 2.92 ERA and a 1.09 WHIP in 83.1 innings pitched. He has allowed just 10 walks and his 4.9-1 strikeout-to-walk ratio is among the best in the league.
He also has two complete game shutouts (one a seven-inning, rain-shorted win) in 2013. The eight wins are tied for second with Clay Buchholz in the American League while Colon's 2.92 ERA is good for 10th in the league.
Why he might not go: Quite simply, depth. You can go ahead and pencil in Buchholz, Hisashi Iwakuma, Felix Hernandez, Max Scherzer and Yu Darvish as starters for the American League All-Star squad. Colon is likely battling other pitchers such as Chris Sale, Anibal Sanchez and Derek Holland.
In addition, teams who have just one representative often send a pitcher. Houston's Bud Norris could be Oakland's representative and that could sink an otherwise worthy first-half performance from Colon.
Jason O. Watson/Getty Images
Lowrie has been steady all year long for the A's
Jed Lowrie has been productive from his first game with the A's. Splitting time at both shortstop and second base, Lowrie has been an offensive catalyst up and down the lineup.
Currently hitting .301, Lowrie's 18 doubles are the most by a shortstop in the American League and tied for 11th in the majors. Among AL shortstops, Lowrie's .791 OPS is second and his improved defense has helped to make him more of a two-way value player.
Why he might not go: Simply put, Lowrie might be outgunned at his position. Sitting fourth in the voting, Lowrie's numbers have been more deserving than top-vote recipient Elvis Andrus. However, the same could be said of the second- and third-leading vote-getters, Jhonny Peralta and J.J. Hardy.
Peralta should be the choice with a .333 batting average that is third in the AL, and Hardy's power numbers (13 HR's and 39 RBI) will grab attention at an overall weak spot. However, Lowrie has more than enough time to play himself into a reserve spot, especially considering that Andrus, who is hitting just .254 with an OPS of .614. is patently undeserving of his votes total.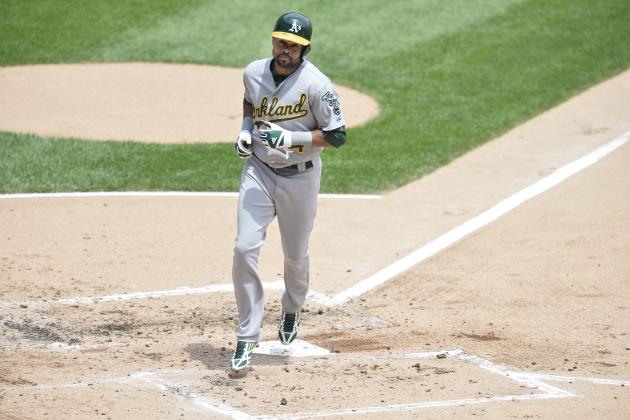 Brian Kersey/Getty Images
Crisp may be trotting all the way to the Big Apple for the All Star Game
A dark horse who seems to be gaining momentum in terms of pure merit for the All-Star Game is Coco Crisp.
Despite missing two weeks with a hamstring injury, Crisp's numbers still stand out with some further review.
Crisp's batting line is .289/.378/.515 splits with eight home runs, 24 RBI and 42 runs scored. So far in 2013, Crisp has only struck out 20 times and has added 13 stolen bases in 15 attempts. In other words, he's doing everything well.
Among AL outfielders, Crisp is eighth in batting, second in on-base percentage, fifth in slugging and has an OPS that is good for third. His Wins Above Replacement (WAR) thus far is 2.4, which is tied with Jose Bautista for first in the league.
All told, Crisp ranks among the top five AL outfielders in six categories while he is third in stolen bases.
The only other outfielders in the American League who can make that claim are Mike Trout and Adam Jones, who are currently first and second in the voting for AL outfielders, respectively. Crisp is 13th.
Why he might not go: Another position with a logjam. Trout and Jones are lead-pipe locks to be in the outfield at Citi Field. Torii Hunter currently sits third in the voting and has a 50,000-plus vote lead on Texas' Nelson Cruz.
Crisp will have to be selected by AL manager Jim Leyland. If Hunter is overtaken by Cruz, chances are that Leyland will put him on the squad, although Hunter has been deserving. Another spot is likely to be taken by a one-player team such as Kansas City's Alex Gordon.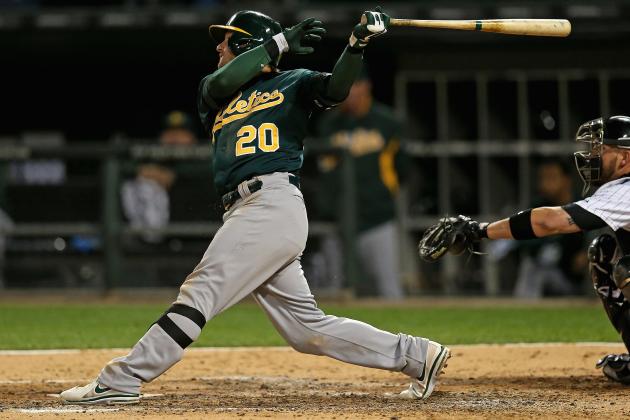 Jonathan Daniel/Getty Images
Oakland's first half MVP, Donaldson shows no signs of slowing down
The biggest surprise, by far, for Oakland in 2013 has been Josh Donaldson.
Although he hit .290 in the second half of the 2012 season, it stood to reason that Donaldson might have played over his head. A slow start that saw him only batting .246 as of April 20 added to that suspicion.
Since then, however, Donaldson has been one of the best hitters in baseball, batting .352 over 153 at-bats and posting impressive numbers across the board.
He has a .322/.391/.521 split with nine home runs and 42 RBI. Those numbers rank sixth in the league in both batting and on-base percentage and seventh in slugging. While it does not usually factor into All-Star votes, Donaldson has been a revelation at third base, playing a legitimate Gold Glove-caliber defense.
Why he might not go: If Donaldson was to make it, it would have to be as a reserve. His banner year has the misfortune of happening as Miguel Cabrera is making a bid for a second straight Triple Crown.
That means the reserve position is likely going to be a battle between Donaldson, Baltimore's Manny Machado, Adrian Beltre of the Texas Rangers and Tampa Bay's Evan Longoria.
If Longoria ends up being Tampa Bay's lone representative, it would likely come at the expense of Donaldson, although Donaldson currently has a better average (.322 vs. .304), more RBI (42 to 38), a better OPS (.911 to .898) and better WAR (3.0 to 2.8).
Donaldson's numbers are better than Machado's as well (.322/.391/.521 vs. .315/.350/.480 splits). Unlike the first three players, Donaldson's potential to play himself onto the team is much higher, even if it required Jim Leyland to select three third basemen.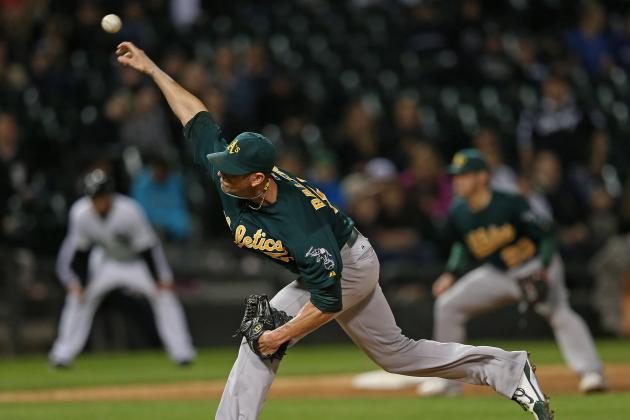 Jonathan Daniel/Getty Images
The fiery Aussie may rage his way to New York in mid July
The No. 1 player who deserves to be an All-Star for the Oakland A's is Grant Balfour.
Quickly, name all the American League closers who have at least 10 saves without a blown save.
The answer: Grant Balfour.
Knock on wood if you are an A's fan. The intense stopper from Australia is 16-for-16 in 2013 save opportunities. No, they have not all been easy, but in every save situation Balfour has faced, he has delivered.
HIs 1.35 ERA is better than that of Joe Nathan, Tom Wilhelmsen and Mariano Rivera. His 16 saves are more than Fernando Rodney, Casey Janssen and Ernesto Frieri.
Balfour's 27 strikeouts in 26.1 innings has shown that his assortment of pitches have been doing the job as opposed to him having to lean on great defense behind him.
Why he might not go: Rivera is going to be in New York in his last major league season. That's one spot and I can't see more than two closers getting the nod, so Balfour will likely battle Nathan and Wilhelmsen for the remaining spot.
Because both pitchers have teammates seemingly headed for spots on the AL roster, Balfour's bid will likely depend on his ability to remain flawless until the All-Star break. No slip-ups and he should be on the All-Star team.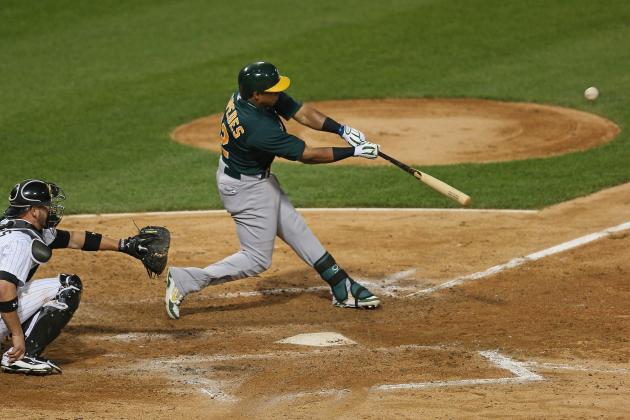 Jonathan Daniel/Getty Images
Cespedes hasn't been an All-Star, but his bat has energized the lineup in June
The A's have not lacked for other All-Star performers during their recent hot stretch in which they have won 19 of 24. In getting back to first place in the AL West, Oakland has received production from various players:
Yoenis

Cespedes is

batting .324 with four home runs and seven RBI in 10 June games (currently day-to-day with a hamstring strain)

Jarrod Parker is 3-0 with a 1.77 ERA in his last three starts (vs. San Francisco, Chicago White Sox)

Tom

Milone is

3-0 with a 3.65 ERA in his last five starts, including a hard-luck no-decision in his last start at Chicago (7

IP

, 1 ER, 7 K's).
However, when it gets down to it, five A's who have performed all season are the ones who are deserving the most of All-Star consideration.
Bartolo Colon is turning back the clock (again), Jed Lowrie is proving to be a great pick-up from Houston, Coco Crisp is arguably the best all-around leadoff hitter in the American League, Josh Donaldson might be having the best season at third base of anyone not named Miguel Cabrera and Grant Balfour has been lights out as the A's unquestioned closer.
Add it all up and you have a team that might not have star power, but does have star talent. The results continue to bear that out for the defending AL West champions.